The Independent's journalism is supported by our readers. When you purchase through links on our site, we may earn commission.
Hanoi travel tips: Where to go and what to see in 48 hours
Vietnam's bustling capital charms with great food, fine architecture and surprisingly serene green spaces. Nick Boulos braves the traffic to explore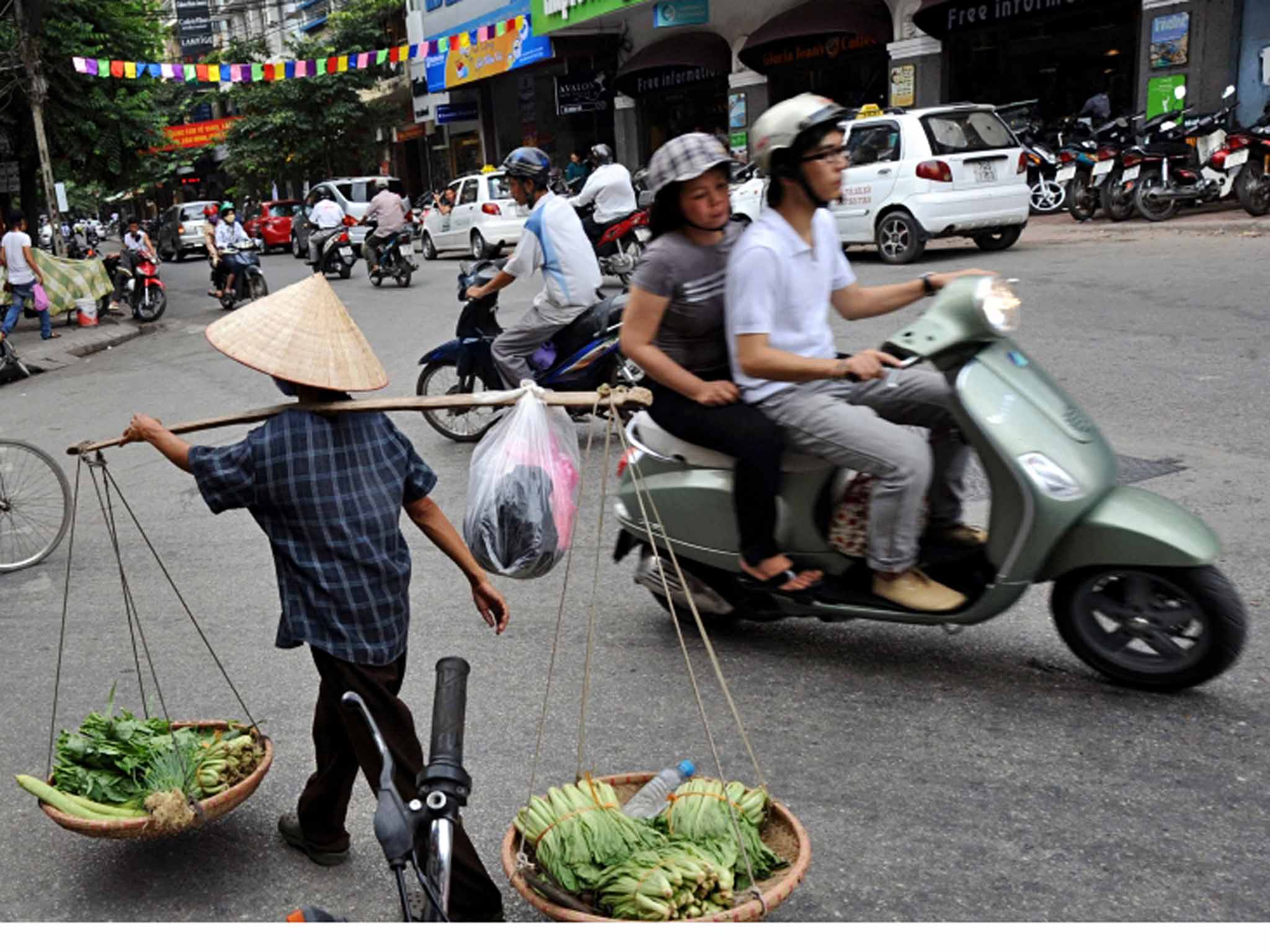 Travel essentials
Why go now?
Vietnam's frenetic but charmingly low-rise capital is an increasingly popular stop-over for a range of Asian and Australian destinations, now that direct flights from the UK are possible.
Hanoi is also within easy reach of many of the country's geographical and cultural treats. Less than three hours to the east is Unesco-protected Halong Bay, with some 2,000 craggy karsts soaring from the emerald-green Gulf of Tonkin. To the mountainous west are the terraced rice paddies and hill tribes of Sapa. And Hanoi offers great value for money.
Touch down
Vietnam Airlines (020 3263 2062; vietnamairlines.com) has the only direct flights between the UK and Vietnam. The twice-weekly departures from Gatwick land at Hanoi's Noi Bai airport around 11 hours later. Other airlines offer indirect connections with more frequent departures. I travelled with Singapore Airlines (020 8961 6993; singaporeair.com), which offers flights from Heathrow and Manchester from £575 via Singapore; and the specialist tour operator Inside Vietnam Tours (0117 244 3370; insidevietnamtours.com), which offers tailored trips across the country from £940pp.
The airport is 45km north of the city. Bus No 7 departs from outside the terminal every 20 minutes, between 5am and 10pm, and terminates an hour later at the central Kim Ma bus station (1) on Pho Giang Vo. A one-way ticket costs only 5,000 Vietnamese Dong (15p).
A taxi to the city centre costs 160,000d (£5). Journey time is around 40 minutes. Those arriving by train from elsewhere in Vietnam will pull into Hanoi's central station (2) on Le Duan Street.
Get your bearings
The name Hanoi roughly translates as City in a Bend of the River. It is located on the banks of the Song Hong (Red River) in northern Vietnam, and was first inhabited by Emperor Ly Thai To in 1010. An exotic and chaotic city, it is home to 6.5 million people and (it's said) more than four million motorbikes. Crossing the road will test your nerve.
To the north is the Old Quarter, a district of narrow alleys that's the traditional guild district. It still thrives with vendors and is where visitors are likely to spend most of their time.
The days of French occupation during the 19th century are still redolent, particularly in the leafy French Quarter which is characterised by European-style boulevards. Between the two you will find the small but scenic Hoan Kiem Lake (3).
Check in
The Hotel De L'Opera (4) at 29 Trang Tien (00 84 4 6282 5555; hoteldelopera.com), housed in the former Ministry of Trade and Commerce, is one of the city's grandest places to stay. Rooms are contemporary, splashed with colourful Asian textiles. Doubles from US$154 (£97), room only.
A decent mid-range option, the 70-room Medallion Hanoi (5) at 11 Ma May (00 84 4 3926 1302; medallionhanoi.com) is handily located in the Old Quarter, a short walk away from Hoan Kiem Lake (3). Double rooms from US$45 (£28), including breakfast.
Also nearby is the absurdly good value Camel City Hotel (6) at 8/50 Dao Duy Tu Lane (00 84 4 3935 2024; camelcityhotel.com). Rooms are a little cramped but clean and there's free wi-fi. Doubles from US $15 (£9), including breakfast.
Click here to see a bigger image of the map
Day One
Take a view
The fifth floor City View Cafe (7) at 7 Dinh Tien Hoang (00 88 4 3934 7911; cityviewcafe.com.vn; 7am-11pm daily) overlooks the serene Hoan Kiem Lake (3). Order a taro milkshake (70,000d/£2) and enjoy the strange juxtaposition of honking motorbikes swarming around the chaotic roundabout below you.
Take a hike
Complete the 2km loop around Hoan Kiem Lake (3). Starting from outside the City View Cafe (7), head south passing Thang Long Water Puppet Theatre (8) at 57B Dihn Tien Hoang (00 84 4 3824 9494; thanglongwaterpuppet.org), which hosts evening performances of this old Vietnamese artform.
Further on, you reach the small scarlet Huc bridge that leads to the idyllic Ngoc Son Temple (9) (7.30am-5pm daily; 20,000d/60p) perched on an island in the lake. It's dedicated to General Tran Hung Dao, who led the triumphant battle against the Mongols in the 13th century.
You can pause for thought at the Martyrs' Monument (10), honouring those who died fighting for Vietnam's independence, then continue along the lake's east shore on the shady pathways lined with strangler figs. Time your walk during the early morning and you may catch tai chi enthusiasts in action.
Lunch on the run
Bun cha is a popular midday meal in northern Vietnam, consisting of grilled pork in a tangy vinegar-based sauce and vermicelli noodles. Try it for 35,000d (£1) at the Bun Cha restaurant (11) at 27 Dao Duy Tu (11am-2am daily), a great spot from which to watch street vendors and passing rickshaws.
Window shopping
The Old Quarter is, essentially, a big market that still comprises centuries-old guild streets that specialise in particular products. Head to Hang Dau (12) for shoes and the southern end of Hang Bong (13) for silk and quality tailors.
The city's high-end shopping is concentrated around the Opera House (14) on Trang Tien while the indoor Dong Xuan market (15) at Cau Dong (9am-4pm) offers a mix of cut-price goods. Opening hours are typically 10am-7pm daily.
An aperitif
Take in Hanoi from The Rooftop (16) at 83B Ly Thuong Kiet (00 84 4 3946 1901; therooftop.vn; open 9am to midnight), a trendy drinking spot on the 19th floor of the Pacific Place building. Grab a spot on the balcony and order a Hanoi Summer (240,000d/£7) – a delightful mix of vodka and lychee syrup with fresh raspberries and thyme.
Dining with locals
Koto (17), 59 Van Mieu (00 84 8 3824 2044; koto.com.au; 7am-10pm daily) does more than just serve tasty Vietnamese cuisine, such as beef baked in bamboo (165,000d/£5). It also employs young people who come from struggling backgrounds as part of two-year courses in hospitality.
Au Lac House (18) at 13 Tran Hung Dao (00 84 4 3933 3533; 10am-2pm and then 5pm-10pm daily) is a Vietnamese fusion restaurant in a century-old colonial mansion. Here, head chef Mr Nam dishes up the likes of grilled duck in a five-spice sauce (165
Day Two
Sunday morning: go to church
The twin belltowers of St Joseph's Cathedral (19) at 40 Nha Chung (5am-noon and 2-7.30pm daily; Sunday mass every two hours, 5am-11am; free) were built on the site of the old Bao Thien pagoda in 1886. The stained-glass windows from France are a highlight of the neo-gothic interior.
Out to brunch
Slurp your way through a big bowl of pho, Vietnam's national dish of soup noodles. Try it at Pho Gia Truyen (20) at 49 Bat Dan (6.30am-11am and 5.30pm-10pm daily). It's been serving one dish (pho with beef for 40,000d/£1) since 1940, cooked in vast cauldrons stocked with chopped chilies. Be prepared to queue.
Cultural afternoon
The Temple of Literature (21) at Van Mieu (8am-5pm daily; 20,000d/60p) was built in 1070 to honour the Chinese philosopher Confucius. Students flock here to pray for exam success. Elsewhere, visit the Vietnam Museum of Ethnology (22) on Nguyen Van Huyen (00 84 4 3756 2193; vme.org.vn; 40,000d/£1) focusing on the country's 54 ethnic groups.
A walk in the park
The botanical gardens of Bach Thao (23), 3 Hoang Hoa Tham (7am-10pm daily; 2,000d/1p) is a retreat of orchids, palms and banyan trees that's a popular backdrop for newlywed photographs.
Icing on the cake
Flanked by soldiers, the Mausoleum of Ho Chi Minh (24) on Duong Hung Vuong (7am-11am, closed Friday and Monday; free) attracts long lines of devoted nationals keen to pay their respects to the iconic communist leader, whose embalmed body is on display. Next door is the marigold-yellow Presidential Palace (25) (8am-11am and 2pm-4pm daily; 25,000d/75p), built in the early 20th century as the residence for the French Governor of Indochina. Ho Chi Minh rejected it as too grand and built his own humble lodgings within the grounds – a wooden house on stilts, which still stands today.
,000d/£5).
Join our commenting forum
Join thought-provoking conversations, follow other Independent readers and see their replies