The Independent's journalism is supported by our readers. When you purchase through links on our site, we may earn commission.
Hashima: Among the ruins on Japan's Battleship Island, the place that time forgot
After a wind-lashed voyage from Nagasaki, Mark C O'Flaherty explores deserted buildings that offer an eerie glimpse of the past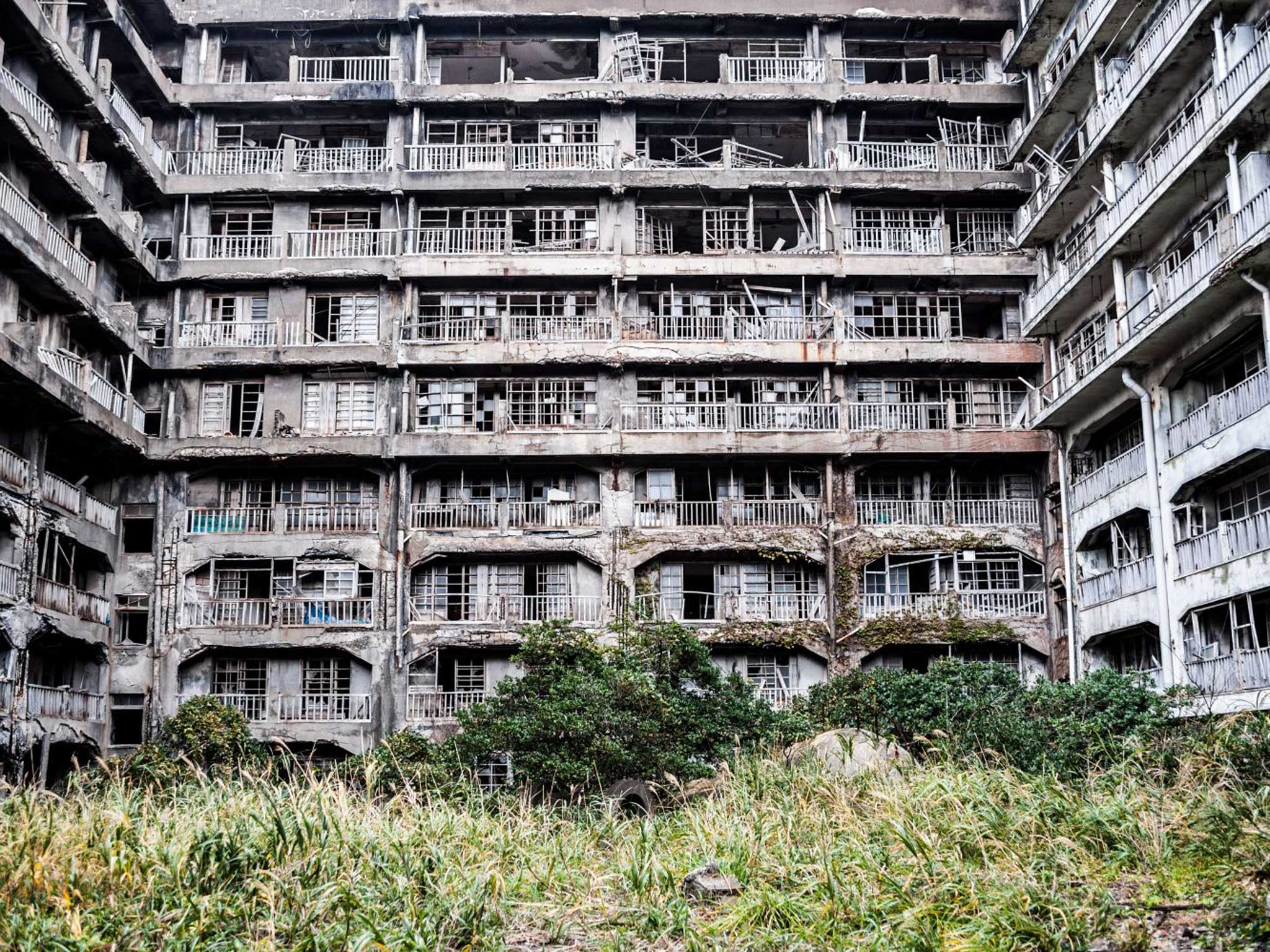 We'd been warned about rough seas ahead, so were hoping for the best and preparing for the worst. For the first five minutes, our tour group cruised in a stately manner, lulled in the direction of a sense of security, moving gently past the Goliath shipbuilding cranes of Nagasaki harbour, out to open waters. Then, as the ruined grey concrete skyline of our island destination came into view in the distance, we took a right turn into the poster for The Perfect Storm.
The boat roiled dramatically, coming closer to horizontal than anyone would have liked, left and right, left, left, deeper left. Then, when we reached our destination, its port side bashed violently against the concrete jetty. After several white-knuckle, rollercoaster-ride attempts at docking, our captain abandoned the idea, and we turned back. Gunkanjima would have to wait for another day. There was disappointment, but it was drenched in relief.
The official name for this tiny speck of land – the size of 12 football pitches – is Hashima, but few call it that. In English, its most commonly used name means "Battleship Island" and, viewed from a certain angle offshore, its silhouette is uncannily dreadnought in nature. It was a mining facility until 1974, when it was abandoned to the elements, before partially reopening as a tourist attraction in 2009. Google has even mapped it. Most famously, a meticulous Pinewood Studios replica of parts of the island had a starring role as Bond villain Raoul Silva's hideout. Indeed, there's a lot of talk about Skyfall in the promotional material for Gunkanjima. Conversely, there's barely a whisper about the well-documented Korean forced labour and Chinese prisoners of war, but then what's a haunted island without some dark secrets?
Hashima: In Pictures
Show all 17
I've wanted to visit Gunkanjima for years, ever since I heard about reckless types illegally landing and having spooky Scooby Doo overnighters in the old apartments, still furnished with the previous inhabitants' knick-knacks. I love abandoned, ruined, feral places. They're macabre museums that tap into something dark in the psyche, as if you might have visited them before and blocked out the memory. Either that, or they're warnings that show you what could happen if everything went wrong.
Like the typhoon-lashed island that sits 20 minutes from its shoreline, Nagasaki is a place that might not exist at all. Once a part of the post-Edo-era Samurai-endorsed industrial revolution, it was Japan's most cosmopolitan city. Today, its most visited tourist attraction is the Atomic Bomb Museum and memorial commemorating the moment – at 11.02am on 9 August 1945 – that it was virtually wiped off the map. But this is a city that sprung back to life: from the observatory platform on Mount Inasa it twinkles as brightly as Tokyo. And it's home to some of the country's most striking examples of contemporary architecture. The Kengo Kuma-designed art museum on the harbour – with its light-filled corridors and outdoor public spaces – is ravishing. So, too, is Kuma's Garden Terrace Hotel, with its madly playful folded, jumbled, skewed square shapes.
Nagasaki is vibrant during the day, but after dark you'd be forgiven for thinking a curfew was in place. I finished dinner in Tenku – the slick sushi bar of the Garden Terrace – at 9pm and was the last man dining. But there was no denying the quality of the nigiri, among the best I've eaten.
The next morning, a gale was blowing. My heart sank. But we sailed again to Gunkanjima – and this time, we made it. I knew, as I walked out on to the first viewing platform, that it had been worth it. Even at the safe distance that visitors have to keep from them, the ruins are thrilling. The wind was ferocious, with waves periodically crashing over the sea walls. The violence of the weather and the mangled ghostly architecture, with its mountains of rubble and rows of smashed windows, creates something weird and otherworldly. It is The Tempest rewritten by J G Ballard.
Our tour guide, Tomoji Kobata, lived on the island as a miner in 1961. While showing us the ruins, he told us about day-to-day life. There were 317 households in a single block and Japan's first concrete high-rise was built here in 1916. Back in the Sixties and early Seventies, the island had a cinema and supermarket. When Kobata-san was a resident, a points system was in operation: your length of employment and status determined what floor you lived on. The lower the floor, the less you wanted to be there during a typhoon.
I was given permission – after months of media applications and form-filling – to get off the main path to shoot close-ups of the interiors of the derelict buildings. It felt utterly unsafe as much as a privilege – floors were bowing beneath ragged tatami mats as I marvelled at abandoned television sets and dust-covered phones, empty sake bottles and the remnants of a medical wing whose rooms were piled with scores of inoculation vessels. There were fridges and sewing machines that looked as if they had been recovered from the Titanic and, standing askew in an office next to piles of official documents, a curious Tardis-like box whose former function I never learned. There was a shrine on a rooftop and a gymnasium with few of its floorboards intact, but with a giant graffiti mural of a figure – half tiger, half schoolgirl – sprayed across one wall. This was evidence of the thrillseekers who had sailed and slept here illegally, compelled to come for the same reasons as everyone on my boat: to see precisely what Gunkanjima is like.
As we headed back to the safety of one of the viewing platforms, through half-flooded corridors, I gestured at a wall at what some scrawled kanji script and asked what it said. The answer: "It says Hashima Island has gone. This place is dead."
Getting there
The writer flew from Heathrow to Fukuoka with KLM (0871 231 0000; klm.com) which is the only airline with direct flights between Japan's Kyushu island (for Nagasaki) and Europe, operating four flights per week from Amsterdam Schiphol. KLM flies from 15 UK airports. Returns from £528.
Staying there
Garden Terrace Nagasaki Hotel & Resort (00 81 95 864 7776; gt-nagasaki.jp), 2-3 Akizukimachi, Nagasaki. Doubles from Y40,000 (£232), including breakfast.
Visiting there
Universal Workers – The Gunkanjima Concierge Company (00 81 95 895 9300; www.gunkanjima-concierge.com) offers two three-hour tours to Hashima Island per day from Y3,600 (£21).
Nagasaki Atomic Bomb Museum, 7-8 Hiranomachi, Nagasaki (00 81 95 844 1231; www.city.nagasaki.lg.jp). Y200 (£1.20).
Nagasaki Prefectural Art Museum, 2-1 Dejima-machi, Nagasaki (00 81 95 833 2110; www.nagasaki-museum.jp). Y400 (£2.50).
Further information
Click here to view the Japan - Land of the Rising Sun tour, with Independent Holidays.
Join our commenting forum
Join thought-provoking conversations, follow other Independent readers and see their replies