Why Hoi An is the ultimate shopping destination for perfectly tailored clothes
The Vietnamese city offers affordable custom-made garments at a super-quick turnaround, finds Suzanne Bearne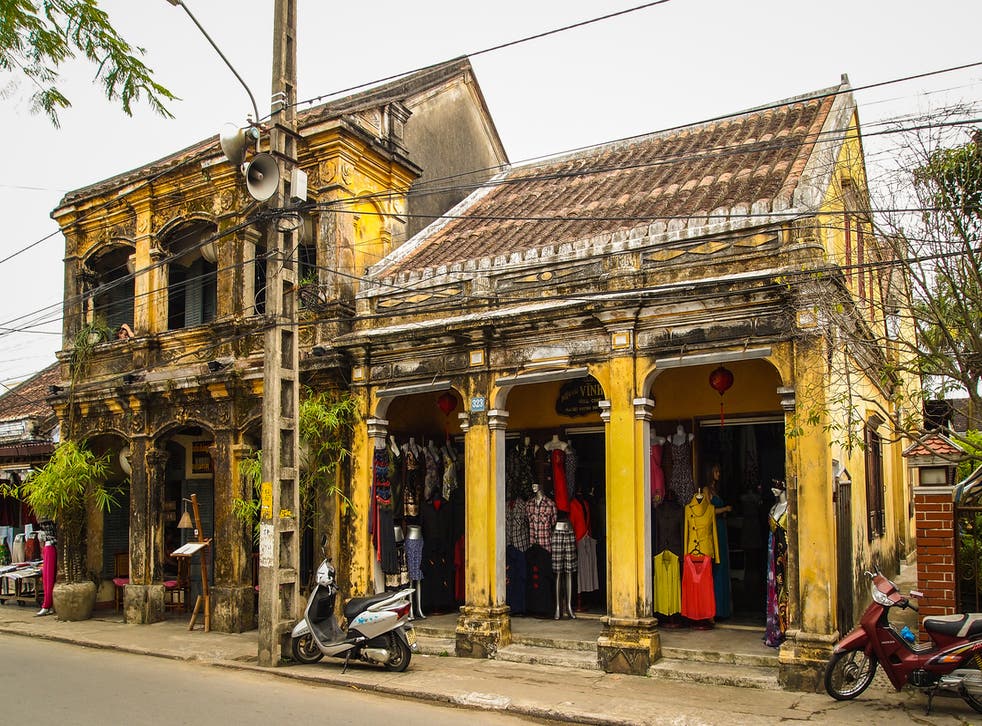 "No, that won't suit you," says Vien Luong, as her eyes flick between a screengrab of a high-necked, silk, floral printed dress by the British designer Erdem and my figure, her gaze finally resting on my not-so-demure bust. Realising that this much honesty might not be so de rigueur for the English, the petite Loung gently touches my arm and delivers her verdict with a touch more tact. "I'm sorry, I just want to make something that suits your body shape and will make you look great."
I'm in Hoi An, the so-called tailoring capital of Vietnam, where hundreds of shops line the noisy, motorbike-laden streets, vying for the dongs and dollars of tourists keen fill their wardrobes with hand-tailored clothes. Here, talented craftsmen can stitch up custom-made garments, from a bespoke two-piece suit to a copy of a Victoria Beckham dress, designing every intricate detail from the lining to the buttons at a fraction of the cost back at home (two-piece suits can cost from £75).
Back at Kimmy Tailor, one of the biggest tailors in the city, supervisor Luong is scrolling through images of elaborate flowing dresses on one of the store's iPads, searching for alternatives to the one I'd pinned my hopes on. My mind is set on owning an Erdem dress (even if it is a copy), and I pull out my phone to browse the internet for more of his scene-stealing designs. Well, if the British designer's signature florals are good enough for Michelle Obama and Meghan Markle...
This time, I spot a V-neck black and red floral-print, silk-crepe dress, with black trimming around the middle, accentuating the model's waist and pulling the focus to the decollete. It catches Loung's attention.
"This," she says smiling, "would be more flattering to your figure." But while the image beams out of the iPhone in front of her, Loung isn't interested in simply knocking out duplicate garments. Instead, as she pulls out a book full of notes and pencil drawings, she says it's about personalising the clothes to suit the customer. And so, as she starts sketching the outline of the Erdem dress, Luong quizzes me about every detail of the dress: what length would I like the sleeves to be? How far should the neckline plunge? Where would I like the back zip to start? Every feature of the dress is discussed and customised.
Next she pulls out a small navy book bulging with handkerchief-sized strips of silk-chiffon fabrics – from delicate florals to striking animal prints – and I gamely choose eight I'd like to see spread out. Ten minutes later two members of staff drop off huge rolls of each of material – pulled out, they look like beautiful scarves or sarongs.
I'm drawn to the blue hues of one of the rolls, and rather than follow the black floral design of the original dress we both decide that blue would make for a more flattering colour on me. Minutes later, Loung and her assistants carry out a thorough examination of my figure, measuring every inch of my body, from the length of my torso to the inside of my upper arms. And with that, Luong closes the sketch book and asks me to return for a fitting the following day.
When I return, Luong ushers me upstairs to a changing room in which hangs a silk-chiffon, patterned blue and white dress – the same dress that just yesterday we'd sat down to design. Giddy to see it come to life, I quickly undress and step into my customised frock. Studying myself in the mirror, I'm amazed at how the dress has transformed me from backpacker to Cinderella before you can say "pho". I twirl round in excitement.
Other assistants come to admire my new look. While I can't understand what they're saying, there's plenty of wide smiles and nodding. But Loung, ever-the-perfectionist, spots the tiny flaws I'm blind to. The waistline needs tightening, she says. Another glance in the mirror and I realise the neckline is a bit too daring for me, and the length needs shortening by a couple of inches too.
Loung jots notes in her book as her assistants move around me making quick adjustments with pins.
"Can you come back in an hour?" asks Loung. Sure.
I wander out through Hoi An's back alleys, where women are serving up bowls of steaming hot cau lao and handing out banh mi, and settle on a vegetarian restaurant on a nearby back street. Waistline even more expanded, I return for another fitting, and another swirl. The neckline is improved, and the dress feels even more fitted.
I imagine myself at an Italian wedding, wine in hand, against the backdrop of the glimmering sea, floating around in my customised and perfectly-fitting dress. I will, of course, accept all compliments with good grace.
"What, this old thing? Just something my tailor whipped up for me…"
Register for free to continue reading
Registration is a free and easy way to support our truly independent journalism
By registering, you will also enjoy limited access to Premium articles, exclusive newsletters, commenting, and virtual events with our leading journalists
Already have an account? sign in
Register for free to continue reading
Registration is a free and easy way to support our truly independent journalism
By registering, you will also enjoy limited access to Premium articles, exclusive newsletters, commenting, and virtual events with our leading journalists
Already have an account? sign in
Join our new commenting forum
Join thought-provoking conversations, follow other Independent readers and see their replies