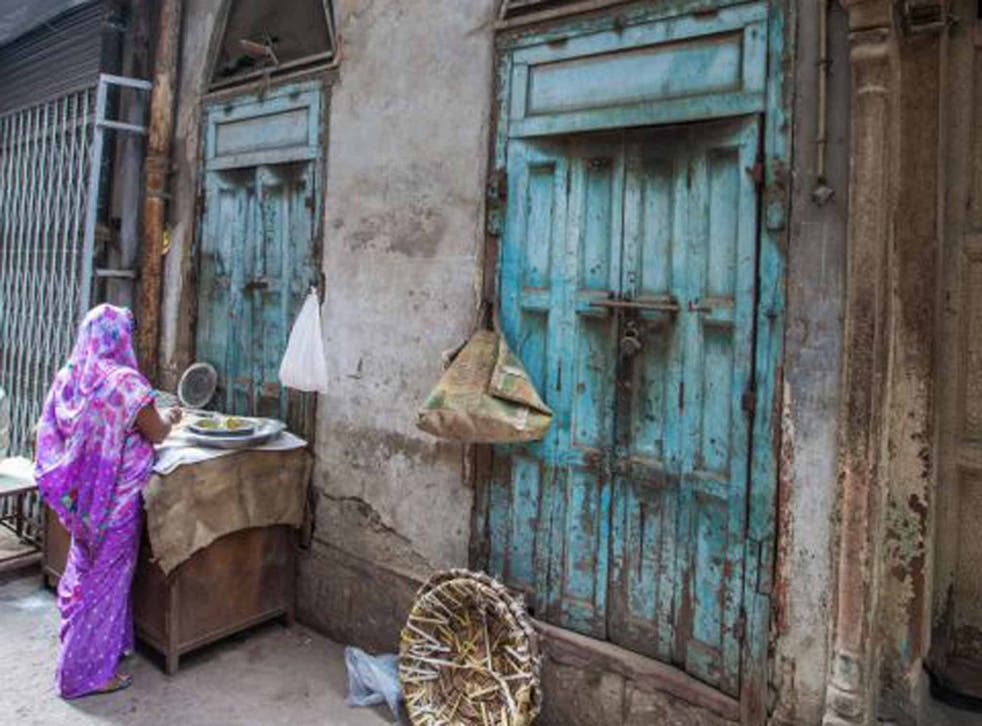 How Old Delhi's crumbling mansions are being restored
A bid for World Heritage status has been retracted, but all is not lost, says Daniel Allen
Daniel Allen
Friday 08 January 2016 12:54 Comments
As empires are forgotten, so too are their buildings. Navigating the streets of Old Delhi today, surrounded by ramshackle architecture and a raucous tide of humanity, it's hard to believe this time-ravaged enclave was once the haunt of India's ruling elite. But for those who know where to look, hidden away in a labyrinth of kuchas (alleys) and galis (lanes), the occasional ornate doorway or fluted column still traces a glorious past.
Originally known as Shahjahanabad (the city of Mughal Emperor Shahjahan), Old Delhi dates back to 1639. As the capital of the Mughal dynasty, it once incorporated hundreds of magnificent havelis, or courtyard houses, all vying to outdo each other in size and splendour.
"With their cool atria, hand-carved façades and lotus-shaped fountains, havelis were once the ultimate status symbol," Raj Dhar, a local guide, tells me. "It was from these fortified mansions that the Mughal aristocracy once oversaw vast swaths of the Indian subcontinent."
According to government figures, more than 500 havelis still stand in Old Delhi today, with most dating back to the the last years of the Mughal Empire in the mid-19th century. Yet the magnificence is long gone. Divided up among multiple owners and families, most are run down or ruined. The delicate floral carvings are all but worn away, the elegant jharokhas (hanging balconies) blackened with urban grime.
"It's sad to see what has become of these once grand buildings," Raj says. "It is only Delhi's recent bid to become a Unesco World Heritage City which has really focused people's minds on their plight."
Aishwarya Tipnis knows, first-hand, about haveli neglect. Called in to give advice to the newly moneyed owner of a haveli in the Chhota Bazaar area of Old Delhi in 2012, the young Indian architect was initially taken aback by the property's parlous condition.
"When I first saw the rising damp, the subsidence and the general dilapidation, it was a bit of a shock," Aishwarya says. "Yet the more I took in this haveli's faded grandeur, the more convinced I became that we should try to restore it."
It took a little longer for Devki Nandan Bagla, the building's co-owner, to come round to her point of view, rather than simply selling up. "Most Delhi people dream of owning a modern apartment in a prestigious area. Old Delhi, and its residents, are seen as backward," Aishwarya says. But, as she explained her plans to modernise and renovate his property, Devki became increasingly enthusiastic.
"This haveli has been in my family since 1905," he says. "As a boy I played cricket in this very courtyard. Standing here now I'm proud that we didn't sell up. My sons will have a palace to show their prospective brides."
Over the past three years, Devki's haveli has witnessed a remarkable change. In one corner of the courtyard I spy a makeshift machine for mixing lime mortar, while a small army of specially trained labourers repairs doorways, windows, floors and brickwork.
Due to be completed later this year, this is thought to be the first Old Delhi haveli to be extensively restored as a private home, though other haveli owners are also taking up the restoration challenge. Located in Old Delhi's bustling Sita Ram Bazar quarter, the Masterji Kee Haveli is a traditional, four-storey Mughal mansion, with a central courtyard flanked by a bewildering number of rooms. The present owner has spent a small fortune on the property, stocking it with some beautiful period antiques and furniture.
Last September, the government announced a new plan to provide grants and loans to haveli owners in order to fund their sympathetic conversion into museums, galleries and guesthouses. Yet, in a society that urgently wants to modernise, protection of architectural heritage is a contentious issue.
India's culture ministry first asked Unesco to consider Delhi as a World Heritage City in 2012. Last May, a month before Unesco was set to make a decision, the bid was suddenly withdrawn. While the reasons given were unclear, some politicians are said to have been concerned about hampering Delhi's economic growth.
Although it is unlikely that the bid will be resubmitted to Unesco in the next couple of years, due to the scheduled nomination of other Indian cities, Old Delhi is taking tentative steps to rescue its majestic Mughal mansions.
The road to salvation may be as convoluted as the backstreets of Old Delhi itself, but at least the process has begun.
trail of the unexpected Restoring Delhi's grand homes
Getting there
Mystic India (0207 931 8273; mysticindia.co.uk) offers a nine-day tour of India from £1,242pp, including flights from Heathrow and an Old Haveli and Bazaar Walk in Delhi.
Delhi is served from Heathrow by British Airways, Virgin Atlantic, Air India and Jet Airways. Connecting flights from regional airports are available with Etihad and Emirates.
More information
British passport-holders require a visa, obtainable in advance from indian visaonline.gov.in for $60/£40.
incredibleindia.org
Register for free to continue reading
Registration is a free and easy way to support our truly independent journalism
By registering, you will also enjoy limited access to Premium articles, exclusive newsletters, commenting, and virtual events with our leading journalists
Already have an account? sign in
Join our new commenting forum
Join thought-provoking conversations, follow other Independent readers and see their replies