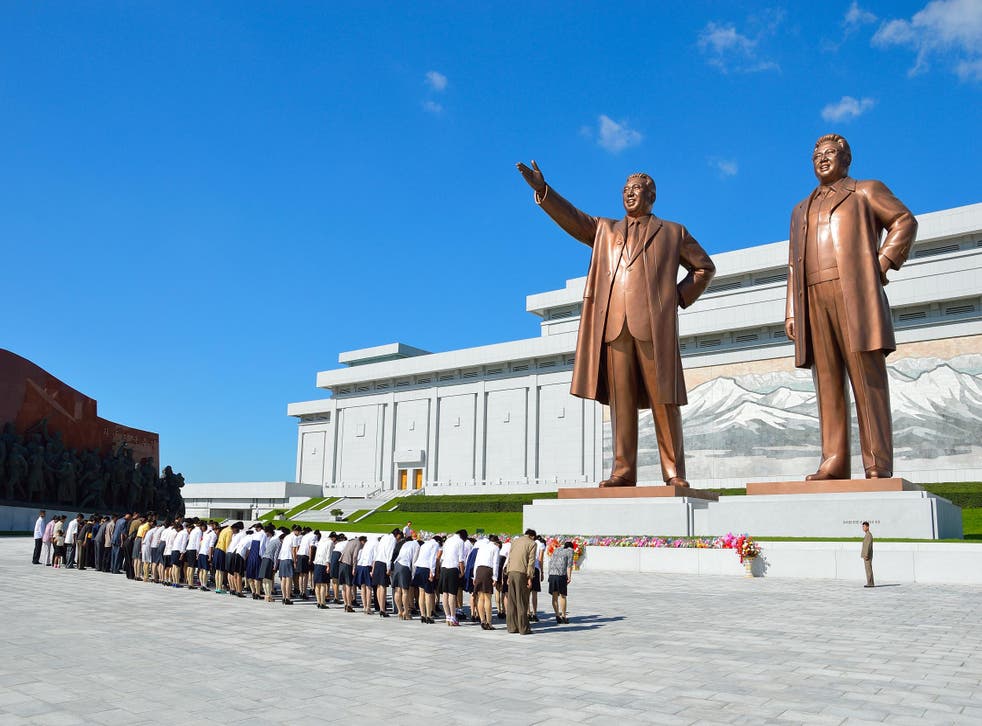 North Korea holidays: Meet the Brit who leads tourist trips to the 'Hermit Kingdom'
Carl Meadows, 36, lives in Bristol and has led tour groups to North Korea on more than 20 occasions. He tells us what we don't know about this mysterious country
Clare Vooght
Wednesday 21 December 2016 14:21 Comments
North Korea: you might think of mass dance parades, the heavily militarised border with South Korea, or the Soviet-esque Pyongyang Metro – with its grand chandeliers and frescoes, this is the deepest located metro system in the world at 361ft underground, helping it double as a nuclear bunker.
And of course there's the country's control over incoming culture – the state regulates all production of, and access to, literature and art.
But that, says tour guide Carl Meadows – who has taken at least 21 trips to the "hermit kingdom", racking up a total of seven months in the country – is where its "charm" lies.
"I've always been interested in the more unusual parts of the world and North Korea ticks all the boxes," says the 36-year-old, who lives in Bristol.
North Korea is certainly "unusual". Earlier this year, an American tourist was sentenced to 15 years' hard labour for trying to steal a propaganda poster. And in November, new satellite images revealed the excruciating realities of the country's prison camps, which Amnesty International described as "hellish".
But Meadows says he finds the country "fascinating".
"There's nowhere as bizarre as North Korea," he says. "I went to Iran for the first time about six years ago and everyone knows the Western footballers, you can have pizza – but North Korea fascinates me because everything is totally different."
Wait, you can't get pizza in North Korea? "Well, there are actually now two pizzerias in Pyongyang that I know of, but they're not ubiquitous like elsewhere!" says Meadows. "The first pizza restaurant opened in 2009 – I attended shortly after it first opened. My wife and I enjoyed a pizza while the tour guides looked at us in disdain. 'Cheese? Disgusting!' they exclaimed – while they tucked into a dish of raw liver!"
Whether it's morally right to visit North Korea, of course, is a choice for the individual. (Our travel correspondent Simon Calder gives his take here.)
Yet Meadows, who has run tours to North Korea for Regent Holidays since 2004, reckons a visit here is worthwhile just as much for the beautiful scenery, glorious hiking trails and local brews as it is a peek into a notoriously secret state. Here, he tells us five things you probably didn't know about North Korea.
It's actually quite difficult to get arrested
A lot of people are frightened of going to North Korea because they worry they won't come back, says Meadows. But he says that outcome is extremely rare. "You're essentially a guest of the state," he says. "You shouldn't mock the leadership, but actually they're a lot more relaxed and forgiving [than people think] – if someone was to go out there and make a faux pas, maybe ask a silly question they shouldn't, they're not going to get in trouble unless they're looking for trouble. You have to be willfully stupid to get into a bad situation, going out of your way to upset them.
"It's best to think of North Korea as something akin to a religion," Meadows adds. "You wouldn't go to another part of the world and start questioning their religion. If you just accept what they have, right or wrong, you won't have any problems."
When someone has said something confrontational, Meadows says, "Normally the guide just looks a bit embarrassed and says they don't understand the question. [In my experience] it's never led to anything more than the guide walking away or changing the subject."
But make sure you take pictures 'properly'
However, dodgy photography won't make you any friends: "They have some unique rules. If you're taking a picture of a statue of a leader make sure you take it of their full body – don't take it just of part of their legs or just their face," Meadows warns.
What happens if you don't obey those rules? "Should someone accidentally take a photograph that has not been taken to the guide's satisfaction, they will normally just politely ask you to delete the offending image and thank you for your 'kind understanding'. Should somebody repeatedly take images just to antagonise the guides they will not be so polite, and the image will ultimately end up being deleted!"
The country has its own trendy craft beer scene
Global thirst for microbrews hasn't passed North Korea by – the country hosted its own beer festival for the first time in August 2016. The Taedonggang Beer Festival (run by the state-owned brand named after the Taedong river running through Pyongyang) is set to be an annual event, with other local beer brands due to get involved in future. You can also take bespoke tours around North Korean microbreweries, adds Meadows. "Should travellers venture as far as Chongjin in the north-east they will likely stay in the Chongjin Tourist Hotel. Ask nicely and the brewer from the hotel's on-site microbrewery might let you spend the evening helping yourself directly from the beer tanks – with the cost for the evening likely to be less than a pint here in the UK."
The hiking here is world-class
According to Meadows, Pyongyang is interesting, but best about North Korea is its incredible mountains. "Because there are few tourists, the mountains are pristine and you can almost guarantee you'll be the only person there," he says. "In Europe, you'd be with hundreds of other hikers. I've had 8-10 hour hikes and it's just been myself, a guide and wonderful scenery. North Koreans do like to go out in the outdoors and to have picnics, and you occasionally see them hiking in the mountains, but it's not popular like it is in the West."
Mount Kumgang is his favourite place to take tourists – all sheer cliffs, rugged boulders and vistas of misty peaks. It was impossible to visit six years ago, but the country is slowly opening up to visitors. "You can spend two, three, four days going hiking there – really stunning scenery."
North Koreans think Europe is unsafe
North Koreans worry the rest of the world is dangerous. "One of my Korean business partners, when he leaves to travel to Europe, people say, 'What about the riots in the streets of London?' They worry about when they leave North Korea. It goes both ways."
Most people who visit North Korea get hooked, according to Meadows, who says large numbers of visitors he takes to the country tend to be on their second trip.
Click here to view Asian tours and holidays, with Independent Holidays.
Register for free to continue reading
Registration is a free and easy way to support our truly independent journalism
By registering, you will also enjoy limited access to Premium articles, exclusive newsletters, commenting, and virtual events with our leading journalists
Already have an account? sign in
Join our new commenting forum
Join thought-provoking conversations, follow other Independent readers and see their replies