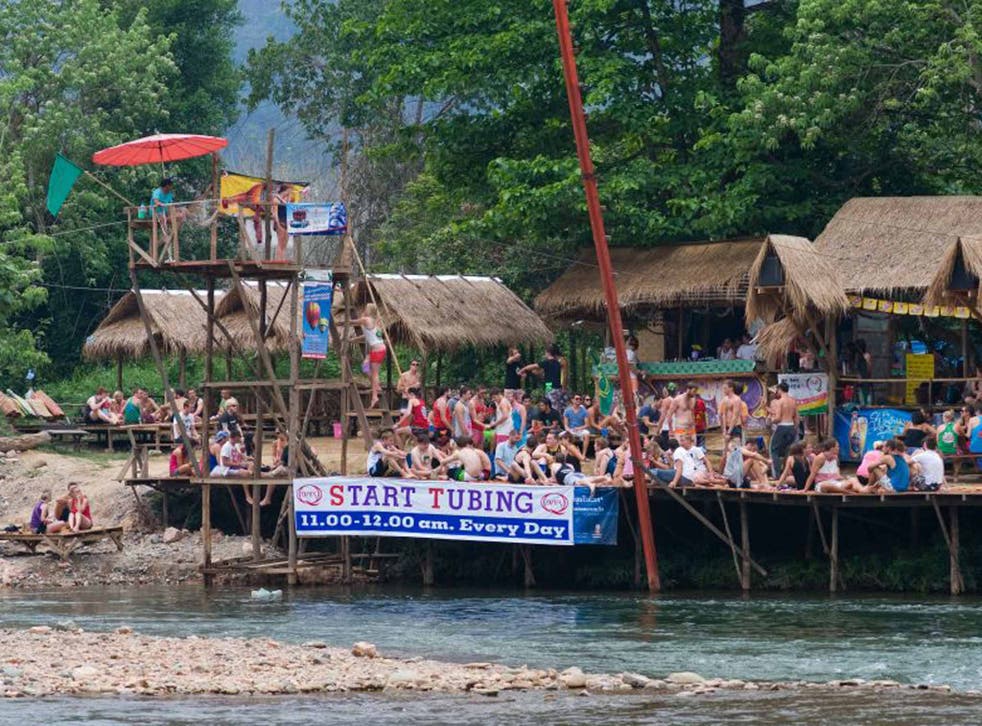 How Vang Vieng in Laos has worked hard to improve its dangerous reputation
In the scruffy Laotian town of Vang Vieng, there's only one statistic that matters. It has been more than three years since the last death on the river. From the waitress in the riverside bar, to the government official in his glacially air-conditioned office, the same boast is rolled off the tongue with relish: "Not one death, not a single one."
That the question "How's business?" is first and foremost a matter of mortality may seem strange. But to any backpacker who has set foot on South-east Asia's "banana pancake" trail, the significance of the claim is unsurprising, and impressive. Until 2012, Vang Vieng was the drop-off point of choice for holidaymakers from hell – the town where word-of-mouth had it that the party never ended.
"It was pretty horrific to be honest," says Gary O'Donoghue, the owner of a popular Irish pub in the town centre. O'Donoghue (who moved to Vang Vieng in 2008) witnessed the town's sudden metamorphosis from hippy hangout to water-propelled club strip in 2009. The main culprit was the seemingly innocuous pastime of "tubing". Tourists would rent inner tyres and float down the Nam Song river, where a proliferation of unlicensed shacks would compete to entice them out of the water with cheap alcohol, drugs and improvised water slides and swings.
O'Donoghue said that for a long time reports of deaths from river-related injuries were rumours that occasionally became horribly real: he was personally sought out by two bereaved families who travelled to Laos looking for answers. But the party carried on.
Then in 2012, hard numbers were made public for the first time: 27 tourists had died in Vang Vieng the previous year. The headline prompted a crackdown that tore the town up by its roots: tubing was banned, riverside shacks were torn down, owners arrested, and drugs disappeared from bar menus. "Even the lads at the tubing centre said that they knew that one year it would go too far, and that year it did," says O'Donoghue.
Today, Vang Vieng is still an unattractive, bloated town where restaurants screen Friends on a loop and Laotian cuisine is hard to find. But things have changed. Draconian legislation, global economic shifts and sheer good luck have seen the town go from death trap to something more promising.
Boonmy Phommasa, head of Vang Vieng's tourist office described the process in vague terms. "The government implemented a plan to improve the problem, and now the tourists are happy," he said. But he has the figures to back up his claim: according to Phommasa, 2014 saw more than 140,000 tourists visit, the highest on record.
The transition occurred through a carefully legislated return to the party circuit – a series of concessions that brought back just enough of the "good old days" to convince hedonistic Western tourists to make the trip. A dozen bars have been allowed to rebuild along the riverside, but only four are permitted to open on any one day. The two clubs with late-night licences operate a similar rotation. The tubing centre has reopened, but reportedly sends out a maximum of 150 tubes per day, compared with 500 in 2012.
As with everywhere that backpackers congregate, drugs are still available, but it's an under-the-counter affair. And, as O'Donoghue points out, the broad success of the regulations is plain to see. He gestures to a group of Irishmen knocking back beers at the table nearest the bar: "Three years ago, at least one of them would have been on crutches."
Just as significant as the backpackers' return has been the influx of a new demographic to Vang Vieng. According to the government, now more than half of the town's visitors are Asian. Last year, the wildly popular Korean reality television show Youth Over Flowers set up camp in Vang Vieng, where it filmed the misadventures of its cast of young celebrities. Tourists followed.
In Sakura, a popular bar opposite O'Donoghue's Irish pub, bar manager Jason Stoltenberg recalled the years during which he worked at one of the wildest bars in Vang Vieng, when the party would go on until 6am. "People come in and you don't really want to say, 'Oh, by the way someone died in that spot yesterday'," he said. "You're supposed to keep partying, right?" When the crackdown came, his bar was the first to be raided.
Today, the jovial Canadian is still at the helm of one of the biggest bars in town. By 10pm, Sakura's party crowd is dancing on the tables. Then midnight strikes, and within five minutes the room is empty. The transition is so sudden that a woman emerges from the bathroom and looks around, confused. She asks if she can have another drink – "for the road". She can't. Sakura's Cinderella licence is up and its staff are going bowling.
Getting there
There are no direct flights between Europe and Laos. The capital, Vientiane, can be accessed via Bangkok on Thai Airways (0844 561 0911; thaiairways.com), via Hanoi on Vietnam Airlines (020-3263 2062; vietnamairlines.com) or via Seoul on Korean Air (0800 413 000; koreanair.com).
Tour operators offering trips to Laos and Vang Vieng include Insider Journeys (01865 268 941; insiderjourneys.co.uk), which offers a 13-day small group trip around the country from £1,775pp, excluding flights.
More information
Register for free to continue reading
Registration is a free and easy way to support our truly independent journalism
By registering, you will also enjoy limited access to Premium articles, exclusive newsletters, commenting, and virtual events with our leading journalists
Already have an account? sign in
Join our new commenting forum
Join thought-provoking conversations, follow other Independent readers and see their replies