The Independent's journalism is supported by our readers. When you purchase through links on our site, we may earn commission.
Bengaluru city guide: Where to eat, drink, shop and stay in India's Silicon Valley
How to make the most of a visit to the country's start-up capital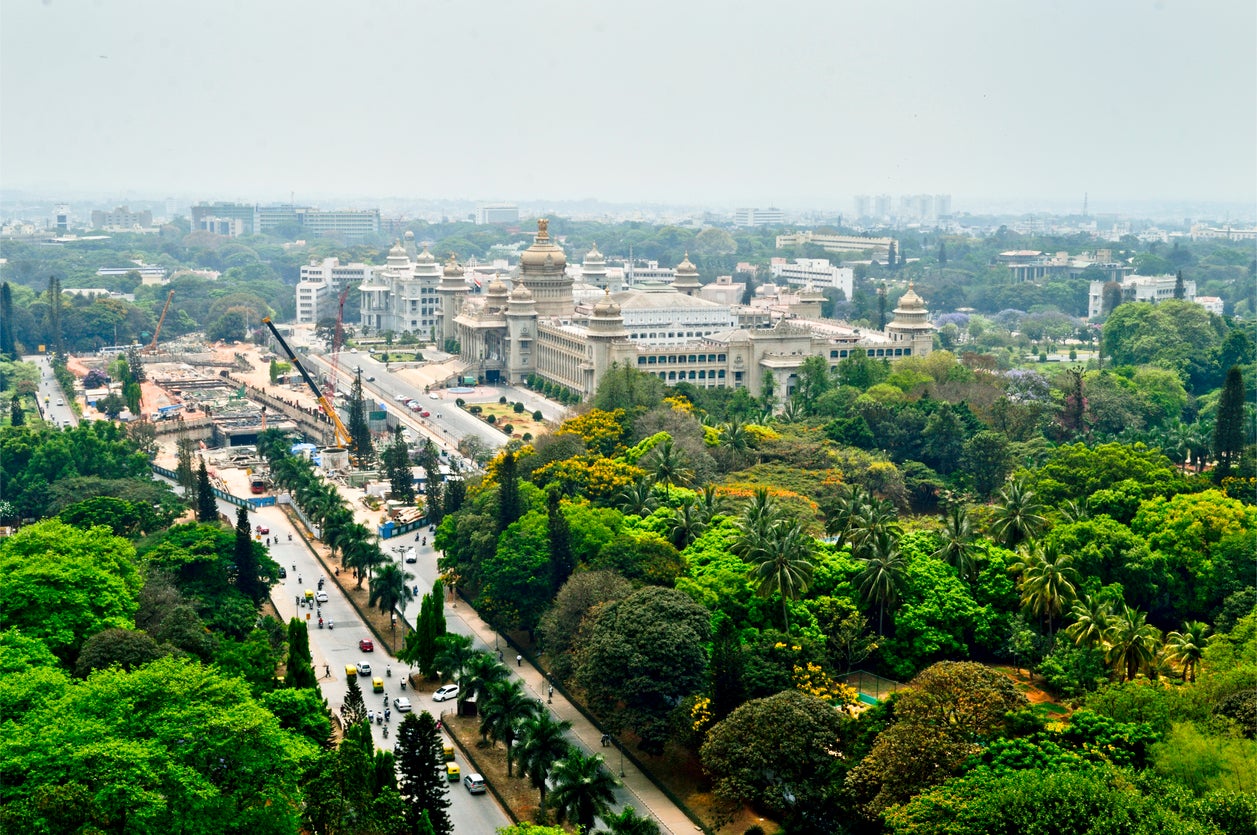 Otherwise known as India's Silicon Valley due to the number of start-ups based here – 70 per cent of all start-ups in India to be precise – the park-filled southern Indian city of Bengaluru (the official name is preferred to the anglicised "Bangalore") is expanding rapidly.
The city has a fantastic food scene, and beer drinkers are especially well-catered for here – there are over 3,000 pubs, including the flagship brew-pub of hip Indian microbrewery Toit.
What to do
Visit a replica of Windsor Castle
Start with the undeniably bizarre Bengaluru Palace (admission 450 RS/£5), a replica of Windsor Castle. It was built in 1887 by former Mysore king Chamaraja Wadiyar, who was a keen hunter, which explains the weird and wonderful furniture – there's a stool made from an elephant's foot and a table supported by four (rather tired) goat's legs. Don't forget to make use of the recently launched audio guide. Open daily, 9am-5.30pm.
Explore the city's gardens
Bengaluru is known as India's garden city, because of its vast expanses of greenery. At Lalbagh Botanical Gardens you'll find India's largest collection of tropical plants in a glass house modelled on the one at Kew. The enormous lump of rock in the gardens' centre, a national geological monument, is over three billion years old and one of the Indian sub-continent's earliest example of gneiss – metamorphic rock. Open daily, 6am-7pm, admission from 10 RS (£1).
It's also worth taking the time to wander through leafy Cubbon Park, named after Lieutenant-General Sir Mark Cubbon, who became British Commissioner of Mysore in 1834. There's a beautiful rose garden, and the park is packed with historical buildings, including the brick-red State Central Library, which has one of the world's largest collections of braille books. The park has statues of Queen Victoria and King Edward VII, too.
Check out a temple
Bengaluru's pyramid-like ISKON temple is one of the largest ISKON (International Society for Krishna Consciousness) temples in the world. Thousands of Hindus come here every day, but everyone's welcome. Pay 300 RS (£3.30) for an "express ticket", which allows you to cut the queues. You'll reach the main temple via a flight of stairs which winds through several smaller ones. Once inside, you'll receive a puja blessing from one of the monks before watching them perform their aarti.
It's also worth checking out south Bengaluru's Bull Temple, with its enormous garland-draped stone bovine – carved from a single piece of granite. It's dedicated to Nandi, the mount of Lord Shiva.
Nightlife
Bengaluru's best nightlife can be found in the city centre – the UB City complex is home to some fantastic bars (including the rooftop Skyye Lounge) while the Indiranagar neighbourhood is famous for its brew pubs. The imminent opening of Sanchez (the flagship restaurant is in UB City) is cementing this area's reputation as a fantastic all-round food and drink destination.
Where to stay
Bengaluru now has a number of luxury hotels, including a Ritz-Carlton, a Four Seasons and an Oberoi.
The ITC Gardenia, in the city centre and adjacent to Cubbon Park, feels both luxurious and traditional. The pillars in the courtyard are inspired by the ones at Bengaluru's ancient Tipu Sultan's Summer Palace, and guests are welcomed with a traditional greeting – the marking of the forehead with a dot of vermilion paste. Make sure you squeeze in a visit to the hotel's K&K restaurant for some traditional Indian cuisine. Doubles from 24,500 RS (£270), room only.
Stay at the Taj MG Road and you'll have easy access to the city's best bits. It's also home to the fantastic Café Mozaic, known for its street food-inspired cuisine. Doubles from 7,888 RS (£87), B&B.
Where to eat
Breakfast
It won't come as a surprise to discover that eggs reign supreme at the Egg Factory, a Bengaluru breakfast spot with branches throughout the city. The one on St Marks Road is particularly popular. We recommend the Egg Factory special (200 RS/£2.44), which comes with a toasted brioche, masala omelette, akoori pav, sauteed mushrooms and coffee or tea.
Lunch
Time to sample Bengaluru's legendary food truck cuisine. The city is famous for its roving food trucks, many of which have been set up by entrepreneurs who quit their tech jobs to follow their dreams. There are dozens to choose from, and you can track their locations via their Facebook pages. Expect to pay under 450 RS (£5) for a hearty lunch. Three of the best include Spitfire Barbecue Truck, famous for its slow-cooked ribs, the Swat truck, serving "authentic American curbside gourmet", and Foodipa, known for delicious kachoris (dumpling-like fried snacks).
Dinner
Head to UB City's Sanchez for Asian-Mexican fusion cuisine. Amritsar-born head chef Vikas Seth has worked in some of India's best restaurants and honed his craft at the Culinary Institute of America. Local ingredients are used to give classic Mexican dishes an Indian twist – for example, order the nachos and your guacamole will be prepared tableside, using India's famously creamy avocados. Wash it down with one of the restaurant's legendary margaritas. Prices start from around 1,500 RS (£17) for a meal for two.
Where to drink
Indiranagar has the city's best pubs but we also recommend the Big Brewsky on Sarjapur Road. It's one of Bengaluru's liveliest brew pubs – on busier nights, you'll find over 500 people packed into this 65,000 square foot venue. It's also great value – expect to pay around 250 RS (£2.70) a pint.
Where to shop
For designer goods, head to UB City in Bengaluru's centre, which describes itself as India's first luxury mall. MG Road, also in the city centre, is a fantastic place for souvenirs – it's home to Cauvery Karnataka State Arts and Crafts Emporium, which specialises in local handicrafts.
Architectural highlight
Tipu Sultan's Summer Palace, an Indo-Islamic building made almost entirely from wood, has 160 pillars topped with eight petalled lotuses. It was built by the former ruler of Mysore in the 18th century. It served as his summer residence but also housed the durbar (court).
Nuts and bolts
What currency do I need?
RS – Indian rupees.
What language do they speak?
Kannad is the official language of Karnataka but almost everyone speaks English. Hindi and Urdu are also widely spoken.
Should I tip?
Tipping (known as baksheesh) is increasingly common in India. Tip between 10 and 15 per cent in restaurants if you're happy with the service, and round taxi fares up to the nearest RS 10.
What's the time difference?
Bengaluru is five and a half hours ahead.
What's the average flight time from the UK?
Nine hours and 35 minutes.
Public transport
Uber and Ola (the latter is a Bengaluru-based car share app) are cheap and safe. Expect to pay around £3 for a 10km journey.
Best view
In Cubbon Park, staring across the sprawling rose gardens towards the bright red State Central Library.
Insider tip
Look out for traditional "channapatna" toys made from grass-polished dudhi wood. It's said that after Tipu Sultan, Mysore's former ruler, fell in love with these lacquered toys on a visit to Persia, he paid artisans to come to this area of India and show locals how to make them.
Join our commenting forum
Join thought-provoking conversations, follow other Independent readers and see their replies