The Independent's journalism is supported by our readers. When you purchase through links on our site, we may earn commission.
Japan on a budget: Tokyo, Kyoto, and the bullet train
With a favourable exchange rate and rail and plane deals, it's a great time to visit the Land of the Rising Sun.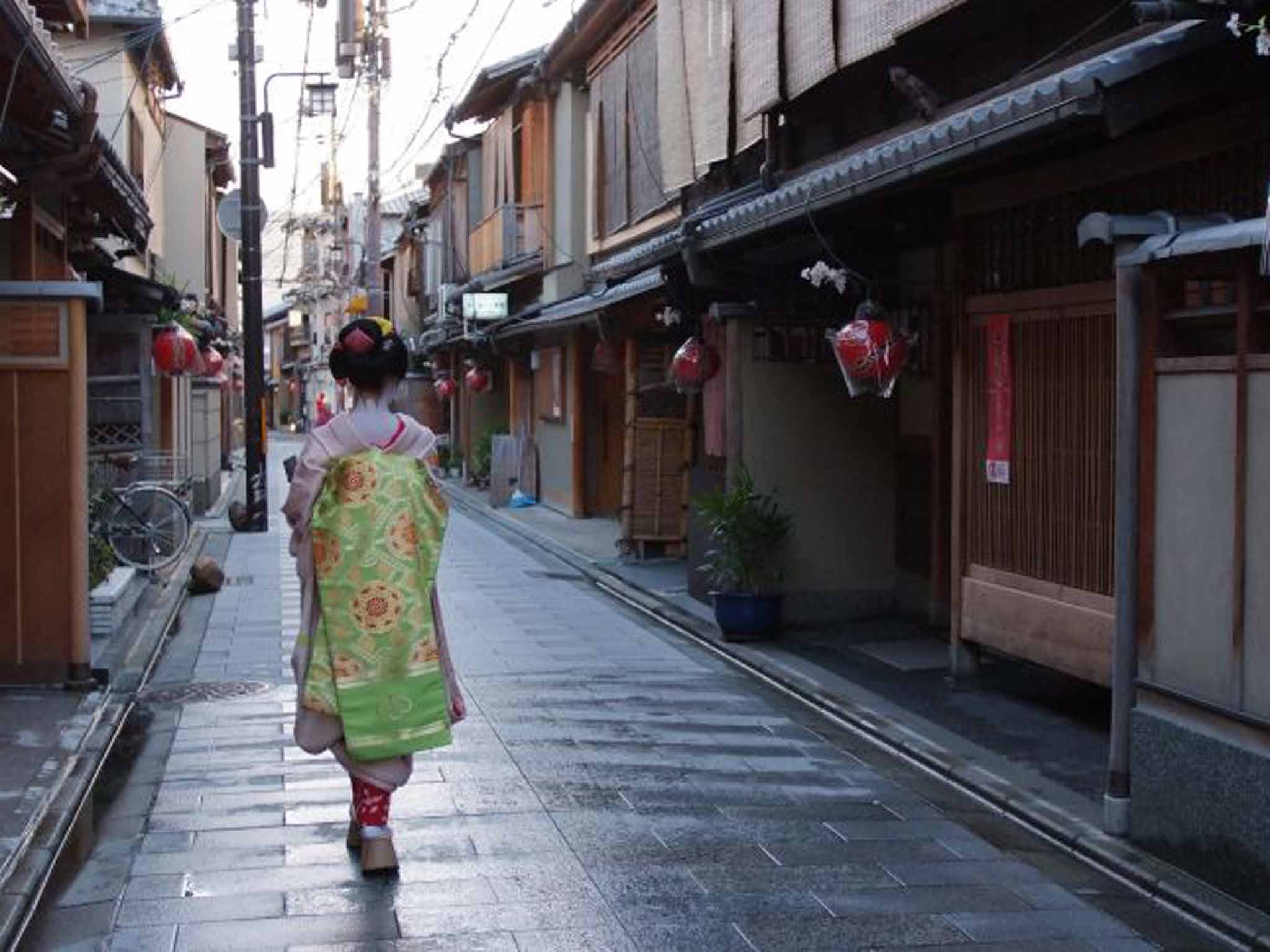 Japan has long enchanted travellers with its gilded temples, bubbling hot springs and frenetic, neon-lit cities; less so with its reputation for being prohibitively expensive. However, the latter simply isn't true – at least, it doesn't have to be.
Not only is it cheaper than you might think, it's cheaper than ever: with the current exchange rate it costs 40 per cent less than it did three years ago for Brits to travel in Japan. There are also recent incentives for overseas visitors such as increased duty-free shopping and more discount rail and plane fares, as well as a proliferation of new, budget-friendly hotels.
The first port of call for most visitors is the dense, dizzying capital, Tokyo. With its blend of old and new and effortless modern conveniences, it's the perfect place to get your feet wet.
The classic Japan itinerary then travels by bullet train to Kyoto, the ancient imperial capital, famed for its manicured rock gardens and historic geisha district. From there, you can continue west to the grand, recently restored castle, Himeji, and then on to Hiroshima, with its moving Second World War history.
The opening of a new bullet train line earlier this year, which links Tokyo to the former feudal stronghold Kanazawa, on the west coast, offers competition to this established route; in addition to Kanazawa's rich culinary and artistic heritage, the previously off-the-beaten-track west coast promises hot springs, fresh seafood and windswept seascapes. And from next spring, a new leg of the northbound line will stretch all the way to the city of Hakodate, opening up the largely undeveloped island of Hokkaido.
Japan's rugged central spine is another top draw: Nagano offers hiking among soaring vistas in the warmer months and skiing in the colder ones. The island of Kyushu, at the southern end of the bullet train line, sees fewer overseas travellers but is a favourite among the Japanese for its hot spring towns. South of here, the archipelago dissolves into a trickle of semi-tropical islands replete with sandy beaches and mangrove swamps – not at all how you might picture Japan.
The Japan Rail Pass (japanrailpass.net) gives you one week of unlimited rides on all bullet trains for 29,110 Japanese yen (£159, half-price for under-12s), a steep discount compared to individual tickets – by comparison, a single Tokyo-Kyoto fare is Y13,720 (£75). There is also an increasing number of regional rail passes that offer better deals for travellers who zone-in on one area; for example, the JR Kansai-Hokuriku Pass offers a week of unlimited travel between Kyoto, Osaka, Kanazawa and Himeji for Y16,000 (£87, half-price for under-12s).
For those on a budget, it is best to avoid visiting during peak domestic travel periods when prices can rise significantly. These include the first week of the new year and the string of bank holidays known as Golden Week (29 April to 6 May).
The most pleasant times to visit are in the cool and crisp autumn, and when the cherry blossoms bloom in late March and early April.
Summer can be very hot and sticky, meaning cooler mountain regions such as Nagano will be very crowded; it is also the only time of year that you can climb Japan's de facto national symbol, Mount Fuji.
Package trips can offer good value, and there are plenty of specialist operators to choose from. Inside Japan (0117 370 9751; insidejapantours.com) has a self-guided 14-night tour that takes in Tokyo, Kyoto and Hiroshima, with detours to the hot springs of Hakone and the mountain outpost of Takayama, for £1,200 per person (flights extra).
JTB (020 8237 1605; japanspecialist.co.uk) offers a 10-day group tour that follows the classic route from Tokyo to Hiroshima with a stop in Kyoto. The starting price of £2,089 per person includes Finnair flights from London, with a change of plane in Helsinki.
Temples and tea
Kyoto has more than 1,000 temples. It can be overwhelming, so the best way to see the city is to focus on a couple and then wander. Arguably Kyoto's most impressive sight, Fushimi-Inari Taisha (00 81 75 641 7331; inari.jp) is a sprawling shrine with hundreds of vermillion gates that form a tunnel up a mountainside. It's worth noting that while the temples usually charge a small admission fee, the shrines tend to be free.
Another popular walk is nicknamed the "Path of Philosophy"; it wends along a stream past teahouses and traditional homes. In the evening, there is the softly lit geisha district, Gion, with its wooden buildings.
Good Samaritan Club (bit.ly/FreeKyoto) is a university students group that conducts free tours of Kyoto in English. Bear in mind, though, that you will have to pay admission to any attractions for yourself and your guide.
Head for the hills
In the central mountains of Nagano and Gifu prefectures, well-preserved towns including Tsumago, Takayama and the Unesco-listed Shirakawa-go and Gokayama have centuries-old wooden buildings, cobblestone lanes and shops specialising in crafts such as lacquerware.
There are also opportunities for outdoor excursions; from Tsumago, you can hike 8km along the Nakasendo, one of Japan's historic foot highways, to another charming town, Magome. In Takayama, Satoyama Experience (satoyama-experience.com) offers half-day cycling tours through the town and into the surrounding countryside from Y5,000 (£27) pp.
This is also an excellent region to stay in a traditional country inn, where elaborate dinners of hearth-grilled fish and foraged vegetables are served. In Tsumago, Fujioto (00 81 264 57 3009; tsumago-fujioto.jp) is a welcoming place with English-speaking owners; doubles with two meals start from Y22,000 (£118).
Food for thought
Tokyo is high on the must-visit list for those who travel to eat – but the city's record number of Michelin stars (267) overshadows just how easy it is to eat well on a budget.
Noodles are universally delicious: follow in the footsteps of ramen cultists to Taishoken (00 81 3 3981 9360; tai-sho-ken.com) where meals cost less than £5.
You can also trawl the food halls of department stores such as Isetan (00 81 3 3225 2514; isetan.mistore.jp), which hosts takeaway outposts from restaurants and confectioners around Japan; all are beautifully arranged in photo-ready packaging and cost far less than eating at the restaurants themselves.
If you do want to sample something high-end, go for lunch when tasting menus can be had for half the price of dinner. At two-star Tempura Kondo (00 81 3 5568 0923) lunch courses start at Y6,500 (£35).
Take the waters
Even reserved travellers can be converted to the cult of onsen, as natural hot springs are called in Japan. Yes, it does involve stepping out of your comfort zone – getting naked with strangers – but the relaxing effect of soaking in mineral-rich natural waters is your reward.
Onsen come in all shapes and sizes: there are lavish resorts, many of which allow day-trippers in the early afternoon to use their baths for a small fee. There are also public ones, such as the seven in the spa town of Kinosaki (kinosaki-spa.gr.jp), a two-hour train ride from Kyoto; a day pass to enter them all costs Y1,200 (£7).
For an overnight trip from Tokyo, consider K's House Ito Onsen (00 81 557 35 9444; kshouse.jp), a 100-year-old high-end ryokan (traditional inn) that's been converted into a guesthouse. Double rooms start at Y9,200 (£50) and include access to the inn's hot spring bath.
Where to stay
If you don't mind bedding down in the traditional Japanese style – on futons laid out on reed mats – Kyoto has dozens of guesthouses in attractive wooden townhouses. For "proper" beds and something a touch more chic, Cinq Petite Chambre (00 81 75 708 7949), also in a restored Kyoto townhouse, offers double rooms from Y12,800 (£68), room only.
In Tokyo's nightlife district, Roppongi, boutique Hotel S (pictured above; 00 81 3 5771 2469; hr-roppongi.jp) has stylish doubles from Y15,600 (£84), with breakfast.
Nui hostel (00 81 3 6240 9854; backpackersjapan.co.jp) is housed in a converted warehouse with a trendy bar on the ground floor. It is one of the capital's hippest places to stay. A double room, with shared bath and a view of the Sumida River is Y7,500 (£40).
Toyoko Inn (toyoko-inn.com) is Japan's ubiquitous, reliable budget hotel chain and has properties in every major city.
Getting there
British Airways (0844 493 0787; ba.com), its partner Japan Airlines (0344 856 9778; jal.co.jp) and ANA (020 8762 8977; ana.co.jp) all fly non-stop from Heathrow to Tokyo's most convenient airport, Haneda. Next month, BA is charging £837 return. With a change of plane en route, cheaper flights (sometimes as low as £500 return) are available on numerous airlines from a range of UK airports to Narita airport, a 90-minute train ride from central Tokyo. For Kyoto, Kansai is the most convenient, but since non-stop flights ended a change of plane en route is required.
Getting around
Frequent, high-speed bullet trains serve most of Japan's major cities. If you're flying in on JAL, ANA or one of their partner airlines you can purchase discounted domestic flights for Y10,800 (£57) one-way – a good deal for itineraries that cover two disparate destinations.
Another option is the bus: this summer the Willer Express Bus (00 81 50 5805 0383; willerexpress.com) debuted its new reclining "cocoon" seats with partitions for privacy; the night fare from Tokyo to Kyoto, which also saves you a night's hotel fee, is Y10,700 (£80).
Click here to view the Japan - Land of the Rising Sun tour, with Independent Holidays.
Join our commenting forum
Join thought-provoking conversations, follow other Independent readers and see their replies