The Independent's journalism is supported by our readers. When you purchase through links on our site, we may earn commission.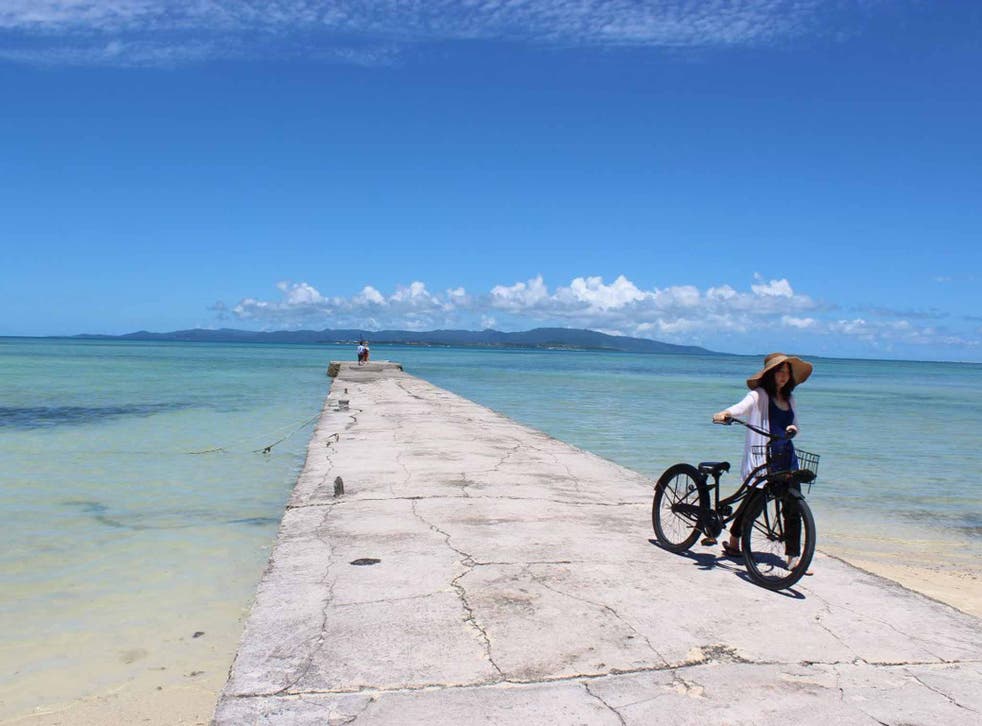 Japan's Yaeyama isles: Pearls of the Pacific
These sub-tropical islands offer a serene alternative to the cities, says Graeme Green – though a new airport may change things
Bells ring out across the island. The melody's familiar from life in London, the same sequence of notes played by Big Ben – the Westminster Chimes – but the setting couldn't be more different. Rather than the busy, noisy metropolis, I'm pulling myself up a rope to climb smooth, shining, wet rocks in a rainforest on the remote island of Iriomote in southern Japan. "The bells are from the local elementary school," says Naoya Ojima, a guide leading me up the island's hilly pathways. Schools in Japan and Taiwan, he explains, use the chimes to mark the start and end of each session.
Iriomote is the largest of 10 inhabited islands among the sub-tropical Yaeyama islands . Six million Japanese mainlanders come to the southern Okinawa region each year, including the Yaeyamas, for beach holidays, but there are almost no Western tourists. This might be set to change, though, with the recent opening of Painushima Ishigaki airport on Ishigaki island – served by direct flights from Taipei and Tokyo, with onward links by air or ferry to the other Yaeyama islands.
Closer to Taipei, Hong Kong, and Seoul than to Tokyo, the Yaeyamas and the encompassing Okinawa region have a culture distinct from mainland Japan. Until 1879, Okinawa constituted an independent Ryukyu kingdom, and some islanders still talk of the islands and local culture as Ryukyu, rather than Japanese. A few even put forward the idea of independence. "Mostly it's something people like to talk about when drinking," says Shoji Ueda, a teacher and guide.
Japan's Yaeyama isles

Show all 5
The Ryukyu kingdom had close trading and political links with China, and there are still signs of its influence across the islands: red walls and dragon motifs in Shuri Castle, the former Ryukyu government HQ on Okinawa; and the ceramic lion-like guardians, known as shisa, which are placed beside the entrances of homes, restaurants and other businesses. The shisa work in pairs to draw in good spirits and keep bad ones out.
I visit Ryukyu Mura, on Okinawa, a recreated village from the Ryukyu era, with traditional wooden houses where "villagers" work on pottery and textiles. Cartoonish sprites sit in trees – a nod to traditional island beliefs – while in one wooden hall a robed man plucks lively music on a sanshin (a traditional three-stringed instrument local to the islands). A group of women start to dance, including a sprightly 85-year-old balancing a bottle of rice whisky on her head.
"The lifestyle's more relaxed here than on the mainland," Shoji explains. "It's OK for things to be behind schedule. No one complains. It's known as 'Okinawa time.' People have a positive attitude to life." Even after a bad experience, Shoji goes on to explain, such as war (one of the Second World War's decisive battles took place on this island, leaving 241,227 dead) the local response is: tomorrow is another day.
I fly across to Ishigaki, the Yaeyamas' most populated island, landing at the still-gleaming new airport. From Kabira Bay, where black pearl farms sit out on the water, I go out with a local dive outfit. The warm clear waters around Ishigaki have little current. "It's very easy, calm, relaxed diving here," says instructor Harvey Tiw. Below the surface, sun rays bounce off coral and light up colourful tropical marine life – I catch a glimpse of lionfish and tiny sea slugs called nudibranchs. Clownfish weave around the stinging tentacles of anemones, while a banded sea snake follows a coral trout, hoping to pick up scraps from the fish's meals.
"The biggest reason people come to Ishigaki is for mantas," Harvey tells me, back on the boat, as we motor across to Manta Point. "We see them quite often. They can be up three or four metres." We spend 45 minutes circling the rocky outcrop at Manta Scrambles, but today they're not here.
"Usually, they hang around there," Harvey shrugs, as we climb back aboard, disappointed. "It's a cleaning station – the small coral fish clean them."
Each of the Yaeyama islands has a different feel, something unique about the landscapes, wildlife or local culture. Iriomote – a ferry ride from Ishigaki – is green and hilly, with 90 per cent of the island covered in sub-tropical forest. The island has around 100 rarely-seen Iriomote wild cats and other unique flora and fauna, leading to some calling it – with notable exaggeration – the "Galapagos of Japan".
"On Iriomote, we have mountains, river, mangroves, ocean. We have everything here," says island guide Naoya Ojima. "We feel really close to nature."
An eagle circles overhead as we kayak up the mangrove-lined Hinai river. We are aiming for the start of hiking trails leading to Pinaisara, Okinawa's biggest waterfall, 55 metres tall. Securing our boats at the bank, we walk up into the hot, humid, forest-covered hills, a steep path leading over wet rocks and tangled tree roots. "We have to work up a sweat," Naoya laughs, as we scramble up, "so we can go in the pool."
At our first rest stop, water plunges down from Pinaisara into a rock pool below, which is filled with Japanese tourists swimming and taking photographs. After a cooling dip, we hike to the summit, using ropes to climb the particularly steep sections, to the sound of bells ringing out across the valley. We rest at the top of the falls, bare feet cooling in the running water. Naoya cooks some noodles with chilli, spring onions and ginger (Okinawa's diet is famously healthy, with plenty of fish, tofu, local fruit and vegetables) and we tuck in, with views over Funara Bay and thick green forest.
I catch the ferry back to Ishigaki the next day and cross straight over to tiny Taketomi island, just 4km away. I borrow a bike from my hotel and pedal around the island, which, even at a gentle pace, doesn't take long (the island's circumference is less than 9km). I stop to snorkel off Kondoi Beach, dodging sea cucumbers on the sand below, before weaving my way through the tranquil village, back across the island as the last of the light disappears and the bright stars come out.
In the morning, I catch a ride around the village on a cart pulled by a lumbering water buffalo. The island community cleans and tidies the village together every day; there's no litter anywhere. I spot one villager sweeping, another trimming a shrub into the shape of a water buffalo's head and horns. There are shisa on walls, roofs and doorways, some traditional, some cartoonish and modern with wide grins.
As the buffalo cart passes between flowered walls lining narrow streets, the driver sings a traditional folk song. Bells ring out from the local school, reminding me again of London – but what a difference this makes from my usual morning commute.
Getting there
Graeme Green travelled with Inside Japan (0117 370 9751; insidejapantours.com) which has a 12-night, self-guided Japan Island Hopping trip from £1,560pp. It includes domestic (but not international) travel, B&B and a number of meals and excursion. The tour starts and ends with nights in Tokyo and visits the islands of Ishigaki, Iriomote, Taketomi, the Okinawa mainland and the Kerama islands.
He flew to Tokyo Haneda airport from Heathrow with British Airways (0844 4930787; ba.com). Return flights start from £836. JAL (jal.com), ANA (ana.co.jp) and Skymark (skymark.co.jp) operate frequent flights from Haneda to Naha on Okinawa. ANA and JAL both operate daily services from Haneda to Ishigaki, while China Airlines (china-airlines.com) has two Taipei-Ishigaku flights a week. Regular ferry services connect Ishigaki port with Iriomote (40 minutes) and Taketomi (20 minutes).
Staying there
The Ritz-Carlton Okinawa (00 81 98043 5555; ritzcarlton.com). Hyakuna Garan, Okinawa (00 81 98949 1011; hyakunagaran.com). ANA InterContinental Ishigaki Resort (00 81 98088 7111; intercontinental.com).
Eco Village, Iriomote (00 81 98085 5115; eco-village.jp). Hoshinoya Okinawa, Taketomi (00 81 503786 0066; hoshinoresort.com).
More information
Register for free to continue reading
Registration is a free and easy way to support our truly independent journalism
By registering, you will also enjoy limited access to Premium articles, exclusive newsletters, commenting, and virtual events with our leading journalists
Already have an account? sign in
Register for free to continue reading
Registration is a free and easy way to support our truly independent journalism
By registering, you will also enjoy limited access to Premium articles, exclusive newsletters, commenting, and virtual events with our leading journalists
Already have an account? sign in
Join our new commenting forum
Join thought-provoking conversations, follow other Independent readers and see their replies