The Independent's journalism is supported by our readers. When you purchase through links on our site, we may earn commission.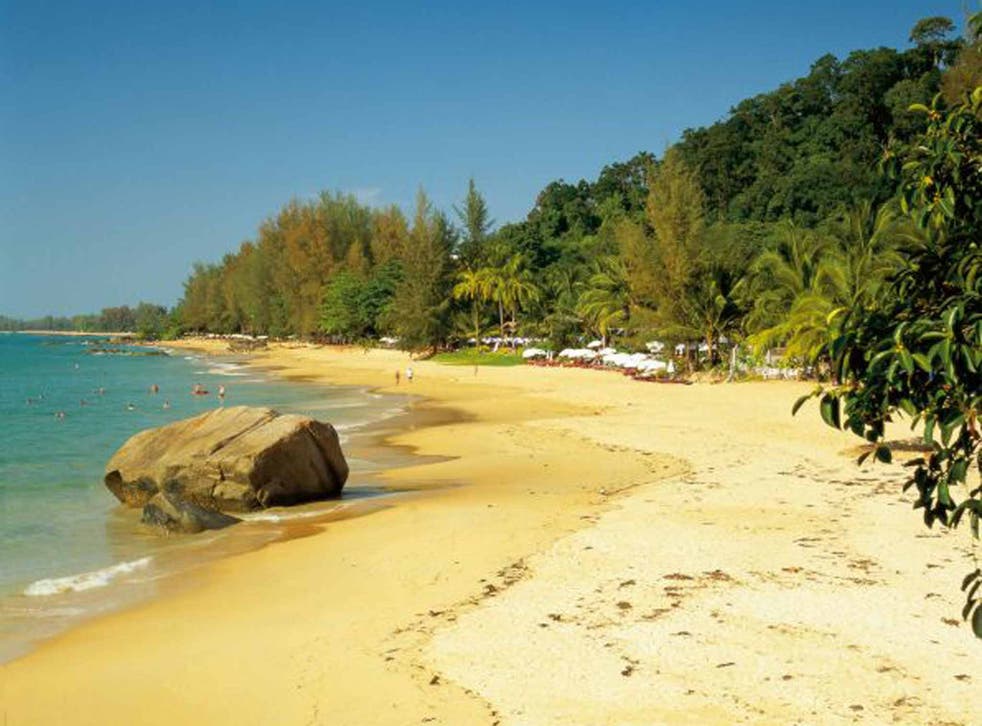 Khao Lak: A fresh start a decade after the tsunami
This devastated resort is on the mend, says Andrew Eames
Andrew Eames
Friday 19 December 2014 11:24 Comments
You may think you don't know the Thai beach resort of Khao Lak, but there's a good chance you do. For this is where, 10 years ago next week, the Asian tsunami made its most graphic entrance, courtesy of those horrifying holiday videos showing the sea retreating, followed by the massive wave sweeping up among the hotels. In addition, it was the location used for The Impossible, the Ewan McGregor film set amid the tsunami. And finally, it also has the tragic distinction of being the Thai resort that recorded the most deaths in the disaster – conservatively put at 3,950 – including a member of the Thai royal family.
However, Khao Lak has put this traumatic episode behind it, and bounced back bigger, and far better, than it was before. Ten new hotels have opened this year alone. And its location gives it unfettered access to some of southern Thailand's finest rainforest, too.
Khao Lak lies some 55 miles north of Phuket on Thailand's southwestern shore. At the time when the tsunami struck, it was beginning to make its mark as a peaceful, low-key alternative to the increasingly brash resort to the south. Accordingly it was visited by those who wanted both space and peace, including the Thai King's eldest daughter and her children.
However, the very lack of concrete that was part of its barefoot appeal turned out to be its Achilles heel because that, combined with its particularly low-lying topography, made it vulnerable when the wave swept in.
Today, it has changed significantly. Where once it had bungalows, now there are small-to-medium, mostly boutiquey hotels, discreetly spread along the back of a long beach that rises relatively sharply to a balustrade-topped bulwark, marking the raised level on which the new properties now stand.
That upward step, combined with a handful of signs for tsunami evacuation routes, are practically the only clues to what went before. So, most of today's visitors go about their holiday-making here with little or no idea of what took place just a decade ago.
Many of the locals would prefer it to remain that way. "I didn't watch The Impossible, I had no wish to be reminded of it," says Jirapa Lertkulthana, whose family owns the Orchid, the hotel featured in the film. Jirapa, now manager of one of the resort's reborn originals, Casa de la Flora, was injured when the wave hit, and spent four days in hospital. And although she is still haunted by the images – "I replay it every day in my mind. It never goes away" – she is buoyant about the future of her home town.
"This was a sleepy place with a few prawn farmers, some mining and a bit of rubber. In 1999, there were only three hotels, and the sand was stained black from the mines. Now the sand is clean, we have 10,000 rooms, lots of jobs for locals, and a big variety of tourists, attracted by all the beachfront properties." If it wasn't for the way the memory lingers, that awful December day might never have happened.
Khao Lak's available space – its inter-connected beaches extend for many miles – is such that all the new buildings have been easily absorbed, and a small-town atmosphere still prevails, unlike in Phuket. It is a place to soak up the small joys of Thai life; the cheerful outlook; the smell of durian, garlic and spices; the street food, which is simultaneously jaw-droppingly cheap and eye-wateringly hot. The gaiety of the masseuses who'll pummel you in beachside bamboo shelters for a mere £6 an hour, with the sound of waves to mask your occasional gasp of pain.
There are a couple of tsunami-related relics. Around a mile inland, across the main road, rests Motorboat 813 from the Thai Navy. It had been anchored offshore, providing protection to Princess Ubolratana Phannawadee and family, when the tsunami struck. The princess's son was out on a jet ski at the time; his body was discovered the next day.
A memorial garden of a sort surrounds the stranded boat, but the exhibition area is still empty. Instead, there is a private tsunami museum along the main road, a perfunctory affair which pulls no punches. Most of its exhibits are videos, on a loop, detailing the grisly finding and the processing of victims' bodies.
Inland from the boat, and the museum, rural Thailand quickly dispels any negative thoughts about nature. It only takes a matter of minutes, by rented motorcycle or taxi, to be among soaring buttresses of hardwood trees, trailing lianas and giant hands of palm, creating a forest canopy that sizzles with cicadas.
This is the Lamru National Park, which reaches out from the interior like a muscular arm of karstic limestone to dabble its fingers in the sea. Waterfalls tumble down off its flanks, particularly at Chong Fah, reached through a villagey world of duck ponds and rubber plantations. Chong Fah is actually a series of waterfalls, smothered in green and filled with fish, which all come rushing for a nibble when you venture in to swim.
Even if visitors don't make it as far as Chong Fah – or even to the more distant Khao Sok National Park, the biggest wilderness area in Thailand – there's a particularly accessible bit of forest where the Lamru National Park hits the sea, just south of all the hotels.
Here, a marked trail down from the visitor centre bumps over roots, swerves around stacks of bamboo and ducks under lianas along the shore, to reach a perfect little cove with a swing and a small café. It is a place to swim, have a drink, and ponder the duplicity of nature, which can be both so beautiful, and so cruel.
Getting there
Andrew Eames travelled with Trailfinders (020 7368 1200; trailfinders.com), which offers seven nights' B&B at Casa de la Flora from £1,199, including flights from Heathrow, domestic flights and transfers.
Phuket is served direct from Gatwick by Thomson Airways (0871 231 4787; thomson.com). Indirect flights are available on Etihad (020 3450 7300; etihadairways.com), Qatar (0844 846 8380; qatarairways.com), Thai Airways (0844 561 0911; thaiairways.co.uk) and Singapore Airlines (0844 800 2380; singaporeair.com).
More information
Click here to view Asian tours and holidays, with Independent Holidays.
Register for free to continue reading
Registration is a free and easy way to support our truly independent journalism
By registering, you will also enjoy limited access to Premium articles, exclusive newsletters, commenting, and virtual events with our leading journalists
Already have an account? sign in
Join our new commenting forum
Join thought-provoking conversations, follow other Independent readers and see their replies