No cars, ATMs or other tourists: Finding paradise on the deserted 4,000 Islands of Laos
Si Phan Don is gearing up for mass tourism. Go now, while it's still quiet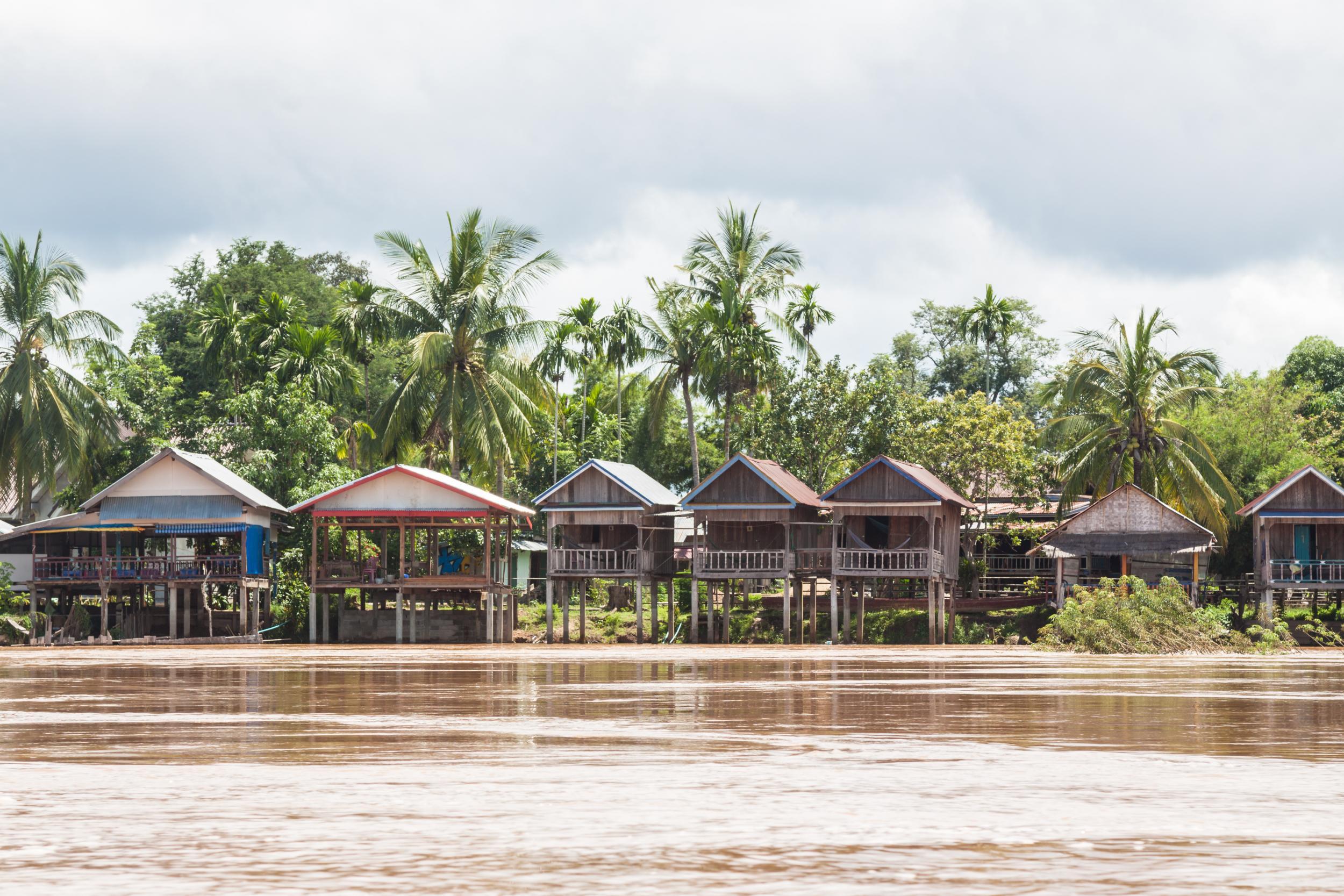 As I swing in a hammock on Don Daeng island, overlooking the Mekong river, the rather poetic name given to this patch of Laos seems apt: Si Phan Don, or 4,000 Islands.
Here, where the Mekong is at its widest, only a handful of the islands are large enough to inhabit; even fewer are set up for tourists. And even at Don Det – the busiest, lined with huts and bungalows with balconies on wooden stilts over the river – there's little more to do than lie back in a hammock and toast the sunset with a Beerlao.
If you like your holidays action-packed or stuffed with sights, lazy-paced southern Laos may not be for you. But if you're in for island-hopping, the region offers up real treasures.
The place to start isn't, technically, part of Si Phan Don – an hour south of Pakse airport, pretty little Champasak is the jumping off point for sleepy Don Daeng. Without cars or streetlights, it's not on the obvious tourist trail, but one of the region's classiest hotel offerings, La Folie Lodge, is helping put it on the map, with astonishing views across the river to the forest-clad Phou Kao mountains and the Thai border.
Only seven miles long, Don Daeng has a single dusty path, lined with banana trees and coconut palms, around its perimeter; hire a bike or take an early-morning hike to get a taste of unspoiled village life.
Hop back across the river to visit the Unesco-protected Wat Phou, a semi-ruined Khmer temple dating back to the 11th century at the base of the mountains. It's an atmospheric place to explore – like a mini Angkor Wat, minus the tourists but with splendid views.
If you prefer to stay this side of the river, the Champasak tourist information office can arrange simple home stays where you sleep on a mattress on the floor of a wooden stilt house, eat home-cooked food, wash with a bucket, and rise with the local cockerels.
How do you choose from 4,000 islands?
Si Phan Don "proper" starts around 100 miles south (the journey's likely to be one of halting Laos slowness via bus and boat), with the largest island, Don Khong, also the quietest.
There's really little to do here beyond cycling gently round, absorbing island life. Despite a strip of guesthouses, it attracts few tourists, but fits the bill if dodging the crowds is your main objective.
By contrast, the much smaller Don Det is a favourite on the backpacker route. Fears that it might turn into a party island seem unfounded, however; while the bars clustered around its main boat landing do a roaring trade in "happy" shakes to gap year kids, they close by 11pm.
Walk just 10 minutes down winding green lanes on either side of the island – there are no cars – and it's blissfully peaceful. Cheap, too: basic riverfront huts can cost as little as £2.50 a night. There are no ATMs, though, so bring cash.
Don Det's a good place to base yourself as it's the easiest island for arranging activities: hiring a bike, going tubing down the river, or hopping aboard a sunset boat tour. I joined a trip from Ms Ning's bar to a remote sandy islet, which drew a bikini-clad crowd with the promise of free beer and a beach party.
But the Mekong's the centre of Si Phan Don, of course – and if you're feeling active, you can tackle it on a day-long kayaking trip that also takes in waterfalls, including the Khone Phapheng, the largest in South-east Asia.
Such tours often dangle the promise of seeing the endangered Irrawaddy dolphins that live along the border with Cambodia, but when I visited in December, construction of a hydroelectric dam had scared them away. A better bet is to charter a boat from the next island, Don Khon – I got lucky with 20 minutes spent in their company as they bobbed alongside the boat.
Don Khon is much larger than Don Det (which it's linked to by a pedestrian bridge) and has a slightly more upmarket kind of tourism, with fewer budget options and more activities on offer.
The same bungalows on stilts line the waterfront (with rooms from US$25, Sala Done Khone is the most luxurious) and the island is full of swaying palms, hibiscus flowers, sweet peas and colourful flags fluttering between large, mostly empty restaurants. It may be set up for tourist hordes, but they don't seem to have arrived.
Which I can't help but feel thankful for. If you're seeking an escape from the hectic pace of modern life, having a whole riverside restaurant – or a waterfall, or island beach – to yourself feels dreamy. So surrender to the slow pace of 4,000 Islands: the only thing that should be doing any rushing round here is the swirling water of the Mekong itself.
Getting there
Vietnam Airlines flies from Heathrow to Ho Chi Minh City from £430; Lao Airlines flies on from Ho Chi Minh to Pakse from £150.
Join our commenting forum
Join thought-provoking conversations, follow other Independent readers and see their replies