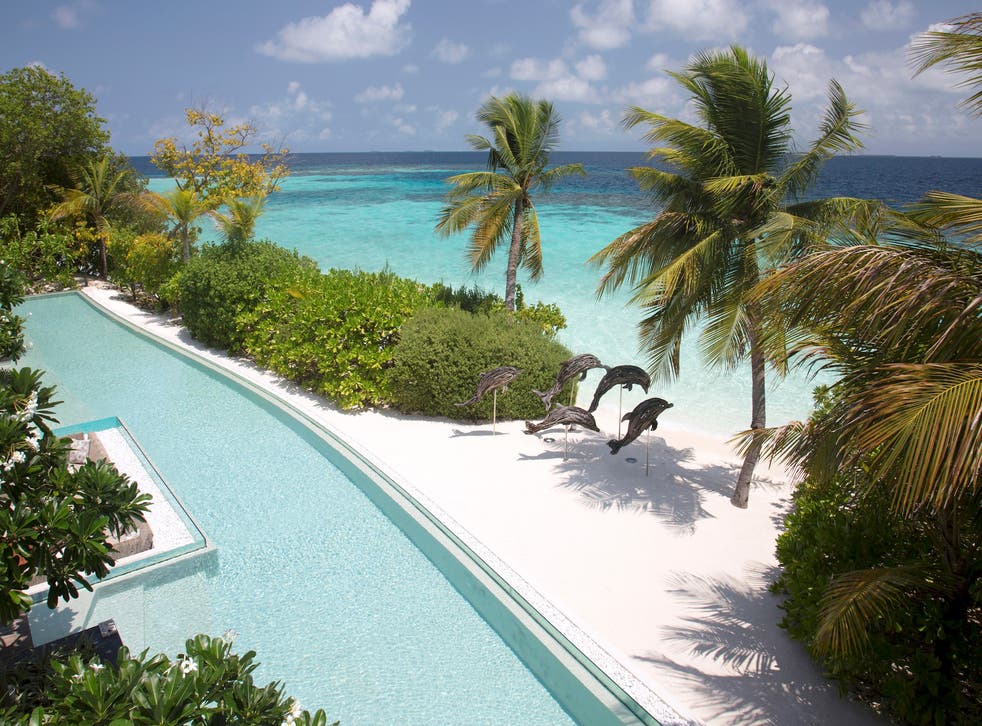 What it's like to stay at a £34,000 a night resort in the Maldives
Is the Maldives all it's cracked up to be? Rachel Hosie plays A-lister and checks into a very exclusive resort
When it comes to travel, £34,000 can get you quite a lot.
That's around 126 round trips from London to New York with British Airways, or 1,789 nights in a new Zip by Premier Inn room in Cardiff.
Or one night on Coco Privé, a private island in the Maldives.
Resorts in the Indian Ocean nation aren't known for their frugality. Last month Conrad Maldives Rangali Island's underwater Muraka residence opened, at a cost of around $60,000 (£47,000) a night (depending on what the guests want, naturally). The average hotel room in the Maldives costs from around £400-£1,500 a night, and will likely come with an overwater villa and private butler. We're in the land of honeymoons and dream holidays, after all.
Coco Privé, a private island of only 13,000 sq ft, sleeps 12 in a master residence and in five villas. It's ideal for, well, those with money to burn. You have to rent the whole island but if you split the cost between 12 people it's only (ahem) £2,800 per person per night.
Previous guests of the island include singer Joe Jonas, actor Sophie Turner and Arab royalty. I played A-lister and checked in for a few days.
Arrival
Coco Privé is a private island run by Coco Collection, which has two other resorts in the Maldives, Coco Bodu Hithi and Coco Palm Dhuni Kolhu. Privé is a 35 minute private speedboat from Malé airport, which is handy given some resorts in the island chain are a 90 minute flight away. While privacy is important, so is efficiency: guests get fast-tracked through security on their way out of the airport.
As we draw up to the hotel jetty, the hotel staff greet us with cool towels, refreshing mocktails, and a drum for dramatic effect.
Accommodation
The accommodation is stylishly and luxuriously designed by architect Guz Wilkinson, with all the accoutrements you'd expect from a luxury Maldives hotel: floor-to-ceiling windows (with curtains operated by iPad), indoor and outdoor rainforest showers, a Nespresso machine and kettle, an insanely big bed, fluffy robes, Acqua di Parma toiletries, and a mini-bar containing three types of water: Evian, Voss and Perrier. But no booze, because you can have any drink (or snack) from your personal butler whenever you like. All you have to do is ask.
There's a hot tub in the main residence, and some villas have private pools – all offer direct access to the ocean where you can spot everything from baby sharks to herons.
Service
Your wish is the 35 dedicated butlers' command.
Past requests have seen staff land a seaplane in the middle of the ocean for a guest to have a swim; arrange a black tie dinner on a sandbank a few miles offshore; interview more than 50 entertainers for a client's children; custombuild a temporary draught beer counter by the beach; buy and fly in specialist gym equipment from the US; and arrange a foam party with a DJ on the beach.
I find it difficult to bring myself to ask for anything too outlandish. I decline the offer of having my unpacking done for me and actually feel like I don't want to request a drink or a snack because I don't want to be too much trouble.
Food
There are no restaurants on the island as such, but there's a beautiful dining table in the main villa, a kitchen (with staff) open at all hours, and a very well stocked wine cellar and bar.
Despite the fact the island's chefs are on hand to whip up whatever you fancy, we decide to keep things simple. After an evening of lavish cocktails from the bar, only one thing will do: chicken nuggets, and lots of them. Our simple wish is granted.
However, not everything is possible. When I request avocado on toast for breakfast, there is no avocado to be found. I make do with fresh tropical fruit, iced coffee, freshly squeezed juices, bircher muesli, five different types of sausage, bacon, hash browns, halloumi, pastries, bread and yoghurt. Outrageous.
After trying out the island's gym I ask for a protein shake, but as there is no protein powder I made do with a (delicious) mango lassi. If you feel as strongly as I do about avocados and protein powder you can request them in advance. Other than that, everything else is on offer.
Activities
There's plenty to do: sunrise yoga, splash around on a paddleboard, whizz over the waves on a jet ski, cinema under the stars, or admire the corals with a snorkel. Staff will happily take you by boat to dive with reef sharks, organise a seaplane to take you island-hopping, or shimmy you away for a day's fishing.
After all that activity, you'll probably be in need of a massage – and a masseuse will create a spa in your room in a matter of minutes. There is no need for spa music, the waves provide natural background noise.
The glass-rimmed infinity pool, surrounded by lush greenery for the utmost privacy, is the focal point of the island. Naturally, lilos, suncream and flip-flops are all provided, and if you're inclined to embrace the A-list lifestyle, staff will deliver cocktails to the pool or hot tub. The choice is yours.
There are no locks on the villa doors and everything is open, but despite how small the island is it's big enough for everyone to find a secluded spot – be that in a hanging cocoon over the shallow sea or a hammock among the trees. And yes, a drink can be delivered to either of those spots too.
This is the Maldives, after all.
Travel essentials
British Airways flies from London to the Maldives from around £800 return.
Join our new commenting forum
Join thought-provoking conversations, follow other Independent readers and see their replies