The Independent's journalism is supported by our readers. When you purchase through links on our site, we may earn commission.
Mongolia by camel: On the hoof in the Gobi Desert
​The camel is the preferred mode of transport here, but in the capital things are changing fast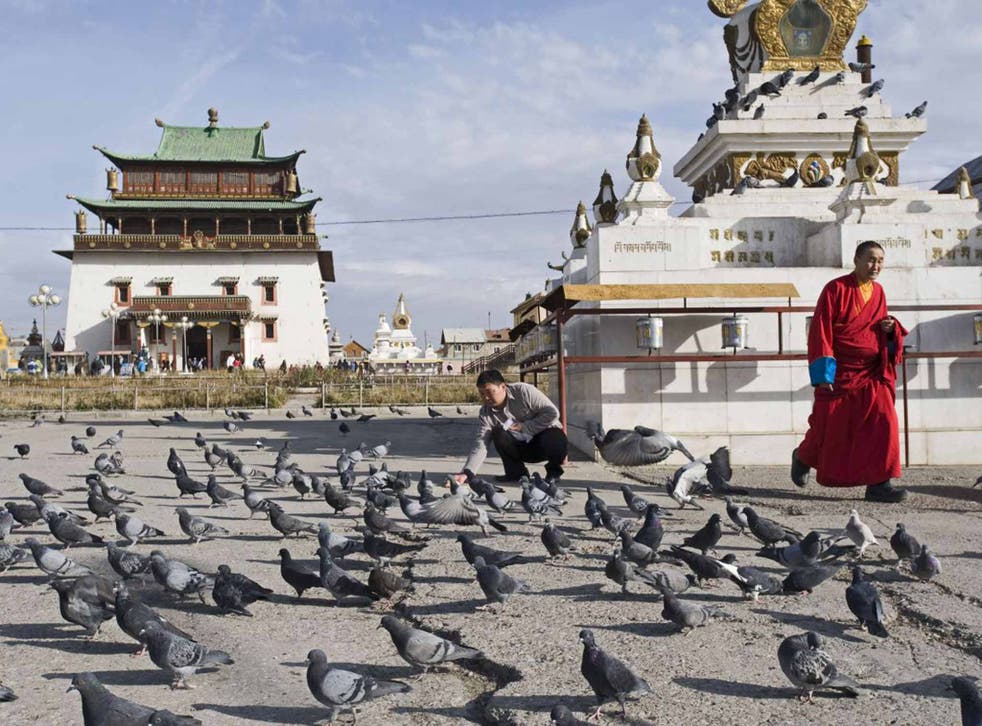 This was surely the ultimate answer to armchair travel. Moving through a fantastical landscape of sand dunes strikingly corrugated by the wind, I gloried in bizarrely comfortable transport. Camel-back had not previously struck me as offering scope for hedonism but then I'd never before taken a trip on a bactrian camel. Sitting snugly between the double protrusions on the back of one of these weird-looking desert victors, you feel as if you're being carried on a cross between a snoozy old sofa and a shaggy magic carpet.
As I gazed over to a mirage, shimmering like a fairy-tale lake in the distance, I thought of those iconic camel riders celebrated every year on Christmas cards: what a pity the Three Wise Men apparently travelled on dromedaries, perched atop the one awkward hump of those large-eyed ungulates. Bactrian camels would have been wonderfully deluxe alternatives.
I was in the Gobi Desert, sole preserve of the two-humped creatures, taking in a micro-slice of this amazing expanse of sand, mountains and sparsely vegetated plains with a camel herder called Erdene. About twice the size of France, the Gobi encompasses a big chunk of northern China's provinces of Xinjiang and Inner Mongolia, as well as the southern belt of independent Outer Mongolia. Erdene and I were in the latter region (indeed "Gobi" effectively means "desert" in Mongolian), in the Moltsog Els dunes, a regular summer base for the herds of Erdene – a nomad like most Mongolians, he retreats to the shelter of the nearby Altai mountains during the bitter, windy months of winter.
Erdene gave me a Mongolian nomad's big-hearted welcome, ushering me into his ger, a circular, yurt-like tent of a home, and as is the custom, presenting me with a snuff bottle to sniff and lip-puckering fermented camel's milk to drink. Then, donning his flamboyant herder's hat topped with a golden spike, he strode out to his animals, saddled up and we set off for our morning's excursion. The surreal world of the Gobi looked ever more spectacular from the vantage of a cosy camel – whose mutterings and imprecations added a moody soundtrack.
I had arrived in Mongolia a couple of days earlier, starting my trip in the capital, Ulaanbaatar – commonly known, without those daunting vowels, as UB. Throughout my Cold War-dominated childhood, Soviet-controlled Outer Mongolia had seemed as inaccessible as outer space. In 1990, the Russians withdrew from the country and multi-party democracy was established, since when Mongolia has opened up, with tourism gradually increasing. Wealth, too, probably rather more swiftly: post-Soviet Mongolia has (largely) thrived thanks to its mineral resources and to its free-market mining activities. Nowhere is this more evident than UB, now a rich and strange mix of temples and shopping malls, skyscrapers and timeless-looking gers. It contains about half the three million population of this enormous little country, and its remnants of the Russian era range from an opera house presenting superb classical music and ballet, to billboards in Cyrillic script which is still the national alphabet.
Underlining Mongolia's growing stature as a place both for business and for upscale (if off-beat) travel, the first major five-star hotel in the country opened in June. The 21-floor Shangri-La, complete with magnificent lobby, ballroom, two much applauded restaurants and 290 spacious bedrooms, makes a sleek base from which to explore the city.
I spent an absorbing morning visiting the glorious Gandan monastery, one of the few Buddhist establishments to survive (by a whisker) the Soviet purges of 1937. Meanwhile, the National History Museum engagingly distils Mongolia's heritage, from the Hunnu Empire of 3BC and Genghis Khan's 13th-century victories to the present day. I ended my city tour at the dinosaur museum (Mongolia is eye-poppingly rich in fossils), which is intriguingly set in a shopping mall otherwise lined with chic stores selling stylish cashmere products – the country is the world's second largest producer of top quality goat wool, after China.
Visually, Mongolia is very weird and very wonderful in both town and countryside. Yet because people here are remarkably genial and open-minded, visitors rarely feel culturally dislocated, instead enjoying a tremendous sense of warmth and hospitality. I was fortunate, too, in travelling with one of Mongolia's most environmentally and socially sensitive companies, Nomadic Expeditions, which was founded as the country was establishing its brave new world of democracy, and has done much to pioneer tourism. My guide, Anand, enlightened me with captivating insights such as how Mongolian women have for centuries enjoyed equal rights, and how a ger is so well designed it can usually withstand winds of more than 60mph, despite being principally constructed of felt.
"From five-star hotel to 5,000-star sky," Anand remarked with a grin on our short domestic flight to the Gobi. Arriving at tiny Dalanzadgad airport, we jumped into a waiting 4x4 and set off across a beautifully, eerily open landscape, a dance of sky and clouds emphasising the enormously wide perspective and producing ever-changing bands of colour. Solitary round felt tents and distant herds of horses, cows, sheep and goats appeared and then melted into the horizon as we drove about an hour and a half to Three Camel Lodge, an encampment of gers (each now with its own bathroom – a new development) which was set up in 2002 by Nomadic Expeditions. They have developed their own solar energy here; they employ and train locals from the nearby oasis village of Bulgan – and provide a ready market for their vegetables; and they have been particularly astute over the choice of location.
The encampment lies in the shelter of a small volcanic outcrop and has two wells on its land. Local herders are welcome, so there's a constant visual feast as animals are driven to drink here throughout the day. Anand explained that the scrubby grasses covering the plains in this part of the Gobi are rich in minerals and make particularly good grazing. On my first evening I watched the antics of about 30 horses against a pinkening sky, and in the ensuing darkness I made out at least some of those 5,000 stars (the Three Wise Men would have been navigationally challenged in the Gobi). That night, I fell asleep to the gentle sound of equine snorts outside.
If you can tear yourself away from watching the natural ballet of hoofed herds moving in and out of view in front of the encampment, there is plenty to do here, quite apart from taking a tour on a bactrian camel. We drove to Havtsgait valley, about half an hour away, and hiked vertiginously up to a series of phenomenal rock drawings, the work of early settlers 15,000 to 40,000 years ago.
As I examined the petroglyphs of outrageously long-horned goats, I caught sight of a trio of camels looking just as wondrous far below us. Later, we made a sunset visit to Bayan Zag, an escarpment also known, with much justification, as the Flaming Cliffs because of its glowing colour, particularly in the early evening light. In 1923, fossilised dinosaur eggs were discovered here by the American adventurer and naturalist Roy Chapman Andrews, said to have been the inspiration for Indiana Jones.
Yet perhaps best of all, we went to school. My trip to the Gobi took place at the start of the Mongolian academic year, which is marked with gusto across the country. At Bulgan village, children arrived at school immaculately dressed, some small girls with white bows in their hair, some small boys sporting polka-dot bow ties. They sang the national anthem and raised the Mongolian flag. Juniors played the Mongolian horse head fiddle; seniors gave a display of break-dancing. The atmosphere of enthusiasm was palpable. How much more sensible to celebrate the beginning of the learning process rather than the release from it, as we do. You learn a lot from the wise men and women of Mongolia.
Getting there and staying there
Nomadic Expeditions (00 976 11 313 396; nomadicexpeditions.com) offers tailormade packages to Mongolia – a seven-day holiday costs from US$5,195 (£3,463)pp which includes three nights in Ulaanbaatar, a night spent camping at the Gun Galuut Nature Reserve, and three nights in the Gobi Desert. Ground transport, excursions, entrance fees, and most meals are included. Domestic flights to Dalanzadgad, in the Gobi, are extra at around US$420 (£280) return. International flights not included.
Shangri-La Ulaanbaatar (00 976 7702 9999; shangri-la.com/ulaanbaatar) has doubles from US$240 (£160), including breakfast.
Three Camel Lodge (00 976 11 313 396; threecamellodge.com) has double rooms from US$600 (£399).
The easiest way to reach Mongolia is via Beijing, served non-stop from Heathrow by British Airways (0344 493 0787; ba.com) and Air China (020 3275 0200; airchina.co.uk). Onward flights to UB are offered by Air China and Mongolian Airlines (00 976 11 333999; miat.com). No visa is required for British citizens.
More information
Register for free to continue reading
Registration is a free and easy way to support our truly independent journalism
By registering, you will also enjoy limited access to Premium articles, exclusive newsletters, commenting, and virtual events with our leading journalists
Already have an account? sign in
Register for free to continue reading
Registration is a free and easy way to support our truly independent journalism
By registering, you will also enjoy limited access to Premium articles, exclusive newsletters, commenting, and virtual events with our leading journalists
Already have an account? sign in
Join our new commenting forum
Join thought-provoking conversations, follow other Independent readers and see their replies