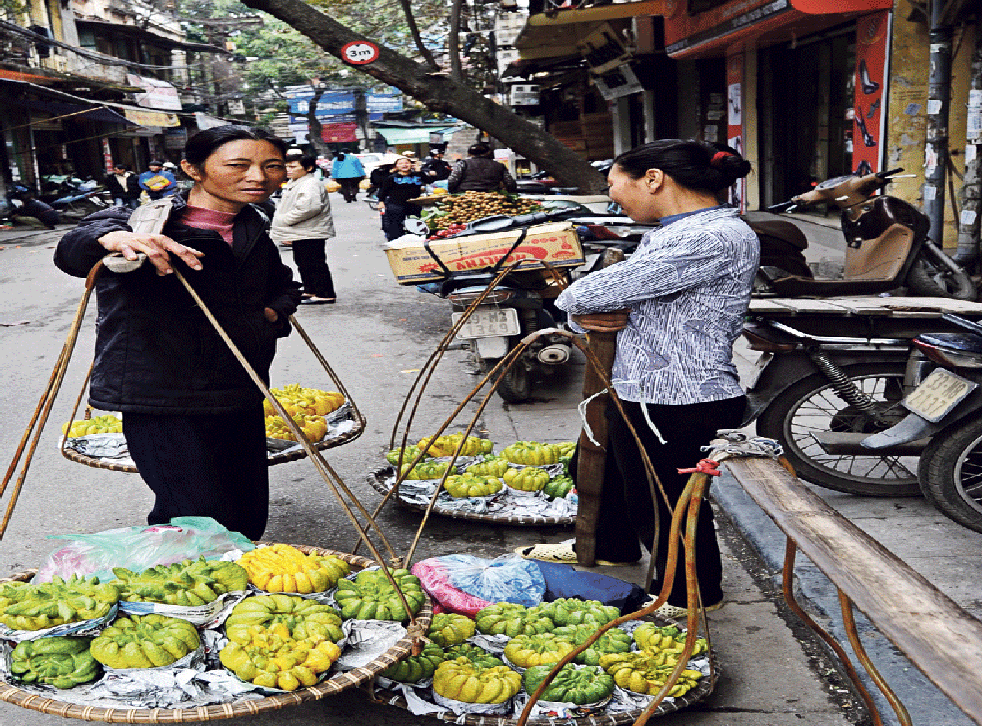 Morning, noon and night in Vietnam
From Hanoi and Halong Bay to Ho Chi Minh City and the mighty Mekong, this south-east Asian destination packs plenty into its slender shape
Sophie Lam
Tuesday 13 November 2012 18:40 Comments
What's the attraction?
This slender South-east Asian nation, draped around the eastern shoulder of the former Indochina and ravaged by war between 1955-75, has been stealthily cementing its tourist appeal in the past decade. Still a nominally socialist nation, Vietnam is booming.
Visitors are piling in to soak up the verdant landscapes, intriguing history and delicate cuisine, while the country's youthful population is bringing cutting-edge creativity to its two main cities, Hanoi and Ho Chi Minh City. The launch of the first direct flights from the UK last winter made the journey less arduous. And this winter sees the opening of clusters of new upmarket hotels and resorts all along the 3,000km-long coastline.
Chic retreats
Vietnam's long, sandy coastline is being redefined by luxurious beach resorts. Banyan Tree has just opened a new hotel at Lang Co (00 84 54 3695 888; banyantree.com), part of a larger development on the coast near Danang. There are 49 suites, a spa and several restaurants, plus a golf course, watersports and local tours. W&O Travel is offering seven nights' B&B from £2,049pp with flights from Gatwick and transfers. In Hoi An, the Fusion Alya (00 84 510 3914 414; fusionalyahoian.com) is set to open early next year, with an emphasis on food that draws on the region's culinary heritage. The boutique hotel will also offer cookery classes and farm visits. Doubles from £220.
On the rails
Four decades after reunification, Vietnam retains a flavour of its former two halves: the cooler, more conservative north with the colonial capital Hanoi, and the Western-influenced south, home of Ho Chi Minh City. The launch of direct flights from Gatwick to these hubs has made the possibility of a top-to-tail trip more achievable. Vietnam Airlines (020-3263 2062; vietnamairlines.com) offers "open jaw" returns, from £654. The most compelling route is along the "Reunification Express" – the 1,726km railway that stretches between. An air-conditioned berth costs 1,857,000 dong (£55) for the 33-hour journey.
Hills and waves
Vietnam's north-west is a region of mountains, waterfalls, rice terraces and hill stations and has become a popular trekking outpost. The hub is Lao Cai province, centred on the hill town of Sapa. Explore (0844 499 0901; explore.co.uk) offers a 12-day walking tour, Hilltribes of the North, that takes in mountain treks to rural villages. From £1,490pp including flights.
In the south, the former fishing village of Mui Ne has become the country's premier resort base for windsurfing and kitesurfing. Sportif (01273 844919; sportif.travel) offers seven nights here from £789pp including flights, B&B and transfers. Windsurf hire costs £149 per week.
A feast of flavours
Rice paddies dominate the landscape – indeed, Vietnam is one of the world's biggest rice consumers. But rice forms only the base of a cuisine that is fresh, fragrant, delicate and mind-bogglingly diverse. Lemongrass, mint, coriander and Thai basil are used to flavour anything from spring rolls to pho, the national dish of noodles and meat in broth. Regions, even particular towns, have their own distinct cuisine, from fiery cao lau noodles in Hoi An, to refined presentation of vegetarian dishes in royal Hue and the ubiquitous French-influenced banh mi filled baguettes. Exotissimo Travel (00 84 8 3995 9898; exotissimo.com) offers a half-day, street-food tasting tour in Hoi An from US$85 (£53) per person.
French fancies
Relics of French Indochina (1887-1949) are dotted all over the country. You can still check into the colonial-style Hotel Metropole (00 84 4 3826 6919; sofitel.com; doubles from £203) built in Hanoi in 1901; and the Hotel Continental in Ho Chi Minh City (00 84 8 38 299 201; continentalhotel.com.vn; doubles from US$87/£54), which dates back to 1880 and where Graham Greene wrote The Quiet American. The hill city of Dalat is also known for its French colonial landmarks, including an Art Deco train station and the Dalat Palace hotel (00 84 63 3825 444; dalatpalace.vn). B&B from 4,200,000 dong (£125).
Karst away
Halong Bay, in the north of the country, has been named as one of the new Seven Wonders of Nature. And it's not hard to see why: 1,969 limestone islets or "karsts" shoot up like shards from the emerald-green sea. The bay's name translates as "descending dragon" – legend has it that the gods sent a family of dragons to help protect it, who spat out jewels to form a protecting barrier. Trailfinders (020-7368 1500; tours.trailfinders.com) has a seven-day tour of northern Vietnam including an overnight cruise in Halong Bay and a trip to Ninh Binh, known as "Halong Bay on land", for £682pp, excluding flights.
The mighty Mekong
This 4,350km river rises in the Tibetan plateau and flows through China, Burma, Laos, Thailand and Cambodia before channelling through southern Vietnam via the finger-like Mekong Delta into the South China Sea, just south of Ho Chi Minh City. Travel Indochina (01865 268944; travelindo china.co.uk) has recently launched cruises aboard the river's newest luxury ship, The Jahan. As well as a pool and steam room, there are 26 cabins that have floor-to-ceiling windows opening on to private balconies where you can take in the views of rice fields and floating markets. An eight-day cruise through Cambodia and Vietnam costs from £1,628pp, full board. Flights extra.
Who said that?
"I'd bet my future harp against your golden crown that in 500 years there may be no New York or London, but they'll be growing paddy in these fields, they'll be carrying their produce to market on long poles, wearing their pointed hats.'' – The Quiet American by Graham Greene
"Good morning Vietnam!" – Adrian Cronauer, played by Robin Williams
"I used to love going into local hardware stores to look at little things they made locally. Nowadays it's harder, though you can still do it in Vietnam." – Francis Ford Coppola
Insider Information
"Vietnam's intricate history is not always easy to get your head around, which is why I devised a tour in Ho Chi Minh City based on the personal experiences of artists who studied, fought, witnessed and documented major changes in 20th-century Vietnam. By visiting private collections, crumbling colonial museums and pioneering contemporary artist-run spaces, the timeline of colonialism, war, communism and breakneck free-market development starts to come into focus along with the extraordinary experiences of Vietnam's artists." Sophie Hughes, of Sophie's Art Tour (sophiesarttour.com).
Register for free to continue reading
Registration is a free and easy way to support our truly independent journalism
By registering, you will also enjoy limited access to Premium articles, exclusive newsletters, commenting, and virtual events with our leading journalists
Already have an account? sign in
Register for free to continue reading
Registration is a free and easy way to support our truly independent journalism
By registering, you will also enjoy limited access to Premium articles, exclusive newsletters, commenting, and virtual events with our leading journalists
Already have an account? sign in
Join our new commenting forum
Join thought-provoking conversations, follow other Independent readers and see their replies