The Independent's journalism is supported by our readers. When you purchase through links on our site, we may earn commission.
Return to Nepal: a year after the earthquake
Tourists have been slow to return after the natural disaster that devastated much of this Himalayan nation – but their presence is needed now more than ever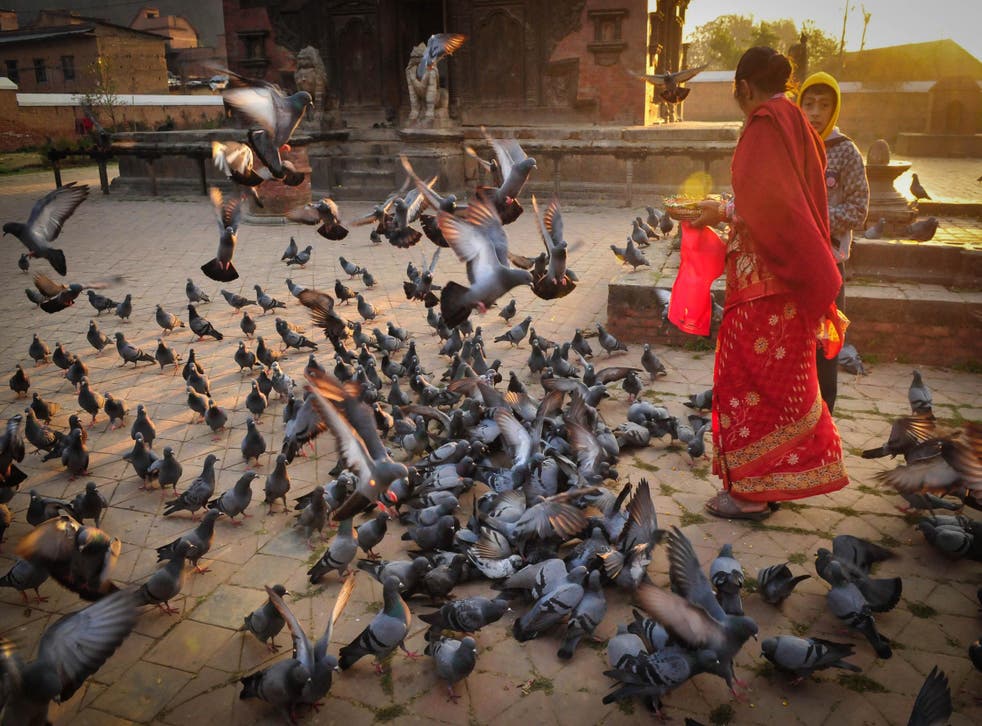 "I was playing cards with my mother and my wife was cooking tea in the kitchen. We ran out and clutched the frame of the front door. My wife was crying: 'sai baba, sai baba' – her favourite Indian saint – 'save me!' It was fearsome: everyone slept outside in the street, food prices soared and all the roads were blocked." Hari Sharma, my Kathmandu guide, remembers clearly the moment a 7.8-magnitude bhukampa (earthquake) rattled Nepal a year ago on Monday.
In fifty seconds – the same amount of time it takes to boil the kettle – (plus a series of aftershocks) 600,000 homes were leveled, 22,309 injured and 8,856 lost their lives. It was the worst natural disaster to hit the country in 80 years. But the damage may have been prolonged by our reaction. Tourism is the main economic income in Nepal and it took nearly 10 months for the US and UK to lift their travel bans to the country after the disaster, despite only 14 of the 75 districts being affected. It's time to go back and one of the best ways of directing rupees straight to the source is staying with local families. UK-based responsible tour operator Rickshaw Travel arranges homestays and I'd come try one.
It's mid afternoon when I'm dropped outside the four-storey townhouse of 37 year-old Shila Amatya. She whisks my bag off my back and ushers a cup of chai – milky, spiced tea – into my hands. "From now on you're not a guest and I'm not a host," she beams, so I seat myself on a wicker stool and watch while she entertains customers come to buy hair dye, earrings, panty liners or phone cards from her open-fronted shop. Shila is one of 15 families in Panauti – one of the oldest towns in Nepal, southeast of Kathmandu – who run a homestay cooperative. Guests are rotated between the families to ensure even distribution of earnings, with 80 per cent going to the host and 20 per cent going to the collective for projects such as scholarships for poor children and a new community hall.
"I'm a hairdresser too!" says Shila, pointing to a worn leather chair facing a broad browning mirror on the wall. I pull at my own messy locks and frown at the split ends that haven't seen a pair of scissors in over a year. "Would you cut mine?" "Of course!" she replies, whipping a silky black coverall off a peg and laying it across my shoulders. "I'll give you a modern Nepali style," she continues, shearing off a clump of hair. Her sister-in-law, Ambika, and 15 year-old daughter, Amy, look on amused. Fifteen minutes later I'm lighter and redesigned – a bargain for the equivalent of £1.50. Shila stands back and appraises me: "You need a sari to go with your new haircut." Ambika snatches a measuring tape from the shop countertop and lassoes it around my waist, shouting out numbers to Shila who jots them down on a notepad. She wears a red tika between her eyes and is shy. "She says to leave it with her," Shila translates on her behalf. "It'll only take four hours."
I see Amy's eyes light up behind her. An old woman is wheeling a cart down the dusty road. "Pani puri! Want some?" Amy calls back over her shoulder as she steps down into the street. I follow and watch as the old lady fetches half a dozen of the fried puff-pastry balls stacked up in a glass cabinet at the front of the cart. Pincering the crispy street snack between two fingers, she pokes a hole in the top with her fingernail and fills it with spicy mashed potato, onion and a spoonful of spicy chilli water and hands them over. I pop one into my mouth and it bursts like a water balloon. A wave of fiery heat sweeps down my nostrils. "Whoa! The chilli is strong!" laughs Amy.
Throughout the day I've been admiring Shila's golden ring. "Is that Ganesha?" I ask. "Yes. He's remover of obstacles – let's get you one!" So we hurry through the streets, crowded with people buying a last batch of tomatoes for the evening-meal pickle, and into a slip of a shop beside the river. The glass cabinets have been emptied for the night, but Shila whispers a few words to the shopkeeper and he reaches behind him and takes a small round box off the shelf. "It's my last one," he shrugs. "We're ring sisters, now" I joke with Shila, holding the matching images of Ganesha together.
People stop to chat to us on the walk home and by the time we get back, Ambika has finished my sari top. Shila leads me up to her bedroom where the shelves of an almighty dark-wood wardrobe are layered with a dozen shimmering saris. She riffles through them and pulls out a red-and-green cloth heavy with beading. She wraps the material around my waist and delicately rests the remainder over my shoulder. She nods approval and leads me back downstairs to the shop to show me off to Ambika and Amy. Ladies passing in the street laugh as I pose for photos.
It's getting late. "What's for tea tonight, Mum?" I tease Shila. "We're having a momo party," she replies. We gather round the kitchen table in the basement. Amy rolls out small circles of dough, while Shila and I massage grated water buffalo meat, onion, garlic, coriander, ginger and masala spices together. I watch as she spoons a little into the centre of the floury circle and nips the edges together into a neat little bundle. I try to copy, but the filling oozes out. "Pinch and release, pinch and release" she encourages. "What times does the electricity cut out tonight, Amy?" asks Shila. Amy shrugs and, comically, we're plunged into darkness five minutes later. We continue rolling by torchlight. We dip the steamed parcels into homemade tomato pickle and take sneaky sips of homemade raksi wine made from fermented rice.
Shila shows me to my room with an en-suite toilet. "We know you're not used to squatting, so we made sure all the houses have one like this for guests," she says, pointing to the Western flush toilet. I proffer a thumbs up. The bed is rock hard, but there's a mille-feuille of blankets to keep me warm.
A large mandarin sun announces dawn and we join the trickle of people walking to temple. Mist still carpets the fields of potatoes and yellow mustard seed dotted between the houses and I avoid eye contact, guiltily after last night's momos, with a group of water buffalo grazing by the roadside. Golden light falls in shafts between the winding streets of the Unesco-listed medieval Old Town and we stop to greet old ladies warming up in the sun or coo over babies, their eyes emboldened with black eyeliner – laced with fenugreek for eye health, I'm told.
Entering the Indreshwar Mahadev Temple complex, we set a kit of pigeons into the air. Priest Ramesh Prasad Jangam is preparing the lingam said to have been created by the god Shiva: dousing it with cow's milk and adorning it with rice, red dye and strings of marigolds. He's done it everyday of his life since he was 12 years old. He invites us for chai inside his house and tells us of the time he met Princess Diana when the Red Cross opened an office in town.
Later, I wander back into town on my own. People I've met with Shila lift their palms to their forehead to wish me namaste – grins breaking out across their sun-weathered faces. I've only been here two days and, yet, bidding Ambika, Amy and Shila goodbye tugs at the heart.
Back home, I find myself absent-mindedly fingering the red mould of Ganesha on my ring. As the Remover of Obstacles, I hope he will remove any lingering reservations tourists have about returning to Nepal.
Travel Essentials
Emma Thomson travelled to Nepal with Rickshaw Travel (01273 934 823; rickshawtravel.co.uk) which puts together responsible-tourism holidays from a series of bite-size trips. Emma sampled its Namaste! Warm Welcomes in Nepal itinerary, which costs £45 per person based on two sharing and includes transfers from Kathmandu. A 15-day single entry visa can be bought on arrival at Tribhuvan International Airport.
The writer flew with Qatar Airways (0333 320 2454; qatarairways.com) from Heathrow to Kathmandu via Doha; returns start at £840.
More information
Register for free to continue reading
Registration is a free and easy way to support our truly independent journalism
By registering, you will also enjoy limited access to Premium articles, exclusive newsletters, commenting, and virtual events with our leading journalists
Already have an account? sign in
Register for free to continue reading
Registration is a free and easy way to support our truly independent journalism
By registering, you will also enjoy limited access to Premium articles, exclusive newsletters, commenting, and virtual events with our leading journalists
Already have an account? sign in
Join our new commenting forum
Join thought-provoking conversations, follow other Independent readers and see their replies