A year after the Nepal earthquake: a Sherpa's view
Tourists are returning to this magnificent Himalayan nation, but more are needed to support its economy. One of its native Sherpas recalls the moment disaster struck and how the recovery has taken shape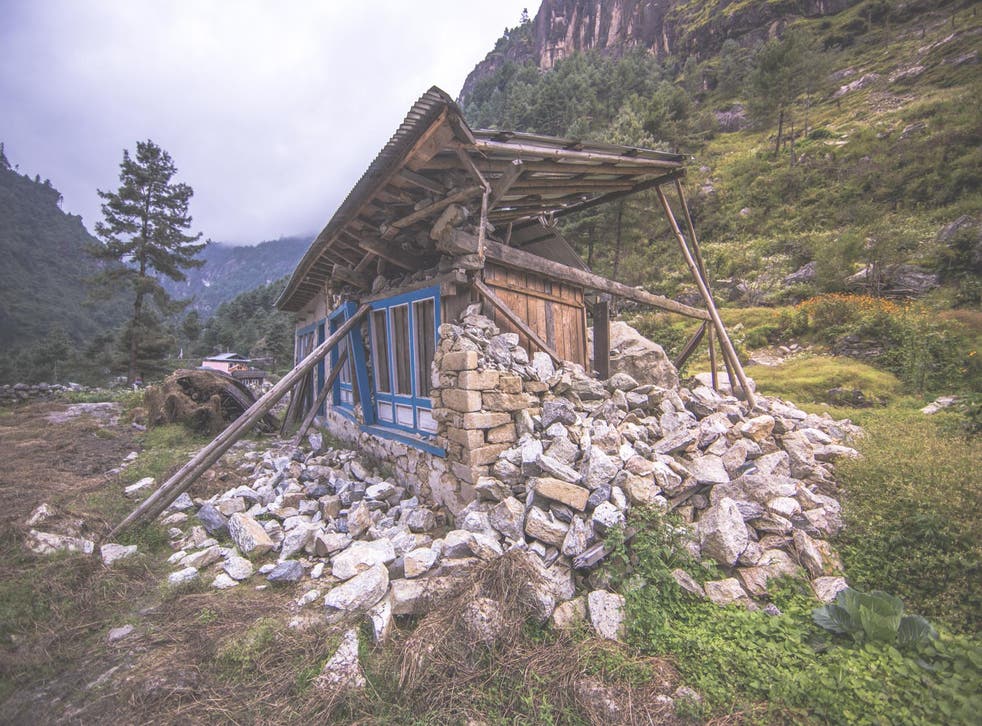 On the day the earthquake hit Everest, our team had just trekked back to Basecamp from Camp 2, further up the mountain. We were having a late breakfast in one of the tents, planning our move back up the slope the next day.
Suddenly, around noon, the ground started shaking. Fog had rolled in across the valley and visibility was poor. As soon as the ground fell still, I went outside the tent and saw a huge avalanche surging towards Basecamp, rolling away from Mt Pumori (a 7,161m peak opposite Everest). I thought nobody at Basecamp would survive. The only option was to run inside the dining tent and get down.
After a couple of minutes, the roaring and the tremors stopped. I looked around. I was still alive and physically unhurt. I heard lots of people shouting "Oh my God, Oh my God" outside, right next to our camp.
I ran towards the area buried by the avalanche. There were lots of people crying with blood on their faces, some half buried in the snow and struggling to stay alive. A group of us started pulling the victims out and bringing them to the camps. We could have done more if helicopter evacuation was possible and all communication lines hadn't been cut.
Two days after the earthquake, I had the chance to talk to my family in Kathmandu. They were safe. I was worrying about them and they were worried about me.
A week after the earthquake I flew to Kathmandu. People were terrified, hoping another big aftershock would not occur. Nothing happened to my house other than a few cracks, but my family wouldn't allow me to stay at home. I camped in tents again, just like on the mountain. Every day and night, small aftershocks occurred. I could hear people shouting and calling to their family members, making sure they were safe.
The Nepal government tried its level best to help manage the situation. However, with limited resources it was challenging. As there was huge damage in the Gorkha and Barpak region, the government's attention was focused there.
It's a huge challenge to return to where we were before the quake, however there has been significant amount of support to the people still suffering the effects. I'd say the country has recovered 60-70 per cent now. However, there's still lots that needs to be done to return everything back to normal. It may take another year.
The years 2014 and 2015 have been unforgettable in the history of Everest climbing. The challenge now is for Sherpas to protect their future jobs, rather than just earn a living. But the Sherpas this year, including me, are positive and excited to take the challenge up again and to return to the mountain.
We are seeing more people who want to visit Nepal again, which is encouraging. These days we see lots of tourists trekking to Everest Basecamp and spending time in Thamel in Kathmandu, which is a good sign of recovery. But it's still not as it was in previous years.
Most of the tourists visiting at the moment are travellers who have previously visited Nepa, who love Nepal and the Nepali people. Many Nepalis rely on tourism for their income. Things haven't changed, the trails are open and country is as beautiful as ever. When people ask me what they can do to support Nepal I tell them the answer is simple – visit.
Dawa Sherpa is a mountain guide and deputy operations manager for Intrepid Travel in Nepal and has been climbing peaks since he was 16. He's successfully summited Everest four times. Intrepid is donating all profits from its 2015/16 Nepal trips to local projects in the country (intrepidtravel.com/nepal).
Register for free to continue reading
Registration is a free and easy way to support our truly independent journalism
By registering, you will also enjoy limited access to Premium articles, exclusive newsletters, commenting, and virtual events with our leading journalists
Already have an account? sign in
Register for free to continue reading
Registration is a free and easy way to support our truly independent journalism
By registering, you will also enjoy limited access to Premium articles, exclusive newsletters, commenting, and virtual events with our leading journalists
Already have an account? sign in
Join our new commenting forum
Join thought-provoking conversations, follow other Independent readers and see their replies