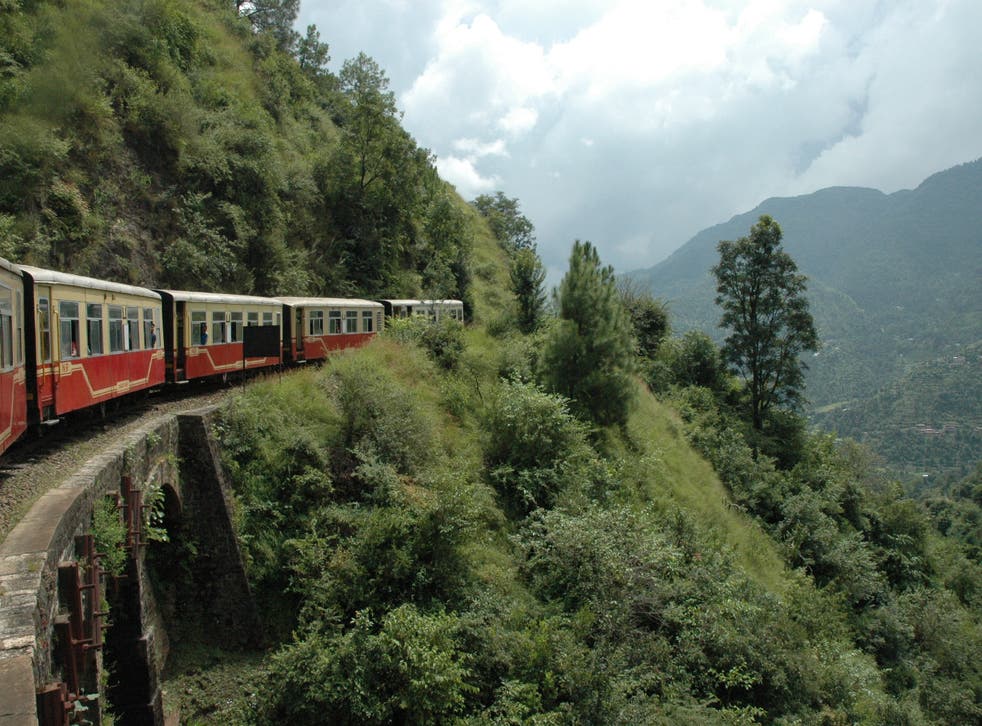 The Shimla-Kalka Toy Train is one the most beautiful railways in the world
If anything remains unchanged it's the views – a sweeping panorama of mountains
A railway just 2ft 6ins wide and at its peak perched more than 2,000 metres above sea level, the Shimla-Kalka line connects a colonial past to the India we now know: the butter chicken, rickshaws, and Taj Mahal of the Golden Triangle.
Getting to Shimla, first occupied by the British in the early 1800s and later made into the 'summer capital' for the Raj, proved much more of a burden than getting back down again. My friends and I hadn't booked any part of our trip, but 'played it by ear', queuing in sweaty ticket office lines and taking it in turns to fetch water and samosas.
After arriving in Mumbai we travelled to Delhi before ploughing on to Kalka, where the 'toy train', which opened in 1903 and is today a registered Unesco World Heritage Site, rolls delicately and rather slowly 7,116 feet up into the foothills of the Himalayas.
But, having got to the small, otherwise unknown town of Kalka at 6am, after around three hours of uncertainty and steaming cups of chai, the train to Shimla was cancelled due to a landslide on the tracks. This was September 2014 and farther north and in neighbouring Pakistan deadly floods had struck.
Instead, we hitched a jeep ride with an Indian family and endured a very bumpy four-hours. With ten of us crammed in, it was painful, especially after two days without sleep. But reaching Shimla in all its majesty would be worth 10 times the discomfort.
Shimla is an old city once graced by colonels and viceroys. It was vitally important to the empire in its day, the temperate region providing a gentler residence for India's powerful during summer months. Despite its geographical and logistical impediments, it reigned supreme and today, as the capital of the state of Himachal Pradesh, is speckled with memories.
Shimla Toy Train: in pictures

Show all 11
Along the almost Brighton-like promenade there are coffee shops more Victorian than Sherlock Holmes; a Christian church you might imagine 'ladies and gentlemen' to stroll upon in times bygone. And now it's a cultural fusion, a mottled blend of Nepalese influence, British architecture, and Punjab (the state isn't far) culinary brilliance.
If anything remains unchanged it's the views – a sweeping panorama of mountains that surely sparked those in white trousers to pick such a remote location and construct a famous track to get there.
And if there's one definite positive impact the British had on the region, it's that. Ninety-six kilometres of track penetrates pine forests that rise up from the heat, where mist envelopes you at any moment, and monkeys appear at every turn. With the landslide made safe, we were able to ride the toy train back to Kalka; we rolled for hours, twisting down the mountain sides, snacking on Masala Munch crisps past watching locals and satellite villages.
There were no doors on our train, so hanging out and taking it all in is childish play. Hopping off at various stops to pick up 20p's worth of channa daal (chickpeas), or a quick cup of tea is to regulars' normality, but invigorating to those who've not experienced such casual ways.
Stretching out, scenes span for miles atop more than 100 bridges built long before our grandparents were born, yet, with all their engineering solidarity, still stand and aid transportation to a community high up toward the sky. The only pauses are one of the 100-plus tunnels.
Although long, there was never a dull moment. Each pocket of community provided refreshments, and each turn brought with it a new marvel of engineering, somehow proudly standing in the mist below slopes and trees.
I went to Shimla because it's where my granddad spent some of his summers, visiting from Delhi in the 30s and 40s before he moved to England. I found his house, deep-set in the hilltop woodlands and still standing – though now in ruin – not far from the famous 'monkey temple' that requires thighs of steel to get to.
It was sentimental, moving. But never did I imagine reaching it and venturing back to 'the rest of the world' would be so awesome. As I mentioned, I'd not researched much before a month in the country, and alongside bhang lassis and Royal Challenge whisky it was the most effectual surprise.
It's one of the most beautiful railways in the world. A trundling series of high-up bends and bridges, far detached from the slums of Old Delhi, or the opulence of Jaipur's palaces.
Join our new commenting forum
Join thought-provoking conversations, follow other Independent readers and see their replies