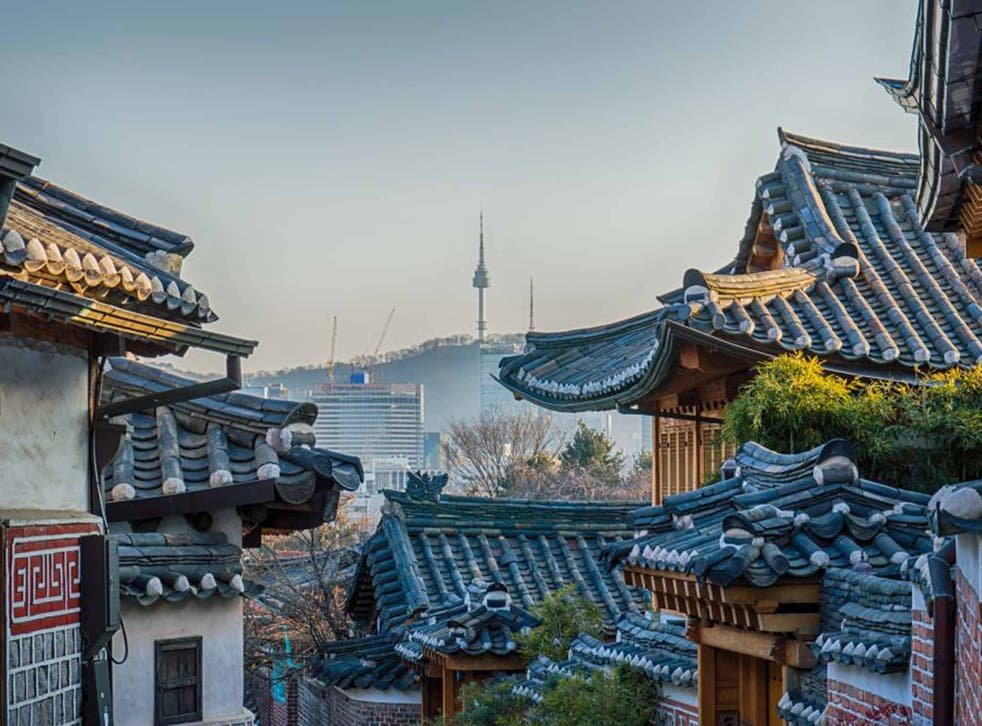 South Korea: From Seoul and Jeju to traditional villages
The capital may never sleep, but there's plenty to see outside the city limits too, says Matthew C Crawford
Wedged between China and Japan, South Korea may not have a Great Wall or a Golden Pavilion, but it has plenty of other attractions – from nightlife that continues until dawn to Buddhist hermitages perched in places where only eagles or intrepid hikers dare. While the country was left devastated by the Korean War and is still separated from North Korea by the Demilitarized Zone (DMZ), it has rebounded and, the reputation of its northern neighbour notwithstanding, is a very safe place to visit.
Right off the plane, visitors are swept up in a fast pace of life in cities that never sleep, whether it's Seoul, Busan or elsewhere. But outside the urban hubs, one discovers a very different side to South Korea. Its biggest and most popular island, Jeju, has a tropical feel, while smaller islands seem to have been forgotten by time. Journey to traditional villages and you'll have a chance to encounter folk traditions such as mask dances, and hearty fare such as pajeon (pancakes with spring onion) and makgeolli (rice beer).
Besides the DMZ, another formidable barrier on the peninsula is the Taebaek Mountain Range, which stretches from the bustling port city of Busan up along the east coast and into North Korea. Tucked into the peaks is the county of Pyeongchang, which is preparing to host the 2018 Winter Olympics that will fall 30 years after the momentous summer Olympics in Seoul.
A high-speed train line from the capital is being built for the event and will launch in mid-2017. Until then, skiers and hikers are best off taking a bus from Dong Seoul Bus Terminal – buses take about two hours and cost 15,000 South Korean won (£9). Many of the Olympic events will take place at Yongpyong Resort (00 82 33 335 5757; yongpyong.co.kr), which offers day passes for the slopes for 74,000 won (£43).
From Yongpyong, it's only a short bus ride to the east coast city of Sokcho and Seoraksan National Park (00 82 2 3279 2700; english.knps.or.kr). A hike up to Daecheongbong, 1,708m above sea level, makes for a perfect counterpoint to the manic modernity of Seoul. Standing with a crowd of hikers watching the sun rise from the ocean horizon, one realises that Korea is not just fast-paced, but timeless too.
Cox & Kings (020 3797 4694; coxandkings.co.uk) offer a Wonders of South Korea tour that includes Seoul, the historic city of Gyeongju, and Busan. It also includes a visit to the DMZ. The 10-day private tour starts at £2,995 per person and includes international flights, local transport, B&B and some meals.
On the Go Tours (020 7371 1113; onthegotours.com) has several South Korea itineraries. Its 12-day Spectacular South Korea tour starts and ends in Seoul and features lesser-visited spots such as Namhae Island. From £4,079 per person, with B&B, ground transport and guided tours, but not international flights.
Capital idea
Seoul was the capital of Korea's last dynasty, and its palaces are colourful symbols of its royal past. Of the five, Changdeokgung (00 82 2 3668 2300; eng.cdg.go.kr) is the largest and most splendid, with gardens, ponds and halls. Tours should be reserved in advance. Those that include the palace's Secret Garden cost 8,000 won (£5).
For something more modern, head to Dongdaemun Design Plaza (00 82 2 2153 0408; ddp.or.kr), which opened in 2014 and is located at 281 Eulji-ro. Built on the site of Dongdaemun Stadium, a survivor from the Japanese colonial era, the complex was designed by Zaha Hadid.
In the Design Museum, within one of the plaza's curvaceous, silver structures, is a display of priceless treasures which is on loan from the Kansong Art Museum. Kansong only opens for four weeks a year, making "The Treasure of Kansong: Preserving National Identity Through Culture" a rare opportunity for art lovers (to 27 March; 8,000 won/£5).
Island hop
Jeju may be popular with tourists – it's awash with museums and theme parks – but it also has Unesco biosphere reserves, global Geoparks and World Natural Heritage Sites. Its volcanic legacies include the Geomunoreum Lava Caves (00 82 1800 2002; wnhcenter.jeju.go.kr) and Seongsan Ilchulbong Tuff Cone; each charges an entrance fee of 2,000 won (£1).
Seongsan is one part of the island where lucky visitors might spot haenyeo – female divers who harvest fruits of the sea such as abalone and sea cucumbers. The Haenyeo Museum (00 82 64 700 82 9898; haenyeo.go.kr) is an excellent place to learn more about these marine matrons; entrance is 1,100 won (£0.60).
Elsewhere, Dadohaehaesang Maritime National Park, located off the south-west coast of the peninsula, offers countless opportunies for island-hopping.
The large island of Wando can be reached by bus from Seoul and is connected by a bridge to Sinjido, which has one of the country's longest and finest beaches, Sinjimyeongsasimni.
Taste of tradition
Though many of South Korea's traditions have become a thing of the past, you can find pockets of preservation in such places as Hahoe Folk Village (00 82 54 854 3669; entry 3,000 won/£2), near the city of Andong. Hahoe is best known for its hanok – traditional Korean houses – which are still lived in today by decendents of the village founder. The local soju (distilled rice alcohol) is the strongest in the country.
Not far from the folk village is Dosan Seowon (00 82 54 856 1073; dosanseowon.com), a Confucian academy built in 1574. The scenic complex of 15 wooden buildings can be visited for 1,500 won (£0.90).
G Adventures (0344 272 2060; gadventures.com) offers a 10-day Best of South Korea small-group tour that stops at the captivating Yangdong Folk Village and the historic city of Gyeongju, capital of the Silla Dynasty. From £1,799pp, including hotel accommodation, a temple stay and domestic transport, but not international flights.
High and mighty
With 16 mountains protected as national parks and 19 serving as provincial parks, it's no surprise that hiking is popular among South Koreans. Not only are the trails well maintained, but they are often within walking distance of subway exits and bus stops.
Bukhansan is a magnificent national park just north of Seoul, but for a true taste of Korean wilderness visit the Jirisan or Seoraksan national parks. Adventurous hikers may want to spend the night in a shelter (00 82 1670 9201; reservation.knps.or.kr; from 7,000 won/£4).
Ramblers Worldwide Holidays (0170 733 1133; ramblersholidays.co.uk) offers a South Korean Discovery trip that features Seoraksan and Deogyusan as well as Seoul and Busan. The 15-night guided tour includes flights and half board, from £3,150pp.
Hike Korea (00 82 10 2966 7612; hikekorea.com) offers walking itineraries, including a 40km hike along the ridge of Jirisan. The guided trip takes four days and four nights and starts at US$1,800 (£1,200)pp.
Where to stay
Though there are many fine hotels in Seoul, J W Marriott Dongdaemun Square (00 82 2 2276 3000; marriott.com) is unique for its location, just next to Dongdaemun (the Great East Gate). Superior rooms, which have either a king or two double beds, start from 302,800 won (£176), room only.
In Pyeongchang county, host of the 2018 Winter Games, the Pyeongchang Kensington Flora Hotel (00 82 33 330 5000; kensingtonflora.co.kr) has recently renovated rooms from 286,000 won (£166), room only.
In Busan, South Korea's second largest city, the Citadines Haeundae Busan (00 82 51 662 8888; citadines.com) is one of the newest additions to Haeundae, a beach that set a Guinness World Record for its number of parasols. Studio rooms include a living area and kitchen space and start at 93,500 won (£543); breakfast is extra. For something a little more ascetic, try the Jogye Order of Korean Buddhism's Templestay programme (00 82 2 2031 2000; eng.temple stay.com) from 60,000 won (£35).
Getting there
British Airways (0844 493 0787; ba.com), Korean Air (0800 413 000; kr.koreanair.com) and Asiana Airlines (0845 602 9900; flyasiana.com) offer daily direct flights from Heathrow to Seoul's Incheon Airport. One-stop flights are offered by Emirates (0344 800 2777; emirates.com), Finnair (0208 001 0101; finnair.com), Air France (0207 660 0337; airfrance.com) and others. On 5 August, Korean Air launches the first direct link between Scotland and the South Korean capital, with three weekly charter flights from Glasgow.
Getting around
Subway systems are an easy way of getting around Seoul, Busan, Daejeon, Daegu and Gwangju. The Seoul subway has a tremendously long reach, extending to satellite cities and even into neighbouring provinces. Taxis are cheap and abundant, but make sure the driver turns on the meter, especially if catching a cab from Incheon Airport. The Airport Express (AREX) runs from the airport to Seoul Station and other locations, and limousine buses leave regularly for destinations around the city and country. For assistance in English, call the Korea Travel Hotline (00 82 2 1330).
South Korea is slightly larger than Ireland, and domestic flights are only really necessary for visiting Jeju island (although ferries do sail there from south coast cities such as Mokpo). Besides Korean Air and Asiana, domestic services are provided by Jeju Air (00 82 1599 1500; jejuair.net), T'Way (00 82 1688 8686; twayair.com), Eastar Jet (00 82 1544 0080; eastarjet.com) and Jin Air (00 82 1600 6200; jinair.com).
South Korea's rail network is sprawling and efficient. Korail's (00 82 1599 7777; letskorail.com) fastest line is the KTX; cheaper but slower lines are the Mugunghwa and Saemaeul. The country also has a suberb intercity bus system; one of the major companies is Kobus (00 82 2 535 4151; kobus.co.kr).
Car hire is a good option for exploring the countryside, and bridges and car ferries allow access to dozens of islands. Note that International Driving Permits are required.
Join our new commenting forum
Join thought-provoking conversations, follow other Independent readers and see their replies