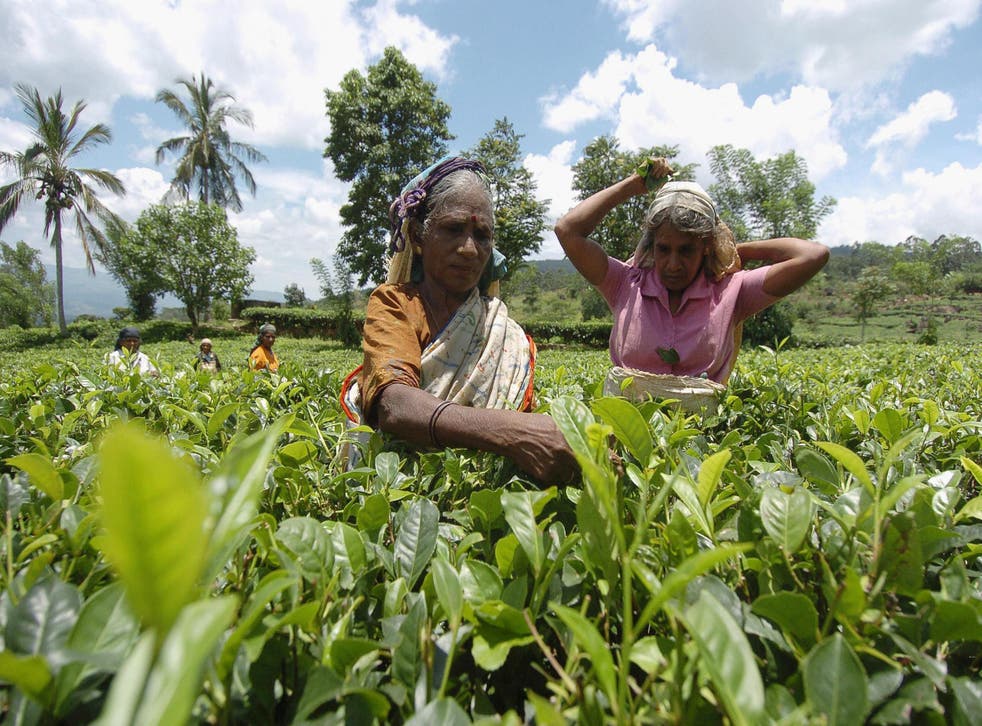 The secrets of Sri Lanka: Discover this tropical island nation beyond beach towns and surf scenes
In recovering from 26 years of civil war, Sri Lanka has shot to the top of the list of hip holiday destinations. But the real magic happens when you go off-script
Sri Lanka might have emerged as the "hot" holiday destination of 2016, filling the Instagram feeds of a studiously beach-boho set drawn to its reliable surf and covetable new crop of chic boutique hotels, but the real highlight for me was somewhat scruffier, and far further inland.
Taking the (very) slow scenic train from the tea hills of Talawakelle to the mountain town of Haputale, I was not alone in hanging gleefully out of the windows, looking down at terrifying drops into fairytale forests and out across the hills towards the sea. As a tourist, it's likely you'll be urged to buy a seat in the first-class carriage of such a train, but don't bother – air conditioning and televisions screening Jurassic Park can't compete with the rush of Sri Lanka's super-fresh mountain air whooshing at you through an open window.
Despite being a small island nation often overshadowed by India and the draws of south-east Asia, there really is too much to see in one trip to teardrop-shaped Sri Lanka. There's a long tick-list of tea towns, Buddhist temples and national parks to pack into an itinerary, but perhaps it's for that reason I relished these more simple moments, enjoying the ramshackle charm deep within a country that's being smoothed out at its increasingly touristy edges.
My first port of call after landing in the chaotic capital, Colombo, was Sri Lanka's second city, Kandy. Sitting on a plateau in the centre of the island, it's flanked by gorgeous, leafy hill country. The cultural centre of Sri Lanka, Kandy is a logical first stop for those planning the popular culture-hopping route through the heart of the land and down to the south-west coast.
My rest stop here, Kandy House, offered a home away from home in an oasis of calm – well, if your home happens to be a 200-year-old manor house built for aristocracy. Once the ancestral household of the chief minister of the Kandyan Kingdom – the monarchy that occupied the centre and east of the island until it finally fell to colonial rule in the early 1800s – it's now a charming nine-room hotel and a typical example of Sri Lanka's boutique sleeping options; chic, yes, but also brimming with traditional character.
Another such bolthole is Kandy House's sister hotel, the Last House, which sits on the south coast just outside trendy beach town Tangalle, and is among the last residing works of Sri Lanka's architectural hero Geoffrey Bawa. Little bigger than a beach villa, and a fantastic example of the intimate luxury available in Sri Lanka, it's the antithesis of the handful of larger hotel chains beginning to sprout here. Whereas the rules once stated that no building could be taller than a coconut tree, a rude-looking 11-storey Marriott hotel now sits above Weligama Bay at Sri Lanka's southern tip, a warning sign of the inevitable storm of mainstream tourism making its way over.
Sitting just north of Kandy Lake lies one of the country's historical must-sees. The Temple of the Tooth is said to house Sri Lanka's most revered object, a relic of a tooth belonging to the Buddha. Thousands come here to worship and it's worth visiting for an insight into Sri Lanka's rich and complex religious history; I felt humbled by the intricately crafted temple interiors and the quiet peace within them. Sri Lankans also pay great homage to the nation's unique breed of elephants – don't miss Raja, an enormous taxidermy beast given pride of place within the temple grounds.
Once down on the scorching south coast, resist the beach for a little while longer and make the most of the flatter land by renting a bike. It's the best way to see local villages and postcard-perfect rice paddy fields; gently cycling around Koggala Lake, I felt a welcome breeze in my hair and was offered drinks by each and every curious resident venturing out to say hello. The Idle Bikes company offers a well-paced tour complete with back-up van, but there are lots of places to rent a bike from around here. There are also plentiful cookery classes available in the area, offered by local experts willing to share the secrets of Sri Lanka's rainbow cuisine, from market to plate.
My final stop was Galle – a fort built by the Portuguese in 1588 and later obtained by the Dutch, it retains much of its antique allure and feels a world away from the wild hill climbs of Haputale. At the heart of this 16th-century Unesco World heritage site sits hip hotel Fort Bazaar, which turns out to be the perfect base from which to explore and soak up Galle's atmosphere. Many of this town's shops, galleries and restaurants wouldn't look out of place in hip parts of Paris or Lisbon. Don't miss walking around the town at dusk as the heat of the day dips, the thrum of social chatter echoing around the town's ancient walls.
Tour guides here are in abundance, often proudly boasting they are fourth- or fifth-generation Galleans; my guide's encyclopaedic knowledge of the fort's history was in keeping with a week in which each guide I met was more enthusiastic than the last.
And maybe that's what, ultimately, is so special about visiting Sri Lanka right now. It's seven years since the civil war ended, and not only does the country's tourism industry seem to have found its feet, but I also felt a strong sense that having been through so much turmoil – including the devastating 2004 Boxing Day tsunami – Sri Lankans are genuinely excited to receive tourists and rebuild the island to its full potential.
When I first arrived at Colombo airport, I was greeted by staff like a long lost friend, and over the next week I'd receive flowers upon arrival almost everywhere, meet chefs bursting to show me their handiwork, and enjoy wonderfully unscripted moments – such as when my guide pulled us over at the roadside to watch stilt fishermen poised in the perfect blue Indian Ocean, practising a centuries-old method as if stopped in time.
I fell in love with Sri Lanka for its colourful beauty, varied history and wonderful food, but more than anything I felt privileged that its people were so willing to welcome me into their country and let me in on their secrets. They won't stay secrets for much longer.
Travel essentials
Getting there
Scott Dunn offers a seven-night, luxury tailor-made trip to Sri Lanka from £2,495 per person. This includes flights with Sri Lankan Airways, luxury boutique accommodation (at Fort Bazaar, Kandy House, The Last House, Kahanda Kanda and Living Heritage), a selection of experiences and a private driver and guide throughout (020 8682 5060; scottdunn.com).
More information
Click here to view Sri Lanka tours and breaks, with Independent Holidays.
Join our new commenting forum
Join thought-provoking conversations, follow other Independent readers and see their replies