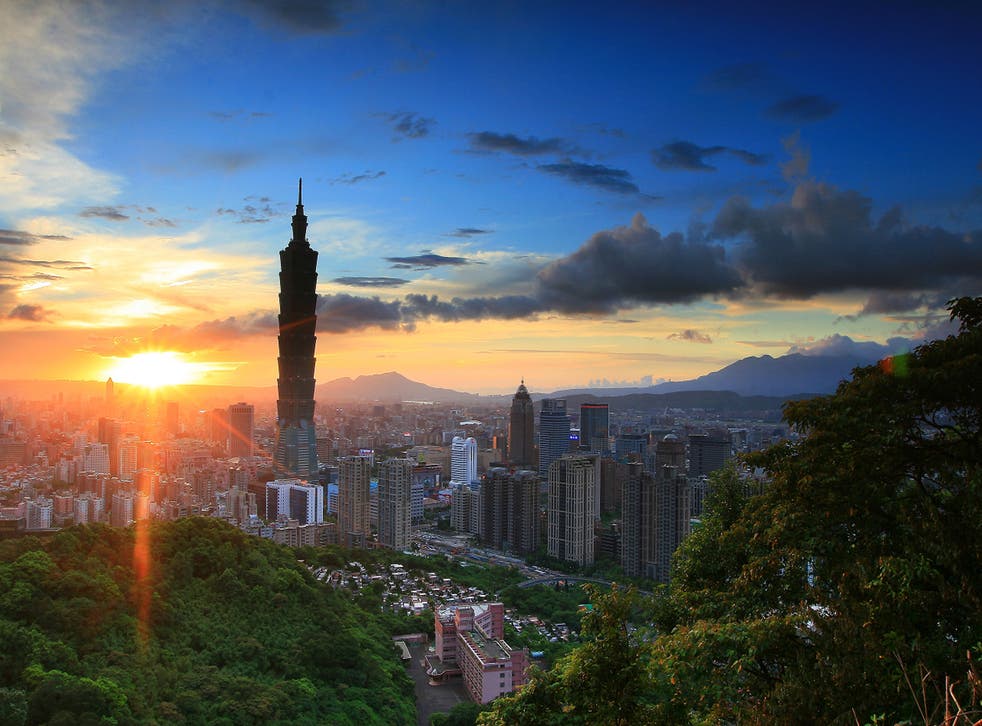 48 Hours in Taipei: Hotels, restaurants and places to visit in the World Design Capital
Taiwan's creative capital is not only a design hub - it's got great dining, shopping and art too
Travel essentials
Why go now?
Taiwan's capital has bags of style, with small boutiques and big department stores alike stocking the latest products from the city's many independent designers. And this year Taipei's creative credentials have been bolstered by the city's title of World Design Capital; it's hosting a number of events to mark the occasion (wdc2016.taipei). And spring is the best time to visit, before the sweltering summer heat and humidity kicks in.
Touch down
There are no non-stop flights between the UK and Taipei. I flew via Amsterdam with KLM (0870 243 0542; klm.com), which operates from half a dozen UK airports including Heathrow and Manchester. Eva Air (020 7380 8300; evaair.com) flies direct from Heathrow with a stop in Bangkok, while other indirect services to Taoyuan airport include Emirates (0844 800 2777; emirates.com), China Southern (0844 482 2362; csair.com) and Cathay Pacific (020 8834 8888; cathaypacific.com) via their hubs.
The opening of the rail link between the airport and the capital has been delayed, so for now the bus is your best bet. Follow the signs for "Buses to city", to where each bus company has a ticket booth. Kuo-Kuang Motor Transportation Co's 1819 bus operates every 15-20 minutes round the clock, and will take you to Taipei Main Station (1) in about 45 minutes for NT$125. A taxi will cost roughly NT$1,200 (£1 = NT$46; US$1 = NT$32).
Get your bearings
The Tamsui River runs along the western edge of Taipei City, separating it from New Taipei City, a smattering of suburbs, countryside and lush hills encircling the heart of the capital.
Taipei City proper stretches out from the central artery of Keelung Road, along which the blue metro line runs. Xinyi district, to the south, is full of posh malls, hotels and bars, and the tallest buildings in town - including Taipei 101 (2). Neighbouring Da'an is home to a large park (3) and three universities, plus restaurants and nightlife catering to students. Go north, to Songshan for cool cafés and boutiques – as well as Songshan airport (4), which is served by short-haul flights.
The MRT (metro) has five lines. Single fares range from NT$20 to NT$65 – tokens can be bought from the machines at the stations. Alternatively, contactless EasyCards cost NT$100 from metro stations and convenience stores, where you can also top them up.
Long roads are often divided into numbered sections (building numbers will repeat themselves, so make sure you have the right section) while side roads are called lanes or alleys, and also tend to be numbered.
There are several tourist offices, including at Taoyuan airport (7am-11.30pm daily) and Taipei Main Station (1) (8am-8pm daily). For more information visit go2taiwan.net.
Check in
The W hotel (5) at 10 Zhongxiao East Road Section 5 (00 886 2 7703 8888; wtaipei.com) is perhaps the city's most stylish address. Rooms are modern and spacious, while the bar attracts a cool young crowd. There's also an outdoor pool. Doubles from £218, room only.
You can't get a room much closer to the Taipei 101 (2) than the Grand Hyatt (6), across the street at 2 Songshou Road (00 886 2 2720 1234; taipei.grand.hyatt.com). The marble lobby is ultra-opulent, the terrace pool has great skyscraper views, and though the rooms are a little corporate, they're smart and well-appointed thanks to a refurb last year. Doubles from NT$18,480, room only.
A more budget-friendly option is Amba Taipei Zhongshan (7) at 57-1 Zhongshan North Road Section 2 (00 886 2 2525 2828; amba-hotels.com), the second in a home-grown design hotel mini-chain (a third is due to launch this summer). Rooms are compact but chic, with white walls and retro furniture, plus nice touches such as take-home flip-flops and a map detailing the area's best cafés and design shops. Doubles from NT$3,350, room only.
Day one
Take a view
Get up early to beat the Crowds at Taipei 101 (2). For five years until 2009 it was the world's tallest building, and while you can't go to the top (101st) storey, there's an observation deck on the 89th (entrance at 7 Xinyi Road Section 5; taipei-101.com.tw; NT$500) from which you can look out over the city and hills beyond. Inside you can see the huge spherical tuned mass damper that counterbalances the weight of the building during earthquakes. Open 9am-10pm daily, last entry 9.15pm.
Take a hike
Leave the 101 (2) and turn right on to City Hall Road, passing the Lego-like World Trade Center and Grand Hyatt (6) before crossing diagonally the patch of green to your left. Bear left on to Ren'ai Road and you'll come to Sun Yat-Sen Memorial Hall (8) (yatsen.gov.tw). Dedicated to the founder of modern China, it hosts free exhibitions and cultural events, but the main attraction is the changing of the guard (hourly, 9am-5pm).
From the back of the Memorial Hall go right on Keelung Road. The first left turn brings you to Songshan Cultural and Creative Park (9) (songshanculturalpark.org). This converted tobacco factory hosts a bookstore and exhibition spaces, including the compact but informative Taiwan Design Museum (NT$50; 9.30am-5.30pm Tuesday to Sunday, closed Monday).
Head down Lane 172 and across Keelung Road to Songlong Road, before turning right on to Lane 147. Meander eastwards along the alleys and lanes, joining the queue at Milk Shop (10) at 114 Lane 30, Yongji Road (on the corner of Alley 118) for the city's most delicious bubble tea – cold, milky, sweetened tea with tapioca "bubbles" you suck up through a straw. When you reach Hulin Street, turn left and walk through the market to …
Lunch on the run
Songshan Guabao (11) at 179 Songshan Road specialises in – the clue is in the name – guabao. Known as "Taiwanese hamburgers", these are deliciously fluffy steamed buns filled with braised pork belly, mustard greens, coriander and peanut powder (T$50).
Taipei Eats (taipeieats.com) runs excellent three-hour walking tours, which visit Songshan Guabao as well as Hulin Street market for spring onion-filled "thousand layer big bread" and truly pungent stinky tofu. Tours 11am Tuesday, Wednesday, Friday and Saturday; US$70; booking essential.
Window shopping
Huashan 1914 Creative Park (12) at 1 Bade Road Section 1 (huashan1914.com), is a converted wine factory that's home to boutiques stocking designs from the city's young creatives; the accessories are particularly eye-catching. Though the building is open 24 hours, shop opening hours vary; usually from 10am or 11am.
Alternatively, for one-off gifts and homeware, head to the lanes around Chifeng Street (13). In between the old car repair shops you'll find highlights such as Cou Cou Living Shop and De Stijl (vintage jewellery) on Lane 33, and Natural Kitchen on Lane 3.
An aperitif
You'll find the hidden door to Ounce (14) (00 886 2 2708 6885; ouncetaipei.com) at the back of Relax café (40 Lane 63, Dunhua South Road Section 2); press the buzzer next to the wood-panelled wall. There's no menu; bartenders can mix any classic cocktail or create something new just for you – sit at the bar to watch them at work. A round of three drinks cost me about NT$1,300. Open 7pm-2am Monday-Saturday, closed Sunday.
Dine with the locals
Raohe Street (15) is Taipei's oldest night market, lined with stalls, shops and restaurants. I enjoyed the fried rice at Running Spoons (No 197), though the pepper pork buns sold by the market entrance also come highly recommended. Open 4pm-1am daily.
Day two
Out to brunch
Part-café, part lifestyle shop, Good Cho's (16) at 54 Songqin Street (00 886 2 2758 2609) sells homemade bagels with a Taiwanese twist. Costing about NT$45-60 each, look out for the ones stuffed with sweet sesame paste or locally made cheese. The biggest selection is available at weekends, when the store also hosts a farmer's market. Open 10am-9.30pm weekdays, 9am-6.30pm weekends.
A walk in the park
Da'an Forest Park (3) is Taipei's equivalent of Central Park, with a network of paths between the ponds, pavilions and playground. There's also a jogging loop and an amphitheatre that hosts free performances during Chinese New Year and other festivals. Open 24 hours.
Cultural afternoon
Chiang Kai-Shek Memorial Hall (17) at 21 Zhongshan South Road (00 886 2 2343 1100; cksmh.gov.tw; free) was built in honour of the man who ruled Taiwan for almost 50 years. There's a (naturally rather biased) exhibition downstairs - including some amusingly bad paintings of Chiang with various foreign dignitaries - while upstairs there's a statue in front of which an hourly changing of the guard takes place. The huge white beast of a building may not be to everyone's taste, but it's impressive nonetheless. Open daily, 9am-6pm.
The National Palace Museum (18) at 221 Section 2 Zhishan Road (00 886 2 2881 2021; npm.gov.tw; NT$250) may be on the outskirts of town, but its vast collection of Chinese art, lacquer ware, calligraphy and more makes it the world's sixth most visited museum. Open 8.30am-6.30pm.
More to my taste is the Taipei Fine Arts Museum (19) at 181 Zhongshan North Road Section 3 (00 886 2 2595 7656; tfam.museum; NT$30). It specialises in modern art and currently has a brilliantly fun exhibition of kinetic installations called The Way Things Go (to 17 April) – look out for the room of moving buckets. Open Tuesday-Sunday 9.30am-5.30pm, to 8.30pm Saturday.
Icing on the cake
Take the metro to Taipei Zoo station, at the end of the brown line. From there, a half-hour cable car journey (tickets NT$240 return) carries you over forests and tea fields up to Maokong (20), a hill village full of tea shops serving a range of blends. Go on a sunny day for the best views. The gondola operates 9am-9pm Tuesday-Thursday, to 10pm Friday, 8.30am-10pm Saturday and 8.30am-9pm Sunday; closed Monday; public holiday times vary.
Join our new commenting forum
Join thought-provoking conversations, follow other Independent readers and see their replies