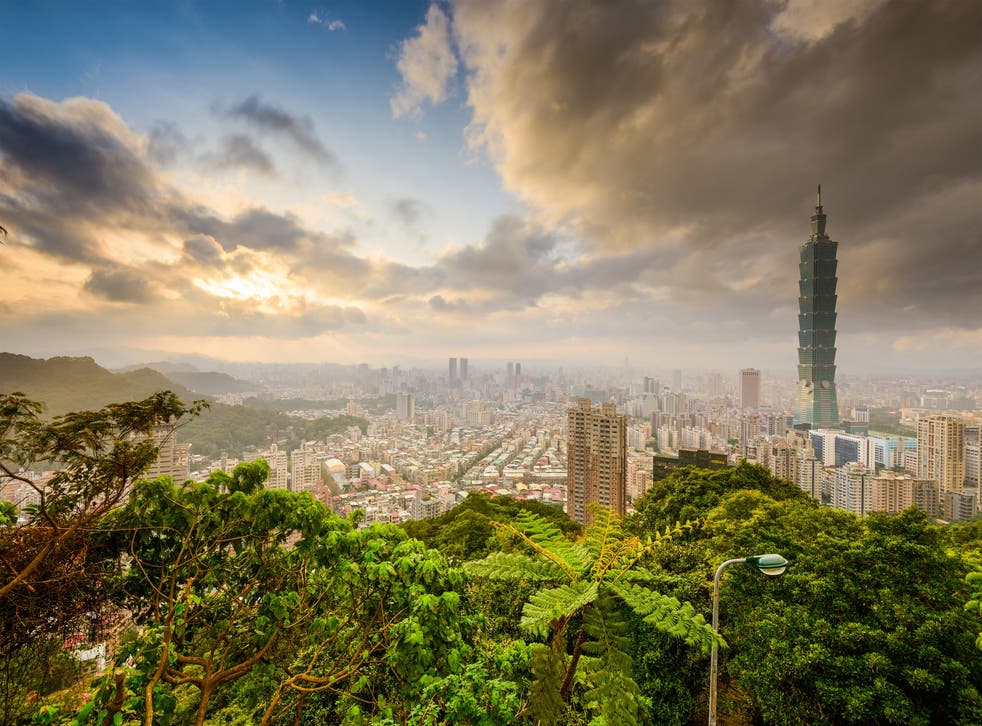 Why Taipei is the best city in Asia right now
In early 2019, the Taiwanese government legalised gay marriage. Tamara Hinson heads to what might just be the world's coolest capital
The Independent's hotel recommendations are unbiased, independent advice you can trust. On some occasions, we earn revenue if you click the links and book, but we never allow this to affect our coverage.
After years of being desperate to visit Taipei, I'm hours away from my first visit to Taiwan's capital, boarding a flight which will whisk me there from Bangkok. And if my fellow passengers are anything to go by, I'm in for a treat. They include a touring Taiwanese rock band, who turn out to be the friendliest punks I've ever met, and various Taiwanese travellers going all out to channel their inner kawaii (Japanese for the culture of cuteness), with animal-shaped neck pillows being the accessory of choice.
Taipei – now officially my favourite city – feels like nowhere else on earth. But it also reminds me of the Japanese cities I've been to (perhaps hardly surprising, given Taiwan's brutal stint under Japanese rule between 1895 and 1945), with its rows of tiny vending machines at the airport – my favourite is the one which dispenses tiny plastic street food items – and the jingles which play before metro trains pull into the artwork-filled train stations.
There's a similar love of mascots, too. I have a penchant for the cartoon kittens that appear on signs asking people not to block the train doors. There's no end to these polite reminders, whether it's notices asking passengers to refrain from chewing betel nuts on trains, to the various stickers offered to passengers who want to politely advertise their need for a seat with cartoon-like images covering various scenarios, from pregnancy to injury.
Taiwan Same Sex Marriage

Show all 10
There are similarly cool illustrations at my hotel, the amba Taipei Songshan, where bedroom doors have images corresponding to room numbers. In my case, room 2,005, there's an image of a map as a nod to the fact my room number is the year Google Maps was founded. The door a few metres away has a cartoon-like representation of the iconic, portrait-adorned Time magazine cover produced to celebrate Barack Obama, chosen as its person of the year in 2008.
Taipei is also wonderfully accessible. Within hours I'm flying around the city on its metro, swiping my newly purchased Easy Card (the cuter cousin of London's Oyster) as I go. The skyline is dominated by Taipei 101, once the world's tallest building, although the basement is where I find my favourite bit – Din Tai Fung, a restaurant famous for its xiaolongbao (steamed dumplings). The enormous glass-walled kitchen in the restaurant's centre is a hive of activity – towers of dumpling baskets stretch from the floor to ceiling, ready to topple with the slightest misstep by a passing waiter. At a designated photo spot, diners queue to take pictures of the workers beyond the glass divider. These particular employees are dumpling folders, and my waitress explains that every dumpling has 18 folds and weighs precisely 21 grams.
Despite the highrises, Taipei feels within touching distance of its backdrop of grassy hills, and it takes just a few minutes to walk from Xiangshan metro station, at the base of Taipei 101, to the start of a hiking trail which winds up the side of Elephant Mountain – allow 20 minutes to hike to the top. It's a great spot to admire Taipei's skyline and, at night, its neon muddle of fragrant night markets and skyscrapers.
One of the brightest spots is undoubtedly Ximending – Taipei's first pedestrianised area. It's loud, bright and brash, and similar to Tokyo's Harajuku neighbourhood, complete with quirkily dressed locals beckoning tourists into shops selling everything from puppy-shaped handbags to snail secretion-infused face masks. The fact that this city centre neighbourhood is also Taipei's LGBT+ area says a lot about the country's openness. The hub is the Red House, a brick building built in 1908 by Japanese architect Kondo Juro. Today it serves as a sort of cultural centre, filled with a theatre, cafes and craft stores, and in the square behind the building I find bars, hair salons and boutiques proudly flying super-sized rainbow flags.
Nearby Yongkang Street is equally bright. Famous for its shaved ice stalls and food stores, this colourful avenue is lined with stores selling everything from Hello Kitty-shaped pork pies to Taiwan's famous pineapple cakes. There are even cuddly, plush versions of this famous delicacy, but my favourite find is a teabag shaped like Xi Jinping – after all, who wouldn't want to give him a good dunking?
The area is light years away from the sombre quietness of the National Chiang Kai-shek Memorial Hall, loaded with symbolism connected to Chiang Kai-shek, the controversial Chinese military leader who fled to Taiwan in 1949 and established a government in exile. The 89 steps leading to the main hall represent his age when he died. Inside, I discover enormous halls stuffed with exhibits, including his wedding suit and a two-ton bulletproof Cadillac loaded with security features. Even more sombre is the main memorial hall with its bizarre, Abraham Lincoln-inspired statue of Chiang Kai-shek. I arrive in time for the hourly changing of the guard, a suitably grandiose affair which involves endless boot-stomping and rifle-spinning.
As I leave, I spot a crowd of Chinese tourists clambering back onto a huge coach, and my guide tells me that they'll be the last Chinese visitors he'll see for a while, explaining that Chinese citizens will be temporarily banned from visiting Taiwan from the start of September. Political campaigning is underway prior to Taiwan's 2020 general election, and the Chinese government would rather its citizens don't see what a free, fair election looks like. And as the coach pulls away, I can't help but think that's their loss, rather than Taiwan's – not least because 26 October will see the city turn out to mark the first Taiwan Pride since gay marriage was legalised in May 2019. And I suspect it will be one hell of a party.
Travel essentials
Getting there
Flights to Taipei from the UK start from around £300 with China Eastern.
Staying there
Double rooms at the amba Taipei Songshan from £90, B&B. amba-hotels.com
More information
Join our new commenting forum
Join thought-provoking conversations, follow other Independent readers and see their replies