The Independent's journalism is supported by our readers. When you purchase through links on our site, we may earn commission.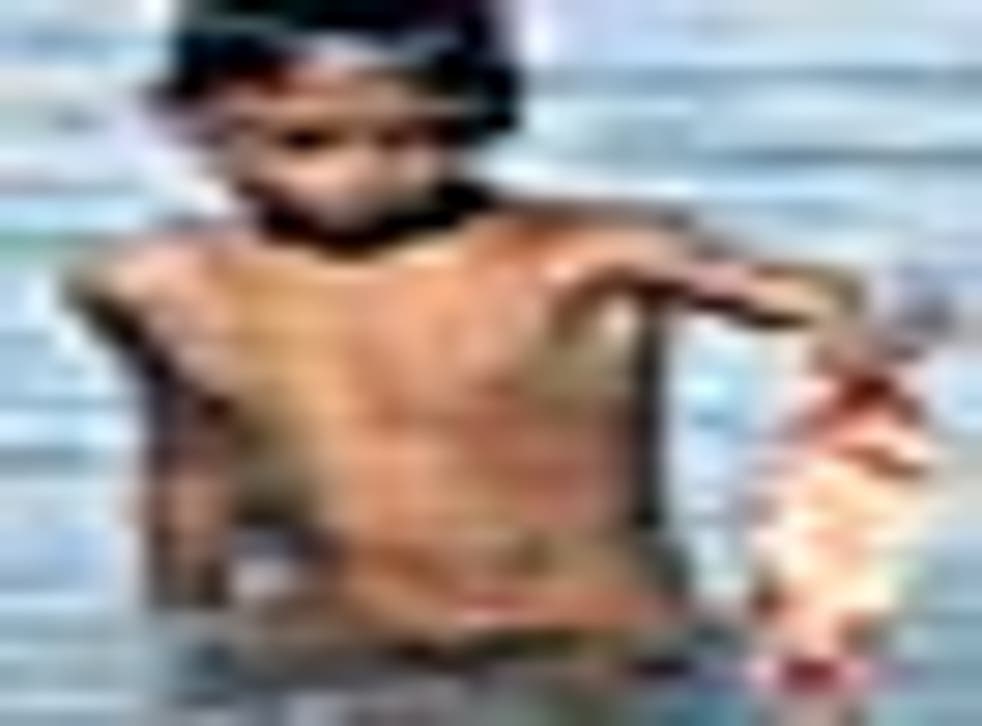 Thailand's Koh Tarutao
Prisoners, pirates and reality-show contestants have all washed up on Thailand's Koh Tarutao. James Palmer discovers why it's the perfect hideaway
Saturday 05 November 2005 01:00 Comments
Something squirmed past my foot. Something wriggled under my armpit. And what was that nibbling at my calf? Treading water in a turquoise pool at the foot of Lu Du waterfall on Tarutao island, I pulled on a mask and snorkel to investigate.
I was surrounded by large, black fish - a few at first, then scores, multiplying as they emerged from shadowy corners. Soon the pool teemed with slippery, inquisitive life. A snake - thin, brown, about a metre long - glided into the water from a limestone ledge. The dip that had seemed the perfect antidote to a two-hour hike through the steamy jungle was fast becoming a reality TV show trial. Enough was enough: I scrambled ashore.
Any island that has been a political prison, a hideout for pirates, a heavily-policed National Park, and a location for the American reality TV show Survivor, was bound to hold a few surprises.
It certainly took the Hindus by surprise in the 1st century AD on their perilous sea migrations from India into South-east Asia. They decided that Koh Tarutao, 22km off the south-west coast of Thailand and cut off by monsoon seas for half the year, was cursed. Those who entered its thick jungles tended to go mad, or die. What they didn't know was that the delirium and death were brought on by malaria, which no longer poses a threat. However, it's still advisable to bring plenty of insect repellent and a mosquito net.
Just in view to the south is the Malaysian holiday resort island of Langkawi, yet Koh Tarutao feels a million miles away from it, shielded from encroachment by its Thai National Park status.
This 26km-long island with its palm- and casuarina-fringed beaches, mangrove swamps and jungles is one of the 51 islands that make up the Tarutao National Marine Park, three of which have ferry connections to Pak Bara on the mainland. Koh Adang and Koh Lipeh, the other islands within a ferry ride of Pak Bara, are surrounded by pristine coral reefs. The Tsunami Reef Action Fund, set up by the Sustainable Ecosystems Institute, has cited the archipelago's sheltered position behind the Sumatra peninsula as the reason why last December's tsunami, which slammed into resorts further north around Phuket, caused "little or no damage" here.
Even though Tarutao let in the reality TV cameras in 2002, the park keepers have successfully held the private resort developers at bay, and only a few in-roads have been carved. Rough roads and dirt tracks link the National Park headquarters at Ao Pante on the north-west coast to four other ranger stations at Ao Sone, a favourite egg-laying site for turtles on the west coast, Ao Ma Kham further south, and the former prison sites of Ao Talo Wao and Ao Talo Udang on the east coast.
Tarutao's formidable reputation made it the perfect choice to house political prisoners during the early 1940s. The island's perils were hyped up by the guards, who deterred the convicts from escaping with tales of shark and crocodile attacks. Very little remains of the prisons today, just some rusty relics in the visitor centre at Ao Pante, including an enormous wok, a cannon, some leg irons, and photographs of the more important political prisoners - leaders of two coup attempts from the 1930s. Among them were So Sethaputra, the author of the first Thai-English dictionary; the grandson of King Rama VII, Sittiporn Gridagorn, who developed a new cucumber strain during his captivity and became minister for agriculture after his pardon; and Luan Sarapiwanit, who called the guards' bluff about the sharks and crocodiles, swam out to a fishing boat and escaped. He later became minister for education; imagine if Ruth Kelly had had to undergo such trials.
Supplies of anti-malarial drugs and food to the prisons dried up during the Second World War and in 1944 wardens, jailors and convicts turned to piracy, raiding ships in the Straits of Malacca. The attacks became increasingly frequent and ferocious as necessity turned to greed and the booty was smuggled to the mainland and sold.
After the war, British troops were sent in from Malaysia - then British Malaya - to root out pirates hiding in the estuaries and creeks. Little time was wasted in closing down the prisons after that, but pirate attacks continue to this day.
It was easy to imagine the prisoners' fear of crocodiles when my girlfriend and I took a long-tail ride with a boatman named Hat up the mangrove-fringed estuary of the Pante-Malaka river to "Crocodile Cave". Hat was one of 15 boatmen from poor villages around Satun provinceselected by the National Park to spend the November-to-May dry season transferring tourists from the ferry to Ao Pante's pier at low tides.
A sea eagle took flight from a rocky islet as our long-tail clattered up the river, and we moored near the cave mouth. Braving the rickety floating walkway by Hat's torchlight, we half expected scaly torsos and gnashing teeth at any moment. Hat's words, "No crocodile, not for 20 year!" did little to calm our nerves as he cranked up a generator and a row of bulbs blinked into life, waking bats. The cavern walls were corrugated like a pipe organ, and in our guide's imaginative patter stalagmites became "a camel" and "an old man's head" as he led us up to our knees in cool, squidgy clay. On the way back to Ao Pante, Hat pulled the boat in by some mangrove roots, and whispered "monkey come, monkey come!" and sure enough, a crab-eating macaque clambered tentatively through the mesh of roots and leapt on board to steal a strategically placed biscuit.
It was easy to see why Tarutao was chosen by CBS as the location for Survivor: the proximity of the fauna on the island is alarming. Cicadas in the evergreen canopy chirped as loudly and incessantly as car alarms. Wild pigs foraged under the cabins while we slept. An enormous king cobra slithered into a river bank behind Ao Jak beach on the way to Lu Du waterfall - a route that writhes in the memory for its abundance of serpent life.
The 3km trail to Lu Du starts at Ao Sone, marked out with tags tied to trees. You can easily lose the trail, so you may find yourself clambering up the river for much of the way, which can add hours to the hike. Green snakes bask on rocks and flee across the river with frightening alacrity as you approach. You reach a small waterfall with a deep pool before you get to Lu Du, which is more pleasant to swim in than the larger, fish- and snake-infested pool I found myself in at the end of the trail.
By the time we clambered back down from Lu Du to Ao Sone, the thought of walking the 8km road to Ao Pante was too daunting. You can camp at Ao Sone, but we flagged down a passing fisherman in a long-tail boat, who ferried us up the coast. En route, a grey inflatable speedboat passed us carrying five men in army fatigues clutching rifles. They were park rangers patrolling for illegal trawlers and dynamite fishermen. Our humble skipper posed no threat with his nylon fishing line and battered cooking pot. But the rangers' appearance was no sham: in 1981, 10 rangers in a long-tail boat were surrounded by illegal trawlers, and came under heavy gunfire. They had to be airlifted to safety. Since then they've raised their game, and have learnt to behave like a small army.
Ever since Tarutao was declared a National Park in 1974, the rangers have fought battles on many fronts. First, it was with farmers who had moved from the mainland to cultivate rubber plantations and coconut groves. Two rangers were killed in ambushes, and the richest settler only agreed to leave once he'd clinched a handsome pay-off.
The coconut palms are still there, providing shelter to a newly built row of smart two-bedroom National Park bungalows, which visitors can rent for 2,000 baht (£27) a night.
Balancing tourism and conservation is now the chief concern of the National Park. As many as 10 private bungalow resorts have sprung up on Koh Lipeh. The National Park must prevent further encroachment while maintaining the tourist trade, and protecting the local Urak Lawoi people.
It is hoped that ecotourism will provide a solution, and Koh Tarutao is one place it is put into practice. Accommodation is restricted to campsites and National Park bungalows, with cold-water showersand electricity between 6pm and midnight. Eating out is limited to two small restaurants serving Thai staples such as pad thai and tom yum soup. Everywhere, signs in English and Thai remind you to "leave nothing but your footprints".
GETTING THERE
The writer flew with Thai Airways (0870 606 0911; www.thaiairways.co.uk) from Heathrow to Bangkok for £458.
Internal flights to Trang can also be reserved with Thai Airways, costing 2,900 Baht (£38) one way.
Other airlines serving the Thai capital include British Airways (0870 850 9850; www.ba.com), Qantas (0845 774 7767; www.qantas.com) and Eva Air (020-7380 8300; www.evaair.com), all from Heathrow.
The writer travelled to Trang from Koh Lanta in an air-conditioned minibus, for 200 Baht (£2.65), inclusive of two car ferries (two hours). Many tour companies operate minibuses from Trang railway station to Pak Bara pier, in high season only (90 minutes). You can also take a Satun-bound bus from Trang to Langu and then take a red songthaew to Pak Bara (two-and-a-half hours). Ferries leave Pak Bara on the 90-minute voyage to Koh Tarutao at 10.30am and 3pm (200 Baht/£2.65 one way) from November to May. The 10.30am boat goes on to Koh Adang (450 Baht/£5.95), from where you can take a boat to Koh Lipeh.
STAYING THERE
The ferry docks at Ao Pante, where you must pay the 200 Baht (£2.75) National Park fee (visitors heading for Koh Lipeh need to pay the fee before leaving Pak Bara). The National Park headquarters are based at Ao Pante, with two restaurants, a small shop and most of Koh Tarutao's accommodation. Tents can be hired for 150 Baht (£2) a night. Campers with their own tent pay 20 Baht (26p). The writer stayed in a twin-room bungalow with fan and cold water shower (600 Baht/£8), as a guest of the Tourism Authority of Thailand (TAT). New bungalows at the more secluded Ao Molae cost 2,000 Baht (£26). Park facilities on Koh Tarutao are open to tourists from mid-November to mid-May. Reserve National Park accommodation in advance by calling 00 66 7472 8027, emailing reserve@dnp.go.th, or visiting www.dnp.go.th.
FURTHER INFORMATION
Tourism Authority of Thailand: 0870 900 2007; www.thaismile.co.uk
Sustainable Ecosystems Institute: www.sei.org.
Register for free to continue reading
Registration is a free and easy way to support our truly independent journalism
By registering, you will also enjoy limited access to Premium articles, exclusive newsletters, commenting, and virtual events with our leading journalists
Already have an account? sign in
Join our new commenting forum
Join thought-provoking conversations, follow other Independent readers and see their replies