Hotel Review: Keemala, Thailand
Taking Phuket's hotel scene to new heights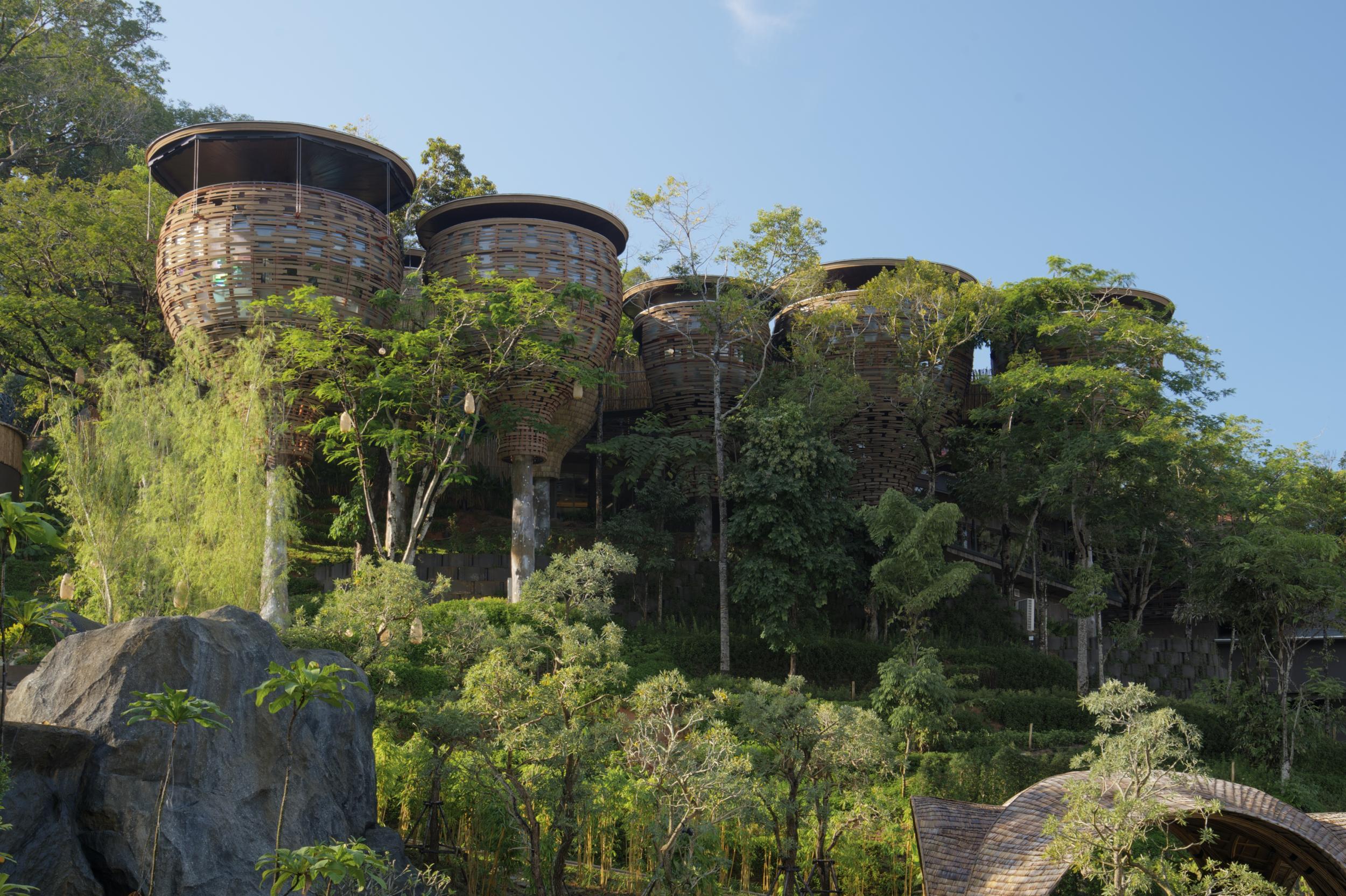 Have you ever seen a pink buffalo? No, nor had I, until I arrived at the Keemala resort in Phuket. I never even knew such a thing existed. But here stands Bill resplendent in the sun, sharing the land with customers and staff at Keemala, in all his coral-hided glory.
My welcoming party is eager to point Bill out - and understandably so. The quirky creature is an emblem of sorts for the independently-minded nature of the resort.
Clustered on a patch of land just above Kamala beach on Phuket's west coast, Keemala opened at the end of last year. The two masterminds behind it hail from local families, with backgrounds in the hospitality industry.
With Keemala, they have focussed on serenity and wellbeing. From yoga to clean eating and spa treatments, you should come away feeling de-stressed and reinvigorated. To this end, the resort makes good use of its forest setting. There is a garden from which chefs pick herbs and vegetables and I begin each morning with yoga in a tree house suspended among centuries-old trees, while natural building materials complement the setting.
It pours with rain during may stay, giving me plenty of time to try out the spa treatments. The massages, meted out in treatment huts that also offer deep outdoor baths with views out to the sea, are sublime - especially as the patter of rain on the roof reminds me that there's not much else I should be doing.
The restaurant is also top notch. The menu comes in three parts: Western, Thai and Indian. The last section is taken care of by Sunny, from Nagpur in India. I had a very tasty lamb vindaloo and saag paneer with saffron rice. Meanwhile, a spa menu offers healthier options, including sea bass, tofu and a delicious avocado, strawberry and spinach salad with a cashew nut dressing.
Like much of Phuket, this particular corner is highly developed. This has benefits: plenty of international flights and a good range of restaurants, boutiques and art galleries.
But there are downsides. They tend to pack plenty on to the land here and the patch that Keemala occupies feels a little pokey. My accommodation wants for a bit of privacy - an access road runs right by the end of the private pool and golf buggies whizz by ferrying around customers and staff. Skinny-dipping is out of the question.
But Keemala ranks highly when it comes to the fundamentals of a resort holiday. You can happily fill your stay with the blissful pleasures of convenient luxury. Breakfast, swim, yoga, lunch, massage, a trip into town or to the beach and you're ready for supper, safe in the knowledge that that a rather large bed awaits.
Comfort
There are four grades of accommodation - a 'cottage', a two-storey tree-house, a villa with a Bedouin-feel thanks to tented walls and eight Bird's Nest villas. I'm lucky enough to stay in the latter, the most luxurious of the lot. Wow, does it live up to the price tag.
It's vast, with vaulted ceilings and all finished in a cacophony of teak, mahogany and walnut. The reliance on wood - as well as rush matting and bamboo - make you feel as if you are indeed ensconced in a nest. The bed, wider than it is long, is swathed in a mosquito net fit for King Rama IX, Thailand's much-revered monarch.
Then there's the bathroom, which is straight out of Batman's cave - dark and brooding. It's not a stretch to imagine Christian Bale relaxing into the gargantuan onyx-black bathtub - hollowed from a single rock - after a hard day fighting crime. There's an equally impressive suspended shower that hangs over a beautiful bronze and turquoise mosaic floor. And for yet more water-based indulgence, there's a 30sqm private pool which has views over the bay and the village below that twinkles at night. Just watch out for those golf buggies.
Location
Keemala is a 40-minute drive north-west from Phuket Town and 20 minutes north of Patong, both of which will take care of your shopping needs and offer a change of pace, if you need it.
As well as Kamala beach, Surin and Layan beaches are also nearby. The resort runs shuttle buses to all three.
Then there are two floating villages within easy reach, which are well worth a visit, and a waterfall. A golf course and a nearby rum distillery complete the sweep of activities.
Essentials
Keemala Phuket, 10/88 Moo 6, Nakasud Road, Kamala, Kathu District, Phuket, Thailand (00 66 76 358 777; keemala.com)
Wi-fi: free
Access: One room adapted for guests with disabilities
Rooms: ****
Service: ****
Value: ***
Double rooms start at 13,720 baht (£300 / $390) including breakfast.
Join our commenting forum
Join thought-provoking conversations, follow other Independent readers and see their replies