The Independent's journalism is supported by our readers. When you purchase through links on our site, we may earn commission.
The Complete Guide To: India's Golden Triangle
Busy street life, tranquil havens, culture shocks and architectural splendours await those who take the classic introduction to this vast and varied country, says Matthew Teller
Saturday 03 February 2007 01:00 GMT
Comments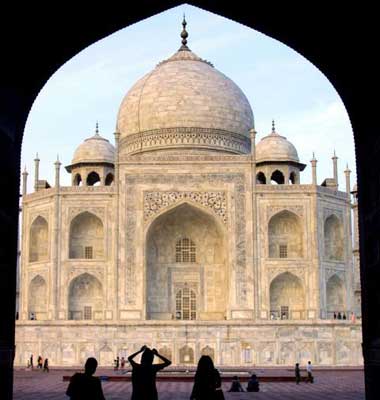 WHAT IS THE 'GOLDEN TRIANGLE'?
India's Golden Triangle comprises the three most visited cities in the country's north-west - Delhi, Agra and Jaipur, which are all connected to each other by good road and rail links. On the map, these form a roughly equilateral triangle, some 200-250km along each side. This triangle has been dubbed "golden" for the extraordinary wealth of cultural and historical splendour on offer in each of the three cities.
Jaipur, capital of the largely desert state of Rajasthan, is home to some of Asia's best bazaars. You could spend weeks in Delhi, the sprawling, fascinating Indian capital, and not see it all, while Agra, once the heart of the Moghul empire, boasts the unparalleled beauty of the Taj Mahal, which adorns the banks of the Yamuna river. The Golden Triangle is a classic introduction to India: if you've never been to the subcontinent before, start here. Which usually involves a flight into Delhi.
IS THAT A GOOD PLAN?
Yes. For all its dirt, traffic and crowds, the Indian capital is a remarkably amiable entry-point to the nation. Guidebooks prognosticate gloomily about the culture shock and hassle factor, but all but the most sensitive souls are likely to find a first visit more inspiring than shocking or maddening. Delhi is a megalopolis on the up: the population is young, the economy is dynamic (visibly so: you'll see miserable poverty but you'll also see countless individual-run small businesses) and yet the cultural roots are holding firm.
Delhi's chief "sight" is its street life. The teeming bazaars of imagination lie in "Old" Delhi, the city of the Moghuls, established in the 17th century and still largely Muslim: the immense Jama Masjid (Great Mosque) dominates the quarter. Its main thoroughfare, the tumultuous Chandni Chowk, abuts the Red Fort, whose pristine lawns and lofty Moghul audience halls offer a tranquil haven. To the south, British-built New Delhi is a fascinating contrast, radiating out from the boutiques and cafés of Connaught Place: here, the dusty alleys are replaced by broad, arrow-straight boulevards and four-square monuments. The imperial mall, Rajpath, leads to the mighty arch of India Gate, designed by Edwin Lutyens in the 1920s, and now the focus of New Delhi's passeggiata.
AREN'T ALL THESE PLACES VERY TOURISTY?
Delhi, being such a large (population around 14 million) and diverse city, absorbs its tourists with ease. Agra and Jaipur both have sizeable numbers of Western tourists roaming around. Jaipur, as capital of Rajasthan, has a role as a commercial and administrative centre that has nothing to do with tourism, and a population of 2.5m. The city's alluringly frenetic old quarter is known as the Pink City after its red-washed buildings, packed with stalls selling everything from silk to milk. Of Jaipur's numerous monuments, the Hawa Mahal - an ornate five-storey façade, designed to allow the women of the royal household to observe the street in anonymity - has become an icon of Rajasthani architecture.
AND THE THIRD POINT OF THE TRIANGLE?
Completing the triangle, Agra - for all its monumental splendour - can be a trial, with the perpetual smog and the hard-sell hawking. It can at times feel like a swollen village: its parks and public spaces have an oddly suburban ambience. Yet it boasts a stupendous Moghul fort in the city centre and the ethereally beautiful Taj Mahal.
The marble mausoleum is by far the most popular tourist site in India - and despite the hype and the cliché it is an astounding and mesmerising building. In addition, Agra offers other jewelled tombs and architectural marvels as well as a medieval-like maze of ancient bazaars, a mass of hooting, tooting traffic and some of the most rapacious shopkeepers in the country. Motorised traffic is banned from the complex surrounding the Taj Mahal. Opening hours are 6am-7pm daily except Fridays. Admission is Rs750 (£9) for foreigners and Rs20 (25p) for Indian nationals.
WHERE SHALL I SLEEP?
Undoubtedly the best placed and smartest hotel in Agra is the Oberoi Amarvilas at Taj East Gate Road (00 91 562 223 1515; www.oberoihotels.com). It is less than 500m from the Taj, and offers staggering views of the mausoleum from each of its 105 bedrooms. Doubles start at around Rs18,000 (£215).
Agra's mid-range hotels lack character: as good a bet as any is the four-star Clarks Shiraz, 54 Taj Road (00 91 11 562 222 6129; www.hotelclarksshiraz.com), favoured by many tour companies: a deluxe double facing the Taj Mahal costs Rs6,500 (£74).
Jaipur does better: plump for the pleasant three-star Umaid Bhawan, D1-2A Bani Park (00 91 141 231 6184; www.umaidbhawan.com) - a modern building on a residential street done up as a heritage-style palace. Spacious deluxe doubles are a snip at £20.
Decent mid-range hotels in Delhi include Nirula's, L-135 Connaught Place (00 91 11 2341 7419; www.nirula.com), with well-kept three-star doubles from Rs5,100 (£59), and similarly house-proud Alka, P-16/90 Connaught Place (00 91 11 2334 4000; www.hotelalka.com), with doubles from Rs3,600 (£42). All prices quoted here exclude breakfast.
AND EAT?
Trustworthy mid-range eateries in central New Delhi include the Banana Leaf, at N-12 Connaught Place (00 91 11 2331 2355), a good, family-style restaurant serving up South Indian specialities such as dosa alongside excellent thalis. Nirula's, at L-135 Connaught Place (00 91 11 2341 7419; www.nirula.com), is another sound bet.
Alternatively, you could opt for wraps, paninis and light bites at Barista, a chain of WiFi-enabled espresso bars with more than 20 outlets in Delhi alone, including a branch at N-16 Connaught Place (00 91 11 2335 6076; www.barista.co.in). Barista is also in Jaipur (00 91 141 510 8958), in the mall opposite the Raj Mandir cinema, but here an excellent choice is the LMB restaurant on Johari Bazaar (00 91 141 256 5844; www.hotellmb.com), where all the food is pure vegetarian.
In Agra, decent options outside the big hotels are few: cautious eaters should avoid the hole-in-the-wall restaurants occupying the alleys around the Taj Mahal and instead take a rickshaw out to Only, a garden restaurant at 45 Taj Road (00 91 562 222 6834) which attracts local family parties as readily as Western tour groups. Sit out on its shaded lawns for splendid Mughlai cooking. At all of these, expect to pay around 150-300 rupees (roughly £1.75-3.50) for a full meal.
HOW DO I GET THERE?
Air India (020 7495 7950; www.airindia.com), British Airways (0870 850 9850; www.ba.com), Jet Airways (0800 026 5626; www.jetairways.com) and Virgin Atlantic (0870 380 2007; www.virgin-atlantic.com) fly daily from London Heathrow non-stop to Delhi.
Another possible gateway is Amritsar, north-west of Delhi, with non-stop flights from Birmingham on Air India and Heathrow on Jet; the latter can do competitive "open-jaw" deals into one city and out of the other.
AND GET AROUND?
You may find that getting from Delhi to Agra to Jaipur comprises the most evocative aspect of an Indian holiday. Domestic flights notwithstanding, Indians still clock up a phenomenal quantity of rail miles and, in general, the trains are well organised and efficient. Trains have eight classes of travel, from unreserved wooden benches to air-conditioned berths that include bedding and meals. Each class has its own code, which you'll need to know. In addition, every train service is identified by a four-digit train number, quoted in the timetable, and every station is identified by its own alphabetic code - very important in cities such as Agra, where there is more than one large station.
Booking ahead is essential: you generally can't just turn up, buy a ticket and board. Online booking is possible up to two months in advance at www.irctc.co.in, with some restrictions; see the useful explanation of how to do this at www.seat61.com.
Alternatively, turn your itinerary over to SD Enterprises (020 8903 3411; www.indiarail.co.uk), which sells point-to-point tickets, itineraries and IndRail passes - which come in a variety of options from half a day in second class (£6) to 90 days in air-conditioned comfort (£550). The official Indian Railways website is at www.indianrail.gov.in.
To find your train amidst the crowds and the chaos, choose a porter at the station entrance, show him your ticket and (for a small fee) he will carry your bags to the correct platform. As a guide, the basic fare from Delhi to Agra in a comfortable, airline-style reclining seat is 375 rupees (about £4.50). The fastest journey is under two hours on the New Delhi-Bhopal Shatabdi (express), which leaves New Delhi at 6.15am and arrives at Agra's Cantonment station just after 8am, well before the crowds arrive. The corresponding train in the opposite direction leaves Agra at 8.30pm.
The journey time from the capital to Jaipur is around five hours. Between Jaipur and Agra, the Jaipur-Gwalior Express covers the ground in four hours. Although taxis are cheap, the classic way to get around Indian cities is by auto-rickshaw. A hair-raising ride rarely costs more than £1.
WHAT KINDS OF PACKAGE TOURS ARE THERE?
Dozens of companies offer itineraries centred on the Golden Triangle, from a few days in Delhi up to lengthy multi-centre itineraries, which often include tiger-watching and other diversions.
One long-established India operator is Voyages Jules Verne (020-7616 1000; www.vjv.co.uk), which is the budget arm of Kuoni. The nine-night Golden Triangle tour skims Delhi in favour of a two-night stay at Kuchaman Fort, near Jaipur; it runs twice a week for much of the year, with keen prices from £715 per person. Cox & Kings (020 7873 5000; www.coxandkings.co.uk) offers the one-week "Indian Experience". Centred on the Golden Triangle, it includes five-star accommodation, with one night at the former hunting lodge of the Maharaja of Jaipur. It runs more or less weekly, year-round, from £995 per person. Both companies have many other options available. In addition, Bales Worldwide (0845 057 1819; www.balesworldwide.com) has an eight-night Discover India itinerary, which covers the classic route, plus a train ride to Gwalior Fort, south of Agra, from £1,295. Innovative alternatives include the 16-night "Tigers and Palaces" tour from Essential India (01225 868 544; www.essential-india.co.uk), featuring a relaxed itinerary around the Golden Triangle and beyond, from £1,296 - but not including international flights.
To see the Golden Triangle in style, opt for the "Palace on Wheels" (00 91 11 23325939; www.palaceonwheels.com), a private luxury train that plies a week-long route from Delhi to Jaipur, on into Rajasthan and back via Agra. Its plush, carpeted interiors include two dining cars and roomy bedrooms decorated in Rajasthani style. Several operators, including Voyages Jules Verne and Great Rail Journeys (01904 527 174; www.greatrail.com), offer Palace on Wheels itineraries.
IS 'DELHI BELLY' INEVITABLE?
Not at all. Bottled water is available everywhere cheaply - this is fine for a week or two's visit, but if you're staying longer you should be aware of the environmental consequences of plastic waste, and consider taking water-purifying tablets with you.
Antibacterial hand gel is widely available from pharmacies in Britain, and cuts out the need to hunt for soap and water at every snack stop.
BREAKING THE TRIANGLE
Once you've explored the Golden Triangle there are plenty of options for striking out alone. Near Agra lies Fatehpur Sikri, a deserted, hugely atmospheric Moghul palace complex, as well as the magnificent Keoladeo Ghana National Park on the outskirts of Bharatpur. Sariska Wildlife Sanctuary is near Jaipur, as is Amber Fort, another splendid Moghul hilltop palace. From Kalka, north of Delhi, a historic "toy train" follows a scenic narrow-gauge line up to the Himalayan hill-station of Shimla, summer capital of the British Raj.
The most enticing side-trip is to Amritsar, capital of Punjab state and the holiest city in Sikhism, to visit the Golden Temple and the Jallianwalla Bagh gardens. This can be done in a day by train, departing New Delhi at 7.20am and returning at 10.50pm, giving four hours (1-5pm) in Amritsar.
WHERE CAN I GET MORE INFORMATION?
India Tourism, 7 Cork St, London W1S 3LH (020 7437 3677; www.incredibleindia.org).
HASSLE FACTORS
Despite all the dire warnings in guidebooks, if you've weathered the storm of hassle in, say, Egypt or Morocco, India will be a breeze. Touts, especially in the Golden Triangle cities, tend to gather around tour buses - a fact which may nudge you towards travelling independently.
The soundest advice is just to be clear about the difference between people who want to chat and people who want to establish a commercial relationship. The former are worth cultivating, and many times passers-by may approach you with nothing in mind other than saying hello. The latter - which includes hotel touts, genial rickshaw-drivers insisting you visit a particular craft bazaar, shopkeepers leading you into their shop, photographers offering to take your picture at the Taj Mahal, and so on - are a different matter: they are approaching you with the aim of getting money out of you. If you don't want to take them up on their offer, then an amiable but confident "no" will, in almost all cases, do the trick. Touts can smell a soft touch a mile away, and an ambiguous response is unlikely to deflect attention.
Visitors who end up confused, angry, embarrassed and/or out of pocket are invariably those who mix up these two kinds of approaches.
Additional research by Harriet O'Brien
Click here to view Indian tours and holidays, with Independent Holidays.
Join our commenting forum
Join thought-provoking conversations, follow other Independent readers and see their replies