The Independent's journalism is supported by our readers. When you purchase through links on our site, we may earn commission.
10 things to do in Baku
From startling modern architecture to the prettiest underground network, there's far more to Baku than its Eurovision past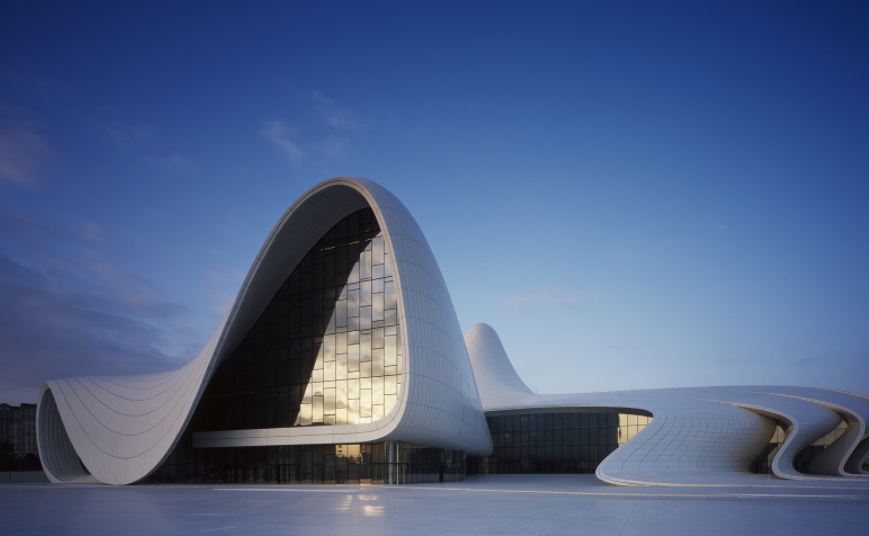 Want to visit Baku? You're in luck. Travelling to Azerbaijan used to mean a convoluted and inconvenient visa process that turned off travellers and stifled tourism. But in January of this year the new "ASAN e-visa" system came online, allowing citizens of 81 countries, including the UK, Australia, and US, to quickly apply and receive the visa via email. Visitors who take advantage will find plenty of things to see: a cosmopolitan, affordable capital of good eats, incredible architecture – and, most importantly, friendly cats.
Here are the top 10 things to do in Baku:
The best of Baku
Show all 10
Stroll the seafront
Baku sits in a natural bay on a peninsula jutting out into the Caspian Sea. The city is oriented towards the water and the breeze coming off of it, and the best stretch of waterfront is reserved for recreation and entertainment. Milli Park and its wide pedestrian promenade, named Dənizkənarı Bulvar, trace the curve of the bay and provide plenty of sunshine and space for jogging, cycling, dog-walking, and rollerblading (yes, rollerblading still a thing here). Along the route are sights like the "Baku Eye" ferris wheel, Park Bulvar mall, and the under-construction Caspian Waterfront building with its petal-like points inspired by the "sails" of the Sydney Opera House. Walk to the end to finish at National Flag Square (Dövlət Bayrağı Meydanı) with a flag and flagpole that rank among the world's largest. Its neighbour, the massive Crystal Hall, was built for Eurovision 2012.
Eat like a king
Since 2015, Azerbaijan's currency has halved in value against the pound. As a result, Baku is a terrifically budget-friendly city where even backpackers can afford to eat like royalty. Reserve a table within the stone arched dining room of Şirvanşah, which is as much a museum as it is a restaurant. The cocktail list may be long, but we love the fresh pomegranate juice and simple feijoa compote, the latter a sweet juice made with feijoa fruit most typically associated with Brazil. Save room to finish with a tea service and a plate of national sweets, such as the hazelnut-filled shekerbura pastry, while local musicians play traditional Azeri music. For a feast for two, you'll find it difficult to spend even 85 manat (£40) total.
Ride the funicular to the Flame Towers
50 qəpik (23p) is all it costs for a ride up the Baku funicular from the seaside to the three strikingly modern buildings known as the Flame Towers. One contains offices, another residences, and the third is the Fairmont Hotel Baku, though none offer an observation deck. Selfies are still compulsory up here: the funicular conveniently lets you off at Dağüstü Park, the landscaped terraces of which overlook the Bay of Baku and give the best view over the city. Time it right to catch the beginning of sunset from the foot of the Flame Towers, then take the stairs down through the park back to the seaside to the plaza next to the Azerbaijan Carpet Museum: the best spot to view the night-time light decorations of the Flame Towers (which, naturally, feature faux flames).
Drink tea
Bypass the souvenir hawkers of the Old City and descend down stone stairs to a hidden teahouse and shisha den around the corner from the Shah Palace Hotel. Low seating, Azeri wool carpets, tasselled silk curtains, and carved wood screens section off the Old Baku Tea House into semi-private nooks ideal for lounging and playing backgammon. There's no menu, but your best bet is the "national tea set" of a pot of the house chai, delicately poured into pear-shaped glasses of cut crystal. It comes complete with fresh lemon slices, cubed sugar, a variety of nuts and dried fruits and a plate of fresh pakhlava, Azerbaijan's version of baklava.
Have a kebab
On a nice night thousands of locals finish their day with a walk through Baku's pedestrian zone flanked by embassies, corporate headquarters, and palatial residences in architectural styles that range from neo-Moorish to baroque. Nizami Street (Nizami Küçəsi) is nicknamed "shopping street" for all the high street shops that line it, which stay open late hoping to lure in casual browsers, but it's also a destination for late-night snacking. Skip the "tornado potato" sticks and stop into any of the many, many döner shops for an Azeri-style kebab. Point to the paper-thin flatbread called "lavash" and pick your meat. Skewers, or "shashliks", can be lamb, beef, chicken, fish, or veggies, but always include onions and special spices before being wrapped in the bread.
Haggle for a carpet
As an ancient centre of carpet weaving, you can be sure Baku has rugs to sell you. Skip the hawkers of the Old City for the shop within the Carpet Museum , where the staff can fully articulate the origin, history, and significance of the materials and design of each carpet. Prices for large rugs begin at 1000 AZN (£460), but haggling is encouraged, especially if you have your eyes on more than one. The carpet museum stocks rugs of both wool and silk with cotton, and only those handmade within Azerbaijan using traditional methods and themes. Bargaining with hawkers in the Old City may mean purchasing a cheaper rug made in Pakistan, but passed off as Azeri, and then still having to wait a day or two for the export certificate so you can take your souvenir home. The museum is able to issue the certificate on the same day.
Sightsee by subway
Public transportation may not seem like an activity you want to experience on holiday, but Baku's tidy metro and web of underground pedestrian passages (most with escalators) make it supremely easy to pack lots of sights into one day, even if they're across town. The underground stations themselves even showcase dramatic design, such as with the Old City's glass pyramid and carpet-print entrance and the fluted columns of the platform at Ganjlik Mall, the largest mall in Azerbaijan. Best of all, transport is cheap – a four-ride "BakıKart" costs 1 manat (£0.46).
See Zaha Hadid's architecture
This is the setting for your next Facebook profile photo. The Heydar Aliyev Centre (Heydər Əliyev Mərkəzi) is Azerbaijan taking a hard stance against the brutalist Soviet architecture of its past for a future of beauty and technology. It's a masterwork of Zaha Hadid's firm and stunning from every angle, inside and out. And you must go inside. Entry is 15 manat (£6.90) and for the fee you'll be able to access an exhibition on Heydar Aliyev, a floor of detailed scale models of Azerbaijan's most important architectural works, and a small museum showcasing Azerbaijani crafts, customs, and culture. Finish your visit by prancing through its gardens of modern art sculptures, flower fields, and waterfalls while taking another few hundred photos of the building.
Eat Azeri cuisine
At Sehrli Təndir restaurant in the Old City, the menu is a list of everything you shouldn't leave Azerbaijan without tasting. Definitely do the dolma (aubergine, linden leaves, grape leaves, or peppers stuffed with meat, onion, rice, herbs, and mint, then topped with a dollop of cool yogurt), plov (buttery rice pilaf with meat, chestnut, and cooked fruit), and the ubiquitous kebabs. The star of the show here, however, is the open tandoor oven at the entrance, where the restaurant's resident baker tends to the breads cooking inside.
Cat-spot in the Old City
UNESCO designated Baku's ancient Old City (İçərişəhər) as a World Heritage Site in 2000, but its roots as a social centre reach back to at least the 12th century. Within its walls sit enough sights to fill an entire day including Maiden Tower, Juma Mosque, Hamam Mehellesi public baths, and Palace of the Shirvanshahs. But its most photogenic residents are the community cats, who laze about on balconies and stone stoops when they aren't mousing. There aren't as many strays in Baku as in Istanbul, so their presence isn't overwhelming but complementary to the winding streets and windowsills of historic homes. Show the kitties any attention and, more than likely, they'll rouse themselves from their reverie for a good head scratch.
Join our commenting forum
Join thought-provoking conversations, follow other Independent readers and see their replies