Traveller's Guide: Vietnam

Show all 6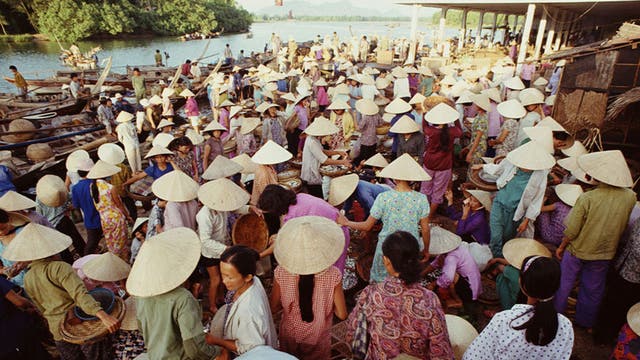 Traveller's Guide: Vietnam
Today the first non-stop flight from the UK to Vietnam touches down in the capital, Hanoi, and opens up a nation.
Loaded with historic interest, majestic mountains and national parks, ravishing sandy beaches and fascinating cities, and boasting a stupendous national cuisine, Vietnam is a compelling destination.
Vietnam was a French colony from the mid-19th century until about 100 years later, and a lingering Gallic influence is still evident in the sweeping boulevards and grand state architecture of Hanoi, Hai Phong and Ho Chi Minh City. Bakeries in every corner of the nation continue to pump out crusty baguettes, which locals munch with pâté. However, it's rare to find anyone under 80 who still speaks French. English (and increasingly Chinese) are the languages everyone wants to learn today.
Feel free to mention the war. For the West it may have been the Vietnam War, but for the Vietnamese it was the American War. Such has been Vietnam's recent economic recovery, the war's impact and resulting poverty is far less obvious today than a decade ago. But it has certainly not been forgotten. Three million Vietnamese died during the conflict, and thousands are still injured or killed every year by unexploded ordnance – always stick to established trails if you're hiking.
Virtually every provincial town's museum is loaded with war reminders and the rusting remains of US tanks, aircraft and GI memorabilia. It's possible to tour battle sites like Khe Sanh and Hamburger Hill around the DMZ (Demilitarized Zone between North and South Vietnam) and take in subterranean villages like Vinh Moc, which the Vietnamese built to avoid US carpet bombing.
Given its appeal, and the fantastic value for money, it's easy to see why tourist arrivals have soared from a few thousand in 1991, when the country reopened its doors to travellers, to more than five million this year.
One reason that few of these have been British has been the difficulty of access. But this morning the first non-stop flight from the UK to Vietnam touches down in the capital, Hanoi, with the maiden flight to Ho Chi Minh City departing Gatwick at noon today. Vietnam Airlines (020-3263 2062; vietnamairlines.com) is selling seats for £650 return. Previously, options were limited to lengthy journeys on airlines such as Malaysia (0871 423 9090; malaysiaairlines.com), Singapore (0844 800 2380; singaporeair.co.uk), Cathay Pacific (020-8834 8888; cathaypacific.com), Thai (0844 561 0911; thaiairways.co.uk), LOT Polish (0845 601 0949; lot.com) and Aeroflot (020-7355 2233; aeroflot.ru) via their hub cities.
Tour operators offering packages include Virgin Holidays (0844 573 0088; virginholidays.co.uk), Hayes & Jarvis (0844 855 4488; hayesandjarvis.co.uk), Wexas (020-7838 5892; wexas.com) and Travel Indochina (01865 268 940; travelindochina.co.uk). A two-week trip with Travel Indochina between Ho Chi Minh City and Hanoi costs from £1,925, with flights from London.
Officially the Socialist Republic of Vietnam, this is one of the world's few remaining communist countries. There is also a fair amount of red tape – notably organising your visa in advance, either by post or in person at the Embassy of Vietnam in London (020-7937 1912; vietnamembassy.org.uk). Visas cost £44 for British passport-holders.
On the ground, the country feels rampantly capitalist, its booming economy propelled by Vietnamese industriousness and a palpable appetite for commerce, evident everywhere from village market places to blue-chip boardrooms. And yet, behind the emerging new city skylines studded with gleaming corporate towers, there's little sign that the Communist Party is relaxing its grip on power. The state still controls swathes of the economy and an army of bureaucrats polices the internet. For travellers this means that Facebook and other social media sites are regularly blocked.
Vietnam is long and slim, stretching about 1,650km from north to south. Travel is slow, so consider booking internal flights to get around, which are inexpensive. Vietnam Airlines (see above) and Jetstar (00 84 8 3845 0092; jetstar.com/vn/en/home) are the main domestic airlines. A single ticket from Hanoi to Ho Chi Minh City will cost about £45.
Trains are also good for covering long distances, with sleeper carriages on the main north-south "Reunification" line and the northern spur to the Chinese border. The website seat61.com dispenses vital information. Timetables are available on vr.com.vn. Hue to Hanoi takes about 13 hours and costs 833,000d (£25) in a sleeper.
Many travellers use the Open Tour bus network, which are private buses that connect the main centres and run on a hop-on hop-off basis; Sinh Tourist (00 84 8 3838 9593; thesinhtourist.vn) is an efficient company.
In cities, metered taxis (including the reliable nationwide Mai Linh cabs) are cheap and typically cost 50,000d (£1.50) to 100,000d (£3) for a journey of a few miles.
On the whole Vietnam is a remarkably safe place; there's little in way of serious trouble (with the exception of the frenzied traffic) to worry about. The Party keeps a tight control on security, and crimes against tourists are rare.
That said, be aware that there are many scams operating in Hanoi, mostly involving touts, taxis and dodgy tour operators. Stick to recognised, reputable operators such as Ocean Tours (00 84 4 3926 0463; oceantours.com.vn), which runs a two-day sailing trip on Halong Bay (from US$155/£103 per person) or Handspan Travel Indochina (00 84 4 3926 2828; handspan.com) which offers many innovative tours such as a three-day trip to the idyllic Moc Chau plateau (from US$277/£183 per person).
Nothing but noodles?
Far from it. Vietnamese food is nothing short of exceptional and dining out is a treat. The bottom line is freshness, be it vegetables straight from the field or same-day caught seafood. Unlike the cuisine of its westerly neighbours, Vietnamese food is subtly spiced, favouring market-fresh herbs rather than red-hot chillies.
The cuisine varies from region to region, with numerous specialties unique to particular provinces. A typical meal blends multiple influences and tastes, comprising sweet, sour, crispy, smooth, spicy and mellow flavours and textures.
Vietnamese people often describe each other as either "soy sauce" or "fish sauce" – those from the north opting for the former in their hearty soups such as pho bo, the classic beef and noodle broth that built a nation, while southerners blend their curry-style dishes with coconut, lemongrass (and lashings of fish sauce). In central Vietnam the food gets incredibly refined and regional dishes of Hue and Hoi An are fiendishly complicated to make but exquisite to taste (see The Centre box, right).
To wash it down, look out for a bia hoi (fresh beer) sign. Bia hoi is lager-style beer (said to have been introduced by the Czechs) that is brewed to be consumed that day. It's incredibly refreshing and cheap, from 5,000d (15p) a glass. Rice wine is the other national tipple, which is downed in shots. It can come in hundreds of different flavours; Hanoi restaurant Highway 4 (00 84 4 3926 4200; highway4.com) has a superb selection.
Coffee culture was introduced by the French in the 1850s and is deeply ingrained. The preferred choice is a treacle-thick espresso-style cup (which percolates before you on the table), to which you add sickly sweet condensed milk. It's much better than it sounds.
The Centre
The city of Hue, capital of Vietnam between 1802 and 1945, boasts an outstanding collection of pagodas and palaces, royal tombs and temples. Much of the Imperial City was flattened during the American War, but excellent buildings remain and others have been reconstructed.
Just outside of town, the retreat-like Pilgrimage Village (00 84 54 388 5461; pilgrimagevillage.com; doubles from US$121/£80) has wonderful accommodation in a verdant valley. In town, the Art Deco-style La Residence (00 84 54 383 7475; la-residence-hue.com; doubles from US$151/£100) oozes class.
Hoi An, on the coast about 150km south-east of Hue, is a travellers' hotspot. Once a major port, its grand Chinese merchants' homes and wooden pagodas, traffic-free lanes and colourful, lantern-lit riverside setting make it a uniquely atmospheric place to visit.
Once you've toured the town, explore the bucolic surrounding countryside on a classic Minsk motorbike with Hoi An Motorbike Adventures (00 84 918 230 653; motorbiketours-hoian.com; one-day tours from US$35/£23).
Hoi An is also renowned for its wealth of tailors, and few travellers can resist a bespoke suit or frock – though plenty get stitched up by dodgy operators using cheap materials.
Style Hoi An (00 84 128 947 3125; stylehoian.com) has British owners, and offers tailor tours and personal shopping (US$15/£10 per day).
Dining out in Central Vietnam is exceptional. Hue specialties include banh khoai (royal rice cakes), while in Hoi An there's the delectable banh bao or "white rose" (a steamed minced shrimp dumpling) and cao lau (flat noodles served with croutons, pork slices and greens). Morning Glory (00 84 510 224 1555; restaurant-hoian.com) in Hoi An offers cooking classes from US$30 (£20).
Vietnam's best beaches lie on the south-central strip, including Bai Bau, a glorious crescent of white sand and the beautiful remote coves around Vung Ro Bay. Further south are the chalk-white sands and sheltered waters of Doc Let, beach resort city of Nha Trang and Mui Ne, an attractive spot that's popular for surfers and kitesurfers with a broad sandy beach backed by huge dunes.
Where to stay
Hotel accommodation represents excellent value. Simple budget rooms – most of which will have a private bathroom – typically cost between 170,000d (£5) and 340,000d (£10).
Boutique-style hotels start around 1,700,000d (£50) and have started to pop up all along the coast. Six Senses has recently opened two properties in Ninh Van Bay and Con Dao (sixsenses.com; doubles start at US$344/£227). A boutique chain with a number of new properties is Epikurean, with sleek outfits in Hue, Dalat, Ninh Van Bay and the Saigon River (epikurean.ws). Doubles start at around US$288 (£190).
For real indulgence, the beach hotel Fusion Maya, pictured below, near Danang (00 84 511 396 7999; fusionmaiadanang.com; doubles from US$330/ £218) focuses on spa treatments.
Other intriguing new properties include Forest Floor Lodge (00 84 631 669 890; forestfloorlodge.com; doubles from US$100/£67) a jungle lodge inside Cat Tien National Park which has safari-style tents overlooking the Dong Nai river.
For style and comfort in Ho Chi Minh City, the Ma Maison guesthouse (00 84 8 3846 0263; mamaison.vn; doubles from US$75/£50) offers fine value, while in Hanoi the elegance and location at 6 on Sixteen (00 84 1 6673 6729; sixonsixteen.com; doubles from US$56/£37) is impressive.
The North
The capital, Hanoi, is captivating, quixotic and a total assault on the senses. Its heart and soul is the Old Quarter, a warren of ancient lanes. Wander the narrow streets and witness tombstone carvers and bamboo ladder-makers in action before delving into the street food scene. The walking and munching tours run by Hanoi Cooking Centre (00 84 4 3715 0088; hanoicookingcentre.com; half-day US$50/£33) are highly recommended for tasting classics like xoi yen (sticky rice with toppings including sweet sausage).
Key sights include Ho Chi Minh's Mausoleum, where you can glimpse the embalmed father of the nation; and the graceful Temple of Literature (00 84 4 3845 2917), a 900-year old university.
Around 170km south-east of the capital, the surreal mountain seascape of Halong Bay is the other must-see in Northern Vietnam, though these days the sheer number of boats plying the waters can taint the experience somewhat. Consider heading to neighbouring Lan Ha Bay or sailing through Bai Tu Long bay with Handspan Travel Indochina (00 84 4 3926 2828; handspan.com). You will travel aboard Aloha, a traditional wooden "junk"; trips start at US$135 (£89) for a two-day overnight trip from Hanoi. Both these bays offer the same stupendous karst scenery, but without the crowds.
A great divide
The nation may be unified but there remains a palpable north-south divide in terms of culture and climate. The north has cool, drizzly winters, while the south is always steamy and tropical. Northerners are viewed as serious and old-fashioned by southerners, who, in turn, are stereotyped as being money-obsessed by those from the north.
Northern Vietnam is blessed with some of the world's most impressive karst formations and awe-inspiring cave systems. Spectacular landscapes stretch south from the far north-eastern peaks around Cao Bang down towards the Laos border, and spill into the ocean to form Halong Bay – a Unesco World Heritage site of over 2,000 karst islets jutting from an emerald-green sea.
Trekkers should head for Sapa, a former French colonial hill station. Here the H'mong-owned trekking agencies Sapa O'Chau (00 84 915 351 479; sapaochau.com) and Sapa Sisters (00 84 976 216 140; sapasisters.webs.com) help fund education and tribal projects.
The far south is largely flat, with the endless rice paddies and fecund agricultural land of the Mekong Delta. The south also contains the best beach resorts, such as Mui Ne and Nha Trang.
The South
Ho Chi Minh City (though it's still Saigon to the locals) is Vietnam's economic powerhouse and principal pleasure dome. The energy is overwhelming – millions of motorbikes jostle for position on the streets. Stunning French colonial buildings are juxtaposed with sleek new skyscrapers. Take in the unmissible War Remnants Museum (7.30am-noon and 1.30-5pm daily, 15,000d/£0.50) and gloriously kitsch Reunification Palace with its Austin Powers-style décor.
Dalat, a former French hill station, offers a breath of fresh mountain air. Stop at the Cu Chi tunnels en route to take in the incredible "tunnel city" that the Viet Cong created, enabling them to mount surprise attacks inside US bases. Tunnels have been expanded to accommodate Westerners.
The Mekong Delta is slim on sights, but head to Can Tho for an authentic floating market. You can experience rural life on a homestay; a good option is with Bay Thoi homestay (00 84 6286 1019; US$14/£9 per person) in Binh Thuan hamlet, Hoa Ninh.
Finally, Phu Quoc island may not be the tropical hideaway of a decade or so back, but its coconut palm-fringed white sand beaches are still a vision of the tropics.
Stand-out accommodation options include Mango Bay (00 84 77 398 1693; mangobayphuquoc. com; from US$75/£50) which has thatched bungalows on a peaceful white sand beach and the colonial-style La Veranda (00 84 77 398 2988; laverandaresort.com; from US$240/£158) for a seriously luxurious experience with a good spa.
Join our new commenting forum
Join thought-provoking conversations, follow other Independent readers and see their replies