Vietnam's noodle soup: On the pho-trail from Hanoi to Ho Chi Minh City
​This national dish is eaten from dawn until dusk but its contents depend on where you are. Michael Booth travelled the length of the country in search of noodle nirvana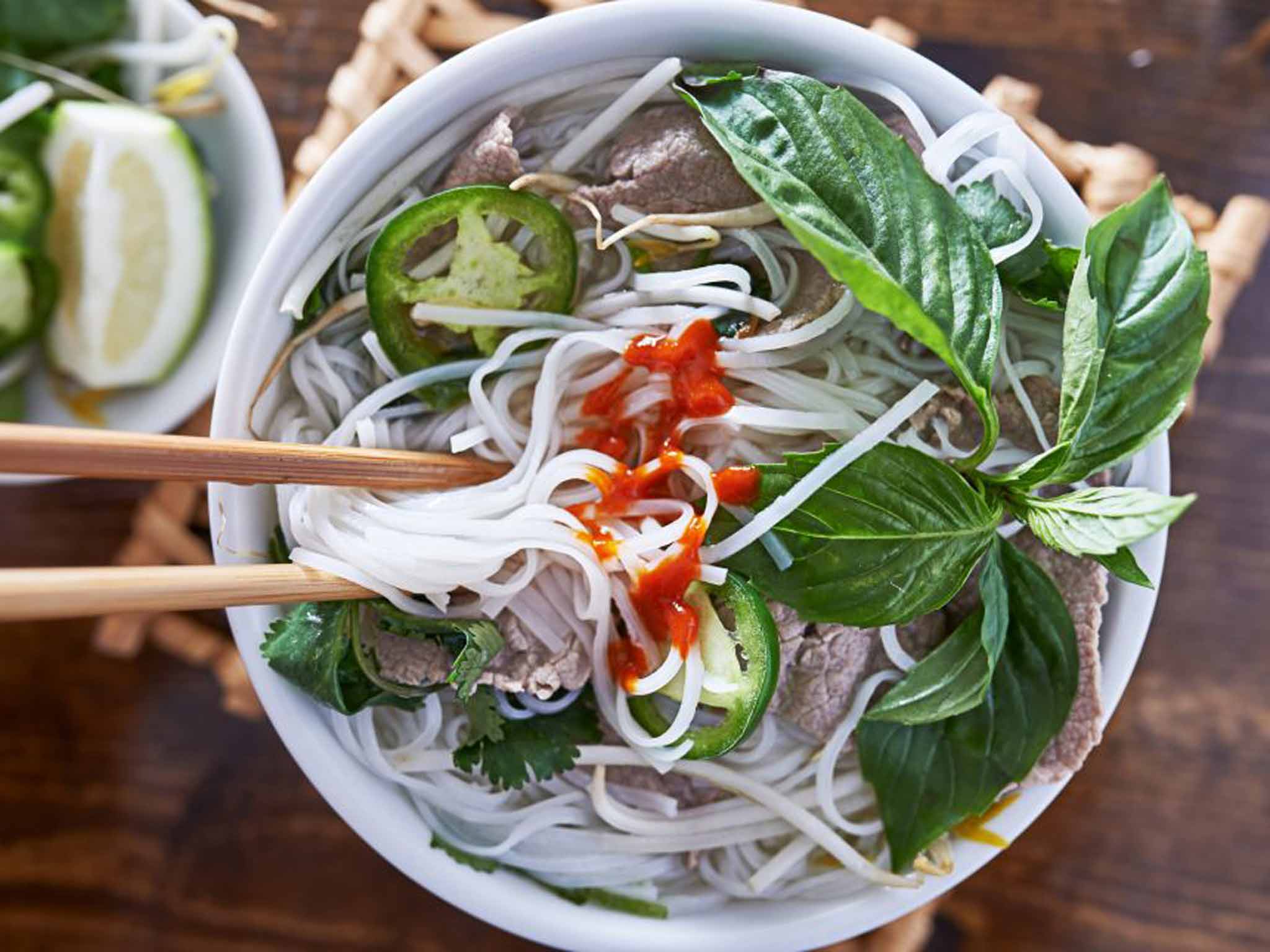 Can you fall in love with a dish, really claim to know it, without ever having tried it in its country of origin? I fell in love with pho, the Vietnamese noodle soup, in Tokyo, of all places. Wrong city: wrong noodle soup, I know, but I had been on a ramen binge for a week and craved something lighter.
The aromatic, limpid broth with soft rice noodles, topped with thin slivers of tender beef and fresh herbs fitted the bill perfectly. I began slowly, savouring every sip, but as the flavour grew with each spoonful, that became an insatiable slurping frenzy until, before I knew it, I was tipping the bowl to eke out the last precious drops. This, surely, will be the next meal-in-a-bowl to go mainstream, I thought to myself. And I was right. Pho is now a bona fide fast food phenomenon.
Since my Tokyo epiphany I have tried pho in restaurants from London to New York and even Frankfurt Airport, but never Vietnam. It was time to rectify this sorry state of affairs.
I planned to follow the pho-trail south from Vietnam's capital, Hanoi, to Ho Chi Minh City (Saigon). Perhaps along the way I would solve the age-old – and, in Vietnam, politically charged – question: who invented pho? Did it derive from pot au feu, as the French former colonialists still claim? Did it come from China to the north? Or is it wholly indigenous?
I had always assumed it was mainly a breakfast dish, and one made with beef. My first surprise was supplied by Hanoi food expert Van Cong Tu. "We eat it every day for breakfast, lunch or dinner, there are no rules. We just eat it when we want," Tu said as we sat awaiting our second bowl of the morning, a chicken pho, from a dark cave of a kitchen, Pho Ga ("ga" is chicken in Vietnamese), located a little north of the Old Quarter.
"You can have chicken or beef; even pork in some places." Tu told me that Hanoians prefer to eat outside on the pavement, perched awkwardly on tiny plastic stools, surrounded by the exhaust pipes of parked mopeds. This way you get dinner and a show. Across the way from us, for instance, a builder was burning a small pile of fake currency – "ghost money" – to mark the New Moon. Nearby, on the street, someone was having their hair cut and ears cleaned, a woman was selling live silk worms from a bamboo basket and another was pounding live crabs into paste. Wherever you dine, there will be wildlife: a scrawny cat scrounging scraps, live chickens, a net of writhing frogs awaiting their fate, bold rats scurrying in the shadows.
A preference for pavement dining is one of many factors which distinguish the pho experience in the capital from Ho Chi Minh City in the south. "In the north, the soup is clearer and saltier," added Tu, wiping down his chopsticks with a slice of lime as our bowls arrived. "In the south, you get more fresh herbs." Hanoians consider Saigon pho excessive, vulgar even; the Saigonese, on the other hand, consider Hanoi pho to be bland and miserly. It's a soupy schism.
As Tu talked, I had been timing our server. It had taken her less than 30 seconds to assemble each bowl with one economical, seamless motion: diaphanous rice noodles, as wide as fettucine, were briefly refreshed in boiling water, and went in first, followed by some chopped spring onion. The broth was poured over, and finally, the meat, in this case shredded chicken.
I'd been struck by the unusual length of flavour from the pho I'd tried already in Hanoi. How did they create that long-lasting savoury depth?
"MSG," Tu said, blithely. "Many people add an extra spoon themselves, too. I once had a client who turned red all over for an hour after eating some – not on one of my tours, I should say."
As if on cue, a motorcycle pulled up at the kerb and its rider produced a 10kg bag full of the stuff, monosodium glutamate, from beneath his seat to give to the cook at a restaurant across the street.
"The best soup doesn't need too much added MSG or sugar. What you want is lots and lots of bones in the pot. The more bones, the better," said Tu. And worms, it turned out: pho's other secret ingredient. I learnt of the magic worm from Australian expatriate chef and owner of the Hanoi Cooking Centre, Tracey Lister, who I met later that afternoon. "Yes, some places still use dried worms, added into the stock. It brings lots of umami flavour." These are sa song, sea worms, said to add a powerful savoury flavour to stocks and broths, but without the fishy smell you get with dried shrimp or squid.
Perhaps worms are the secret ingredient at one of Tu's favourite beef pho joints, Pho Bo ("bo" is Vietnamese for beef) in the heart of the Old Quarter. Here we slurped down another exceptional bowl – tangy, yes, but also resonating with a tallowy bass note. As with all the pho I tried in Vietnam, it cost well under £1.50 for a bowl. But then, just as we were tossing our paper tissues on to the floor and getting up to leave, there came another bombshell: "I do enjoy the pho in Hanoi," Tu proclaimed. "But I love the pho in Saigon." I packed my bag and took the overnight train south that evening.
I disembarked 400 miles later in Hue, in central Vietnam, where I toured the enigmatic royal ruins of Vietnam's former capital (until the last emperor, Bao Dai, fled to exile in Paris in 1945). Maybe the ferocious June temperatures were keeping everyone indoors, or perhaps it was the contrast with the frenzy of Hanoi, but I found it impossible to imagine Hue as the capital of anywhere. The place seemed in a permanent slumber. Its food, on the other hand, is pungent and vibrant, epitomised by its own version of noodle soup, bun bo hue, porky, scarlet and fiery with chilli.
A half-day's drive further south, over the coastal Hai Van mountain pass, which is crowned by the ruins of a US anti-aircraft tower, brought me to Hoi An. Considered the jewel of central Vietnam, Hoi An's 16th-century Old Town is now preserved in aspic for tourists.
The expansive beaches on its outskirts are well kept too, but for me the highlight was the communal herb farm at Tra Que where I watched workers in conical hats tend neat rows of morning glory, basil mint and the enigmatic fish mint, with its incongruous briny flavour.
Local chef Nguyen Viet Son showed me around Hoi An's glorious and stinky wet market, where most of Tra Que's herbs end up. Our bags bulging with big black cardamom pods, cloves, star anise and cinnamon bark, we took a water taxi back to the Viettown Restaurant for a pho masterclass.
We started making noodles the traditional way: soaking and grinding rice in a stone mill, spreading the milk on a muslin cloth stretched like a drumskin over steaming water, gently prizing the resulting pancakes off with a slender wooden spatula, then finally chopping them into strands.
For the broth, which Son simmered for up to 10 hours, he lightly charred the onion before adding it to the pot, along with our woody spices. I had read that the Vietnamese didn't eat beef until the French arrived – working animals were too precious – so is this onion-charring proof that pho is indeed derived from pot au feu?
Not according to Tracey Lister: "Maybe they had seen the French chefs charring the vegetables but, then again, charcoal is all that they had cooked over for centuries," she had told me back in Hanoi, waving a dismissive hand. "Besides, 'pho' refers to the noodles, not the soup."
Whatever pho's origins, Vietnam's more recent troubled history has certainly played a big part in its evolution. Chicken pho emerged with the beef shortage during the Japanese occupation in the 1940s and pho didn't become properly popular in the south until the arrival of the northern diaspora, after the partition of Vietnam in 1954.
During what is known in Vietnam as the American War, a meatless version called "pilotless pho" (named after the US Air Force's unmanned spy planes) was common. In these days of relative prosperity, you'll find more meat than ever in your bowl.
I was still pondering pho's origins when I arrived in Ho Chi Minh City. But 10 minutes later, having checked into my hotel and gone for a stroll in what was Graham Greene's old neighbourhood, I sat down to taste my first authentic Saigon pho at Pho Hoa Pasteur, and I wasn't pondering anything any more. When something tastes this good, you don't really care who invented it.
I had already been impressed by the mountain of fresh herbs that had arrived at my table, but the rich, sweet broth, replete with morsels of tender tripe alongside rare-cooked minced beef, cemented the love affair. And that was before I started exploring the condiments: fresh limes and chilli, fermented soy bean sauce, chilli sauce ...
I spoke to the owner, Thu, in his seventies, bedecked in gold and diamonds with hair like a 1950s crooner. What makes his soup so special? "Sugar and cinnamon, onion, ginger, salt, star anise, cardamom. And MSG," he told me. "But what you want is lots of bones in the pot."
No local would claim that Pho Hoa was the city's best – I had better bowls at Pho Le, for instance, or, my favourite, Pho Hung, with its square noodles and fuller-bodied soup. And I know that Saigon pho is hardly the Platonic ideal, but this bold, fragrant, generous bowl of southern soup is the real reason pho is conquering the world. Ramen, you have been warned.
Getting there
Inside Vietnam (0117 244 3370; insidevietnamtours.com) offers a range of small-group tours and tailored individual trips in Vietnam, including the 12-night Classic Vietnam which, as well as the itinerary here, includes overnight cruises on Halong Bay and the Mekong Delta and costs from £1,695pp. The price includes private guides and transfers, domestic flights, breakfast every day and other meals.
Hanoi and Ho Chi Minh City are served direct from Heathrow by Vietnam Airlines (020 3263 2062; vietnamairlines.com)
Staying there
Hotel de l'Opera, Hanoi (hoteldelopera.com).
Park Hyatt Saigon, Ho Chi Minh City (parkhyattsaigon.com).
Visiting there
Food tours with Vang Cong Tu: street foodtourshanoi.blogspot.com Hanoi Cooking Centre: hanoicookingcentre.com
Cookery classes at Viettown Restaurant, Hoi An: viettownrestaurant.com.vn
More information
Join our commenting forum
Join thought-provoking conversations, follow other Independent readers and see their replies