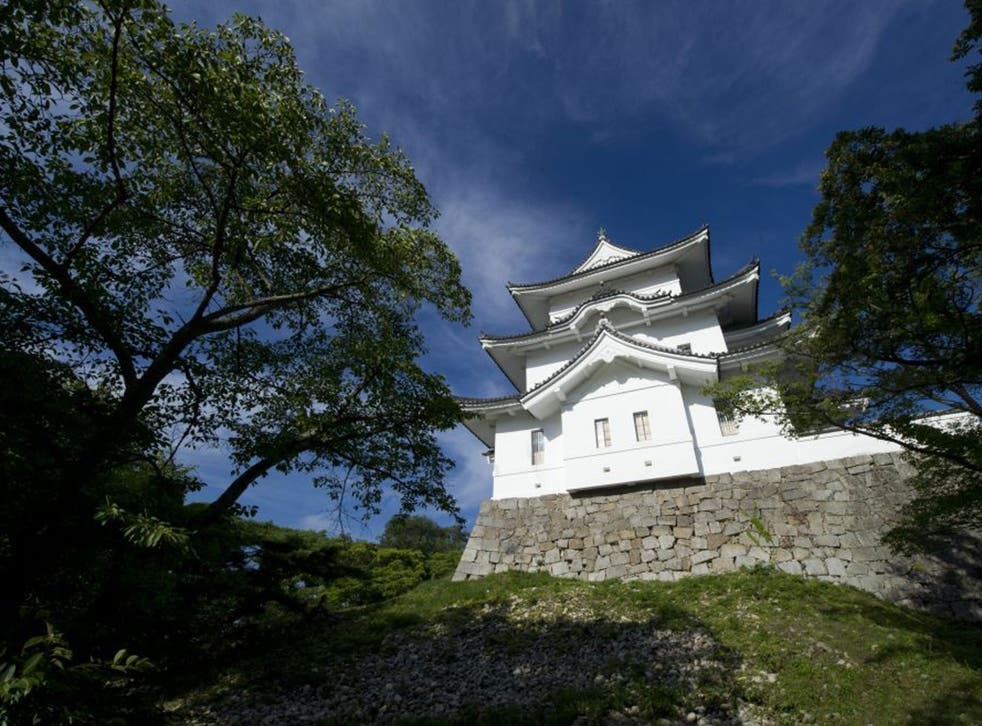 Weekend warrior: A visit to Japan's real-life ninja school
Laura Millar unleashes her inner Uma Thurman on a ninja-training course in western Japan
Laura Millar
Saturday 22 February 2014 19:00 Comments
Stealthy, fleet of foot, master of hand-to-eye co-ordination – I can't claim to have any of these attributes, and yet there I was, in a sun-dappled forest in western Japan, about to embark on a session of ninja training. I'd come to the tiny, picturesque village of Akame, home to a spectacular string of waterfalls, to learn some of the skills practised by these iconic, elite Japanese spies. With a fondness for cult, ninja-themed movies – from Kill Bill to Enter the Ninja – I was intrigued by their enduring, mysterious appeal.
Akame, less than two hours east by train from Osaka, is situated in the district of Iga. Along with neighbouring Koka, it was one of the two main provinces where ninjas used to train. The former remoteness and inaccessibility of the landscape, surrounded by mountains, meant that the secrecy of their training was assured, while they were still within reach of the political centre, Kyoto. The highly adept shinobi, or ninjas, became active throughout Japan between the 15th and 17th centuries, a period referred to as the Sengoku, or "Warring States" era. Ninjas worked for their shogun, or warlord master, as assassins and information-gatherers during the years of unrest and warfare, when many of these military leaders were vying for power.
For a better understanding of how these elusive figures lived and worked, I started in Uenoshi, 40 minutes north of Akame, home to an elegant, three-tiered 16th-century castle known as the White Phoenix, which perches on a hill overlooking the town. Today, it contains a display of artefacts that belonged to Takigawa Katsutoshi, the shogun who ruled this area at the time, and who would have called on ninjas to deal with his tricky political matters. Down the hill is the Iga Ninja Museum, constructed 50 years ago to showcase the history of the region's renowned inhabitants. It recreates a typical ninja's house, which often featured revolving doors, hidden rooms and secret exits so they could escape intruders and keep weapons safe.
The museum also explains how ninjas trained and fought, and how they navigated, using the stars at night and shadows cast by sticks in the day. They also used cats to tell the time, studying their pupils to see what shape they were – the more dilated, the later it was.
Akame opened its ninja-training school three years ago, recreating some of the ways that ninjas learnt and practised their skills. Most ninjas started their training as young as six or seven, explained my affable guide, Professor Hiroshi Ikeda, who has dedicated a large part of his academic life to studying ninjutsu, the martial art of stealth and strategy.
"Discipline of body and mind – these are qualities of the great ninja," he said, as we walked past remnants of an ancient temple on the outskirts of the forest, towards the first of the 23 training stations. Back in the 15th century, ninjas trained here to be close to nature; they had to learn how to make both medicine and poisons from the indigenous plants, and they had to be incredibly fit – proficient at running, swimming and martial arts. They also had to practise stealth: knowing how to enter buildings, cross rivers and creep up on their enemies without being seen or heard. Already, I was starting to doubt my abilities.
The myth was also busted that the ninjas' outfits were black. "They were usually navy blue," explained Professor Ikeda, "the outline of black clothing showed up on a moonlit night." I'd gone for a rather more colourful purple number from the choice of two-pieces available.
Perhaps it was the slightly inauthentic shade of my attire that explained my pitiful attempts to get around the course. At one point, I didn't know who was laughing harder, me or Professor Ikeda. I started off by trying to leap over three progressively higher wooden walls, which started at an achievable 4ft, but went on to dwarf me at more than 6ft. I managed two of them. Next, I moved on to a thin wire rope strung between two trees. It was meant to recreate a rope flung from one rooftop to another; the ninja would shimmy across it on his stomach. If it really had been suspended between two rooftops, I would have plummeted to my death within seconds. As it was, I managed only a couple of painful centimetres before connecting with the earth – several times.
Ninjas were able to shin up tall, smooth tree trunks, in order to survey the landscape around them; I got stuck trying to climb up one with steps notched into it. And I was no better at the horizontal climbing wall. I managed a couple of metres before I dropped into the mud below. Professor Ikeda reassured me that, to date, the only person to make it to the end was a 10-year-old girl.
Where I felt I came into my own, however, was with the weaponry. A sign next to one of the training stands stated: "You need eye contact, concentration and force – otherwise you'll be killed." So it was with great gusto (perhaps too much, judging by Professor Ikeda's slightly alarmed look) that I hurled six- and eight-pointed steel shuriken – a hand-held throwing weapon – at a human-shaped wooden target (often hitting it in the groin, by no real design), followed by a pair of grass-cutting knives, which are wielded like a tomahawk. I also got to grapple with a katana, a traditional long, curved sword. Stabbing it repeatedly into a bale of straw – channelling Uma Thurman's character The Bride – I felt I'd released some of the frustration of my earlier botched efforts.
"Good enthusiasm!" exclaimed the professor, presenting me with a certificate to show that I'd made it around the course. But did female ninjas ever exist? "Yes, according to ninjutsu history, there were some," confirmed Professor Ikeda. "They might even have been better at getting information than some of the male ninjas," he said with a wink. Of course they were.
Hell hath no fury like a woman in charge of a katana. Just don't ask her to scale any rooftops.
Travel essentials
Getting there
Laura Millar flew from Heathrow to Osaka via Hong Kong with Cathay Pacific (020-8834 8888; cathaypacific.com); returns start at £531.
Trains from Osaka to Uenoshi (Ueno City) via Kamo and Iga-Ueno take one hour 40 minutes and cost Y1,530 (£9). Trains from Uenoshi to Akameguchi via Igakambe take around 40 minutes and cost Y640 (£4). A seven-day Japan Railways pass costs around £176 (japanrailpass.net).
Visiting there
Iga Ninja school, Akame (email: ninja@akame48taki.com; 00 81 595 64 2695). The ninja experience costs Y1,700 (£10) per person for a 90-minute training session.
Iga Ninja Museum, 117 Ueno Marunouchi, Iga, Mie Prefecture (00 81 595 23 0311; iganinja.jp/en). Entry Y700 (£4).
Staying there
Ueno City Hotel, 2874 Uenouo-machi, Iga (00 81 595 518 0865; bookings via japanican.com). Doubles start at Y7,480 (£44), room only.
More information
Click here to view our Japan - Land of the Rising Sun Tour, with Independent Holidays.
Register for free to continue reading
Registration is a free and easy way to support our truly independent journalism
By registering, you will also enjoy limited access to Premium articles, exclusive newsletters, commenting, and virtual events with our leading journalists
Already have an account? sign in
Join our new commenting forum
Join thought-provoking conversations, follow other Independent readers and see their replies