Welcome to the jungle: On the trail of India's tigers

Show all 6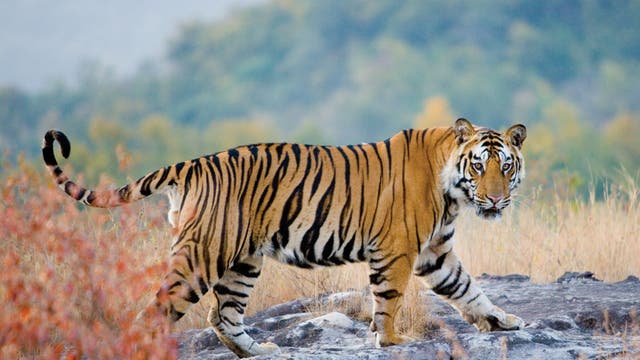 Welcome to the jungle: On the trail of India's tigers
Tiger tourism could soon be banned in the reserves of central India, but there's a fine line between leaving the animals in peace and safeguarding their survival
Sophie Lam
Saturday 24 December 2011 01:00 Comments
'Don't be disappointed if you don't see a tiger. It'll still be wonderful." I glanced up. My host's words felt all the more poignant as I noticed an oil painting of a proud Nizam – a past sovereign of Hyderabad – with his right leg propped up on a freshly slaughtered tiger.
As I prepared to leave the Taj Falaknuma Palace for the national parks of Madhya Pradesh, it was easy to be transported back to the era of the palace's construction in the late 19th century. At the time India was home to as many as 100,000 tigers, and hunting was as much a fixture of a nobleman's leisure pursuits as polo or vintage cars are today.
Madhya Pradesh, which translates as "central province", is the heart of India and also the core of tiger territory. But the big cats' numbers have declined to such an extent that they stand at a pitiful 1,650. Hunting is, of course, now illegal; but that has driven the value of a dead tiger up to a staggering $25,000 (in the grisly global trade in endangered species, prices are quoted in American dollars – worth around £16,000).
Poaching is starting to decline in Madhya Pradesh and tiger numbers are showing gentle signs of recovery. But no less a threat to their survival is posed by human encroachment into their natural habitat. In some parks, tourism has increased six-fold in as many years, while the surrounding landscape continues to be transformed by modernisation and urbanisation. It has brought their survival to a crisis point that last month pressed India's Supreme Court to consider the petition of environmental activist Ajay Dubey to follow the example of other states and ban tourism inside the "core regions" of Madhya Pradesh's tiger reserves.
I was travelling north to Pench and Kanha national parks, home to two of the state's five reserves. But with those disturbing statistics and cautionary words ringing in my ears, the hope of seeing one of the majestic cats was fast diminishing. And anyway, first, there was some monkey business to negotiate – a troupe of silky grey langurs sitting in the road, picking seeds from potholes. Our car swerved around them, barely eliciting a look upwards as we wove through their picnic spot.
Roadside signs reminded me that Madhya Pradesh is Jungle Book country. The associations are everywhere: Mowgli's Den, Kipling's Court and Baghira Huts flashed past the window, prompting me to wonder whether I'd see a Baloo (sloth bear) or a Bagheera (black Indian leopard) instead.
Kaa (the python) I could do without, but as we pulled up at Baghvan, two lethal Russell's vipers had just been collected from the undergrowth near one of the lodge's huts to be released outside the gates.
Despite the fact that Rudyard Kipling had never visited Madyha Pradesh, it is widely thought that he set The Jungle Book collection in the district of Seoni, on the outskirts of what is now Pench National Park. The word "jungle" originates from the Sanskrit word jangala, meaning "uncultivated land". Baghvan is no less evocative, taking the local word for tiger, bagh, and forest, van, to form its name.
However, Shere Khan would have to wait, since my jungle immersion was to begin with a gentle drive in the lodge's open-top 4x4 to Lake Koka with one of Baghvan's naturalist guides, Yusef. It was rush hour – a succession of cows and goats were being guided along the dusty, narrow roads by their turbaned herders.
The paddy fields were parched: the briefest of summer monsoon seasons quench this part of central India. We passed haystacks in the shape of space ships, girls filling jugs at a water pump, and villages full of children who paused their games to bid us "bye-bye".
Dusk drew a soft, speckled cloak over the sky as we arrived at the lake, prompting fruit bats to descend from the trees and a flock of egrets to swoop off from the lake. We stood by the water's edge with cups of hot tea and tiffin of spiced, crunchy chickpeas, listening to the sounds of day turn to night. As we drove back in the inky darkness, small fires illuminated families as they cooked outside their homes.
Back at Baghvan, dinner was being cooked on a charcoal grill, the poolside dining table lit by paraffin lamps and a canopy of dazzling stars twinkling through the trees. Buttery soft tandoori chicken, and freshwater fish with daal and paratha, soon left me satisfyingly tired. Which was exactly the intention, said Yusef. To get to know the jungle properly, he told me, I had to spend a night in it.
My room was arranged like a palatial treehouse overlooking a semi-dry river, with a double bed set up on a deck. Another bedroom with four solid walls and a roof offered sanctuary below, but fortified by food, I reckoned I could handle a night outside. A mosquito net and curtains provided a degree of privacy, but the howl of wild dogs, the scuttling of squirrels and an anonymous but unremitting chirruping ensured that I spent quite a long time getting accustomed to the night sounds of the jungle.
When the alarm rang at 5am – I'm sure moments after I had fallen asleep – it was time to venture into the jungle proper. Hot-water bottles and blankets combated the morning chill as we joined the queue that had formed outside the park gates.
Taking its name from the river that divides it in two, half of Pench National Park is designated the "core area" and tiger reserve; an even smaller proportion is open to tourism. Entry is restricted to a few hours in the early morning and late afternoon, and the driver of each vehicle is handed a specific itinerary by the park officials.
Off we went. The landscape is formed from open deciduous forest, the sparseness of undergrowth reputedly making tiger spotting more promising. Fingers of pale golden sunlight grasped through the teak and frankincense trees and a sweet, dusty scent permeated the cool air.
A rustle. My heart began to beat faster as I scanned the trees for a flash of copper and black stripes. Instead, there were white speckles and the benevolent faces of two chital, or spotted deer, who were munching on the grass.
We continued deeper into the jungle, stopping as Yusef pointed out cranes and peacocks drinking from the edge of a lake and pausing at junctions to look for tracks. Tigers, he told me, don't like to get wet and will follow the roads to avoid dampening their paws in the dew-draped undergrowth. We listened for distress calls, but Pench seemed to be chirping away quite contentedly.
A cascade of smooth rocks disappearing into the trees designated leopard territory. These shy and elegant cats are said to outnumber tigers in Pench, but are also notoriously elusive. At one river crossing, a large troupe of langurs was disturbed by a pair of jackals trotting through the long grass, sending the monkeys scampering skywards.
Just as the heat of the rising sun started to become tangible and sent me into a fresh stupor, Yusef slammed on the brakes. A fresh female tiger paw print. The hunt was on. We spent the next hour following her tracks and listening for warning calls; as news got out, a trail of cars formed behind us. It suddenly felt rather intrusive. Yusef, however, was sensitive to the tigress's evident desire for privacy and sensibly abandoned the search. Sensing my disappointment, he diverted my attention to a tiny owlet in a tree hollow, elegant swordtail butterflies and the spectral spectacle of a ghost tree, its bark hanging off like scabs, revealing a pale white trunk underneath.
If I hadn't had the privilege of meeting a tiger in Pench, my next destination, Kanha, looked even less promising. My camp here was Banjaar Tola, where the vast and luxurious tents are separated from the park and tiger reserve only by the emerald flow of the Banjaar river. During the monsoon, tigers – and plenty more wildlife – venture down to drink from the water. However, the forest is denser than in Pench and the monsoon had caused the foliage to flourish, offering ample camouflage to reticent animals.
Meanwhile, Banjaar Tola's manager, Gil, is also passionately involved in a project to reintroduce cheetahs to northern Madhya Pradesh. Asiatic cheetahs had been hunted to extinction here by the 1950s – the first stages of the project meant that first the natural habitat had to be revitalised, then prey animals introduced and habituated. Once detailed surveys have been completed, it is expected that cheetahs will form part of the landscape in two of the state's wildlife reserves.
If successful, the project could prove that careful and sensitive management of the region's wildlife will triumph over locking it away out of sight. Gil emphasised the point, explaining that if the parks are not managed by tourism then the opportunity for illegal poaching increases massively.
What Kanha lacks in tiger-spotting potential, it makes up for in mesmerising beauty. Nudging up into a tangerine sky, the sun peeled back a blanket of mist from the tall grass, picking out a pair of butterfly-like ears poking out of the top. Edging closer it was just possible to make out a swamp deer wading down into a lake. The mist rose like steam, revealing tiny whistling ducks on the water's surface. Grassy meadows gave way again to forest, where the low whooping of the langurs was kept in time by the metronome beat of the coppersmith barbet. Sal trees and bamboo surrounded us as my guide, "DK", pointed out a hoopoe pecking about on the path before it took off, revealing a magnificent display of black and white wings.
The foliage put on a decorative display too, splashed with pink wild cosmos flowers, while pyramid spider's webs of staggering size and complexity put paid to any notion of venturing into the trees.
I was starting to get into the gentle rhythm of Kanha's splendours. A timid Indian muntjac deer scampered across the path, sending an electric blue flash into the air – an Indian roller, which landed on a branch above, displaying its bright pink belly. Then all of a sudden, we were stymied by a gargantuan, slow-moving road-block.
Happily, this bristly-headed and rather endearing obstruction had just tracked down a tiger, and so I heaved myself up onto its back where I sat on a small platform as its mahout guided us into the trees.
The elephant ploughed through effortlessly, taking down saplings and shrubs as if they were single blades of grass, but leaving the boughs above her head making straight for mine. Then her mahout mumbled something and she stopped. He pointed down to the forest floor. At first all I could see were some bushes, but then a pair of eyes flashed at me.
Barely four metres in front of us was a sleepy tigress – and we had just disturbed her morning nap. She opened one eye to look up, hardly seeming bothered by our presence, then slowly eased herself up to reveal the beauty of her form. The jungle seemed to fall silent for that moment as we studied each other, but then the elephant decided that it was time to move and, just as quickly as we had arrived, we were doing a three-point turn and making our way back to the road.
This was one of the park's female tigers, DK explained. There are around 60 here and she was the mother of several cubs. No two cats' stripes are the same and a trained naturalist can easily identify one from another.
It was an awe-inspiring moment, however brief, and I immediately understood why visitors to Madhya Pradesh are hell-bent on seeing a tiger in the wild.
As we left the park, I asked DK what he made of the impending ruling of the Supreme Court. Could it actually be a good thing if tigers weren't disturbed by convoys of 4x4s, day in, day out?
"Imagine a beautiful palace," he said. "If you decide to lock its doors with only guards outside to prevent people from entering, can you guarantee that all the splendours inside will remain the same when you unlock it 10 years later?"
It's a big risk, and one that I hope will be given lengthy and careful consideration.
Travel essentials: Central India
Getting there
* The writer travelled with Cox & Kings (0845 154 8941; coxandkings.co.uk), which offers an eight-day private tour of Mumbai and Madhya Pradesh from £3,295 per person. This includes British Airways flights to and from Heathrow, domestic flights and transfers; two nights' B&B at the Taj Mahal Palace Mumbai, two nights' full board at Baghvan Lodge, Kanha National Park and two nights' full board at Banjaar Tola, Pench National Park; and twice daily game drives in both safari lodges.
An additional three nights at the Taj Falaknuma Palace, Hyderabad costs from £995 per person, including transfers.
* The parks of Madhya Pradesh can be reached by domestic flights from Mumbai, Hyderabad or Delhi to either Nagpur or Raipur; flights are operated by Jet Airways (0870 910 1000; jetairways.com) and Kingfisher Airways (0800 047 0810; flykingfisher.com).
Staying there
* Baghvan and Banjaar Tola are operated by Taj Safaris (tajsafaris.com).
Red tape and more information
* British passport-holders require a visa to visit India, obtained from the India Visa Application Centre, by post or in person at centres in London, Birmingham, Edinburgh, Cardiff, Hayes, Manchester and Glasgow (in.vfsglobal.co.uk).
* India Tourist Board: 020-7437 3677; incredibleindia.org
Register for free to continue reading
Registration is a free and easy way to support our truly independent journalism
By registering, you will also enjoy limited access to Premium articles, exclusive newsletters, commenting, and virtual events with our leading journalists
Already have an account? sign in
Register for free to continue reading
Registration is a free and easy way to support our truly independent journalism
By registering, you will also enjoy limited access to Premium articles, exclusive newsletters, commenting, and virtual events with our leading journalists
Already have an account? sign in
Join our new commenting forum
Join thought-provoking conversations, follow other Independent readers and see their replies