The Independent's journalism is supported by our readers. When you purchase through links on our site, we may earn commission.
West Bengal: tea plantations and other Raj-era relics
On a mission to discover more about his Anglo-Indian roots, Ben Walsh delves into West Bengal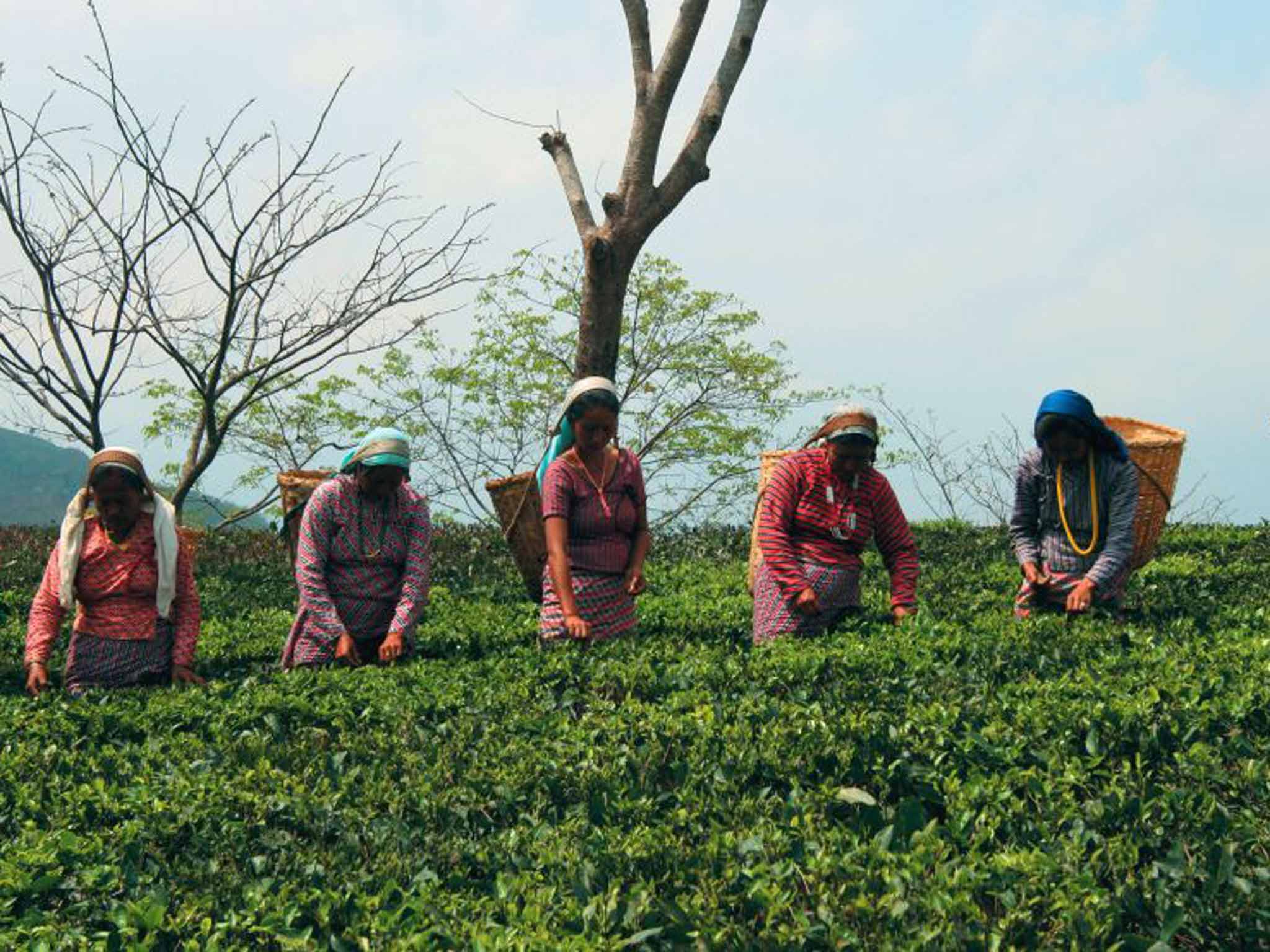 There are hand-sized spiders at the breakfast table, leopards on the nearby road, and persistent traffic mayhem, but, as fellow tourist Alistair maintains, it's wise to "just go with it". It's the best advice for the nervously disposed negotiating West Bengal.
I'm here on a solo mission to unearth more about my Anglo-Indian roots, which were only revealed shortly before the death of my grandmother, Mary Walsh. She was a somewhat regal presence in our family, but for all of her life in England, she lived uneasy of her childhood and ancestry. In shame of her Indian mother, Devoki, and of the school she attended – Dr Graham's Homes in Kalimpong, a Christian institution for orphaned or abandoned Anglo-Indian children. Secrets and lies, then, like most families.
My quest is threefold: to visit the Himalayan school that Mary and her younger brother, Seymour, were both packed off to aged three; to investigate the district of Kharagpur where Mary worked as a teacher and where, in 1941, she met her husband, Jack Walsh – a carriage foreman for the Bengal-Nagpul Railway; and to explore a tea plantation. Mary's Welsh father, Roderick Rees, a First World War veteran, ran the New Samanbag Tea Company plantation with his Madrasi mistress, Devoki, in Masbat, Assam, during the 1920s and 1930s.
In pictures: West Bengal
Show all 6
From Delhi, I fly east to start my whirlwind week-long trip at Bagdogra, the gateway to the Himalayas and to Kalimpong, a hillside town that's bordered by Bhutan, Nepal and the Indian state of Sikkim. The 50-mile road trip from the airport to Kalimpong, which passes through the hectic town of Siliguri, starts as a riot of beeps, Jeeps, cows, goats, garlanded goods vehicles demanding that fellow drivers "blow horn", potholes, stray dogs, piles of bricks and indescribable detritus. Further on, the ascent is, if anything, dicier but the air clearer, and the scenery lusher, with thousands of slim, soaring trees covering the surrounding hills.
Every bit of the drive, however, feels like a close scrape; it's still the monsoon season and the route is peppered with landslide warnings. Then we come to an abrupt halt. The driver maintains: "It's a jam." Then, after an hour stationary, he admits it's a "bad accident". How bad? "One dead, the other missing."
A 4x4 has careered into the River Teesta, which flows almost the entire 190-mile length of Sikkim state. A moment later, a gaggle of teenage boys jog past carrying a lifeless body in a sheet.
A trip that usually takes three hours takes six and I'm relieved when we reach Kalimpong's Elgin Silver Oaks hotel. Built in 1930, it once belonged to the architect Frederick Desraj. Its selling point is the sensational view of the imposing Kanchenjunga mountain range, which is habitually shrouded by mist, underlined by an exquisite garden of asters and petunias.
After a comfortable sleep, I take a 20-minute drive through hectic Kalimpong – it's both market day and the start of the 10-day Durga Puja Hindu festival – to Dr Graham's Homes, the sprawling 500-acre hill school, started in 1900 by Dr John Anderson Graham, a Scottish missionary.
It housed my grandmother and her brother in the 1920s and 1930s, and the cottages they resided in are still standing, a collection of residences painted the colour of synthetic vanilla ice cream, guarded by a motley crew of stray dogs. This vast complex now accommodates 1,500 boys, most of whom seem to be playing football in Chelsea shirts, as well as girls, all from deprived backgrounds from the north-east of India. Eight hundred boarders are supported through the fundraising of overseas committees and through a worldwide sponsorship network. The courteous Senior Master, Iris Smith, directs me to the main office where the nuns have miraculously kept all the correspondence from Roderick to Mary and Seymour during their time here. His letters mostly pertain to his contributions to the school, the immense gratitude for taking them in, and an insistence that the children stay at the Homes for the holidays to avoid social "embarrassment" at the tea plantation.
Roderick, in an early letter to the school, writes:
Dear Mr Purdie,
I am grateful for, and relieved by, your letter of the 10 August in which you say you are willing to take my little girl. When the matter of her going is arranged can you send some capable person to escort her there, as it would be very difficult for me to make a satisfactory arrangement from this end. I will provide Mary with some warm clothes for the long journey into the hills. I am glad to be able to tell you I have been able to find a billet in Assam for the Tezpore Tea Company at the Bahipookri Tea Estate, Orang PO, Assam.
Yours faithfully,
Roderick Rees
It's an emotional but rewarding visit and afterwards, I'm glad to ascend higher still into the Himalayas to Darjeeling's Glenburn Tea Estate, a working plantation with a small hotel on a hillock above the banks of the River Rungeet, overlooking Kanchenjunga. Glenburn, which was started by a Scottish tea company in 1859 (by contrast Roderick's tea plantation started operating in nearby Assam in 1928) now consists of 1,000 acres of private forest and has 1,040 workers, most of whom have served the plantation their entire working lives.
My expansive room, the Water Lily Bungalow, is atmospheric, with antique furniture, restored cast iron window frames, hand embroidered bed linen and Burmese teak flooring. In the mornings, I wake to a tea trolley, carrying a pot of Darjeeling and homemade ginger biscuits.
After taking in terrific views dominated by the looming Kanchenjunga mountains and endless carefully clipped tea bushes from the pretty veranda, I take a tea factory tour, run by the estate's manager, Parveez Hussain. He's a tea zealot: "Never add milk to Darjeeling tea," he pleads before adding that ,"every cup here is an exquisite work of art, this is the champagne of tea". He teaches us how the leaf is plucked (never picked), brought in from the field, weighed and then taken through the processes of withering, rolling, fermenting, drying, and finally sorting. He also asserts his disgust of "infusion" teas such as chamomile, mint, and Earl Grey. It's an education completed by a tasting, where we sample Glenburn's award-winning Silver Needle, a delicate, malty brew.
The afternoon is spent in the company of Sisir, a young guide who is hugely knowledgeable about the area's flowers and points out bougainvillea, poinsettias, and jacarandas on a three-hour hike down to the hotel's campsite, perched next to the Rungeet River.
After paddling in the rock pools, refreshments, including barbecue chicken, Darjeeling tea and Glenburn's delectable homemade carrot cake, await. Glenburn also offers cooking classes (it has an "open" kitchen policy) and guests eat communally at exquisite sit-down candlelit dinners around the large dining table. Meals are themed, and that night I'm presented with a Burmese feast of rice spring rolls, khow suey, noodles with garlic and chives and sautéed vegetables, with key lime pie for pudding.
The following day, armed with a packed lunch, I'm driven back down the mountain, alongside the famous 51-mile Darjeeling Himalayan railway (nicknamed the Toy Train), whose track often weaves across the road, back to Bagdogra Airport and onwards to Kharagpur, three hours west of Kolkata.
Kharagpur was a base for many British railway employees during the days of the Raj and its grand station until recently had the longest platform in the world (now it's just the third longest in India, gazumped by Gorakhpur, which is the world's longest, and Kollam Junction in Kerala). I visit the station before moving on to try to find my grandfather's home in Kharagpur's neat grid system, populated by huge, seemingly derelict, Raj-era villas. After an hour of looking we discover that my grandfather's house is now a chest clinic that's in need of some TLC of its own. A doctor allows me to wander around inside before I'm chased off by two irascible dogs.
My genealogy quest is over and I return to night-time Kolkata. The city is crowded with revellers, celebrating Durga Puja with drumming, lights and singing. It's a bright, colourful festival marking the triumph of the goddess Durga over the evil buffalo demon Mahishasura, one of the biggest festivities in the Bengali Hindu calendar. I descend through teeming streets, before retreating to my hotel, where I reflect on how the festivities offer a snapshot of a vibrant country that I wish my grandmother had revisited and learnt to embrace.
Getting there
Ben Walsh was a guest of Incredible India – Indian Tourism (020 7437 3677; incredibleindia.org); and Partnership Travel (020 8347 4020; partnershiptravel.co.uk) which offers tailor-made luxury holidays throughout Asia. A two-week Heavenly Himalayas trip taking in Delhi, Darjeeling, Sikkim and Kalimpong costs from £2,676pp. Delhi is served from London by British Airways (0844 493 0787; ba.com), Virgin Atlantic (0844 209 7777; virgin-atlantic.com), Jet Airways (0808 101 1199; jetairways.com) and Air India (020-8560 9996; airindia.com).
Staying there
Glenburn Tea Estate, Darjeeling (00 91 33 2288 5630; glenburnteaestate.com). Bungalows, sleeping two, start at R30,000 (£300), half board.
Elgin Silver Oaks, Kalimpong (00 91 3552 255 296; elginhotels.com). Double rooms start at R7,600 (£76), including breakfast.
The Peerless Inn, Kolkata (00 91 33 4400 3900; peerlesshotels.com). Doubles start at R4,000 (£40), including breakfast.
More information
British passport-holders require a visa to visit India, which costs £92 from the India Visa Application Centre. You can apply by post or in person at centres in London, Birmingham, Edinburgh, Cardiff, Hayes, Manchester and Glasgow (in.vfsglobal.co.uk).
Join our commenting forum
Join thought-provoking conversations, follow other Independent readers and see their replies