World's first panda hotel opens

Show all 7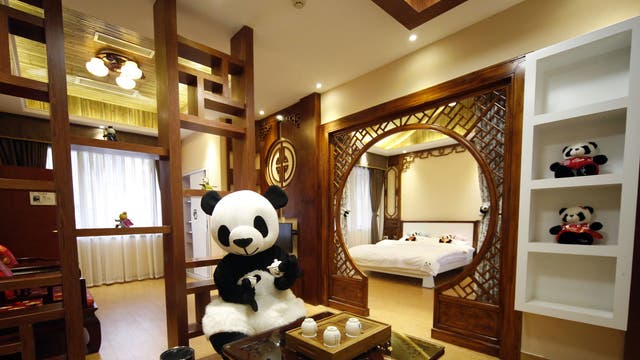 World's first panda hotel opens
A hotel populated with furry friends has just opened in Emeishan, in southwest China's Sichuan province
These images show the soft opening of a new hotel in China, in which pandas parade through the halls and wait on the guests.
Click HERE to view the photos.
The Haoduo Panda Hotel, which lies at the foot of Emei Mountain in southwest China's Sichuan province, is the first hotel of its kind in the world.
The rooms are decorated with panda pictures and cuddly toy pandas sit on the beds, tables and chairs. The staff even dress in panda costumes to entertain the guests.
The hotel will officially open in May with room rates from 300 ($48) to 500 yuan per night.
Join our new commenting forum
Join thought-provoking conversations, follow other Independent readers and see their replies