You have to get up early to do the Cambodia temple run

Show all 5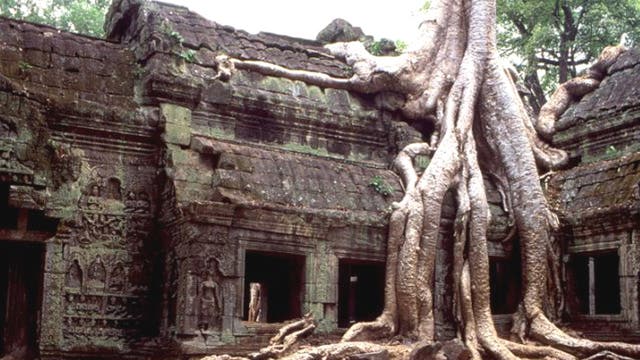 You have to get up early to do the Cambodia temple run
Visitor numbers to the ancient Khmer ruins of Angkor are rocketing, so a successful visit is all about timing. Sarah Barrell sets her alarm clock
Sarah Barrell
Sunday 12 February 2012 01:00 Comments
It's 4am and the rush-hour trail of tuk-tuks is already snaking through the dark towards the sprawling Angkor complex, illuminated only by the roadside bonfires lit by hawkers and itinerant families.
At this hour, when the sun has yet to cast silhouettes of temple towers against the sky, it's surprisingly chilly. The sweet smell of wood smoke and sticky rice fills the air. My guide sniffs, smiles and pulls his cotton patterned krama scarf up around his face.
The traffic goes two ways. Scarf-wrapped tourists head towards Angkor Wat and the surrounding complex of temples; hotel staff and construction workers flow the other way, into the boom town that is Siem Reap, 15 minutes from the ancient wats (Buddhist monasteries) along a jungle-fringed road. Two to a bike, four to a scooter, men wear oversized leather jackets, babies balance on their mothers' laps, wearing woolly bonnets.
We bump off the main drag, the buzz fading behind us in the dark. It's dry season in Cambodia, when humidity drops and tourist numbers soar – a time when the resourceful guide will try to flee the crowds and find a novel route into the temples. With visitor numbers to the Angkor temples rising, these days a successful visit is all about timing.
I'm in Siem Reap to see the newly restored 11th-century site of Baphuon, a treasure of the Ankgor complex that's just reopened to the public after a 50-year restoration project. But that's best seen, I am reliably advised, in the afternoon when the tide of tourists recedes from the temples to elbow each other up the sacred hill of Phnom Bakheng for a noisy sunset ritual and panoramic photo op across Siem Reap.
This morning, I'm avoiding Siem Reap's main act: the traditional sunrise stampede for a position at Angkor Wat. This immaculately restored 12th-century temple is seen as the zenith of Khmer architecture and represents Cambodia itself for many visitors, who gun for it straight off the plane. Instead I favour a visit to the neighbouring "jungle temple" of Ta Prohm.
We make our stealthy entrance at its outer eastern gate where we hope to have the place to ourselves for a while, moving in against the stream of sightseers that will come in from the west gate. The sun is skirting the trees as we walk towards the inner sanctum of the "Tomb Raider Temple" (known as such since 2001 when Angelina Jolie filmed the first Lara Croft movie here) taking a broad sandy track. Here, at this back door of sorts, the only other people we encounter are a couple of sleepy souvenir sellers yet to display their krama, tribal drums and origami animals.
The path is devoid of the untamed jungly overgrowth that makes Ta Prohm unique; this is one of the few Angkor temples where the jungle has been left to its own devices. But further in we find the postcard scene: kapok trees growing antler-like from temple walls, strangler figs winding in and out of brickwork like mortar-eating snakes.
Eruptions of tree roots penetrate the temple's concentric stone galleries and intricately carved pillars, a woody web over and under which we clamber, snapping pictures of iconic Apsara (celestial dancing girls of Hindu mythology) framed by keyhole gaps in gnarly tree trunks. It's at least half an hour before we meet the crowds coming the other way.
At the tree-strangled stone doorway featured in the Tomb Raider movie, several tour groups are queuing for a picture while their guides bid them: "Say Angeliiiiina!" The sandstone brick dust kicks up from the floor, mingling with incense smoke that weaves in ribbons from shrines dotted around the collapsed temple towers.
For all the photos taken at Ta Prohm and the numerous other ruins that make up what's loosely known as "the temples of Angkor" it's hard to get a clear picture of the place. Firstly, it's massive: the Unesco-protected site alone is spread over 400 square kilometres, with sites spanning six centuries. And the "temples" often aren't temples at all, many of them shrines, royal palaces, walled cities and monasteries – integral parts of ancient Khmer capitals that see-sawed over time between Buddhist and Hindu faith, as diverse as the 30 or more kings who built them. It's a complicated place that, for visitors at least, sits somewhere between an archaeological adventure playground and vaguely defined spiritual retreat.
"The classic view of Angkor is that it's a bunch of temples," explains Professor Roland Fletcher, when I join him for lunch the following day at Siem Reap's Amansara hotel. "Angkor is no more a bunch of temples than London or New York."
Fletcher, a lively sexagenarian, is an Asian archaeology expert at the University of Sydney and annual Scholar in Residence at the Amansara Hotel. He's also co-director of the Greater Angkor Project, a multi-national research programme focused on what has been considered the mysterious decline of Angkor's settlements.
We lunch on Amansara's sunny patio, flipping through sepia photos that reveal the hotel's former incarnation as the 1960s guest villa of Cambodia's King Norodom Sihanouk. It's a recent history that Fletcher clearly gets a kick out of, but this afternoon we are due to head back to the 11th century, on one of Fletcher's tour groups to Baphuon.
This treasured temple was recently re-opened to the public after a mammoth rebuilding project that took over half a century.
Working with the few records spared by the Khmer Rouge following Cambodia's civil war in the 1970s, a French-led team of archaeologists has managed to piece together some 300,000 sandstone blocks to recreate Baphuon, a three-tier "temple mountain" that's one of Angkor's largest structures. The pioneering restoration is all the more impressive when you consider that each piece in this giant, picture-less puzzle is unique.
Angkor's temples were created without mortar, the sandstone blocks chiselled so each slotted into a specific position. "Just one millimetre out would have made a difference," Fletcher tells me. "It's a vast piece of geometry that, even with modern mechanics, still relied on the eye of Khmer workmen."
It's clear that Fletcher's passion lies with people, not puzzles. For him, Angkor's temples are not a study in ascetic worship, but centres of rude life.
"The fascinating stuff is the civilisation," he says, giving the example of Ta Prohm, a working monastery that housed around 12,000 people with a further 80,000 workers drawn from surrounding villages. "There were 615 royal dancers alone. The clergy had no real power; Angkor is not about religious fluff."
Before the building of Baphuon, one of the greatest political changes of Angkor took place. After the construction of Baphuon's predecessor temple, Ta Keo, King Suryavarman I, the great conqueror took control of Angkor, carving inscriptions on walls that showed he brokered no argument. "His oath that his enemies would be 'fried, sliced and diced in hell for the remainder of history' showed that these kings played a very tough version of family politics," Fletcher recounts.
Angkor's bloody family tree is something that's often lost to tourists, thanks to the way the ruins are visited. The roads around the temples follow a blueprint left by early archaeologists that has little tourist logic, while ruins are visited in an order that's often governed by the high cost of petrol and the small amount of time the average tourist spends in Siem Reap (three days).
I travel half an hour from Siem Reap with Fletcher to West Baray, a more logical place for Angkor tours to begin. Under Suryavarman I's rule, this massive reservoir took six years and 200,000 people to dig. It was the key to a system of irrigation that fed Angkor's sprawling capitals.
Fletcher calls it "the largest single engineering project in the pre-industrial world". Yet it is barely visited by tourists. It is now a popular spot for Cambodians to fish and picnic. Yet its waters were once responsible for the success, and Fletcher believes the eventual decline, of the Khmer empire. The management of water still looms large for Siem Reap, a town that's currently growing hotels quicker than it does rice.
With a new international airport slated for imminent development, the burden that tourism puts on the infrastructure of this little town is ever increasing, as is the intense footfall around the small group of favoured temples.
Plans have been mooted by Apsara (the Cambodian authority that protects and manages Angkor) to close some of the key temples to motor traffic and use an out-of-town hotel development and new ticket office to disperse visitors.
But in a country where the hangover from decades of war and unrest is still palpable – literacy is low and poverty and corruption is high – big plans can be hard won. There is no lack of effort or optimism however. Siem Reap's hotels often work to raise money for the region's myriad orphanages, and a number of tour operators back projects that fund everything from schools to employment programmes for landmine victims, while charities are ever-present.
There are so many "good work" projects, in fact, that an NGO has been set up to advise would-be supportive tourists on their standards and practices – not all are as worthy as they seem. I travelled with ABOUTAsia, a tour operator run by English expatriate Andy Booth where all profits go to a sister charity supporting the education of 31,000 children in 54 schools in rural Cambodia.
Monasteries play a vital role in Cambodian society. They provide lodging for homeless boys and, the more forward thinking ones offer literacy or sewing classes for needy children of both sexes. At Enko River I meet Yorn Chea, a monk with a charismatic smile. One of many orphans of the Khmer Rouge era, 28-year-old Yorn set up the pagoda's English classes with a textbook he created with the help of ABOUTAsia, and an impressive multi-lingual library of donated books.
"In my head I have so many ideas ... it's hard to sleep. We need to give people skills," he says simply.
Elsewhere in Cambodia, the tourism sector is also growing at a pace. Resort development on its slender stretch of coast and idyllic archipelago should flourish with the launch two months ago of internal flights between Siem Reap and coastal Sihanoukville. Add to this a Chinese-funded network of highways being built and the revitalisation of Cambodia's railways by an Australian company, and perhaps the country will rediscover a pre-war affluence that saw its coastal resorts compete with Cannes for glamour.
On my final night I take a walk along Siem Reap's "pub street" where an entrepreneurial revolution seems to be taking place, led by retro cocktail bars, "fish pedicure" spas and boutiques filled by the work of young Cambodian designers.
Equivalent streets are popping up in other cities such as Phnom Penh and Battambang – it's brash, noisy and full of life. Cambodia's tourism may have grown up around Angkor's ancient temples but it seems that its future is far from set in stone.
Travel Essentials
Getting There
You can fly to Cambodia via a range of South-east Asian hubs. Singapore Airlines (020-8961 6993; singaporeair.com) has good connections from Heathrow and Manchester to both Phnom Penh and Siem Reap via Singapore.
Getting Around
ABOUTAsia Travel (020-7193 8561; www.aboutasiatravel.com) offers a week in Siem Reap from £625 per person, including visa, transfers, a four-star hotel with breakfast, guided tours of Angkor and entry fees.
Staying There
Suites at Amansara (00 800 2255 2626; amanresorts.com) cost US$1,352 (£901) double per night, including meals. Professor Roland Fletcher will next be in residence at Amansara in December 2012.
Further Information
Visas are obtainable on arrival in Cambodia for US$20 (£13.50).
The Foreign Office warns "Cambodia remains affected by landmines. Do not stray off main routes in rural areas, including around temple complexes"
Cambodia Tourism: tourismcambodia.org
Register for free to continue reading
Registration is a free and easy way to support our truly independent journalism
By registering, you will also enjoy limited access to Premium articles, exclusive newsletters, commenting, and virtual events with our leading journalists
Already have an account? sign in
Join our new commenting forum
Join thought-provoking conversations, follow other Independent readers and see their replies