David Attenborough and The Great Barrier Reef: Diving the reef for the first time
Sian Lewis pulls on her flippers to explore the star of the naturalist's new BBC series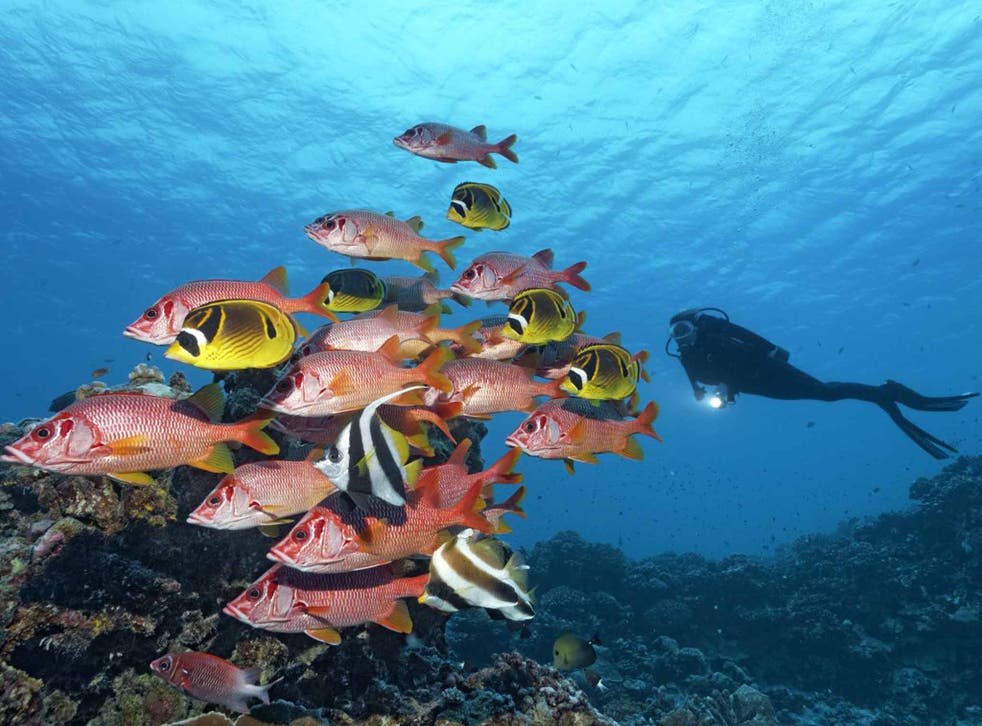 Jacques Cousteau, the father of recreational diving, once said: "The sea, once it casts its spell, holds one in its net of wonder forever." And I have to agree; I've been obsessed with the Great Barrier Reef since watching nature documentaries in the Nineties, in which the divers' fluorescent wetsuits were almost as bright as multi-coloured fish.
Now, the "rainforest of the ocean" is back on our screens, in BBC1's The Great Barrier Reef with David Attenborough. For the series, Attenborough returned more than 50 years after his first visit, in 1957. He recalls the first time he scuba dived on the Great Barrier Reef as "the most magical thing I ever saw in my life"; the 2,000km stretch of reef that hugs almost the whole length of Queensland's shore is, after all, nature on an epic scale. The world's largest coral reef system is the only structure made up of living organisms to be visible from Space.
So, determined finally to dive the reef, I caught a float plane from Gladstone to Heron Island, 80km offshore, where Attenborough was also partly based for the series. As we skimmed over the brilliant turquoise water, the pilot shouted above the engine noise to point out the murky shapes of sharks and turtles in the water below. The plane's wings dipped as we bobbed down for a closer look, and I tried to imagine how it was going to feel to be underwater gazing up, instead.
The next day, my nose covered in factor 60 sunscreen, I walked down to Heron Island's harbour with Kayleigh, my dive instructor. A tiny-yet-tough American, she'd cut her teeth diving in Alaska and looked like she could probably handle whatever the sea could throw at her. This was reassuring, as in the "nice, safe" waters around the jetty where we were to practise, a small blacktip reef shark was circling. They're actually harmless, but it felt of little reassurance when I was about to swim with them.
I hadn't dived in a few years, and as I was loaded with equipment I had to ask what the "mouth bit" was called. Kayleigh took the hint and taught me how to prepare my gear, how to put a wetsuit on the right way round and how to check my respirator (that's the mouth bit). I felt much more confident after a practice dive around the harbour, especially as the shark had decided we were pretty boring and nosed away.
We climbed aboard the island's dive boat and sped out to Heron Bommie (short for bombora, an indigenous term for a submerged rock shelf). This site is so special that Cousteau considered it one of his favourite dives of all time. The boat stopped half a mile from Heron Island, and all around us was the deep sea, telltale ribbons of lighter aquamarine water indicating where the reef lay waiting. I strapped my buoyancy control device over my wetsuit, pulled on fins and my mask and we stepped off into the waves, quickly descending to 17 metres.
As we dipped below the ocean's surface a fiesta of colour opened up in front of us. There was the massive rocky shelf of the reef, covered by rainbow hues of coral. Zebra fish streamed by, brushing against my arm, and tiny angel fish darted between the coral's protective spines and spikes. Spotty seaslugs and enormous rays lay motionless on the ocean floor. A glittering shoal of trevally flashed iridescence with every small movement. There were creatures so weird and crayon right they looked like children's drawings. Yet, the brutal side of nature was present, too – we spotted a big parrot fish munching on half a sea slug, which had spat out its intestines in protest.
It was sobering to think that somewhere so alive, so vibrant, is actually in grave danger – from climate change, pollution, industry, and even the sunscreen left in the water by visitors; some reports state that half the reef has vanished over the past 27 years. The presence of everything from two metre Maori Wrasse to minuscule nudibranches was a reminder of its fragile majesty.
I was swimming along quite happily when a fellow diver reached over and grabbed my arm. Right in front of us, half-hidden under a rocky outcrop, was an enormous, wizened green turtle. I tried to exclaim in delight, then remembered that I had a respirator in my mouth and that it's pretty useless to scream underwater, and instead I hung motionless, watching the turtle watching us. He looked like he'd seen it all before – he probably had, as green turtles can live for 100 years.
As we kicked along behind Kayleigh like a school of ungainly fish, a younger and sprightlier green turtle joined us, keeping up with elegant flicks of his fins, craning his long, wrinkly neck to check us out. I had to take slow, deliberate breaths so that all the excitement didn't drain my oxygen tank flat. As it was, I was still the first to reach 70 bar, the signal to start ascending to the surface. I was crestfallen to leave the rainbow reef behind, but departed with a new understanding of how precious this wonder of the world is.
Getting there
Sian Lewis travelled with Austravel (0800 988 4834; austravel.com). An 11-night Great Barrier Reef holiday to Queensland costs from £2,379pp, including accommodation at Heron Island, The Point Bagara; Marina Shores in Airlie Beach, One&Only Hayman Island, and the Reef View Hotel on Hamilton Island; plus Emirates flights from Gatwick to Brisbane via Dubai, car hire and all transfers.
More information
The Great Barrier Reef with David Attenborough continues on BBC1 on Wednesday at 9pm
Register for free to continue reading
Registration is a free and easy way to support our truly independent journalism
By registering, you will also enjoy limited access to Premium articles, exclusive newsletters, commenting, and virtual events with our leading journalists
Already have an account? sign in
Register for free to continue reading
Registration is a free and easy way to support our truly independent journalism
By registering, you will also enjoy limited access to Premium articles, exclusive newsletters, commenting, and virtual events with our leading journalists
Already have an account? sign in
Join our new commenting forum
Join thought-provoking conversations, follow other Independent readers and see their replies