The Independent's journalism is supported by our readers. When you purchase through links on our site, we may earn commission.
How to explore Australia
Our guide to getting there, getting in, and getting around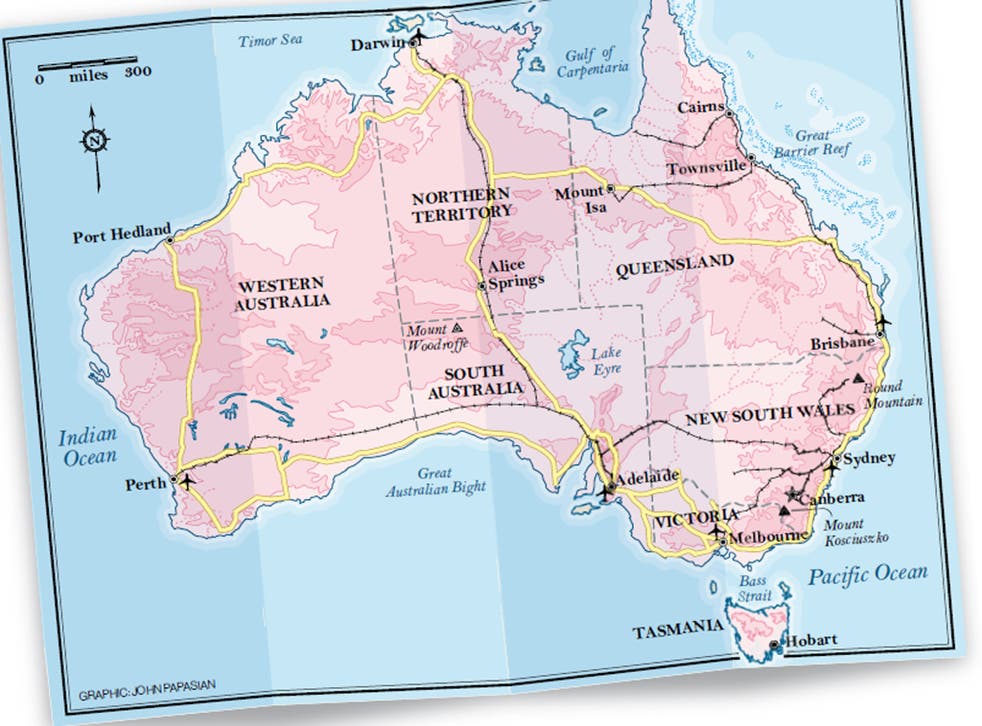 Getting there
Seasons
Air fares to Australia are extremely sensitive to the seasons, so adjusting your departure date by a few days or weeks could make a difference of many hundreds of pounds to the cost of your trip.
The cheapest time to travel is between April and June; precise dates vary from one year to the next (depending on when Easter falls) and from one airline to another, but mid-April to mid-June is normally the time when you will see the very lowest fares – perhaps under £800 return. September to early December and mid-January to Easter also offer good fares, typically £1,000 or less.
High fares prevail in July and August – an unappealing time to travel to the southern half of Australia anyway, because it corresponds with the depths of winter. The absolute peak, though, covers a time when many of us would most want to be in Australia: Christmas and New Year. Fly out to Sydney on BA on 22 December, returning on 2 January, and you will barely get enough change from £2,500 to pay for the train into town.
Getting to Sydney
Australia's largest city is the main gateway for British visitors and there is a formidable amount of competition. You can fly direct – but not non-stop – from Heathrow on British Airways (0844 493 0787; ba.com) via Singapore; Qantas (0845 774 7767; qantas.com) via Dubai; and Virgin Atlantic (0844 874 7747; virgin-atlantic.com) via Hong Kong.
If you are prepared to change planes en route, there is a wide range of stopover options. For the cheapest fares, it's worth consulting Vietnam Airlines (020-3263 2062; vietnamairlines.com) from Gatwick via Ho Chi Minh City and China Southern (csair.com) from Heathrow via Guangzhou. Look out also for good fares on Garuda (01293 874985; garuda-indonesia.com) via Jakarta when the link from Gatwick is reinstated.
Emirates (0844 800 2777; emirates.com) has the widest range of one-stop connections, with flights from Gatwick, Heathrow, Birmingham, Manchester, Newcastle and Glasgow to Dubai, from where there are two daily Airbus A380 non-stops to Sydney.
Getting to other cities
With the single exception of Qantas's daily link from Heathrow via Dubai to Melbourne, to reach other Australian cities from the UK requires at least one change of plane. Emirates is the market leader by a mile, with non-stops from Dubai to Adelaide, Brisbane, Melbourne and Perth. Singapore Airlines (020-8961 6993; singaporeair.co.uk), Malaysia Airlines (0871 423 9090; malaysiaairlines.com) and Cathay Pacific (020-8834 8888; cathaypacific.com) also offer a wide choice from their hubs in Singapore, Kuala Lumpur and Hong Kong respectively.
The two other leading Gulf-based airlines offer connections at their hubs – Abu Dhabi on Etihad (020-3450 7300; etihadairways.com) and Doha on Qatar Airways (0844 846 8380; qatarairways.com) – to several Australian cities.
The most exotic stopover option? Mauritius. Air Mauritius (020-7434 4375; airmauritius.com) has three non-stop flights a week to Perth, with connections from Heathrow.
Round-the-world flights
While flights via Asia are shorter and therefore faster, Australia is also easily accessible via the Pacific. Round-the-world specialists can organise trips that take a wide range of stopovers. A simple London-Hong Kong/Singapore/Dubai-Sydney-Los Angeles-London ticket can cost less than £1,500, and many other stopovers are available.
Getting in
UK passport holders travelling on leisure or business can stay up to three months on an "eVisitor". This is a free-to-obtain online permit that allows you to enter Australia for tourism or business purposes. Avoid all the rip-off websites that will charge you money unnecessarily. Instead, go to bit.ly/eVisitor to apply.
Getting around
Air
Qantas and Virgin Australia (0800 051 1281; virginaustralia.com) are the main domestic airlines. While you can buy individual flights via their websites, it is a much better idea to book the tickets as part of an international journey – probably through a specialist travel agent. They may well cost you less and also confer extra security: if your flight from Hobart to Melbourne for your trip home is delayed or cancelled, with separate tickets you are flummoxed. On a single ticket, the airline has to look after you.
Rail
The Australian network is sparse in its scope but magnificent in its scale. See railaustralia.com.au for a range of options, including excellent-value rail passes. Seat61.com/Australia can fill in useful details about other possibilities.
Road
Whether you plan to drive or travel by bus, bear in mind the scale of Australia. Melbourne and Sydney are more than 650 miles apart by road – a full day's drive. Greyhound (greyhound.com.au) is the main long-distance bus operator.
More information
Register for free to continue reading
Registration is a free and easy way to support our truly independent journalism
By registering, you will also enjoy limited access to Premium articles, exclusive newsletters, commenting, and virtual events with our leading journalists
Already have an account? sign in
Register for free to continue reading
Registration is a free and easy way to support our truly independent journalism
By registering, you will also enjoy limited access to Premium articles, exclusive newsletters, commenting, and virtual events with our leading journalists
Already have an account? sign in
Join our new commenting forum
Join thought-provoking conversations, follow other Independent readers and see their replies