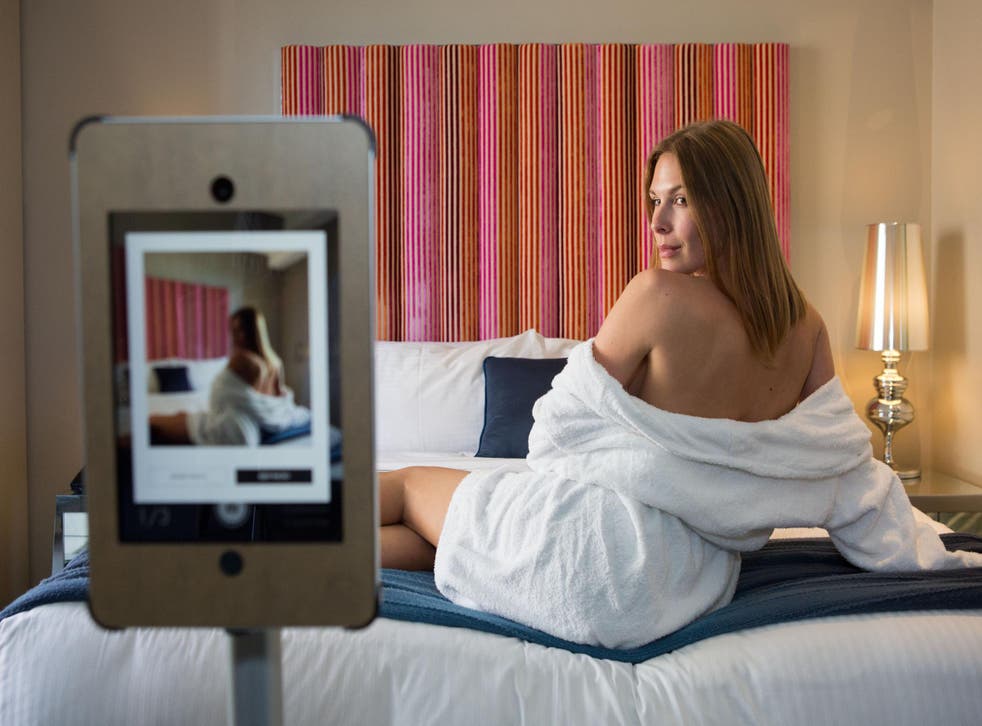 The hotel that encourages guests to pose naked for artistic sketches
A room with a nude – Chloe Cann disrobes in the name of art as part of an Australian hotel's new promotion
Chloe Cann
Thursday 08 June 2017 13:44 Comments
"Do you know what pose you'll do yet?" the receptionist asks as she drags an iPad-topped stand into my hotel room with the nonchalance of Mick Jagger towing a microphone onto the stage.
"I'm not too sure – nothing full-frontal," I laugh nervously. Emphasis on the nervous. Less so on the laughing.
There have been a few encounters in the lead up to my stay at The Olsen, Melbourne, that have made me feel like an unsavoury character indulging in an illicit episode.
From the email I send asking what time the camera will be delivered to my room, to the numerous questions I have to pluck up the courage to ask at the check-in desk ("Do I get to choose the photo? Is the camera on a timer? How will I receive the print?"), it's all slightly uncomfortable. Still, I have to concede that it's also a bit of a thrill.
Like so many female greats before me – Botticelli's Venus, Raphael's Three Graces, Kim Kardashian's, well, Kim Kard-ass-ian – I am about to become a work of nude art. But unlike those immortalised by Renaissance painters, no one has actually commissioned a piece of me in my birthday suit: I am merely masquerading as a muse through the Art Series Hotel Group's 'No Robe' package.
It's the latest campaign from the playful, Australian-based collection of boutique hotels, strewn across the metropolitan hubs of Victoria, South Australia and Queensland. The idea is this: guests abandon their inhibitions (and clothes), allowing a team of artists to transform their naked limbs into a sketch.
Thankfully, said team of artists are not sitting waiting in your room ready to inspect your body parts. Instead, from the privacy of your temporary residence – and at your own leisure – you use an in-room iPad and a custom-built app to take whatever naked shots your heart desires.
As the name would suggest, the hotel group is quite an authority when it comes to art. Each of its seven hotels is inspired by – and wholly dedicated to – a contemporary Australian artist. Their original artworks and prints line lobbies and halls, and a smattering of unique and thoughtful design elements are incorporated into rooms.
My studio suite at The Olsen, situated just south of the Yarra River in Melbourne, features a smoked screen between bed and bathroom with John Olsen's signature tangle of wild brushstrokes dancing across it. There's even a miniature art library in the corner of each chamber, offering greater insight into the works of the hotel's namesake.
The mini-chain of hotels is no stranger to outlandish campaigns; over Christmas 2015, it offered an 'Overstay Check-Out', allowing guests who booked at least a one-night stay the opportunity to remain as long as their room was available without paying anything more.
'No Robe', for its part, fits so snugly with the hotel group's art theme that, by the time I reach my room, any preconceived notions of seediness evaporate.
I'm all aflutter at the numerous office blocks that appear to overlook my floor-to-ceiling windows. The prudish Brit in me prances semi-nude about the room, aware that I need to master a pose stat, but also conscious that an unsuspecting white-collar worker on overtime might be about to get the fright of their life.
After finally settling on a pose that best meets my desired trifecta of tasteful, non-revealing and flattering, I set to work typing my details into the app before facing off with the camera.
Anyone who has dabbled in the occasional sext will realise just how many attempts it can take to master the 'natural' look: a lot. The gulf between the mental image I've conjured of my unclothed form and the digital evidence is rather sizable. iPad units are loaned to hotel guests for up to two hours, but I can assure you that for such an intimate study of your own anatomy 30 minutes is more than enough.
Eventually, I give up on trying to create a flawless picture and relax, feeling a little more at home in my own skin and settling on a shot that I feel is as good as any. All I can do is pray my artist is of the more forgiving J S Lowry stickman school of design, rather than the anatomically correct Leonardo da Vinci persuasion.
Totally unveiling all your bits isn't a prerequisite – the hotel also invites guests to 'Robe Up' if they're feeling too bashful. But it doesn't seem to be a problem for your archetypal laidback Aussie: even on Instagram, punters are taking to the task with verve. The 'No Robe' hashtag is a door to a cornucopia of artsy and er, less artsy, shots, with lodgers proudly displaying their wares.
"With the great views of South Yarra, people have been having fun with it," the receptionist notes as she reports back to pick up the iPad.
When the much-anticipated sketch arrives in the post several weeks later, I feel unexpectedly pleased with the result: my face moody yet elfin, my form flatteringly contoured.
If anything, having my limbs inked indelibly and artistically onto card makes me want to be a muse all over again.
Staying there
The No Robe package is available at any of the Art Series Hotels (artserieshotels.com.au) until June 15. Doubles from £130, room-only basis.
Register for free to continue reading
Registration is a free and easy way to support our truly independent journalism
By registering, you will also enjoy limited access to Premium articles, exclusive newsletters, commenting, and virtual events with our leading journalists
Already have an account? sign in
Join our new commenting forum
Join thought-provoking conversations, follow other Independent readers and see their replies