Nature rules in the heart of the outback

Show all 7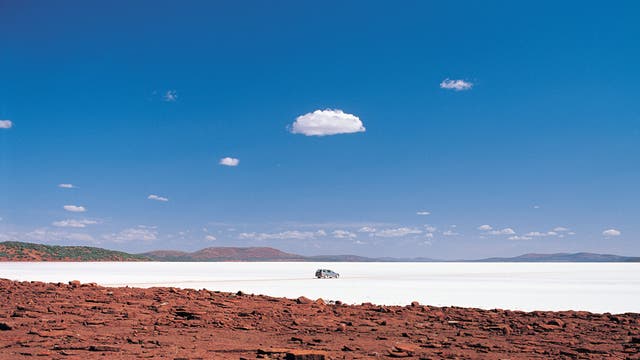 Nature rules in the heart of the outback
Australia's Eyre Peninsula is a harsh, empty place. Yet it's soul stilling in its beauty
Sarah Barrell
Sunday 20 November 2011 01:00 Comments
There is water everywhere. It runs off the tin roofs of farm buildings in a clattering rush, making great red rivers in the sand. Our Land Rover aquaplanes, chased by bolts of lightning, as cracks of thunder fall like boulders around us.
Through curtains of rain, I can see vast, water-filled clay pans that look like permanent lakes, yet given just two weeks of hot dry weather they will burn off to dust.
At the moment, that seems unimaginable. Australia's red centre is green. The biblical rains that have pummelled the population of the country's east coast out of their houses, making thousands homeless, have turned the desert to floodplain. Here, on the fringes of South Australia's outback, kangaroos hop in sodden clumps across mossy fields and the clouds of flies that usually pepper the sky are nowhere to be seen. "We are in the driest part of the driest continent on Earth," says my co-passenger, Bertina, in her matter-of-fact German accent. "It says so in my guidebook." She's laughing, until we slide and stall in some rutted tire tracks running with water like guttering.
Another ribcage-shaking clap of thunder and Geoff, our driver and host, guns the engine, spraying mud across the windows. We sit in darkness listening to the storm snarling as Geoff rodeos the 4X4 back and forth, finally lurching us free. "We could do with getting out of here before it really starts raining," he says with an easy smile. If you're going to be in the outback with anyone, Geoff Scholz is your man. Born and raised in the bush, this former farmer and opal miner is unflappable when faced with pretty much anything the elements throw at him. And in this part of the world the elements are not kind.
Geoff and his wife, Irene, organise tours into the 1,500-million-year-old volcanic landscape of the Gawler Ranges National Park, based on a concession camp on the border of the reserve. This 600sq mile tract of sheep stations, salt lakes and sculptural rock formations sits at the northern tip of the Eyre Peninsula and is one of Australia's oldest volcanic terrains. Despite the area being tantalisingly sandwiched on the map between Eyre's pristine, white-sand beaches and popular outback sights such as the Flinders Ranges and Coober Pedy, few people make it to Gawler – and that is very much a part of its appeal.
To get here I have taken a 50-minute flight from Adelaide to Port Lincoln, where the airport is composed of one check-in desk, no luggage carousel and a rickety vending machine. As the crow flies, Eyre lies just 250 miles from Adelaide but that distance encompasses two massive gulfs: St Lawrence and Spencer. Circuitous road access means Port Lincoln's airport is one of Australia's busiest regional hubs. But with its white clapboard houses, corn silos and fishing harbours, it reminds me of a sleepy Connecticut town.
We head inland towards Geoff's outback camp on a road that runs ramrod straight through golden-green fields, flanked by the narrow-gauge rails of a "grain train". Not far from here, the wider tracks of the mighty Ghan train run from Adelaide deep into the Red Centre. In the days before it became a three-class, smart tourist service, the Ghan would regularly be washed out and stranded passengers would rely on food drops. "There were plenty of marriages on that train," says Geoff. "Ghan couples, we call them."
I love being in this part of the world where a scant and scattered population makes an odyssey out of work-a-day services such as trains, post and doctors. We are passed on the road by the Koongawa bus as it travels on one of the longest school runs in Australia: 55 miles from Wudinna to Cummins, twice daily, carrying children as young as five. It's hard not to be overwhelmed by scale here – both the sheer size of the land mass and the human responses to it. But technology is doing its best to master this overwhelming wilderness.
Cattle roundups are no longer done on horseback but by helicopter, while 50m-long road trains or epic narrow-gauge railway transport farm goods, and giant GPS-driven tractors harvest crops. En route to camp, Geoff offers to call in on a friendly farmer who lets people ride in one of these $400,000 space-age tractors. "You don't even have to touch the wheel," says Geoff. "It knows where it's going."
But I am keen to push on, moving inland spotting the eucalyptus trees that signpost our progress into the outback. The one-stem gum tree that stands as an elegant coastal sentinel gradually gives way to shorter mallee and finally acacia – whose silhouette conjures the African plains but here provides shelter for kangaroos and rare yellow rock wallabies.
From top to toe, Eyre is the size of Tasmania. It is home to a population of only 18,000, most of whom are scattered along the coast. By the time we reach Wudinna, the closest settlement to camp, residents number just 600 or so. This could soon treble if Iron Road Limited, a South Australian mining firm, moves in. Prospectors have struck the mother lode of magnetic ore in Wudinna's backcountry and the company plans to create services and accommodation for some 1,200 workers, plus a processing plant and commercial airport. But, for now, Wudinna remains a quiet jumping off point for expeditions into the Gawler wilderness.
Beyond town, an angry purple storm rolls in on the horizon, sending out forked licks of lightning. We bump on to one of the "hundreds" roads, dirt tracks that delineate pioneer-era farming subdivisions. Their outer reaches mark both the beginning of the outback and the place where the concept itself was born.
In 1864-65, South Australia suffered one of the worst droughts in its history, prompting surveyor-general George Woodroffe Goyder to venture out into the margins of the settled country where farming had been worst hit. In one year alone, while valuing pastoral leases, Goyder covered some 30,000 miles on horseback. His stamina outshone that of his mounts, which he changed twice daily; standing barely 1.5m tall, he earned the nickname Little Energy. These wilderness travels allowed Goyder to make some remarkably prescient observations about Australia's inconsistent climate, and he mapped a series of lines, the southernmost indicating the limits of reliable rainfall. This eventually became viewed as a way to calculate the reasonable reaches of safe agricultural development – land beyond which became "the outback".
But this line, as rock steady as its rainfall predictions have proved to be, even now, was not without harsh critics. In the late 1860s, a string of good seasons fed the land and Goyder was ridiculed everywhere from the pub to parliament, but it took only a few seasons more for this resilient man to be proved right. The ruined remains of stone farmhouses found across South Australia, just beyond Goyder's Line, stand as a crumbling testament to the blind folly of the 1870s push north.
Technology has now made it possible and profitable to farm beyond the line – soil can be chemically altered, crops encouraged, and machines bring in harvests quickly. And farmers here have become savvy, learning how to diversify crops and livestock to survive in the harsh, dry climate. Yet, climate change is lately blurring Goyder's maps and Geoff talks in a haunted voice of farmers recently ruined by drowned crops. He is much happier rounding up tourists than cattle.
Evidence of Geoff's farming past is found everywhere in camp. Old chains, cogs and axles from agricultural machinery have been cleverly converted into towel rails, hat stands and chairs, combined with natural materials such as driftwood and local stone. The effect is rustic, stylish and laid back. Guests are housed in three comfy safari-style tents with raised wood floors and annexe bathrooms fed by rainwater, or in a fabulous "Swagon" – a renovated covered wagon where you can stargaze as you fall asleep. The camp doesn't operate like a resort but has set dates for arrival and departure to accommodate group safaris.
My co-travellers, Bertina and her husband Cristophe, have just arrived from Cologne and are having trouble keeping their eyes from drooping with jet lag. But from the camp's open dining room it's possible to spot an impressive 146 species of bird. Bright flashes of scarlet-breasted parrot and the sweetly named splendid fairy wren, making chirruping darts at the ground, provide lively distraction.
Still, there are bigger natural wonders. The entire Gawler Ranges National Park sits within an enormous volcanic crater. "It blew off in one hit," says Geoff. "This is what America's Yellowstone will be like when it goes." We head into the park and have been on the road only a few minutes before three emus make a comedic, leggy dash towards the car and run alongside, keeping pace while training beady eyes on us passengers. I'm not sure whether to laugh or salute them. The birds, capable of 30mph sprints, soon outstrip our vehicle. The sun has finally burnt through the clouds and water lies in mercury pools on the red topsoil; fallen leaves of eucalyptus shine like shattered glass. Ahead of us, groups of eastern grey kangaroos and smaller 'roo-like euros bound across the gleaming grassland, mothers confidently driving the skittish young ahead of them.
Over coming days, we park up in the wilderness to trek through Gawler's canyons of rhyolite rock; sky-scraping, cylindrical stacks with names like the Organ Pipes and Peter's Pillars. Deeper into the park, we find Gairdner, a vast dry salt lake that has been the site of numerous land-speed record attempts. We take it slow, picnicking on Irene's summer salads of watermelon and mint while watching the fiery sun make a surreal Siberian scene out of the crystal white salt, surrounded by the red desert. Back at camp, sunset walks are taken around Sturt lake, where Geoff tells Aboriginal creationist stories of lizards and snakes, painting his arms yellow, amber and white with the multi-coloured ochre that threads and swirls across the dried lake bed.
It's a mesmerising, primordial wilderness. Hours are spent without sign of civilisation. In the middle of the reserve, at Thelga sheep station, we are startled by two children from the homestead who run out to wave at our passing car – their outlines in the rear-view mirror gradually shrinking to dots on the horizon. Then, nothing again but red road, big sky and a dry creek lined with strange, skeletal trees, snapped and scattered like matchwood by a recent tornado.
On my final journey back towards the "hundreds" road, I have the overwhelming urge to turn back. Life beyond Goyder's Line is tough, no doubt, but surrounded by the Gawler Ranges, it is also uniquely, soul-stillingly beautiful.
Compact Facts
How to get there
Sarah Barrell travelled as a guest of Tourism Australia (australia.com). Qantas (qantas.com) offers return flights from Heathrow to Adelaide from £917, plus onwards returns to Port Lincoln for £283. Three-day/two-night trips with Gawler Ranges Wilderness Safaris (gawlerranges safaris.com) costs from A$1,566 (£990) per person, including accommodation with all meals, activities, safari trips to the outback and coast (to swim with dolphins and seals) and transfers from Port Lincoln.
Further information
South Australian Tourism Commission (southaustralia.com/uk).
Register for free to continue reading
Registration is a free and easy way to support our truly independent journalism
By registering, you will also enjoy limited access to Premium articles, exclusive newsletters, commenting, and virtual events with our leading journalists
Already have an account? sign in
Join our new commenting forum
Join thought-provoking conversations, follow other Independent readers and see their replies