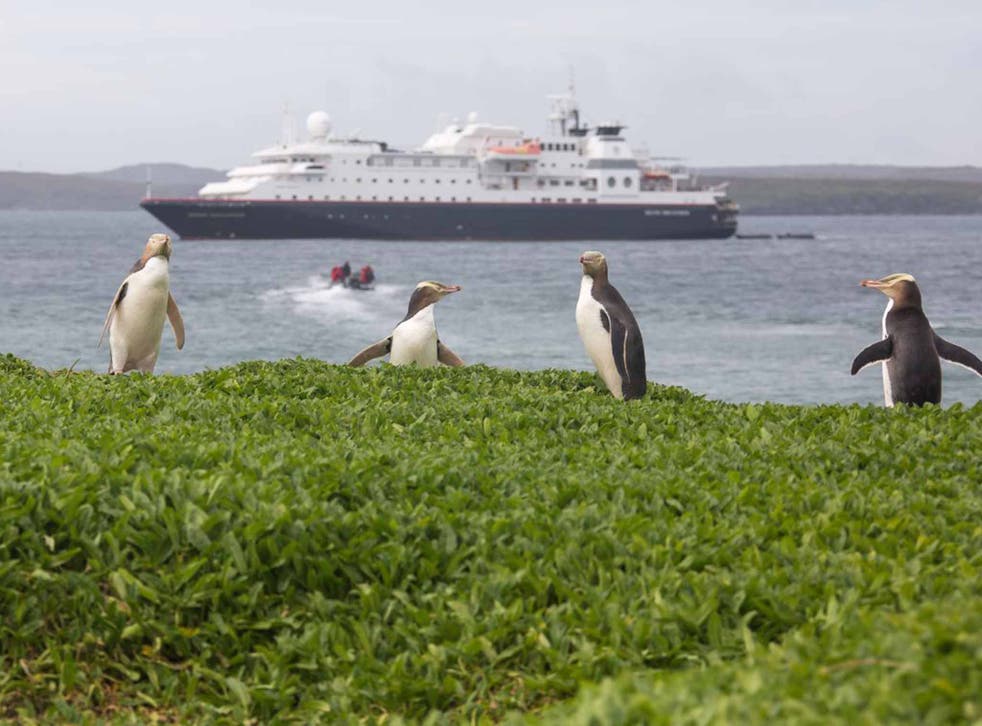 New Zealand cruise: The sub-Antarctic isles off South Island offer dramatic scenery and impressive birdlife
My two-week trip to the sub-Antarctic islands of New Zealand pointedly sold itself as an "expedition" rather than a "cruise". This, for me, conjured up images of adventure, trials of endurance, trekking across barren wastes, and perhaps lighting fires in the moonlight to cook fish from an ice hole.
However, the 60-odd guests on the Silver Discoverer, which launched last year, looked to be unlikely adventurers. Most were retired, and were spending their own great wildernesses of spare time going on cruises – sometimes three or four in a year. "They're after bragging rights," said one slightly cynical, younger passenger. But perhaps they were tougher than they looked.
The expedition started out somewhat at odds with its avowed USP. At the docking city of Auckland we visited Peter Gordon's urbane Sugar Club restaurant at the top of the 328-metre Sky Tower. "Scenic view" restaurants are usually either overpriced or lousy, but this is neither, and a great start-up from one of the world's leading fusion chefs. I have never understood Peter's menus – "nam jim"?' "cheese sable"? "dashi broth"? – but, as I ate the incomprehensible, I was nevertheless transported into a gustatory landscape that was as wild as some of the godforsaken destinations I was heading for.
There were other dry land experiences – I took a Harley Davidson tour of the city, and later on the cruise, we moored briefly at the "Art Deco Capital of the World", Napier, which has a lot of Art Deco but much of it rather crappy. This is also where we got to see one of the world's largest colonies of gannets, if you're into that sort of thing.
Cruising in New Zealand

Show all 5
But we were here not for the mainland but for the islands – specifically those of the sub-Antarctic region, the five southernmost groups that curl off the bottom of South Island. Well – I call them islands. It turned out that most of them were little more than uninhabited, foreboding rocks that where often impossible to land on, let alone explore. So, I ended up spending a lot more time on the ship than I expected.
Which wasn't such a bad thing. Each traveller has their own butler and luxurious cabin with Bulgari toiletries. There is a gourmet restaurant (so much for cooking fish under the moon). There is a gym and spa. It's not quite Scott of the (sub-)Antarctic.
There were daily lectures (no deck quoits or casinos here), which were, if not on par in entertainment terms with a Strictly Come Dancing cruise (yes, such a thing exists), mildly informative. Did you know that gannets have hot feet in order to hatch their eggs? Or that dolphins pass around a puffer fish that has an intoxicant in its skin in order to get stoned? Or that the albatross can fly for up to two years without landing? Neither did I.
There were other forms of entertainment, some of them inadvertent. Eating meals in a restaurant where the diners are sliding up to six metres across the floor because of the swell is one of the most entertaining experiences I've ever had – especially watching the liveried waiters trying not to spill the soup.
The first – and most spectacular – island we stopped at, wasn't technically sub-Antarctic. White Island is essentially a giant active volcano. It is a mythological landscape, black rock with green and yellow carpets of lichen and scatterings of red iron boulders. Hot gas boiled up from fumaroles and cracks in the ground, 100m high. I strapped on a gas mask, but my eyes and throat stung like hell. You could hear the place hissing and bubbling, but it was really like nothing I had ever seen, verging on the psychotropic.
The landscapes got still bleaker as the days passed. Pyramid Rock – forbidding weather made it impossible to scout the rock in the inflatable Zodiac craft that we were later to deploy – was black, crowned in clouds, teeming with Chatham albatrosses and petrels, and with a huge hole gouged in its side as if a giant had taken a vast bite. We were woken at 6am to stare at it for half an hour in the driving rain. I think it was just about worth it.
The first of the actual sub-Antarctic islands were the Bounty Islands, which we finally made on Day Seven. The weather was so severe we could not disembark, or stay for more than 30 minutes. However, the sheer wildness and remoteness of the place – seething with albatross and one of the nesting places of the rare Pitt Island shag – did have a powerful atmosphere. I felt I was at the end of the earth. Well, I almost literally was.
The hard-core birders were in seventh heaven, comparing details of several kinds of albatross, or holding up the crested penguin with the yellow-eyed variety. "This is SO much better than sex," cried one of them, as he swung his bazooka-sized camera at the flocks of seabirds that gathered around in the wake of the boat. Standing in the pounding rain, and puzzled by the difference between a petrel and a mollyhawk, I found it hard to agree.
The next stop was a Zodiac tour of the Antipodes Islands. Here, the wildlife began to be worth the journey even for non-experts like me. The rocks were carpeted with colonies of erect-crested penguins – found nowhere else in the world – and elephant seals relaxing like vast sacks of potatoes; a pod of them, taking showers in waterfalls. The volcanic rocks were a show, the cooled basalt resembling gigantic organ pipes guarded by swirling kelp, like medusa hair.
At Campbell Island – now 10 days into the tour – we saw nesting southern royal albatrosses on a windswept plain. "There are many birders who would die for this sight," remarked one birder. "It's the holy grail." Not for the first time I felt guilty that I was getting the privilege that I only sketchily appreciated.
Our next stop was Enderby Island. We disembarked in the afternoon to take a four-hour hike through ancient, rugged and untouched landscapes. We were greeted by a beach populated by massive sea lions, bellowing and fussing with each other. We were repeatedly rushed by them, sometimes in gangs of three or four, each of them weighing around 275kg. "I've walked with lions and polar bears," said one nature tour veteran, "but never met anything so systematically aggressive as these."
There were more sub-Antarctic islands to visit – the Auckland archipelago, the Snares – but the high point was Fiordland, a region of South Island that, as it's name suggests, echoes Scandinavian landscapes. As we took a Zodiac ride through a school of leaping dolphins, to view yellow-eyed penguins and oystercatchers, natural beauty, more intense than I had ever witnessed, presented itself spread across a vast canvas of mountains, clouds, lakes and creeks.
On the return to the ship, a fur seal surfaced just in front of us, shaking a huge blue cod in its jaws, which it spent the next few minutes demolishing. As with safaris, it is these unscripted dramas that make such expeditions worth the price of the ticket.
After two weeks of this, we finally docked in Dunedin. I concluded the cruise (sorry, expedition) was one third epiphanic, one third boring, and one third staring at birds that I couldn't name. I don't regret taking the trip. But my God, it was good to be back on dry land – and with enough material for a jolly good brag.
Getting there
Tim Lott travelled with Air New Zealand (0800 028 4149; airnewzealand.co.uk), which offers daily flights from Heathrow to Auckland via Los Angeles from £1,070 return; and Silversea Cruises (0844 251 0837; silversea.com). Silversea's Silver Discoverer will sail from Auckland to Dunedin on 20 December, with suites available from £8,750 including all food and drinks, and Zodiac, land, and sea tours.
Visiting there
Peter Gordon, who creates onboard meals for Air New Zealand, cooks at The Sugar Club in Sky Tower, Auckland (00 64 9363 6365; thesugarclub.co.nz).
Bularangi's Harley Davidson tours of Auckland cost NZ$295pp (£145) (00 64 7863 6069; bularangi.com/harley).
More information
Tourism New Zealand: newzealand.com/uk
Register for free to continue reading
Registration is a free and easy way to support our truly independent journalism
By registering, you will also enjoy limited access to Premium articles, exclusive newsletters, commenting, and virtual events with our leading journalists
Already have an account? sign in
Register for free to continue reading
Registration is a free and easy way to support our truly independent journalism
By registering, you will also enjoy limited access to Premium articles, exclusive newsletters, commenting, and virtual events with our leading journalists
Already have an account? sign in
Join our new commenting forum
Join thought-provoking conversations, follow other Independent readers and see their replies