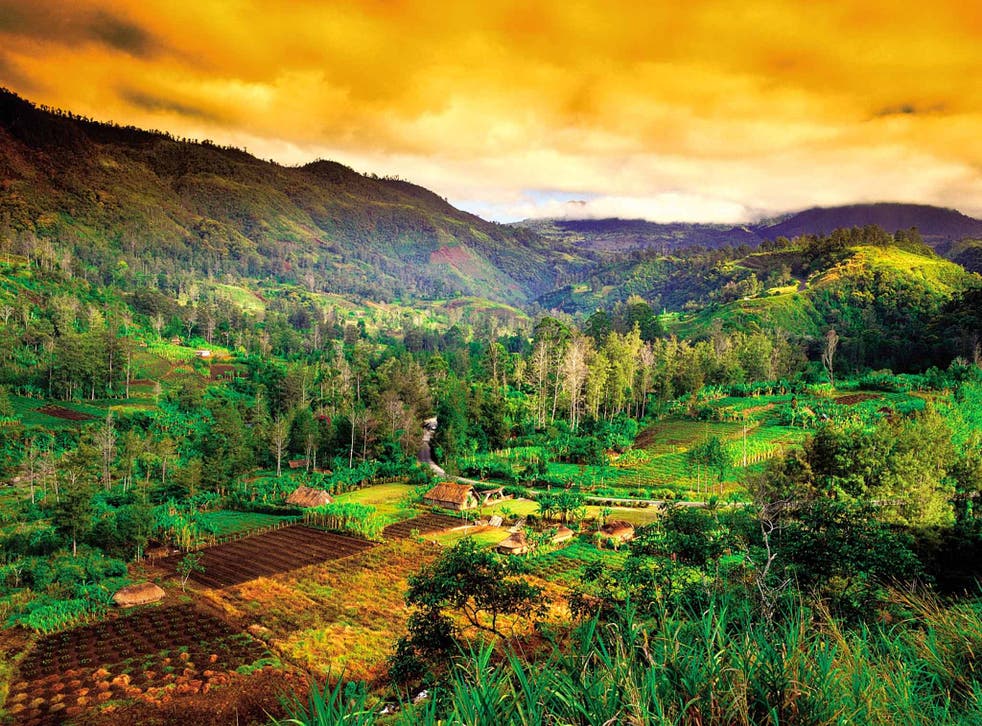 Papua New Guinea: Exhilarating encounters in a 'tropical Switzerland'
It's remote, little-visited and prone to disturbances, but Papua New Guinea is misunderstood, says Andrew Eames as he ventures into the unknown
Andrew Eames
Friday 19 December 2014 10:24 Comments
As year succeeds year and the skies become ever more jammed with planes, so the more exotic corners of the world become increasingly demystified. Once upon a time the likes of Zanzibar and Timbuktu seemed so remote and far away that their names had a resonance that was more mythical than real. But the world contracted, the myth crumbled, and Zanzibar has since become a package-tour destination, while it is necessary for Timbuktu to be on the Foreign Office's no-go list.
But there are still one or two destinations where the myth is larger than the reality, as I began to realise when I started to tell people that I was "just off to Papua New Guinea". Oh, they'd say, do they still eat people there? And even as I was making a last descent into the capital, Port Moresby, my Chinese-born neighbour on the flight – a PNG resident – thrust a 100 kina (£25) note into my pocket; I might be needing it, he said, to pay off the "rascals".
It doesn't seem all that unusual on arrival, perhaps because of the colonial legacy, and because at the top end of society, the country's mineral wealth has made the elite very prosperous. Port Moresby feels like a town in outback Australia, and everyone speaks in English, albeit with a lot of pidgin thrown in. The lingua franca is not surprising, given that this was once an Australian colony and, as I later learn, this is a nation with more than 800 languages. The residents of the capital city need a mutually convenient way of communicating.
Sheer physical isolation preserved all those language groups – and it doesn't make today's travel very easy, either. I realised that if I want to see a more representative slice of PNG I was going to have to leave town, but given that there are perhaps only a dozen serious roads in a country around the same size as Thailand (the nation occupies the eastern end of the island of New Guinea; the other portion is claimed by Indonesia), which is otherwise mainly forest, that means flying.
In pictures: Papua New Guinea

Show all 5
So, I am back up in the sky in a small plane, and heading to Mount Hagen, 5,000ft up in the PNG highlands. This time the plane is full of locals. Papua New Guineans are Melanesians, heavy-featured, broad-nosed, and according to a newspaper I read on the plane, they seem to have a propensity for killing each other. The paper is full of stories about inter-tribe disputes which end in pitched battles, and its front-page story was headlined "Dad whipped daughter to death". I ask the driver who picks me up from the airstrip – Hamish – about the violence. "There was a war here a few years back, here in the Wahgi Valley," he admits, and it resulted in lots of deaths.
As we climb into what looks like a tropical Switzerland, an exhilarating landscape that swoops from one cloud-trailing mountain ridge to the next in billows of glossy rainforest, he tells me how tribal allegiance is still a long way ahead of allegiance to the state.
The bulk of the land is still tribe-owned, and most of that ownership has yet to be officially recognised, which is a constant cause of friction. And then there's the dictum of wantok (one talk, or "same clan"), which dictates that an insult to one member of the tribe is an insult to all. Put the two together, and try to modernise and rationalise, and you inevitably step on tribal toes.
Still, it's hard to imagine the fighting kicking off in such idyllic surroundings. We climb onward, past a succession of mission stations through a landscape whose undergrowth has been pushed back to make way for grass huts in clearings surrounded by carefully tended gardens and flowers. Vegetables – particularly sweet potato – grow abundantly here.
Hamish tells me that some 70 per cent of PNG is still unexplored, and there are thought to be some tribes who have yet to have regular contact with the modern world. The existence of a community at Mount Hagen was only discovered in the 1930s by gold prospectors from Australia, and the mountain lodge, Rondon Ridge, that I'm heading for is built on land where one of those prospectors decided to settle and start a coffee plantation.
The lodge is perched in pioneer territory between subsistence settlements and cloud-wrapped forest, and is comfortable and spacious. Tourism in PNG is either this kind of top-end stuff or backpacker level, albeit at prices that are still relatively high. There's nothing in-between.
For the next couple of days I come down from my perch up on the hillside to visit the market, full of cheerful people, with unexotic piles of carrots and broccoli, who all want to say hello and shake me by the hand. And I dip in and out of village communities, usually with some kind of ceremony with locals in grass skirts clutching spears, although these days they would be more habitually seen in jeans and T-shirts when there are no tourists around.
In one village, I come across a typical clash between tradition and the modernisers. The tribe owns the land and its watercourses, but the government has put in a centralised water system, with standpipes and taps to bring the water right into the villages. All was fine and dandy until the government sent the tribe the bill. The whole system now stands there, unused.
In another village, I stumble across a pig-killing scene that is the last stage of a compensation ceremony, where both money and pigs had been handed over by one tribe to pay for a road accident in which three members of another tribe were killed. The driver himself walked free.
Meanwhile, up in the pristine highlands, new species are being discovered all the time. The other week it was a new kind of minute frog, but the big long-term draw has long been the bizarrely exotic forest-dwelling birds of paradise, whose extravagant plumage and intricate bopping and bouncing displays have made them stars on YouTube.
With the help of the lodge's birding guide I climb up through dank corridors of giant pandanus, through trees that get taller and more primeval as we get higher. And here, we glimpse birds of paradise such as the king of saxony with its remarkably long brow plumes, and the brown sicklebill that rails at us with an ugly staccato call which sounds like machine-gun fire.
After this brief taste of the highlands I head down to sea level, to the resort of Walindi on the island of New Britain. The latter is volcanic, the volcano still smoking indolently among the trees. The sand on Walindi's tiny patch of beach is blackened from previous eruptions that make this tropical land hugely fertile.
The rambling resort itself – the creation of an Australian ex-planter called Max – is set among mile upon mile of oil palm plantation. Its comfortable, under-stated bungalows are rattan-roofed and rosewood-floored, and it is virtually alone on a huge forest-fringed sweep of Kimbe Bay.
Walindi reminds me of an African lodge where travellers come to relax after their safari. Atonal leaf-warblers wake me in the morning, and my walk to breakfast is through vegetation on steroids, a riot of hibiscus and heliconia, casuarina trees and rain trees that are double their normal size.
Visitor traffic here is divided between those who are relaxing after tourism-cum-anthropology tours, and divers; PNG is within the "coral triangle" (Indonesia, Malaysia, Papua New Guinea, Philippines, Solomon Islands and Timor-Leste). I spend my days down among glorious corals and clownfish, in water the temperature of a warm bath, and then my evenings at what turn out to be giant dinner parties where travellers and dive experts sit down together to talk about the world.
Walindi is not really the place for interaction with locals, although the coastal people I do meet seem different from the highlanders, both in personality and in appearance. They are more reserved, their features sharper. And they clearly haven't travelled any more than their highland cousins, because one of them tells me that "all highlanders chop a finger off when a parent dies"; it seems PNG mythology is perpetuated even within its own borders.
Before I leave, I get a strange communication, via England. Someone calls my wife in London saying that they have "found my identity card" at Port Moresby airport. I check everything, my passport, driving licence, everything, and then call the gentleman back. It turns out that it was a luggage tag that must have fallen off my bag. I thank him as kindly as I can, and suggest that he puts it in the bin.
He is clearly disappointed. But that's PNG, I conclude; it's a nation struggling with the modern world. Some of its people are already on board, but 95 percent are still on the tarmac wondering what to pack and what to leave behind.
Getting there
Andrew Eames travelled with the assistance of Original Diving (020 7978 0505; originaldiving.com), which can organise both cultural visits and dive packages to Papua New Guinea for around £5,300pp for a 14-night trip, including flights from the UK, domestic flights, accommodation and tours. The best access to Port Moresby is either from Singapore or from Cairns in Australia. Both are served by the national airline Air Niugini (01293 874 952; airniugini.co.uk), which also operates an extensive domestic network.
Staying there
Rondon Ridge, Mt Hagen (00 675 542 1438; pngtours.com). Rates start at £140pp, full board.
Walindi Resort, New Britain (00 675 983 5441; walindi.com). Rates from £187pp, full board.
More information
British passport-holders require a visa, available free of charge from the PNG High Commission at 14 Waterloo Place, London SW1 (020 7930 0922; pnghighcomm.org.uk). Alternatively, visas are available on arrival at a price of 100 kina (£25).
The FCO (gov.uk/foreign-travel-advice) warns: "There is a high level of serious crime. Law and order is poor or very poor in many parts of the country ... outbreaks of tribal fighting can occur and may escalate quickly. You should avoid large crowds and public gatherings as they may turn violent."
Papua New Guinea Tourism Authority: 00 675 320 0211; pngtourism.org.pg
Register for free to continue reading
Registration is a free and easy way to support our truly independent journalism
By registering, you will also enjoy limited access to Premium articles, exclusive newsletters, commenting, and virtual events with our leading journalists
Already have an account? sign in
Join our new commenting forum
Join thought-provoking conversations, follow other Independent readers and see their replies