The Independent's journalism is supported by our readers. When you purchase through links on our site, we may earn commission.
Perth: Western Australia's golden child
It was once little more than a mining hub, but this coastal metropolis is now abuzz with creative energy, says James Draven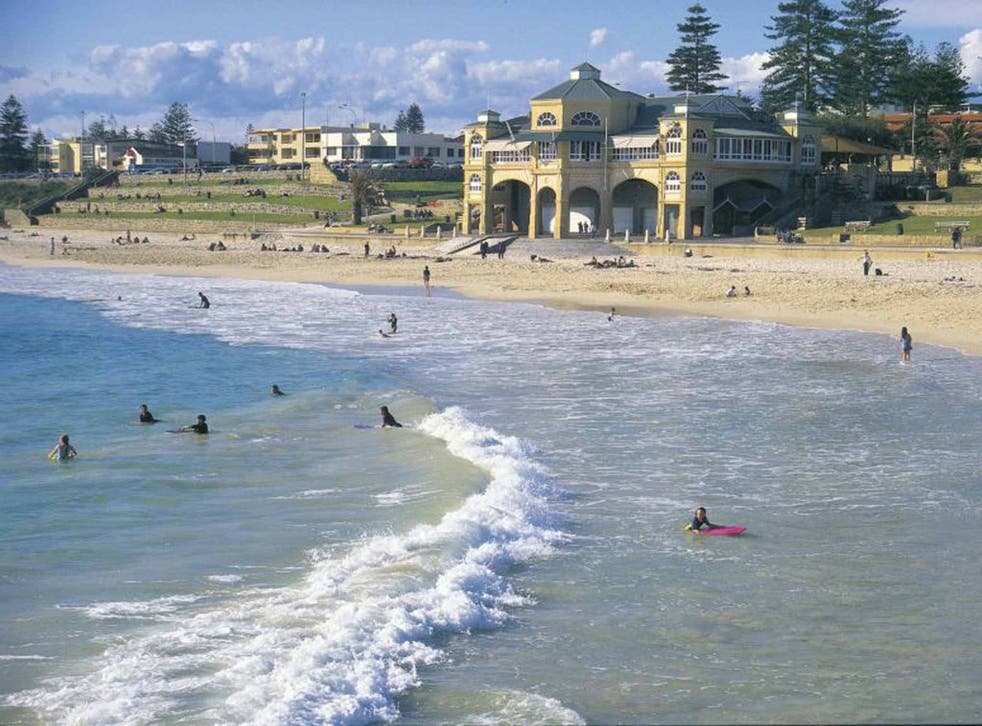 'Oh, it's awful round here," says the middle-aged Perthite with whom I'm strolling through the city's Northbridge neighbourhood. "You wouldn't want to be here when it gets too dark."
I direct his attention to the fashionable façades around us, but he doesn't seem convinced, until we make a beeline for Lot Twenty (00 61 8 6162 1195; lot20.co), where all his fears turn out to be cider soluble. There, we wash down tiny plates of tasty tapas, surrounded by a bristle of bushy beards that wouldn't be out of place in hipster hubs such as London's Dalston or New York's Williamsburg.
Areas such as Northbridge are evidence of a sea-change going on in Australia's sunniest – and most remote – city. Having benefited from the 19th-century gold rushes, Perth is still mission control for Western Australia's mining industry, its hotels packed with moneyed, fly-in-fly-out miners, known as "Fifos". But it's also now playing host to a growing community of creative types, whose exodus to the east coast has begun to cease.
In Perth's urban villages – from Cottesloe Beach to Claremont, on the Swan River – vintage shops, late-night soy-latte-serving cafés and raw food restaurants are starting to spring up. Elsewhere, attractions such as Northbridge Piazza (bit.ly/NBPiazza), which stages free performances and movie screenings, and the State Theatre Centre of Western Australia (00 61 8 6212 9200; statetheatrecentrewa.com.au), tell of a wonderfully accessible local arts scene.
In pictures: Perth

Show all 4
This month sees the return of Fringe World festival (00 61 8 9227 6288; fringeworld.com.au), from 23 January to 22 February. Now in its third year, the event will host comedy, music, dance, theatre, film and visual art at 100 venues across Perth and adjoining Fremantle.
Despite its bohemian vibe, Perth does have a reputation for being pricey. However, this year new affordable accommodation will open up: Fremantle Prison YHA, with its rooms in former jail cells, in April; and an Ibis Styles, in July, so visitors may not need to dig quite as deep.
UNPACK
The 1840s bricks-and-mortar façade of the Hougoumont Hotel (00 61 8 6160 6800; hougoumonthotel.com) doesn't look out of place among the colonial architecture of Fremantle, the bohemian port city that's ostensibly been annexed by Perth. Looks are deceiving, however, as most of the structure consists of stacked shipping containers, which form the hotel's capsule bedrooms.
The Hougoumont also hosts nightly, complimentary wine-tasting sessions. Doubles from A$205 (£110), excluding breakfast.
THINK LOCAL
Monique, founder of idiosyncratic sightseeing company Hidden deTours (00 61 4 3705 0252; hiddendetours.com.au), hosts trips around lesser-visited parts of the city, introducing tourists and Perthites alike to offbeat bars, quirky cafés and many of the city's hidden treasures.
Alternatively, hop aboard one of the fantastic, free CAT buses, the four routes of which run through Perth's Free Transit Zone. That's right, public transport that costs nothing. Take a picnic and ride the Green CAT up to King's Park, where you can watch outdoor films or a live performance as the sun sets over the city.
EAT
The south-west coast is a great foodie destination, with Perth's top tables serving some of Australia's finest produce. Head to the Central Business District (CBD) to breakfast on nitrate-free bacon and eggs slow-cooked in a 62C bath at celebrity chef Matt Stone's The Greenhouse (00 61 8 9481 8333; greenhouseperth.com).
Tucked away in suburban East Perth, Restaurant Amuse (00 61 8 9325 4900; restaurantamuse.com.au), is the zenith of Perth's haute cuisine scene with its meticulously crafted, wine-matched degustation dinners. Or, if you've yet to adjust to the time difference, eat late at the new Darlings Supper Club (00 61 8 9328 9883; darlingssupperclub.com; Wednesday to Sunday), in Northbridge – an Asian fusion joint serving dumplings and drinks until 3am.
DRINK
The chaps at basement bar Varnish on King (00 61 8 9324 2237; varnishonking.com), in the CBD, are thoroughly fetishistic about bourbon, with an array of big-ticket bottles behind the bar. They'll even grill you up a bacon sarnie with matched whiskies.
The best spot for a sly vodka behind the bike sheds is The Classroom (00 61 8 9444 7729; theclassroom.com.au) in North Perth, where you can play hopscotch with a scotch in hand or learn to mix drinks in a cocktail chemistry class. There's even a hidden library concealed behind a bookcase in which to skive off.
SPEND
If you want to make the most of Perth's gold connection, at Rohan Jewellery in Leederville (00 61 8 9242 1155; rohanjewellery.com) local gold can be handcrafted and set with the state's super-rare pink diamonds for a very WA bit of bling.
If your budget won't stretch so far – or a vintage vibe is more your thing – head instead for the boutiques of William Street in Northbridge, including Common Ground (facebook .com/cmmngrnd), a retail space housing pop-up clothes collections by local designers.
DON'T MISS
To get inside the psyche of Western Australia's gold fever, head to the Perth Mint (00 61 8 9421 7376; perthmint.com.au), where you can gawp at the world's largest gold coin, cast from one tonne of the stuff. You can also see Australia's biggest display of natural gold nuggets, and wonder whether sending convicts over here in the 1800s was really a punishment after all.
To answer that question, visit Fremantle Prison (00 61 8 9336 9200; fremantleprison.com.au), the state's only World Heritage-listed building, for a grim look at just how bad they had it.
GETTING THERE
James Draven flew from Heathrow to Dubai with Qantas (0800 964 432; qantas.com) and onwards to Perth with Emirates; from £1,207 return.
MORE INFORMATION
Register for free to continue reading
Registration is a free and easy way to support our truly independent journalism
By registering, you will also enjoy limited access to Premium articles, exclusive newsletters, commenting, and virtual events with our leading journalists
Already have an account? sign in
Register for free to continue reading
Registration is a free and easy way to support our truly independent journalism
By registering, you will also enjoy limited access to Premium articles, exclusive newsletters, commenting, and virtual events with our leading journalists
Already have an account? sign in
Join our new commenting forum
Join thought-provoking conversations, follow other Independent readers and see their replies