The Independent's journalism is supported by our readers. When you purchase through links on our site, we may earn commission.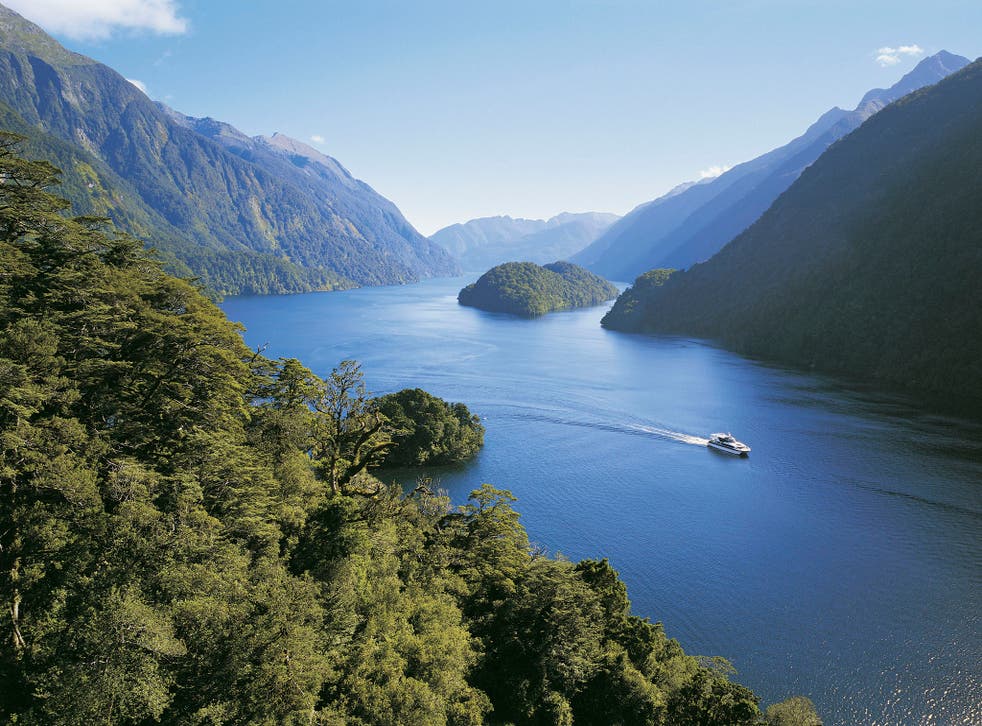 South Island, New Zealand: Dolphin watching, glacier hiking, island-hopping and more
The Cricket World Cup may be hotting up, but take your eye off the ball and you'll find plenty of thrills elsewhere
David Whitley
Friday 20 February 2015 09:00 Comments
Not so long ago, New Zealand's South Island could have been safely summed up with the phrase: "It's all about the scenery." The cities, while undoubtedly pleasant, were hardly worth the time investment if on a limited schedule. Walk around the island's main urban centres now, however, and you will find there is more than a whiff of cool about them.
Nelson, which along with Christchurch and Dunedin is hosting matches in the Cricket World Cup that runs until 28 March, was once seen merely as a gateway to Abel Tasman National Park. But the prime hop-growing country around it has seen Nelson turn into a sunny, slightly slacker town fuelled by craft beer.
Dunedin, meanwhile, has always relied on its Scottish heritage and a wealth of fine Victorian buildings. However, many of those were under-utilised – they stand in the old Warehouse District to the south, the city's central focus having moved north over the decades. Fortunately, the Warehouse District is starting to come back to life. Time-worn façades are being restored as firms move into old banks, while architectural practices, organic food stores, cafés and bars are also cropping up.
Christchurch is going through the biggest change. Four years after the earthquake that killed 185 people, the city is at a crossroads. The semi-collapsed cathedral – long the city's symbol – represents the dilemma in microcosm: spend millions trying to restore it, or run with something radically different in its place? A faithful reconstruction of the past would return Christchurch to its place as the most English of Kiwi cities – a pastiche of a romanticised Gloucester or Worcester. But the pop-up shops, bars and restaurants sandwiched between the rubble and in shipping containers hint at a creative energy that it may be wiser to harness.
The urban hub that most closely encapsulates what visitors come to South Island for is Queenstown. Surrounded by mountains, and tucked beside a zig-zagging glacial lake, it is the country's all-action, year-round resort town of choice. Numerous ski fields are close at hand in winter, while the world's first commercial bungee jumping site, on the Kawarau Bridge, ushered in an array of high-adrenalin activities. Skydiving, jetboating, whitewater rafting, quad biking and paragliding are all in the mix.
In pictures: South Island, New Zealand

Show all 5
In the past, this high-energy focus made Queenstown something of a one-note party central, but this is changing with a string of highly regarded, upmarket restaurants opening in the past few years. It helps, of course, that the Central Otago cellar doors are on the doorstep. The local wineries are renowned for world-beating pinot noir but the country's best known variety is sauvignon blanc, which is best chugged in the Marlborough region in the north-east. Boat trips and kayaking tours around Marlborough Sounds offer a more idyllic – if less dramatic – alternative to the mist-shrouded fjords of the south-west.
Most package itineraries taking in both of New Zealand's main islands have a heavier weighting on South Island, and with good reason. It packs in more outright "wow" moments. For example, Discover The World's 21-day Discover Aotearoa itinerary spends nine days on North Island before heading south for glaciers, lakes, fjords and mountains. It costs from £1,562 per person, including car hire and accommodation but not flights.
For the time-pressed, Anzcro (01872 885 979; anzcro.co.uk) sells an 11-day self-drive trip that focuses solely on South Island, including car hire and mid-range accommodation but not flights, from £750 per person.
Ramblers Worldwide Holidays (01707 331 133; ramblersholidays.co.uk) runs a 21-night South Island trekking trip for the more adventurous from £6,399. It includes return flights with Singapore Airlines from Heathrow to Christchurch via Singapore, ground transport and accommodation. This takes in the Franz Josef Glacier and Mt Aspiring National Park before moving on to two of New Zealand's multiple-day Great Walks – the Milford and Routeburn Tracks.
Glacier cherries
The twin Fox and Franz Josef glaciers on the west coast are ripe for donning crampons and hiking through crevasses.
Franz Josef is arguably more spectacular but it is busier and only accessible by helicopter. Franz Josef Glacier Guides (00 64 3 752 0763; franzjosef glacier.com) runs half-day heli-hikes for NZ$325 (£158).
Those with high fitness levels can try a full day's introduction to ice climbing on Fox Glacier with Fox Glacier Guiding (00 64 3 751 0825, foxguides.co.nz) for NZ$499 (£243).
On the other side of the highest peaks in the Southern Alps, Tasman Lake has emerged in the past 25 years due to the rapid retreat of the Tasman Glacier. Icebergs periodically break off it, and you can paddle around them in sea kayaks with splendid views of 12,218ft Mount Cook, New Zealand's highest peak.
The half-day trip with Glacier Kayaking (00 64 3 4351 890; mtcook.com) costs NZ$155 (£76).
Call of the wild
Animal lovers will be right at home on the Otago Peninsula, which juts out from Dunedin.
The Taiaroa Headland is home to the world's only mainland albatross colony, and the nesting big birds can be watched from inside an old fort. Viewing tours at the Royal Albatross Centre (00 64 3 478 0499; albatross.org.nz) cost NZ$45 (£22). Monarch Cruises (00 64 3 477 4276; wildlife.co.nz) takes boat trips out to see the albatrosses and the many other seabirds swooping around the fruitful feeding grounds at the end of Otago Harbour, as well as fur seals on the rocks, with cruises costing NZ$49 (£24).
The world's most antisocial penguin species, the yellow-eyed penguin, also nests on the peninsula. Penguin Place (00 64 3 478 0286; penguinplace.co.nz) has installed a network of trenches and viewing hides so they can be observed without disturbance. Viewing tours cost NZ$52 (£25).
Forgotten islands
A choppy hour-long ferry journey from the bottom of South Island, Stewart Island is the only place where you're likely to see wild kiwis in the daytime. Eighty-five per cent of the island is national parkland, and the 20-mile Rakiura Track – one of New Zealand's nine "Great Walks" – ventures through it.
Basic hikers' hut accommodation is pre-bookable through the Department of Conservation (00 64 3 219 0009; doc.govt.nz) for NZ$22 (£11) a night. Stewart Island Experience (00 64 3 212 7660; stewartislandexperience.co.nz) sells accommodation at Stewart Island Lodge from NZ$195 (£95), and return ferry journeys from Bluff, at the foot of South Island, from NZ$130 (£63).
Birdwatchers should head to Ulva Island, a predator-free sanctuary that is only a short water-taxi ride from Oban, Stewart Island's only village. Ulva's Guided Walks (00 64 3 219 1216; ulva.co.nz) runs half-day twitching trips for NZ$125 (£61).
Sound decisions
Milford Sound, the most accessible of the fjords in the south-west of the island, is a must for any South Island itinerary. Most see it on a large cruise vessel, but kayaks get you closer to the wildlife and the imperious mountains surrounding it.
Go Orange (00 64 3 249 8585; goorangekayaks.co.nz) has launched a new four-hour beginner-friendly paddling trip for NZ$145 (£71).
Less crowded is the two-day trip to Doubtful Sound with Real Journeys (00 64 3 249 6000; realjourneys.co.nz), which includes an overnight cruise on the fjord and dolphin spotting. From the town of Te Anau, it costs NZ$424 (£207).
Where to stay
The rebuilding process after the Christchurch earthquake has seen new hotels spring up from the rubble. All 25 rooms at the five-star Hotel Montreal (00 64 3 943 8547; hotelmontreal.co.nz) come with balconies, and there is a croquet lawn plus summer theatre performances. Rooms cost from NZ$450 (£219), room only.
The Hotel 115 (00 64 3 928 2434; hotel115.co.nz), meanwhile, epitomises the new-found energy in a once fusty city. Furnishings have been deliberately picked to match the space, and bold colours are embraced with gusto. Doubles cost from NZ$139 (£68), room only.
On the Otago Peninsula, New Zealand's only castle has a range of accommodation within the grounds. The most memorable option at Larnach Castle is the country house-style, luxurious Camp Estate (00 64 3 476 1616; larnachcastle.co.nz), with rooms from NZ$460 (£224) including breakfast.
Getting there
The only one-stop route from the UK to South Island is with Singapore Airlines (020 8961 6993; singaporeair.com), which flies from Heathrow to Christchurch via Singapore.
If you are visiting both islands, Air New Zealand (0800 028 4149, airnewzealand.co.uk), Singapore Airlines and Cathay Pacific (020 8834 8888; cathaypacific.com) all fly to Auckland from Heathrow with one stop. Cathay also flies from Manchester. Air New Zealand and Jetstar (00 64 9975 9426; jetstar.com) offer connections from Auckland to Christchurch.
If you are combining Australia with New Zealand, Queenstown and Dunedin are alternative entry points. Air New Zealand, Jetstar, Virgin Australia (0800 051 1281; virginaustralia.com) and Qantas (0800 964 432; qantas.com.au) offer various connections from Australia.
Click here to find flights to Christchurch
Getting around
Hiring a car is the best option, with international chains represented at Christchurch Airport and rental from about £30 a day. The sparsely populated South Island is also well-suited to campervans. Apollo (020 7193 2066; apollocamper.co.nz) offers 17 days' hire from £214. Other operators include Jucy (0808 234 7261; jucy.co.nz) and Kea (00 64 9 448 8800; keacampers.com).
InterCity buses (intercity.co.nz) connect the main city hubs.
Register for free to continue reading
Registration is a free and easy way to support our truly independent journalism
By registering, you will also enjoy limited access to Premium articles, exclusive newsletters, commenting, and virtual events with our leading journalists
Already have an account? sign in
Register for free to continue reading
Registration is a free and easy way to support our truly independent journalism
By registering, you will also enjoy limited access to Premium articles, exclusive newsletters, commenting, and virtual events with our leading journalists
Already have an account? sign in
Join our new commenting forum
Join thought-provoking conversations, follow other Independent readers and see their replies