The Independent's journalism is supported by our readers. When you purchase through links on our site, we may earn commission.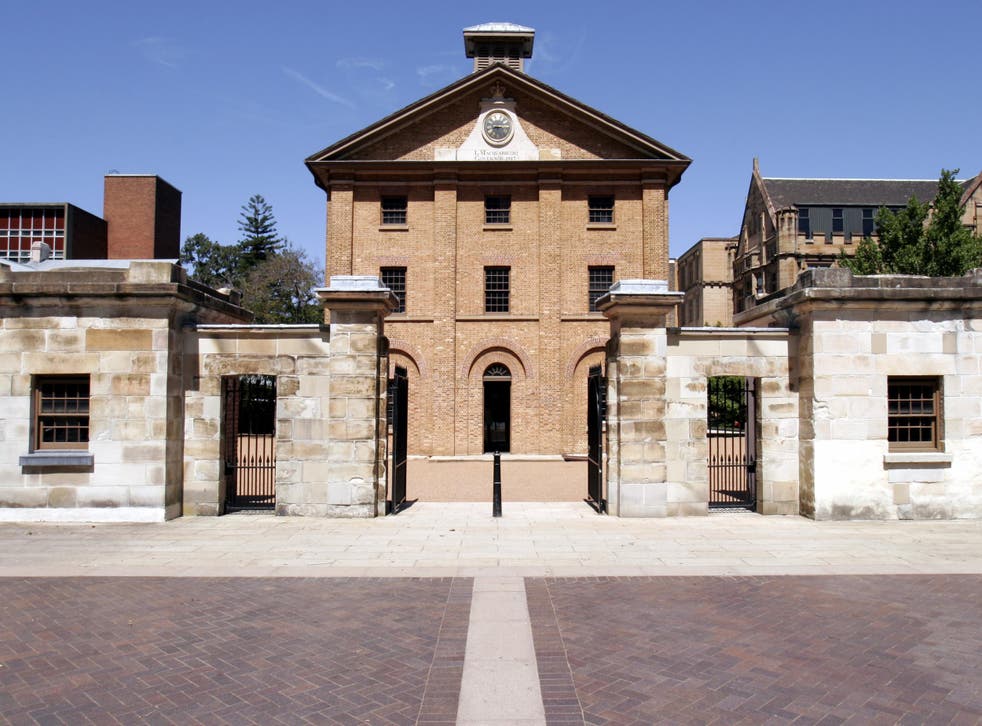 How one man went from convict to Sydney's chief architect
From fraudster to darling of Governor Macquarie, Francis Greenway left a lasting mark on the city
David Whitley
Thursday 14 April 2016 14:16 Comments
Engraved high on St James' Church, in pride of place above the sandstone pillars facing Hyde Park, is a dedication to former New South Wales Governor Lachlan Macquarie. Such dedications aren't exactly tricky to find around Sydney – Macquarie was a consummate egotist who revelled in naming things after himself, and made darned sure he was recognised on as many plaques as possible.
Macquarie was the governor of the fledgling colony between 1810 and 1821, and in the process became a major figure in Australian history. He is regularly credited as the man who set a distant prison on the course to becoming a country. But on the side of the church is another, easily ignored and almost apologetic plaque: "In memory of Francis Greenway, architect of this church, and of the artisans and labourers who erected it."
Greenway had designed a few buildings around his native Bristol before he was declared bankrupt in 1809 and pled guilty to forging a financial document in 1812. He was sentenced to transportation, and arrived in Sydney two years later. It was a place where unskilled convict labour was plentiful, but talent was in short supply.
It was also something Macquarie desperately needed. He had grand plans, and was determined to transform Sydney from a glorified hovel via infrastructure and major public buildings. So 200 years ago, on 30 March 1816, he appointed Greenway as the colony's Acting Civil Architect.
Opposite St James' Church is another of Greenway's buildings, and perhaps the one that best explains why his appointment was such a controversial step. The Hyde Park Barracks was built to house the convicts who were being sent over from Britain in ever-increasing numbers.
The mindset of Macquarie's superiors in London was that New South Wales should primarily be a place of punishment, and a deterrent to crime in Britain. There was, however, plenty of opportunity and wealth here too, at least for the "exclusives" (free settlers), many of whom came over as soldiers and were given large land grants plus free convict labour. Appointing Greenway - a convict - to such a senior position was a huge challenge to a cosy little club that was already getting loudly demonstrative about Macquarie giving land and status to those he had emancipated after serving time.
The Hyde Park Barracks is Greenway's most famous building, a chunky red brick beast that now houses Sydney's best museum. Until it was repurposed as an immigration centre in 1848, it played temporary home to over 50,000 convicts. Artefacts and documents from this era are used alongside smartly-harnessed technology to build a picture of what life was like here. It covers everything from the grim sea voyage over from Britain to the regularly fraught relationships with local Aboriginal clans.
Further up Macquarie Street – no prizes for guessing who chose that name – is another Greenway effort. Now the Conservatorium of Music, it was originally the stables for Government House, and Greenway went a little overboard on the whimsy. It is surrounded by turrets and other castellations, an absurdly over-the-top design for somewhere to keep horses. This was one of the projects Macquarie decided to keep off the books until it was almost finished; if he knew he wouldn't get permission, he simply did it anyway.
A mark of Greenway's buildings is that he doesn't stick to one particular style. His first effort for Macquarie – and the one that won Greenway his emancipation – was the Macquarie Lighthouse at Dunbar Head, 2km south of Sydney Harbour's South Head. That has since been rebuilt in much the same style with sturdier materials, but makes heavy use of curves and simple symmetry, with the two cupola-topped side sections either side of the tower giving it a somewhat phallic look.
Walking between the Hyde Park Barracks and the Conservatorium shows that Macquarie's strategy, often aided by Greenway's designs, worked in the longer run. Macquarie Street is almost entirely lined by grand buildings, whether public such as the Mint, Hospital, State Library and Parliament House, or the private sandstone townhouses built by the colony's growing band of wealthy merchants.
Further north, just back from thronging, ferry-packed Circular Quay, is an often-overlooked triangle of public space called – somewhat predictably - Macquarie Place. There stands an obelisk, designed by Greenway, and engraved with distances to other towns in New South Wales. The obelisk is still the spot from which road distances are measured, and the vast majority of those towns didn't exist before Macquarie came to power.
One of those towns is Windsor, stated on the obelisk as 35-and-a-half miles to the north-west. It's a pretty town on the banks of the Hawkesbury River, and home to perhaps Greenway's loveliest work. The cornerstone of St Matthew's Church was laid by Macquarie in 1817, and when Greenway went up to investigate why the initial construction was going so slowly, he decided the builders weren't following his design properly and were using inferior quality bricks. He had the thing razed to the ground, sacked the builders and oversaw everything himself from then on.
The stout brickwork, daintified by inset arches, bears a resemblance to the Hyde Park Barracks. The cupola-topped tower gives more than a passing nod to the Macquarie Lighthouse. You'd be hard-pressed to find a better symbol of the Macquarie era's move away from bare minimum rudimentals to bold, future-shaping visions.
Travel essentials
Getting there
David Whitley flew with Etihad (0345 6081225; etihad.com), which serves Sydney from Heathrow via Abu Dhabi. Economy returns from £725.
Staying there
The Old Clare (00 61 2 8277 8277; oldclarehotel.com.au) offers doubles from A$270 (£123), room only.
Visiting there
Context Travel (contexttravel.com) offers a historian-led three-hour Making of Sydney walking tour for A$72 (£38).
More information
Register for free to continue reading
Registration is a free and easy way to support our truly independent journalism
By registering, you will also enjoy limited access to Premium articles, exclusive newsletters, commenting, and virtual events with our leading journalists
Already have an account? sign in
Register for free to continue reading
Registration is a free and easy way to support our truly independent journalism
By registering, you will also enjoy limited access to Premium articles, exclusive newsletters, commenting, and virtual events with our leading journalists
Already have an account? sign in
Join our new commenting forum
Join thought-provoking conversations, follow other Independent readers and see their replies