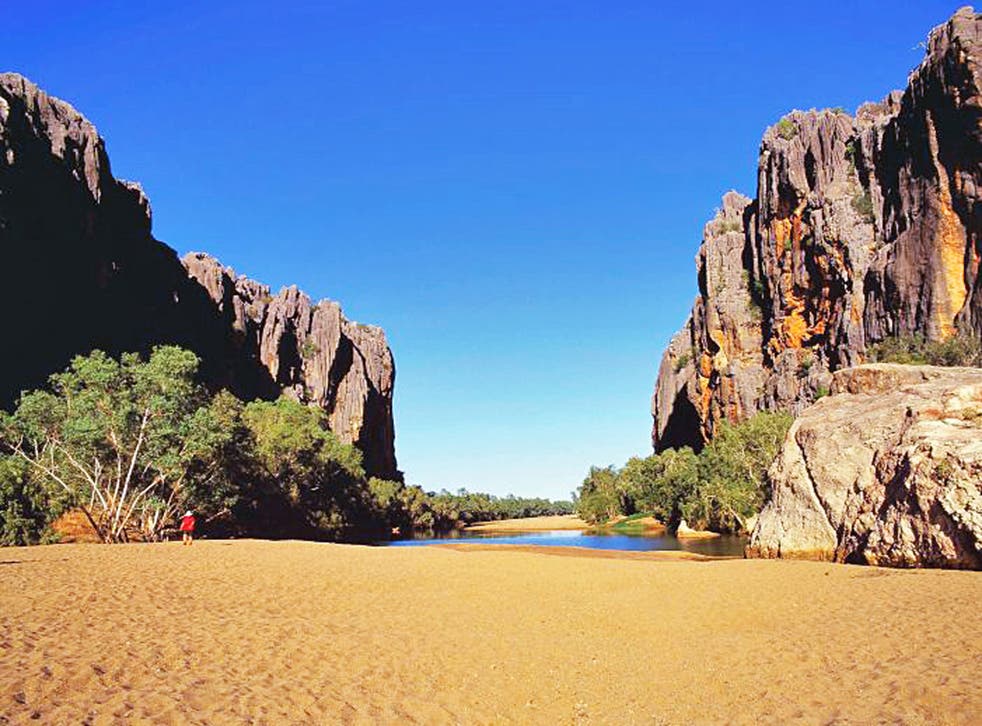 Traveller's Guide: Western Australia
With empty beaches, captivating landscapes and a rich pioneer heritage, the biggest state in the nation offers adventure, intrigue and fine wine. By Nick Redmayne
It accounts for nearly a third of the country but Western Australia is home to just 10 per cent of the population. It stretches from the Timor Sea to the Southern Ocean and is remote as well as vast; the state capital, Perth, is closer to Jakarta than to Sydney. Only around one in eight foreign tourists who come to Australia make it to the state, but those who do decide to head west will almost certainly find the Australia of their imaginations.
Western Australia has its urban distractions. In Perth, glittering skyscrapers carry the names of mining firms and financial service companies – no sign of a recession here (the Australian dollar remains eye-wateringly strong). Have lunch overlooking the Swan River at the Lucky Shag (00 61 8 9221 6011; luckyshagbar.com.au) but don't choke on your A$10 (£5.50) pint. Then take a boat from the nearby jetty to Rottnest Island and try to spot a diminutive marsupial quokka. For dinner, Perth's Northbridge Chinatown buzzes with noisy Asian eateries. Vegetarians can try Govindas (00 61 8 9227 1684; iskconperth.com), the Hare Krishna restaurant with excellent buffets at a bargain price. For coffee, check out the cafés along Fremantle's "Cappuccino Strip" or sink a late night glass of craft beer at Freo's Sail and Anchor (00 61 8 9431 1666; sailandanchor.com.au).
Perth's exciting fusion of European, Asian and Australian influences is addictive, but Western Australia's greatest assets lie in the tropical north, the Kimberley, where climate is defined as "the wet" and "the dry". Water has created a dramatic landscape of rivers, lakes, ravines and mountains here. In the heart, Mornington Wilderness Camp (00 61 8 9191 7406; australian wildlife.org) is operated by Australian Wildlife Conservancy and guest revenues support the work of resident scientists. Double en-suite safari tents cost from A$570 (£310), full board .
Western Australia

Show all 7
westozactive.com.au
Ningaloo Marine Park, near Exmouth, is the west's answer to the Great Barrier Reef. It runs for almost 150 miles. At Coral Bay and the Cape Range peninsula, you can swim out from the beach to snorkel over the reef, searching for sea turtles and sharks. Further offshore, whale sharks and humpbacks make seasonal migrations. Ocean Eco Adventures (00 61 8 9949 1208; oceanecoadventures.com.au) does day-long whale shark and reef cruises from Exmouth (A$395/£216, including lunch and a DVD).
Inland, the goldfields of Coolgardie and Kalgoorlie catalysed the 19th-century settlement as railways followed the miners and opened up the country. With super-size mines and high technology tools they're still digging today. DialAFlight (0844 811 4444; dialaflight.com) explores the Goldfields on its 14-day escorted tour from Perth. The price of £2,955 includes accommodation, transport and most meals.
South of Perth, Margaret River's temperate climate resembles that of Bordeaux and it accounts for nearly 20 per cent of Australia's premium wine. Leeuwin Estate (00 61 8 9759 0000; leeuwinestate.com.au) offers free tastings.
Towards the south-east, the rugged Stirling Ranges rise almost 3,600ft, with hiking trails that explore an area of exceptional biodiversity. The Stirling Retreat (00 61 8 9827 9229; stirlingrange.com.au) has doubles from A$145 (£80). The spring tours run by owners Tony and Ayleen Sands are highly recommended.
Heading south to the coast, a string of superlative beaches leads east from Esperance, only to be usurped by the next arc of brilliant white sand and aquamarine water. Here, Lucky Bay in Cape Le Grand National Park is officially "Australia's Whitest Beach".
Let's get off-road
More than 400 miles of corrugated red dirt run between Derby and Kununurra, where the Gibb River Road cattle route bisects the Kimberley region. During "the dry" it is one of Australia's most achievable off-bitumen adventures. The route has been steadily improved, the roughest sections graded, and in some cases sealed. But fuel is limited so carrying a jerrycan and a minimum of two spare tyres with a working jack is vital. Blasting along is not what the Gibb is all about. The journey's highlights are the Kimberley Gorges. From Windjana, Lennard, Bell and Adcock's to Manning, Mt Barnett and Galvan's, each has a unique character and all have sublime swimming holes. There are many camping spots but pastoral stations now offer accommodation too, some effectively becoming resorts. For an authentic experience, Mt Elizabeth Station (00 61 8 9191 4644; mountelizabethstation.com) is at the halfway point and has doubles from A$379 (£202) including half board. Guided tours on request.
Walk about
Some 270 miles south east of Perth, Toolbrunup (3,451ft) is the best summit hike in the Stirling Ranges. Signs warn you to "Turn Back Now …" if you're not "fit and agile", and the climb is a precipitous three- to four-hour slog, but you'll probably have the mountain to yourself and the views reward your exertions. There are no guided hikes but the trail is well marked.
Alternatively, the Bibbulmun Track (bibbulmuntrack.org.au) from the Darling Ranges east of Perth to Albany on the south coast is a stretch of over 620 miles divided into nine hikes.
Beaches with benefits
Each evening in the west-coast resort of Broome, Cable Beach witnesses a vehicular passeggiata as four-wheel-drives trundle on to its 14-mile expanse and simply wait. The focus of this ritual is the setting sun, and even jaded travellers are wowed by the combination of vivid crimson skies reflected in glittering sand and seas.
The beach itself was named after a submarine cable laid in 1889 connecting the island of Java and points beyond, The telegraph station later became Broome's courthouse and still survives.
Elsewhere, the inland Lake Ballard stretches the definition of beach. However, this remote saltwater lake near the Goldfields town of Menzies is the site of Anthony Gormley's (anthonygormley.com) intriguing Inside Australia installation: 51 stylised figures based on laser scans of Menzies inhabitants stand spaced across almost three square miles of shimmering, salt-encrusted silt.
To see all the figures close up takes seven hours. Due to intense heat, walking alone on the lake is discouraged.
Wild things
Western Australia has a vast population of snakes, sharks, crocodiles and spiders. Some, such as king brown snakes and saltwater crocodiles, are best avoided. However, to concentrate only on those species which bite or sting is to ignore the region's richer natural history which includes incredibly diverse plant, bird and cetacean life. Specialist operator Naturetrek (01962 733 051; naturetrek.co.uk) runs three naturalist escorted small group tours that focus on different aspects of the state's flora and fauna. A 12-day "Endemics of Western Australia" holiday concentrates on those birds which are unique to the state and explores the region's south west, around Dryandra Woodland, Albany, Pemberton and Cape Naturaliste. Among the species sought are the rufous treecreeper, the red-capped parrot and the blue-breasted fairywren. The price of £3,995pp includes flights from Heathrow to Perth via Dubai, hotel accommodation and all meals. The next departure is 24 September.
Where to stay
One of Perth's newest properties, The Terrace Hotel (00 61 8 9214 4444; terracehotelperth.com.au) has doubles from A$359 (£196) including breakfast. The hotel's 15 rooms occupy St George's House, an elegant building at the heart of the city, built in 1892 as an ecclesiastical residence. Rooms combine four-poster beds and gilt-framed oil paintings with the obligatory array of technology.
Far removed from city lights, Sal Salis (above; 00 61 2 9571 6399; salsalis.com.au) is a luxury tented camp among the dunes of Cape Range National Park and the park's only commercial accommodation. A three-night stay in a double en-suite tent costs from A$1,460 (£796) including all meals and a guided snorkelling session on the Ningaloo Reef. The camp has no phone and no mobile-reception. Electricity is solar, water for showering is limited to 20 litres per day and toilets are composting – but at night the starry skies are free of charge.
Travel essentials
No airline serves Western Australia direct from Europe. Among the carriers with same-airline connections are Singapore Airlines (0844 800 2380; singaporeair.co.uk) from Heathrow and Manchester via Singapore; Emirates (0844 800 2777; emirates.com) from Heathrow, Gatwick, Birmingham, Manchester, Newcastle and Glasgow via Dubai; and Malaysia Airlines (0871 423 9090; malaysiaairlines.com) from Heathrow via Kuala Lumpur.
Most flights within Western Australia are provided by the regional operations of Qantas (08457 747 767; qantas.com) and Virgin Australia (0800 051 1281; virginaustralia.com).
Travelbag (0871 703 4698; travelbag.co.uk) offers Emirates flights from London to Perth and a week's "Britz Safari" four-wheel-drive campervan hire from £1,169pp.
TransWA (00 61 8 9326 2600; transwa.wa.gov.au) runs trains from Perth to Australind, Bunbury, Kalgoorlie, Merredin and Northam; and buses as far north as Kalbarria and Meekathara and east to Esperance. The long-distance Indian Pacific (00 61 8 8213 4401; greatsouthernrail.com.au) train stops in Kalgoorlie en route to Adelaide, Broken Hill and Sydney.
South West Coachlines (00 61 8 9753 7700; southwestcoachlines.com.au) has a modern fleet with free Wi-Fi and in-seat entertainment.
Join our new commenting forum
Join thought-provoking conversations, follow other Independent readers and see their replies