The Independent's journalism is supported by our readers. When you purchase through links on our site, we may earn commission.
Uluru's waterfalls: The side only only 1% of visitors see
Think of Uluru and you immediately think dry, hot and arid. Only one in a hundred tourists sees its other side – when it rains, and the rock is enveloped in waterfalls. Lisa Jackson joins the elite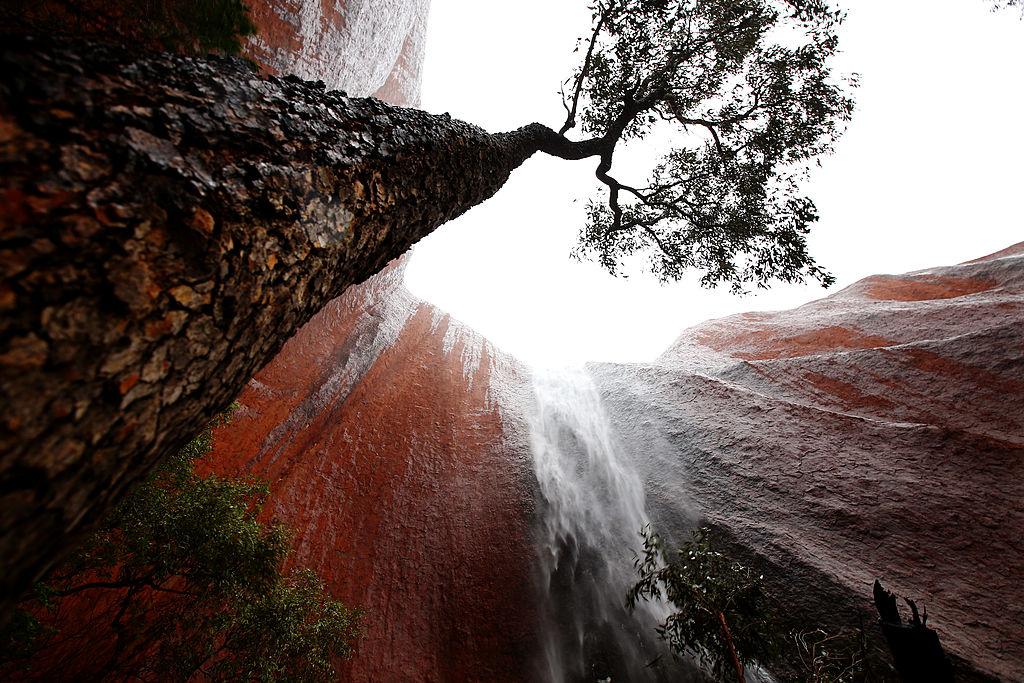 "We've just spotted our first waterfall," says our guide, her voice rising with excitement. "Get those cameras ready!"
She's referring to the rare waterfalls at Uluru – the legendary, rust-red sandstone monolith rising from Australia's Uluru-Kata Tjuta National Park. And you know when locals are excited, it must be special. In the distance, I see a skinny stream cascading down the rock's grooves, like white icing dripping down a red velvet cake. A layer of cloud hangs overhead, giving the rock an ethereal appearance. It's Uluru as I've never seen it.
Known by settlers as Ayers Rock, Uluru has been a significant spiritual site for the indigenous Anangu people for 60,000 years, steeped in ancient stories about its creation. Today, the rock is also an Australian icon, appearing in photographs around the world and attracting 250,000 visitors annually to the park.
But it's estimated that only 1 per cent of visitors see Uluru in the rain. This region is one of the driest in Australia, experiencing extremities ranging from as high as 47 degrees in the daytime to below zero at night. When it does rain – a grand total of, on average, 300mm per year – water pours off the rock, creating spectacular waterfalls that most tourists seldom see.
Uluru's waterfalls
Show all 17
"The waterfalls are truly spectacular, but being a desert, we can never guarantee rain," says Miranda Schooneveldt, communications manager with Parks Australia. January to March is the time of year when you have the best chance for heavy rain – but a storm can strike at virtually any time throughout the year and, as luck would have it, a monsoon hits just hours after I step off the plane, even though I'm visiting in May.
Unlike my guide, my first reaction to rain isn't joy. I've got plans, after all. Like many tourists, I'm eager to witness the sublime sunrise and sunset – when Uluru changes colours like a chameleon – as well as stargaze from my tent at legendary posh glampsite Longitude 131. All these grand plans unravel with the storm's onslaught. There are safety issues too, of course. Storms here are not always tame spectacles – when a huge tempest hit in December 2016, flash flooding forced the park to evacuate. The incident was a sobering reminder of how quickly nature can shift from dazzling to deadly.
There are, however, perks to being part of the 1 per cent.
Our guide loads us into a van, armed with waterproof ponchos, and we speed down the highway to explore Uluru's base. Ominous storm clouds congregate overhead and fat raindrops pummel the desert, denting the red dirt like a nail gun. It's too overcast to see the sunset tonight, but we're chasing a different spectacle.
Huddled under an umbrella, I follow a dirt path zigzagging alongside Uluru. With the showers, the stone has morphed from a flame red to a grey-purplish hue. Eventually, the trail falls away to reveal a roaring waterfall, dancing down a chasm into a pool below. A kangaroo grazing nearby looks up, ears pert, and in a split second, hops away.
"It's rare to see a 'roo around here," says our guide. "But the showers attract thirsty animals."
For an hour, I wander Uluru's base, chasing every spout and spurt gushing down the ridges and ruts. With every new angle, the rock seems to change colour – sometimes black, sometimes chocolatey brown, sometimes even olive green. Even our guide whips out her phone and starts snapping photos.
"I've never seen it like this before!" she says.
On our final day, I wake up at dawn in my safari tent and step outside. Across the desert, the rock blushes pink from the first light, and my only companion at this early hour is a bright green lizard scurrying across the sand. The rain has let up, so I opt for a morning hike at Kata Tjuta – the ancient sandstone domes, known as the Olgas by settlers, that rise from the horizon like camel's humps.
Feeling like a measly speck, I trek between towering valleys, now blazing molten and rust red against a sapphire blue sky. It's as if the downpour has bathed, painted, and polished these mighty beings overnight. The trail itself is no piece of cake: I scale boulders and loose rocks and, at one point, scramble up a craggy wall. I can't imagine hiking in the scorching heat – luckily the storm has gifted us cooler weather.
But it's worth the effort to reach the lookout. After its long drink, the desert has come alive: sun-scorched shrubbery has turned to lime, avocado, and forest green, and the red dirt erupts with purple and pink wildflowers. The pesky flies are gone, but I spot a dingo sauntering across the sand, searching for a snack.
The monsoon brings out other wildlife, too. The trail is flooded on the last stretch, so I gingerly step into the brush alongside the river to avoid getting drenched.
And then I see him: a striped snake at least a metre long, slithering through the shrubbery. I jump back, content to wade through the flooded-out trail to avoid a potentially deadly bite.
Later, I recount my tale to my fellow guests, while sipping prosecco in the shadow of Uluru. There's a rumble of thunder and it starts drizzling; but instead of cursing my luck, I raise my flute to the red rock in appreciation – rainfall and all.
Travel essentials
Getting there
Etihad flies from Heathrow and Manchester, via Abu Dhabi, to Sydney and Melbourne. From there, take a connecting flight to Ayers Rock Airport.
Staying there
Longitude 131 is the pinnacle of luxury – an opulent tented safari-style lodge and the only accommodation that faces Uluru. At night, light the outdoor fire pit, unroll a "swag bag" on the terrace, and then lie back and stargaze into the evening. Rates start at £800 per person, per night, but includes all dining, open bar, in-suite bar, guided tours, and airport transfers.
More information
A visit to the Cultural Centre is a must – allot a few hours so that you can learn more about Uluru, its traditional owners, and the natural environment, as well as shop for local indigenous artwork.
Join our commenting forum
Join thought-provoking conversations, follow other Independent readers and see their replies