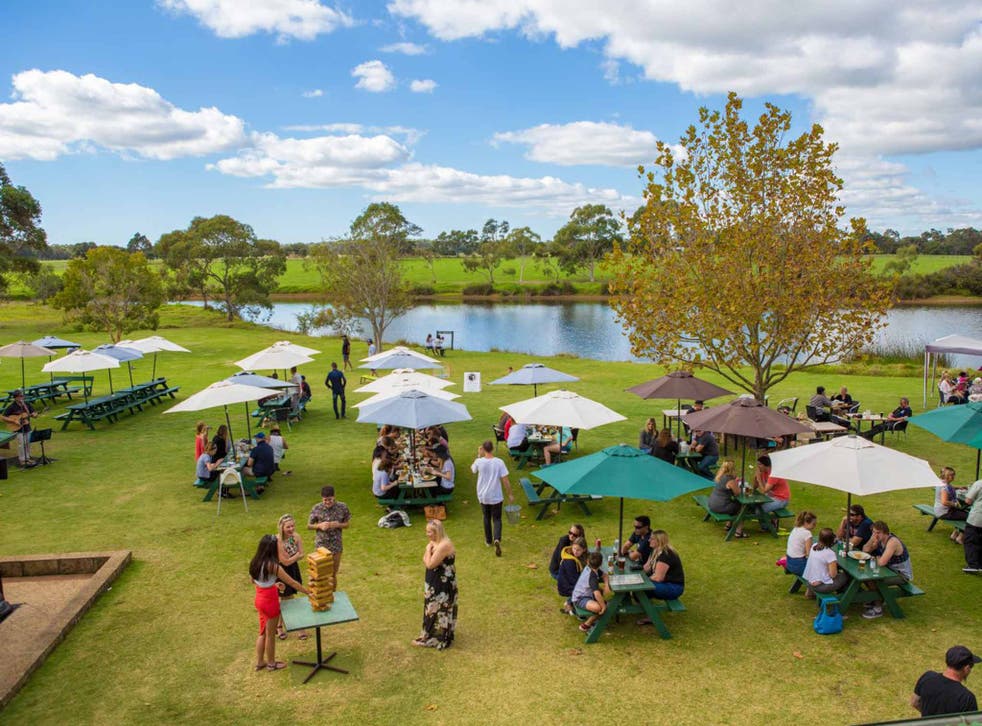 Western Australia's microbreweries: Tap into Margaret River
​In a region known for wines, the grain is swiftly gaining on the grape, as David Whitley found 
The neatly arranged vineyards on the other side of the mini lake come as no surprise. Neither do the bottles of Killerby and Ferngrove wines stacked up in the shop, ready to be swooped upon by wine tourists. This is, after all, Margaret River, the darling wine region of those who prefer their Australian drops prestige rather than plonk.
The region accounts for three per cent of Australia's wine production, but approximately 20 per cent of the premium market. Since the first experimental vines were planted at Vasse Felix in 1967, about 200 wineries have cropped up. A three-hour drive from Perth airport, its location and favourable soils have seen it become a burgeoning wine tourism destination – firstly with weekend breakers from the city, then with the rest of the world.
But on the tables overlooking the lake, there's not a wine glass to be seen. Since 2012, the grape has surrendered this particular spot to the grain. The Cheeky Monkey microbrewery is a bold, beery venture into wine country, with shimmering silver tanks displayed proudly and the list of hand-pulled beers playing with styles from around the world. The tasting paddle features sample-sized glasses of a pilsner made with New Zealand hops, a red session ale with Munich malts and cascade hops and a deliciously intrusive Belgian-style IPA.
Head brewer Ross Terlick introduces himself as "chief grunt". He's proud to be making "all-natural beer, with no preservatives or chemicals" and excited about a new canning machine. It will help get the beers into Perth bottle shops (off- licences), and eventually the rest of Australia.
But the surprising thing is that this plucky little upstart is not alone. Ross says: "We're the youngest of – I think – 11 breweries in the region. That makes Margaret River the most brewery-rich regional area in Australia. Although, with 180-odd wineries, we've got some catching up to do."
Very quietly, the area is diversifying. Wine tourism has brought in excellent restaurants, but it has also created viable opportunities for chocolate factories, cheese makers and – yes – breweries to grab some of the passing trade. While many tour companies drop in for chocs and cheeses as a break from the wineries, Taste The South Tours devotes a day trip to microbrews. Sabine Schaaf, who runs the company with her husband, doesn't even drink beer. But experience has shown she's the best bet as driver. "Groups of boys from Perth tend to behave themselves more when Mum's in the car," she grins.
As the bus goes between breweries, it's clear lessons have been borrowed from the wineries. The Colonial Brewing Co, like many, has a marvellous setting: pastures and a pond in front, and Bramley National Park to the side. The pale ale is inspired by the altbiers of Düsseldorf, the wheat beer has coriander and cumin undertones, and the Canadian IPA a touch of maple syrup. As at the wineries, tasting notes are provided.
The longest-standing brewery in the region is arguably the most impressive. Bootleg was set up by Thomas Reynolds, a retired teacher, in 1994. Reynolds noted the success of the Sail and Anchor and Matilda Bay breweries in the Perth area, and foresaw an opportunity to cling to the imminent wine tourism boom. What started as a small restaurant with two beers made on site is now a 300-seater with seven beers and a cider. Of these, Tom's Amber Ale packs plenty of flavour and depth into a 3.5 per cent session beer. But the hands-down winner is the Raging Bull dark ale, a mammoth 7.1 per center that goes strong on coffee and fruit and is made proudly with Australian malts and hops.
General manager Michael Brooks reckons the brewing scene is only going to expand. A new brewery is under construction on the approach to Margaret River town, while Sydney craft specialist Young Henrys is planning to open a facility.
As he brings the tasting paddle over, Michael says: "Welcome to the Margaret River beer region." It's testament to how things have changed that this is only partly tongue in cheek.
Getting there
Etihad Airways (0345 6081225; etihad.com) flies to Perth via Abu Dhabi from Heathrow, Manchester and Edinburgh.
To travel onwards to Margaret River, hire a car from the airport or travel with South West Coach Lines (00 61 8 9261 7600; southwestcoachlines.com.au) from A$63 (£30) one way.
Staying there
Darby Park Serviced Apartments, Margaret River town (00 61 8 9757 2033; darbypark.com.au). Rentals for two people start at A$152 (£74), room only.
Drinking there
Taste The South Tours (00 61 438 210 373; tastethesouth.com.au). Six-and-a-half hour brewery hopping trips are available for A$95 (£46). Tasting paddles are not included in the price.
More information
Join our new commenting forum
Join thought-provoking conversations, follow other Independent readers and see their replies