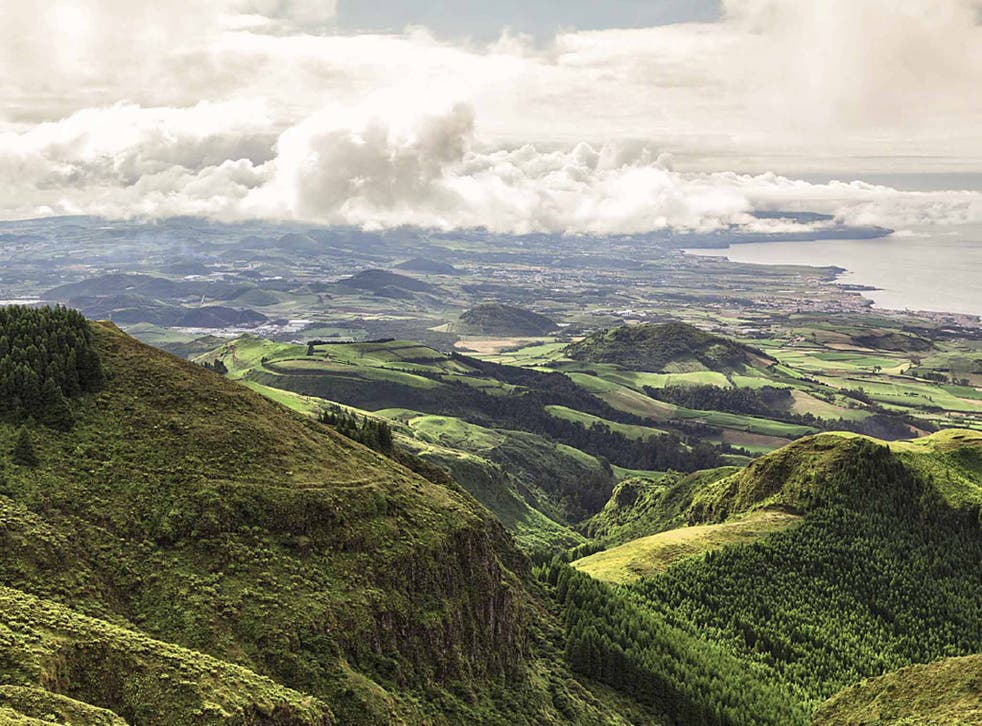 The Azores: Heart-stopping island-hopping in the Atlantic
Chasing cetaceans round this Portuguese archipelago gets the pulse racing, as does scaling its volcanic mountains and discovering whaling history, says Mike Unwin
Mike Unwin
Monday 22 September 2014 11:10 Comments
Seven minutes. I've been checking my watch. We rock gently with the swell, in limbo. There are 12 of us on board, all wearing identical waterproofs and scanning the same empty seascape. Moments ago, we were whooping with excitement as we slapped over the waves towards the distant spouts. But now it's a waiting game. Eight minutes …
"See the footprints?" says our guide, Susana Simiao, pointing out three living room-sized pancakes of still, flattened water beside our Zodiac. Some 20 metres apart, these mark the submarine downbeats of the whale's great tail-flukes, revealing the spot where it dived. "It might come up right here again," Susana tells us, "or it could be two kilometres away."
Our backdrop bobs on the horizon. Pico is the youngest of the scattered archipelago that makes up the Azores. Its dark flanks slope up to a duvet of cloud that, as usual, obscures the island's eponymous 2,351-metre summit. A glint of buildings betrays the tiny harbour of Lages. A white speck on the hillside above is a vigia, one of the lookout huts from which the whalers of the Azores once scanned these seas.
"There she blows!"
OK, so those are not my actual words. It's more of a strangled profanity I utter as, just 20 metres away, the sea ruptures in an explosion of spray. Up come the twin cavities of the blowhole, flaring cavernously as they blast out another towering geyser of whale breath. Then the rest of the 25-metre body: a muscular immensity slipping forward through the surface like a submarine. The mottled blue-grey flanks gleam silver as the last few metres slip back under the foam.
It's a blue whale: the largest creature in the history of our planet. Not the most demonstrative, perhaps – there is no flipper flapping or tail fluke salute (blues do the latter only for Attenborough, apparently) – but such histrionics are surely de trop when you top 150 tonnes and have a heart the size of a Mini Cooper.
From our puny inflatable we have a breathtaking sense of scale and power. And of privilege: while the Azores are famous for sperm whales, which for centuries were hunted in these waters, it is only in recent years that the much rarer blues – which pass through on spring and autumn migration – have been putting in reliable appearances. Researchers have now identified at least 24 different individuals, says Susana, of which four have since been recorded on their Arctic feeding grounds.
We follow discreetly, cameras whirring, as the whale surfaces and surges forward once more. Common dolphins leap ahead in a bow-riding escort. "I don't think it likes them," says Susana. "Watch." And with a stronger arch of the back that signals a deeper dive, the leviathan is gone once again. I look at my watch. One minute. Two …
Lages has long depended upon whales in one way or another. My quayside B&B overlooks the slipway up which the catch was once winched, tail-first. This brutal industry petered out in the 1980s but its history is preserved in a fascinating museum, where archive photographs depict the quayside awash with blood. In one room, I sit down to watch The Hunt, an extraordinary 1960s BBC film that documents in unflinching detail the hardship and courage of the whalers. A single whale earned the crew the equivalent of £9 a head. With 11-metre wooden boats and hand-held harpoons up against unhappy 50-tonne animals, casualties were common. "Here, whaling is an escape and whaling is a challenge," intones the clipped newsreel commentary. "Whaling is an art that will soon be dead."
Today, happily, showing live whales to tourists is proving more commercially viable. Frenchman Serge Viallelle was the first operator in the Azores and his company, Espaco Talassa, is more than just a tourist enterprise: Serge tells me how the data amassed by his team documents more than 25 different cetacean species around the Azores, and today he works with scientists at the forefront of cetacean research and conservation. That evening I chat to one of them, Karin Hartman, who has been studying the local Risso's dolphins for more than 15 years and has catalogued some 1,250 individuals.
My visit to the Azores started in Sao Miguel, the most populous of the nine major islands and under four hours from Gatwick on a non-stop flight.
As I strolled along the busy seafront of Ponta Delgada, its capital, it was easy to forget this Portuguese outpost is an isolated lump of basalt in the middle of the Atlantic, some 1,500km from Lisbon. While Pico, a baby at just 300,000 years old, is a classic oceanic island, with its towering volcano and lava-strewn terrain, Sao Miguel, nearly four million years older, has eroded over time into a gentler, more pastoral profile. More European, in short.
Sao Miguel's volcanic origins came to life, however, on my minibus tour with Geo Fun guide Pedro Freire, who explained vividly the forces that had shaped its topography. We scrambled over pumice-strewn shorelines to natural thermal baths, admired roadside pyroclastic lava flows and peered down from a misty caldera rim into the striking blue and green crater lakes of Sete Cidades.
From a cliff top in the north, Pedro pointed across an empty ocean towards the former location of Sabrina – a volcanic island that rose from the waves in 1811, was promptly claimed by the British, and then sank again, Union flag fluttering pointlessly in the Atlantic breeze.
The following day I set out in search of Sao Miguel's birdlife with Dutchman Gerby Michielsen, who has spent 25 years in the Azores. A wooden shearwater dangling from his rear-view mirror – Gerby does a sideline in hand-carved children's toys – emphasised the importance of these islands for seabirds. But the land birds are equally interesting, he explained. Those few that have made it across from mainland Europe – including goldcrest, blackcap and grey wagtail – are abundant, unusually tame and subtly different from their continental cousins. Certainly the local chaffinches had a distinct Azorean twang to their chirruping.
One such bird, the Azores bullfinch, has even evolved into a new, endemic species. In search of this avian celebrity, Gerby drove us up to higher altitudes, where we found a promising habitat of native laurels, heathers and giant blueberries. A short stroll down a quiet dirt track, then Gerby raised a finger to his lips and pointed. Sure enough, a pair of bullfinches was feeding quietly in a thicket. Binoculars revealed a rather monochrome version of the bird I know back home. But the species is unique and that, for birders, is the point.
Back in Ponta Delgada, after a day exploring, I wandered the old town, its narrow streets emblazoned with tiled mosaics and extravagant murals. Street bars offered African jazz, sizzling plates of grilled limpets (lapa grelhardas) and beer in foaming tankards.
Menu-wise, I stuck to the fish. My waiter at the Hotel Colegio extolled the sustainable hook-and-line practices of the Azorean fishery, and identified my excellent peixe do mercado grelhado (grilled catch of the day) as a dusky grouper. The wine – a frei gigante branco – came from Pico.
And it is on Pico, a 20-minute hop from Sao Miguel, that I end my week. There are other islands to discover. But I can't resist another shot at those big blues. Thus my final morning sees me back on the ocean, this time with Susana's colleague Rui, who swears he'll find me "something new".
And so he does. This morning the Atlantic puts on a show: first another blue whale; then three fin whales, the blues' migratory cousins, with their signature curved dorsal fin; and finally a sperm whale and calf, whose underwater echolocation clicks, Rui is able to detect using a submerged hydrophone. We watch the great square head of the female nudging above the waves as her youngster suckles down below – a reminder that these underwater giants are mammals, just like us. The two eventually upend tail flukes and dive. "These guys can stay down for an hour," explains Rui, turning the Zodiac for home.
As we race back to Lages, the sea churns with dolphins corralling a bait ball of sardines while shearwaters join the party from above. And there are still more surprises. First, a huge leatherback turtle, which peers at us myopically before paddling down into the depths. And then the island itself: which, with a conjurer's flourish, unwraps itself of cloud to reveal the gleaming and perfectly conical summit of Mount Pico.
An eruption would look good now, I think: that huge mountain spewing smoke and fire while whales spout from the seas all around. But perhaps after I've caught my plane.
GETTING THERE
The Azores airline, Sata (0844 482 1678; sata.pt), flies on the next four Saturdays between Gatwick and Ponta Delgada, Sao Miguel, for a fare of £338 return. Inter-island flights start at £46, one-way.
STAYING THERE
A one-week, tailor-made wildlife trip to the Azores with Archipelago Choice (017687 75672; azoreschoice.com) is priced at £1,140pp (based on two sharing). It includes return flights from Gatwick to Ponta Delgada, inter-island flights, transfers, select wildlife activities and tours, and accommodation with breakfast; four nights on Sao Miguel, three on Pico.
MORE INFORMATION
Register for free to continue reading
Registration is a free and easy way to support our truly independent journalism
By registering, you will also enjoy limited access to Premium articles, exclusive newsletters, commenting, and virtual events with our leading journalists
Already have an account? sign in
Join our new commenting forum
Join thought-provoking conversations, follow other Independent readers and see their replies