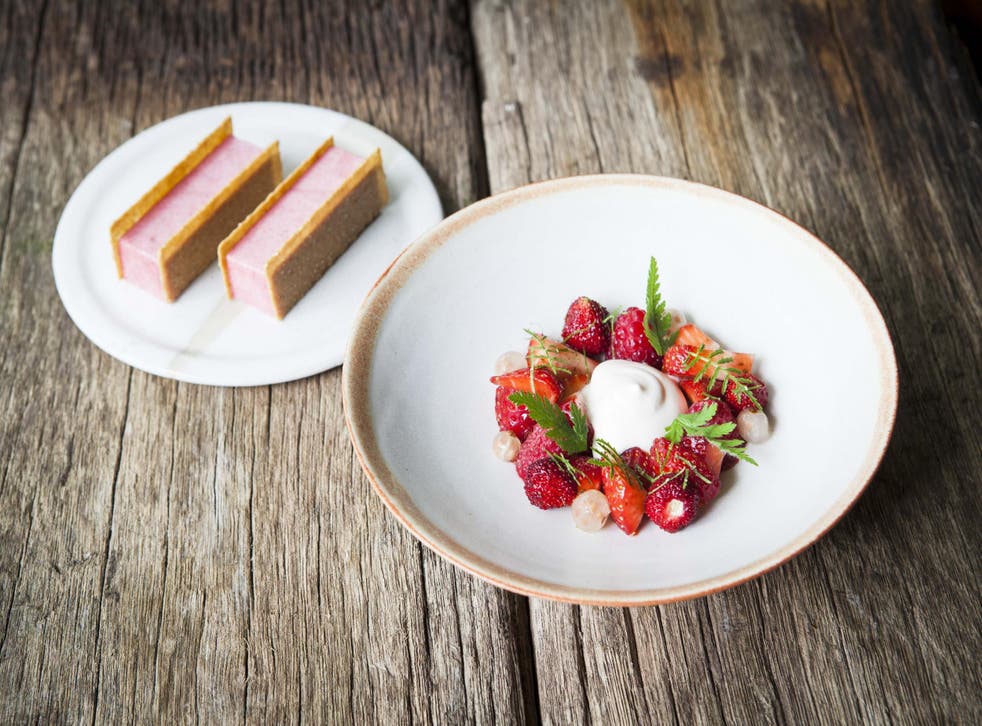 Yorkshire pub Black Swan named world's best restaurant
The top two restaurants in the world are in the UK
Rachel Hosie
Thursday 12 October 2017 10:05 Comments
A country pub in Yorkshire has been named the best restaurant in the world, based on customer reviews.
The Black Swan at Oldstead, North Yorkshire, has won the 2017 TripAdvisor Travellers' Choice Restaurants Awards.
And second place went to a British restaurant too: Raymond Blanc's Belmond Le Manoir Aux Quat'Saisons in New Milton, Oxfordshire.
This is the first time a British restaurant has taken the top spot since the awards began in 2012.
The Black Swan has also broken the two-year reign of of Martín Berasategui in Spain which had held the title since 2015.
The pub's success comes down to brothers Tommy and James Banks, who took over the establishment at the ages of just 17 and 19.
Four years ago, at the age of 24, Tommy Banks became the youngest British head chef ever to win a Michelin star.
Incredibly, this is the first time the Black Swan has featured in the awards at all.
Dishes on the menu include squid dressed in horseradish juice, Texel lamb with turnip and mint and cake made from chicory root and blackcurrant - many ingredients come straight from the garden.
Reacting to the award, Tommy Banks, Head Chef at The Black Swan at Oldstead said, "It's a huge honour to win this award, but what makes it really special is that it's been awarded because of feedback from our customers."
The Black Swan and Le Manoir Aux Quat'Saisons are two of three UK restaurants to feature among the world top 25 in the 2017 Travellers' Choice Restaurants awards. The third UK restaurant honoured among the world's best is Heston Blumenthal's The Fat Duck, which comes in 12th.
The Travellers' Choice Restaurants awards winners were determined using an algorithm that took into account the quantity and quality of reviews for restaurants around the world, gathered over a 12-month period.
There's no judging panel as is the case with other restaurant awards, so to win, a restaurant has to deliver both excellence and consistency.
Travellers' Choice Favourite Fine Dining Restaurants Worldwide:
The Black Swan at Oldstead, Oldstead, United Kingdom
Belmond Le Manoir aux Quat'Saisons, New Milton, United Kingdom
Maison Lameloise, Chagny, France
L'Auberge de l'Ill, Illhaeusern, France
Martin Berasategui, Lasarte, Spain
Daniel, New York City, United States
La Colombe, Constantia, South Africa
David's Kitchen, Chiang Mai, Thailand
Maido, Lima, Peru
El Celler de Can Roca, Girona, Spain
Restaurant Alcron, Prague, Czech Republic
The Fat Duck, Bray on Thames, United Kingdom
Restaurante Benazuza, Cancun, Mexico
Ristorante Don Alfonso 1890, Sant'Agata sui Due Golfi, Italy
DOC, Armamar, Portugal
i Latina, Buenos Aires, Argentina
Chez Bruno, Lorgues, France
The Grove, Auckland Central, New Zealand
Indian Accent, New Delhi, India
TRB Hutong, Beijing, China
Azurmendi, Larrabetzu, Spain
Muse Restaurant, Pokolbin, Australia
Voila Bistrot, Paraty, Brazil
The French Cafe, Auckland Central, New Zealand
Funky Gourmet, Athens, Greece
Travellers' Choice Favourite Fine Dining Restaurants Europe:
The Black Swan at Oldstead, Oldstead, United Kingdom
Belmond Le Manoir aux Quat'Saisons, New Milton, United Kingdom
Maison Lameloise, Chagny, France
L'Auberge de l'Ill, Illhaeusern, France
Martin Berasategui, Lasarte, Spain
El Celler de Can Roca, Girona, Spain
Restaurant Alcron, Prague, Czech Republic
The Fat Duck, Bray on Thames, United Kingdom
Ristorante Don Alfonso 1890, Sant'Agata sui Due Golfi, Italy
DOC, Armamar, Portugal
Chez Bruno, Lorgues, France
Azurmendi, Larrabetzu, Spain
Funky Gourmet, Athens, Greece
Ciel Bleu Restaurant, Amsterdam, The Netherlands
Noma, Copenhagen, Denmark
Da Vittorio, Brusaporto, Italy
Teppanyaki Restaurant Sazanka, Amsterdam, The Netherlands
Terasa u Zlate Studne, Prague, Czech Republic
Waterside Inn, Bray on Thames, United Kingdom
The Three Chimneys, Colbost, United Kingdom
Le Cinq, Paris, France
Epicure, Paris, France
Es Calo Restaurant, Calo de Sant Agusti, Spain
Disfrutar, Barcelona, Spain
Uliassi, Senigallia, Italy
Travellers' Choice Favourite Fine Dining Restaurants UK:
The Black Swan at Oldstead, Oldstead, North Yorkshire
Belmond Le Manoir aux Quat'Saisons, New Milton, Oxfordshire
The Fat Duck, Bray on Thames, Berkshire
Waterside Inn, Bray on Thames, Berkshire
The Three Chimneys, Colbost, Isle of Skye
L'Enclume, Cartmel, Cumbria
Adam's, Birmingham, Midlands
Quay Fifteen, Southampton, Hampshire
The Five Fields, London
Aizle, Edinburgh
Register for free to continue reading
Registration is a free and easy way to support our truly independent journalism
By registering, you will also enjoy limited access to Premium articles, exclusive newsletters, commenting, and virtual events with our leading journalists
Already have an account? sign in
Join our new commenting forum
Join thought-provoking conversations, follow other Independent readers and see their replies