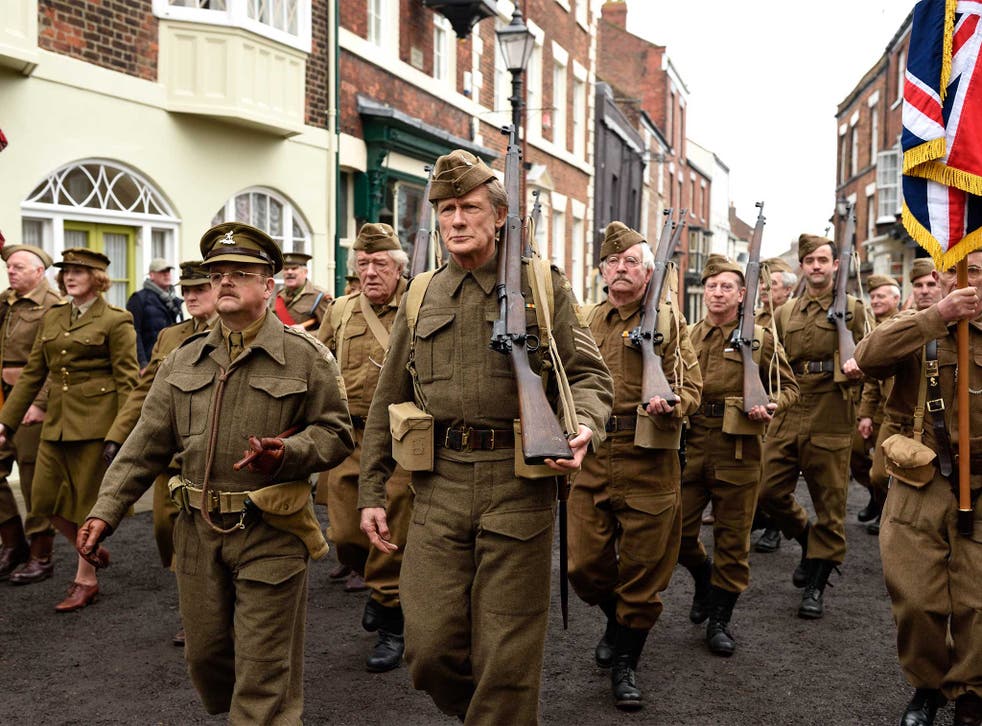 Bridlington, Beverley and beyond: Dad's Army goes to Yorkshire
As the TV classic comes to the big screen, Andrew Eames visits the filming locations
When the film version of Dad's Army opens this week, it will do so with a following wind. It has a glittering cast (Bill Nighy, Catherine Zeta-Jones, Michael Gambon, Tom Courtenay et al), and it sits firmly in the tradition of a much-loved television series. It would be curmudgeonly not to wish it well.
However, its fortunes at the box office will be keenly followed by a place that may not feature on the cast list, but which nevertheless played a huge part in its production: Yorkshire or, more specifically, the East Riding of Yorkshire. In this era of studio wizardry, it is rare for 100 per cent of any film to be made on location, so there's a lot to discover in the film's wake in and around the East Riding resort of Bridlington, which plays the Home Guard town of Walmingtonon-Sea. A Dad's Army trail is in the planning stages, and hopes are high for an upsurge in tourism.
The town is in need of a leg-up.
It comes in two parts: the tiredlooking resort bit, which sits at the centre of several miles of beach in a broad, sheltered bay; and the medieval-origin Old Town, a mile or so inland, where most of the street scenes were shot.
Both are period pieces in their own way. Resort Bridlington is a railway-era destination where you are never far from an amusement arcade and a bucket of chips. It is quiet when I visit, with dogwalkers on the promenade and residential squares given over to landladies' cats.
The Old Town, with its Priory and 16th- to 19th-century main street, is a different animal, but by no means picture perfect. There are sagging sashes, boarded windows and crumbling pediments among the handsome Georgiana, but this is what the crew wanted, says Diane Davison, landlady of the Old Town's Georgian Tea Rooms. "They wanted to represent a country at war," she says. Her business was quite a hub during the three-week filming, and she was kept busy making Victoria sponge to supply Walmington's Marigold Tearooms. "I can't believe how many cakes they ate," she says.
Today, the Old Town wears its filming memorabilia with pride, in the form of period posters and advertising, and the Marigold Tea Rooms, just up the road, still has its signage up, although the interior has reverted to housing association offices. Many of the properties themselves are owned by an ancient charitable trust called the Lords Feoffees, dating back to 1636, the sort of organisation to which Sergeant Wilson would have belonged and Captain Mainwaring would have aspired jealously to join.
The cast didn't have their accommodation in Bridlington - there's a shortage of large, quality hotels in these parts - although Lesley Berry, my host at Flamborough Manor, a Georgian gem out on Flamborough Head just to the north of town, had previously welcomed Tom Courtenay as a guest.
Flamborough was the location for many of the action scenes in the film, its chalk cliffs standing in for the White Cliffs of Dover. It was here that Toby Jones, as Mainwaring, was chased by a bull, and it was at Flamborough's North Landing that Catherine Zeta-Jones earned her fee by plunging repeatedly into the sea for take after take, in full costume, in the November chill. In summer, when the sun shines, these are popular tourist spots.
For many of the interiors, the location scouts found the setting they wanted just down the road from Bridlington, in the quietly elegant town of Beverley. Here, the filming has already had a beneficial impact, even before its release.
Beverley is like a miniature York, with a towering gothic minster, larger than many cathedrals, and makes regular appearances on lists of top places for quality of life. It has delicatessens where Bridlington has pound shops, and Carluccio's pastas and salads where Bridlington has Busy Bees fish and chips. Last year a group of volunteers started a project to turn an old Victorian Baptist hall into what is now the East Riding Theatre.
Theatre manager Sue Kirkman and her team were busy painting, decorating, begging and borrowing when the Dad's Army's location scout strolled in. In the television series, the Home Guard had its regular meetings in a church hall, where Mainwaring tussled over office space with the vicar and the church warden. The Baptist hall, which had been in mothballs for decades, was perfect for that role, so a deal was struck.
For Sue, struggling for that last bit of cash to get the new project across the starting line, the timing was serendipitous. "It felt like someone was looking down on us from above," she says. A year on, thanks to a sprinkling of stardust, Beverley has a flourishing theatre to call its own.
'Dad's Army' is released on Friday
Travel Essentials
GETTING THERE
Bridlington and Beverley train stations are connected to cities including Sheffield, Doncaster and Hull by Northern Rail (0333 222 0125; northernrail.org).
STAYING THERE
Flamborough Manor (01262 850943; flamboroughmanor.co.uk), one of the Wolsey Lodges, offers B&B doubles from £96.
MORE INFORMATION
visithullandeastyorkshire.com
Join our new commenting forum
Join thought-provoking conversations, follow other Independent readers and see their replies