The Independent's journalism is supported by our readers. When you purchase through links on our site, we may earn commission.
Havana city guide: Where to eat, drink, shop and stay in Cuba's capital
How to make the most of your time in this sizzling Cuban city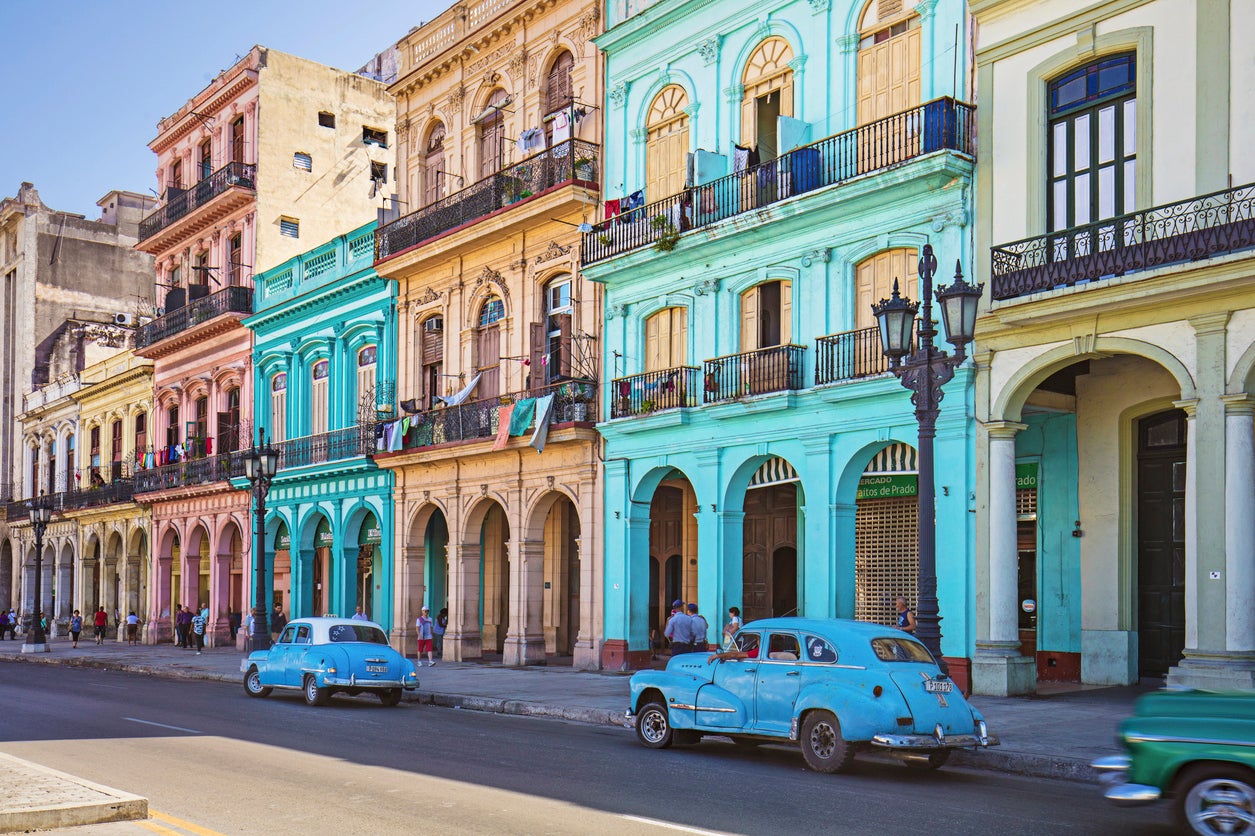 Sun, slinky dancing, icy cocktails in bars fashioned from backyard wrecks and slumping colonial ruins, designer buys, avant-garde art, and a dose of communism draw visitors to the tropical nation island of Cuba. Havana's seven year economic revolution has revived the spirit of this glamorous sea-facing city. From 26 February to 2 March Havana lights up with the annual Habanos Cuban cigar festival, celebrating its 20th anniversary in 2018; and from 22 to 24 March Havana World Music stages concerts across city venues.
What to do
Spanish grandeur in the old town
The Spanish colonial core of Old Havana is the city's stellar attraction brimming with frescoed churches, cobbled plazas, civic mansions and nobles' homes turned museums, galleries and restaurants. Admire the ecclesiastical interior beauty of Nuestra Señora de la Merced and the detailed exhibits at the Museum of the Revolution (9.30am-4pm) charting Fidel Castro's rise to power amid the Tiffany interiors of this erstwhile Presidential Palace.
Behind the palace sits the Museum of Fine Arts (Tuesday to Saturday, 9am-5pm; Sunday, 10am-2pm). Go for the pop art of Raúl Martínez, the homo-eroticism of Servando Cabrera, the African symbolism of Manuel Mendive and Wifredo Lam, and the avant-garde works of Cuba's thriving contemporary art community.
Seaside exploration
Amble Havana's wind-whipped ocean boulevard, the Malecón, and admire the facades of its sun-bleached buildings as the sun slopes down behind fishermen, lovers, swimmers and trumpet players.
Pedalling through Havana
To fall in love with Havana walk, dance and dally along her dramatic, slouching streets. For a broader view of her maritime and sugar history - which saw the city bulge and bust through the ancient defence wall corralling the old city and spill west - explore by bike.
Two companies offer new city tours cycling 20km of mainly back roads through the plush suburb of Miramar, leafy Vedado with its villas-cum-galleries, restaurants and bars, Havana's tree-entangled forest - Bosque de la Habana - and the magical wonderland that is the jungle-choked Jardines de La Tropical beer grotto fantasy.
Cubanía pedals out every Wednesday morning with a bonus walking tour of the old town's four plazas thrown in (£35pp), while Cubyke, using Cuba's first electric bikes, lets cyclists with a mojito hangover lean back and cruise (£35pp).
Painting the city
Ever since street artist JR and Cuban American artist José Parla honoured 25 Cuban senior citizens by crafting enormous impressions of their faces across the flaking shards of the city walls for Havana's Biennial art fair in 2012, street art has been creeping across the city. See work by Fabián López, Yulier Rodríguez and Luis Casas, among others, and meet the artists on a street art tour. Tours cost US$140 (£99) including transport.
Where to Stay
Film director Stephen Bayley and Cuban theatre director Jazz Martínez-Gamboa have opened an elegant three-roomed town house, Economía 156, in southern Old Havana. It comes complete with roof terrace and the most sumptuous of tropical breakfasts. Ask about their behind-the-scenes theatre tours and soirées with Cuban actors; CUC$220 (£156). Doubles from CUC$145 (£103),
A&A, Amaury's top-floor independent apartment, is decorated with contemporary Cuban art and features two balconies. It's in the heart of the lively café, gallery, and restaurant-filled northern Old Havana. Doubles from CUC$120 (£85), .
Handsomely furnished in Spanish colonial and antique French style with themed rooms and a parasol-shaded roof terrace for dining and drinking, La Maison is a steal. Three bedrooms from CUC$200 (£142), B&B.
For the coolest of Cuban Fifties glamour, check into one of Artedel's three penthouse rooms, sip cocktails on the sun-soaked terrace and recline in the jacuzzi. Doubles from CUC$100 (£71), B&B.
Where to eat
For pancake breakfasts and pulled-pork, yucca, and orange salsa sourdough sandwiches, pull in at El Café; 9am-6pm.
Artisanal scoops of ice cream - try the mojito flavour - can be bought at Helad'oro (Aguiar St No.206; 11am-10pm).
Sip strong afternoon coffee, or mango milkshakes, at Belview Art Café (6 Street No.412 corner of 19, Vedado; Tuesday to Sunday, 9am-6pm).
For Cuban tapas with a twist and moreish mocktails, swing by rustic Jibaro; 10am-12am.
Think octopus carpaccio, the tenderest tuna tataki and mamey creme brulée, at glamorous Otra Manera in a glass-fronted home in upscale Miramar; Tuesday to Saturday, 12.30-11pm.
Where to drink
Fruity daiquiris and outstanding panoramic views from the rooftop pool terrace of the Kempinski hotel are de rigueur.
Cuban DJs man the decks at techno haunt EFƎ Bar till the early hours (Corner of Calle 23 y Calle F, Vedado); 12pm-3am.
Cuban and international trovadors rock the house at La Bombilla Verde; Tuesday to Sunday; 5pm-1am.
Where to shop
Curio hunters search for memorabilia and books at second-hand stalls on Plaza de Armas.
Must-have designer bags and tees with nuanced slogans can be picked up at Clandestina; Monday to Saturday, 10am-8pm, Sunday, 11am-6pm.
For recycled and upcycled lamps, jewellery and collectibles peruse Piscolabis; 9.30am-7.30pm.
Beautiful, hand-crafted Cuban gifts sourced from around the country can be found at Alma; Monday to Saturday, 10am-4pm.
Architectural highlight
The art deco Edificio Bacardí was the headquarters of the eponymous rum empire in Cuba. It towers over Old Havana with its ziggurat crown, bat motif and naked nymphs embedded in enamelled terracotta panels.
Nuts and bolts
What currency do I need?
Visitors usually use the Cuban Convertible Peso (CUC), whereas locals use the Cuban Peso (CUP).
What language do people speak?
Spanish
Should I tip?
Yes; 10 per cent in restaurants
What's the time difference?
Havana is GMT-5 (GMT-4 in summer)
What's the flight time from the UK?
Between eight hours 40 minutes and 10 hours
Public transport
Use the double decker HabanaBusTour for CUC$10 (£7)
Best view
The Malecón and fortresses from La Torre, the sky-scraping bar of the FOCSA building (Calle M, corner of 17, Vedado); 12-11.30pm
Insider tip
To travel like a local, hail a classic American car collective taxi (almendrón) for CUP$10-20 (28p-57p). For cigar factory visits, tickets must be bought in hotels
Join our commenting forum
Join thought-provoking conversations, follow other Independent readers and see their replies