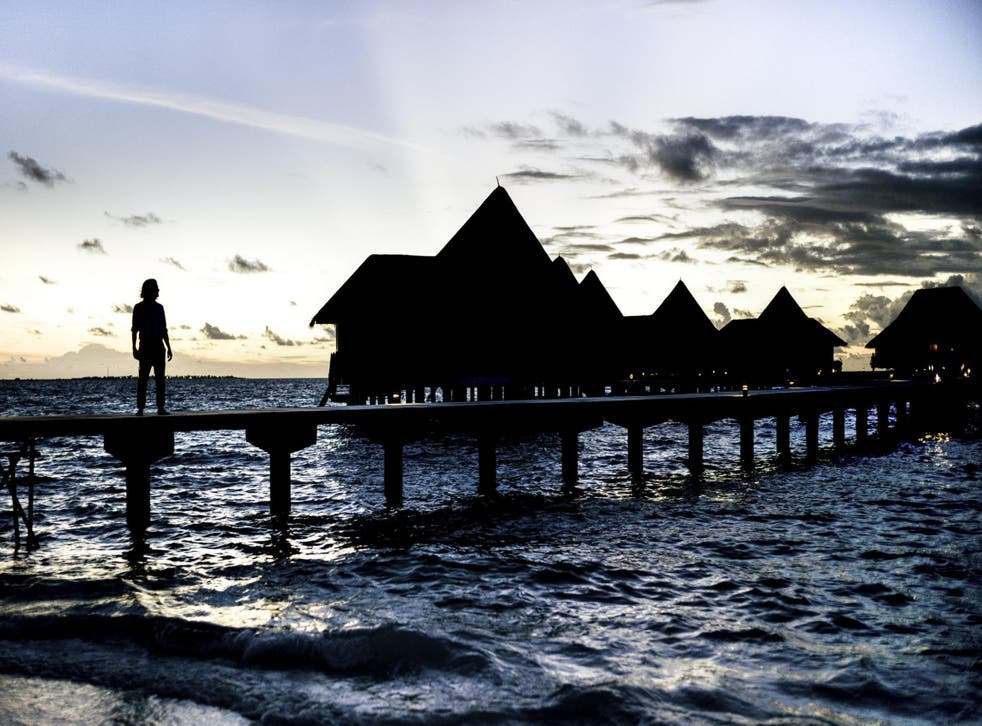 Coco Palm Dhuni Kolhu resort, Maldives, review: Certainly a paradise, and one with an eye on its environment
It's about 11.30am Coco Palm Dhuni Kolhu time (which is an hour ahead of the mainland Maldivian capital Malé; the private island having taken the brilliantly hedonistic decision to literally alter time to allow for more sunset cocktails) and I'm sat cross-legged on a cream chaise longue in robe under a thatched hut roof surrounded by old books and sipping green tea.
I've been barefoot for four days now, and in that time I think I've seen every colour of blue on the spectrum, including, yes, that otherworldly cerulean of the sea that it turns out doesn't only exist in brochures (on day one, I spent a solid 15 minutes splashing it with my hands like a toddler just to check it's real).
I couldn't tell you what day of the week it is and frankly I don't care.
Nearly 99% of the Maldives is water, and flying over it via seaplane to the resort, having been on the infinitely more prosaic method of transport that is the London Underground a few hours before, it looks like a completely different planet. Ringed atolls pucker the ocean's surface like diagrams of eyes, and you're immediately aware of just how incredibly remote each island is.
The Coco Palm Dhuni Kolhu is isolated then, but not isolating. It offers all the modern conveniences we require these days, but crucially not to the point where you lose that 'desert island' feeling. The Wi-Fim for instance, is understandably patchy in the middle of the Indian Ocean, but after an initial millennial crisis I actually warmed to this as I recalibrated to island life and now my phone is mostly discarded.
Today, I have chosen to blissfully do nothing, but the island actually has plenty to keep you entertained, which came to the relief of someone who can stand approximately 2.5 minutes of sunbathing.
A typical day at the Coco Palm has unfolded like this:
- Wake up at sunrise in my villa (a beach one, but they also have those classic ones you think of on stilts in the water) and wander to one of the resort's restaurants (all floating lotus leaves and zen music) for some passionfruit plucked from vines grown on the island
- Head out on snorkeling trip to hang with some turtles and manta rays
- Return for lunch, then just sort of get repeatedly stroked against the white shore by the sea out the back of my villa, surrounded by a staggering variety of luminous fish
- Maybe a little pool in the main reception. Maybe some badminton if time
- Shower/bathe for the evening (in an outdoor shower/bath no less) before sticking on a smart shirt and trousers (which is fun when you're still barefoot - making you look like a shipwreck victim)
- Drinks at the beach bar, which was formally a lagoon bar but the tides change from year-to-year, and watch the sun set slowly and then all of a sudden
- Dinner, which on some days involves barbecued fresh fish and lobster on the beach, and then cocktails at the Conch Bar
- General nighttime beach wandering, being unable to hear anything except the lapping of waves
I could rave for ages about the friendliness and helpfulness of the staff, but this is best typified by one Ananth, a waiter who noticed I was enjoying my first taste of Maldivian dish mas huni (a mix of tuna, coconut, chilli and lime) and ordered some to arrive for me for dinner at the resort restaurant while we were still on a different island.
All this luxury and pampering is why people head out to the Maldives, but the resort is doing a lot to assuage concerns about its effects on the environment. The Coco Palm has an on-site marine biologist, actively fights the use of ghost nets, bottles its own water (in glass bottles), makes a staggering amount of its supplies there on the island, and is currently building the Olive Ridley Project Turtle Rescue Centre (above), which will help nurture the many sea turtles that walk up onto the island to lay eggs.
Hanging up my robe and putting my shoes back on, which now feel like medieval instruments of torture, I decide I could definitely have beared to stay a few days/weeks longer.
Rates for an Ocean Front Villa start from US$418 (approx. £340) on a b&b basis, based on two people sharing.
Click here to view our latest travel offers with Independent Holidays
Register for free to continue reading
Registration is a free and easy way to support our truly independent journalism
By registering, you will also enjoy limited access to Premium articles, exclusive newsletters, commenting, and virtual events with our leading journalists
Already have an account? sign in
Join our new commenting forum
Join thought-provoking conversations, follow other Independent readers and see their replies