The Independent's journalism is supported by our readers. When you purchase through links on our site, we may earn commission.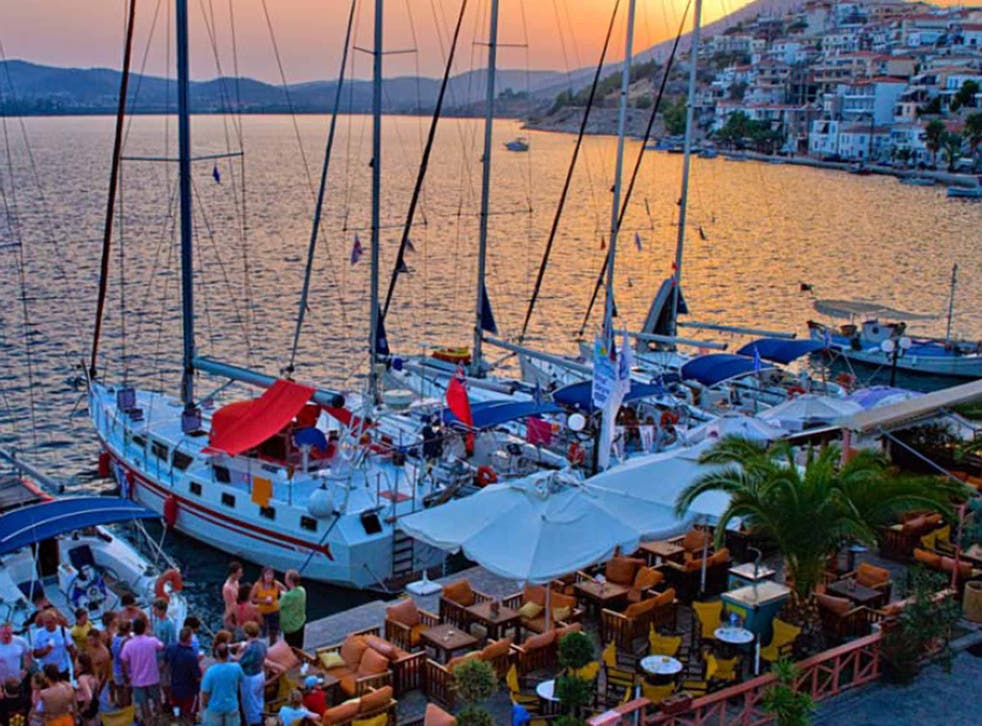 Sailing holidays: From beginners' lessons to family trips and joining a flotilla
Abigail Butcher proves that sailing holidays aren't just for the professionals
A gin and tonic sipped at sunset in the cockpit of a sailing boat, looking out over the water, is a magical thing. Something happens when you get on a yacht – whether it's the gentle motion, the noise of water lapping against the hull, the halyards clinking gently on the mast, the freedom to go wherever you wish, or the ultimate privacy that sailing offers, it is a special experience.
But a sailing holiday to the uninitiated can be a daunting prospect – the lingo can be off-putting and impenetrable. What is a charter? Do you need a skipper? Is it very physical? How about costs? Can it be good for families? The answer is that sailing is very flexible, and there will be a trip, boat, and destination to suit most people; you can have a go without any experience at all.
Staying on a boat for a week means exploring and taking your accommodation in tow – thus none of the packing and unpacking of other transient holidays. You can sail almost anywhere in the world, and taking to the water offers a unique way of exploring well-trodden tourist tracks, allowing sea access to spots that are difficult or impossible to reach from land.
It doesn't need to cost the earth – sailing can work out cheaper than a hotel or villa. Some companies sell sailing trips as a package, others just sell the boat – check the finer details of the pricing before you book, such as whether marina fees and fuel are included.
You don't need to buy any special clothes or know anything about sailing to start, so dig out your sense of adventure and sea-sickness pills (just to be on the safe side) and prepare to go barefoot – skippers don't like shoes marking their teak decks!
Harbour intentions
Soak up the lifestyle without any of the effort by staying on a boat without even leaving the marina. The water-based equivalent of Airbnb, bedsonboard.com, launched earlier this year, matching holiday-makers with yacht owners around the world.
Listings now include a three-cabin, 59-foot catamaran in Port d'Andratx, Mallorca, which sleeps six from £200 per night, to a 44ft, three-cabin Jeanneau yacht moored in Jolly Harbour marina, Antigua, from £190 per night (bedsonboard.com).
Shipmates
If you fancy exploring somewhere new on a yacht, but can't find enough willing friends or family to fill an entire boat, small group sailing trips are the way to go. Get as involved as you want with the helming, navigating, sail trim, and anchoring – then drop anchor in little bays to snorkel shallow waters, tuck into fresh seafood and explore on land. Idyllic.
G Adventures runs sailing trips around the world, but its week-long catamaran trip through the Canarreos Archipelago in southern Cuba is currently popular. It costs from £1,149 per person in a group of around 12 ship-mates, and includes most meals plus a night in a Havana hotel, but not international flights. Departs October to April (0344 272 2060; gadventures.co.uk).
Learn the ropes
Sailing a yacht requires experience, but sailing hotspots increasingly require qualifications, too – and no one wants to go back to school on their holiday. With this in mind Sunsail has come up with an innovative way for people to gain their International Certificate of Competence (ICC) or Royal Yachting Association (RYA) Dayskipper during a flotilla holiday in Agana in Croatia or Lefkas in Greece.
A qualified instructor/examiner will join guests aboard and teach in a relaxed, unobtrusive way, with an exam taken at the holiday's end. The trip costs from £2,856 for a Sunsail 47 Premier, sleeping up to six (from £476 per person) for a week, including flights. Trips depart until 26 September (020 3411 8732; sunsail.co.uk).
Aye aye, skipper
It's possible to enjoy a sailing holiday without worrying about tides, navigation, mooring or even lifting a finger with the sails by employing a skipper on your charter holiday. Incrediblue offers skippered yachts in Greece, Spain, Croatia and Turkey – with Italy and Montenegro bases opening soon. The skipper will have extensive local knowledge so can plan the holiday itinerary exactly to the requirements of guests – who can get as involved as they like with the actual sailing.
A week's trip from Ibiza, taking in the Balearic islands of Menorca, Formentera, and Ibiza aboard an Irwin 68 Sailing Boat costs £996 per person in September, based on six people sharing three cabins, and including the skipper's living costs. Travel to Ibiza not included (020 3695 0409; incrediblue.com).
All hands on deck
Take your own boat out, but don't quite go it alone by joining a group of yachts led by a flotilla skipper. While you have nearly all the advantages of an independent yacht charter, you also have the support of the lead yacht and flotilla crew (you'll need an ICC or RYA qualification in countries such as Croatia, Italy and Spain) – with each day's activity yours to decide. This summer, easyJet launched a new route to Preveza in Greece, which offers easy access to Nautilus Yachting's Ionian base.
"Sailing in Greece is perfect for novices and families," says general manager Jonathan Shears. "The winds are light, the distances between stops are short, so the kids won't get bored." After a morning briefing by the lead skipper, boats are free to sail as they wish to the agreed evening port, where a group meal ashore will have already been organised. Prices start at £1,210 for a Bavaria 36 (three double cabins), with a flotilla group maximum of 10. Departures until 11 October (01732 867 445; nautilusyachting.com).
Captain of your ship
Bareboat charter means you hire a boat, without the skipper or crew. As long as you have the qualifications (International Certificate of Competence or RYA Dayskipper) and experience, some reliable crew and know-how to navigate – just climb aboard the yacht and sail off into the sunset. Neilson offers a Dorian coast-based Dufour 325 in Turkey, sleeping six, available in August for £721 per person, with flights from Manchester (0333 014 3351; neilson.co.uk).
High life on the high seas
Throw caution to the wind and charter a luxury yacht complete with full crew, for a bespoke experience akin to staying on a private island. The first step is to find a yacht charter broker, advisably one affiliated to the Worldwide Yachting Association (MYBA; myba-association.com). The broker or agent will help you pick everything from your ideal destination to ideal vessel (motor, sail or motor sail).
"The charter agent's role is to take the guest's ideas and wishes and make them happen," says Mark Duncan of Yachting Partners International (YPI), which operates globally. "They will discuss all aspects of the guest's preference for their holiday in advance, including food and drink, activities or sites they want to do and see. The agent will liaise with the captain and crew on behalf of the guests on all elements including buying the food and drink on board, preferred menus with the chef, preferred cruising destinations, and so on." Yachting Partners International (YPI) offers a week on the 79-foot SKIP'n BOU in the Adriatic starting from €24,000 (£15,500) per week for six, excluding flights, food and beverages (00 377 99 99 97 97; ypigroup.com).
Register for free to continue reading
Registration is a free and easy way to support our truly independent journalism
By registering, you will also enjoy limited access to Premium articles, exclusive newsletters, commenting, and virtual events with our leading journalists
Already have an account? sign in
Register for free to continue reading
Registration is a free and easy way to support our truly independent journalism
By registering, you will also enjoy limited access to Premium articles, exclusive newsletters, commenting, and virtual events with our leading journalists
Already have an account? sign in
Join our new commenting forum
Join thought-provoking conversations, follow other Independent readers and see their replies